Interstate 95 in Florida runs along the Atlantic coast, joining the various regions: the Gold Coast (Miami, Ft. Lauderdale, and West Palm Beach), the Treasure Coast (Port St. Lucie, Fort Pierce, and Vero Beach), the Space Coast (Melbourne, Cocoa Beach and Cape Canaveral) and the First Coast (St. Augustine and Jacksonville). The freeway measures 382.15 miles in length from U.S. 1 (Dixie Highway), south of Downtown Miami, to the St. Marys River into Georgia.
Interstate 95 Florida Guides
Many widening projects expanded Interstate 95 from its original four-lane design over the years. Within Northeast Florida, expansion of the freeway from Interstate 295 to Emerson Street occurred between April 14, 1996 and 1999 during a two part project. Southward from I-295 to the St. Johns County line followed between 2000 and 2002. Further north throughout Nassau County, I-95 was six-laned from 2001 to 2003. Additional lanes were added from the Nassau County line south to I-295 also from 2001 to 2003.1
Widening of 29.70 miles in Volusia County, from south of SR 406 to north of SR 44, was completed in Summer 2016 as part of $118.37 million project. Further south in Brevard County, two additional projects expanded Interstate 95: 12.44 miles from Indian River County north to Malabar Road, completed in Spring 2014 at a cost of $51.76 million; 7.55 miles from SR 528 (Beachline Expressway) north to a point south of SR 406, completed in Spring 2013 at a cost of $7.55 million. Source: Florida Department of Transportation District Five State Roadway Projects Website.
Widening of Interstate 95 in Palm Beach County focused on extending the HOV lanes northward from Broward County. Portions in Palm Beach County opened as follows:2,3,4,5,6

Four miles from north of Atlantic Avenue to south of Linton Boulevard - started November 2000 and completed January 2005
Five miles from Gateway Boulevard to north of Atlantic Avenue - completed May 2004
4.2 miles from north of Southern Boulevard (U.S. 98) to Palm Beach Lakes Boulevard - started January 2005 and completed November 2009 as part of widening northward to PGA Boulevard
PGA Boulevard to Donald Ross Road - all lanes open on December 23, 2011.
Donald Ross Road to Indiantown Road - finished on February 24, 2012.
30 miles of Interstate 95 opened between Palm Beach Gardens and Stuart on December 19, 1987, completing the route in the Sunshine State.
5
Broward County
A total of 25.3 miles of Interstate 95 in Florida is located in Broward County, which includes the metropolitan area for Fort Lauderdale. Interstate 95 was not the original limited-access freeway in Broward County, or within the Sunshine State in general. Florida's Turnpike predated the earliest segments of Interstate 95 by two years, completed and opened in 1957. Construction on Interstate 95 began in 1959. By 1964, Interstate 95 was completed from the Dade County line to SR 84. A section from SR 84 to Davie Blvd was completed in 1968. North of there, construction began on remaining segments between 1969 and 1972. All of Interstate 95 in Broward County was completed and opened to traffic in 1977. Most segments were constructed with six lanes originally.
During the 1980s, congestion on Interstate 95 became severe, with more and more people commuting between Dade and Broward counties. Florida received generous Interstate funding in the early to mid-1980s, a portion of that went to expanding Interstate 95. Part of the design plans were to add extra lanes on Interstate 95, including one High Occupancy Vehicle (HOV) lane in each direction that would continuously stretch from I-195/SR 112 in Miami north to Linton Boulevard in southern Palm Beach County. There would also be major interchange upgrades at the newly constructed Interstate 595, SR 84 and Davie Boulevard. Sound barriers would be built in some places where it was deemed necessary to mitigate noise impacts.
Construction began in 1988, and soon construction would be along the entire length of Interstate 95 in Broward County. To lessen the construction impacts on traffic, Tri-Rail was implemented. Tri-Rail, a rail system named for three counties which it would service (Dade, Broward, Palm Beach) was to run using the existing railroad tracks parallel to Interstate 95. Service started in 1989 and was originally intended to stop once the tri-county Interstate 95 expansion ended, but it continues today. To improve service, the Double Track Corridor Improvement Program, completed in 2007, added a second mainline track parallel to the existing track.
The Interstates 95 and 595 interchange was fully opened on March 22, 1991, after three years of construction and $121 million. Today, Interstate 95 in Broward is a wide 10 and 12 lane road, with an eight-lane section from Deerfield Beach to Boca Raton in Palm Beach County. There are massive interchanges at Interstate 595, SR 84 and Davie Blvd, which are on multi-levels and involve collector distributor roads. Other than that, typical interchanges along I-95 in Broward are diamond or parclos. An exception is the exchange with Commercial Blvd (SR 870), where a flyover ramp joins westbound SR 870 with I-95 south.
The Broward section of Interstate 95 is the heaviest traveled section in all of South Florida and the entire state. Traffic volumes in Broward generally exceed well over 200,000 vehicles daily, and from Interstate 595 to Sunrise Blvd SR 838), 2013 traffic volumes topped out at 328,000 vehicles per day. This puts I-95 traffic volumes at levels comparable to California 91 (Riverside Freeway) in Orange County, one of the busiest routes in Southern California.
95 Express Phase 2 extended the High Occupancy Toll (HOT) lanes north from Miami-Dade County and the Golden Glades Interchange. The project converted the existing HOV lanes into two express lanes in each direction. $112 million in work ran from November 2011 to Spring 2015. Upon completion, the 95 Express Lanes extended from Interstate 195 in Miami to Broward Boulevard (SR 842 / Exit 27).
Construction of Phase 3 of the 95 Express Lanes lengthened the toll lanes another 29 miles north from Stirling Road (SR 848 / Exit 22) in Broward to Linton Boulevard (Exit 51) in Palm Beach County. Split into separate sections, Phases 3A/3B, between Broward Boulevard and SW 10th Street, started in early 2016. This work coincided with the implementation of ramp metering from Hallandale Beach Boulevard (Exit 18) to SW 10th Street in Fort Lauderdale.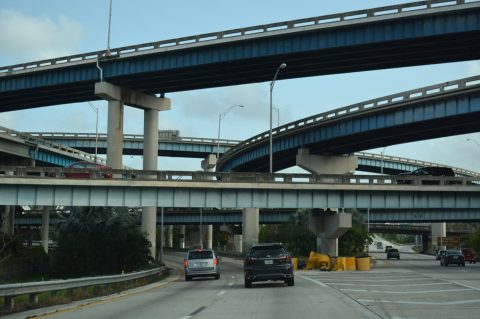 Miami-Dade County
The southernmost portion of Interstate 95 runs 17.1 mile in Miami-Dade County. While the state legislature named I-95 the "William B. Singer Expressway," it is not the popular name for the freeway, with locals instead opting to call the freeway Interstate 95, I-95, or the even shorter nickname "the I."
Interstate 95 is the most important freeway in South Florida and served as the catalyst for growth and economic opportunity that made this region successful. Florida's Turnpike, opened in 1958, was the first limited access route in Dade County. It was followed by construction that same year on the Palmetto Bypass, which was completed in 1962 and is better known today as the Palmetto Expressway (SR 826). It was not until 1959 that construction commenced on I-95, which entailed building the freeway from NW 31st Street to NW 95th Street. Work also coincided with construction on Interstate 195, the Airport Expressway (SR 112), and their respective interchange. That segment was completed and opened in December, 1961.
The next segment to start construction was north from the first completed segment ending at NW 95th Street into Broward County to SR 84 in Fort Lauderdale. Construction of this segment also encompassed the construction of the massive Golden Glades Interchange. In 1964, this segment along with the high powered interchange was completed. It was also during this time that the alignment through Downtown Miami was finalized, including two new spur routes: Interstate 395 and SR 970, the downtown distributor. Added to this mix would be the East-West (now Dolphin) Expressway, which would be a continuation of I-395 west of I-95.
Next work began on the section from the planned southern terminus of I-95 at U.S. 1 north to Flagler Street. The already completed segment that ended at NW 31st Street was extended southward to NW 20th Street. This segment was completed and opened by 1968.
By this time, the route of Interstate 95 through Dade County was nearly complete except for a gap in downtown Miami between Flagler Street and NW 20th Street. This section started construction in 1968, and the planned Interstate 395, SR 970, and SR 836 (Dolphin Expressway) were built in concurrence with it. This segment finally opened in late 1969. The final construction project slated for Interstate 95 was the new interchange with Ives Dairy Road, which started in 1969.
All of Interstate 95 in Dade County was constructed with six lanes, except for an eight-lane section Downtown, and a brief four-lane segment from SW 25th Road to U.S. 1. The freeway was built utilizing concrete from U.S. 1 north to the Golden Glades Interchange. Once at the Golden Glades Interchange, the surface changed to asphalt.
Widening Interstate 95
In 1969 when the Dade County transportation plan was released, in addition to the maze of expressways that were planned to cross the county, there were proposed upgrades to Interstate 95. The plan proposed the widening of all of Interstate 95 to eight lanes, except for a brief segment from NW 135th Street to the Golden Glades Interchange, which was to remain unchanged.
While several of the expressways from the original, controversial Miami freeway plan were killed, Florida DOT decided that Interstate 95 should be upgraded. With the population of Dade and Broward County booming, it would eventually have to be widened. However, these upgrades would not happen until much later.
The 1970s became the 1980s, and nothing was done to Interstate 95, which was still in its original condition. In 1976, the NW 54th Street exit ramps were closed due to their proximity to the NW 62nd Street exit to the north. In early 1983, street lights were placed along a section of I-95 in North Miami-Dade County that was previously unlit, due to complaints by residents of North Miami Beach. Eventually, I-95 was lighted continuously from U.S. 1 to northern Palm Beach County.
During this time, Miami gained a lot bad press for its criminal and drug activity, and Interstate 95 was no exception. Stories of snipers hiding on overpasses shooting cars below and teens throwing rocks at oncoming cars were a frequent occurrence. At the same time, many street lights along I-95 started burning out, making stopped cars vulnerable to attacks from people who wandered onto the Interstate. With that, FDOT started to construct high chain link fences with barbed wire along I-95, mostly along its path through Liberty City, one of the more crime-ridden areas of Miami.
As the 1980s continued, it became clearer that Interstate 95 would have to be upgraded soon. Planning had begun in the mid-1970s for widening of Interstate 95 from SR 112 (Airport Expressway) north through Broward County to Linton Boulevard in southern Palm Beach County, a distance of 47 miles. The only thing that prevented this from happening sooner was funding, which had postponed this major reconstruction project for nearly 11 years.
It was also clear that the original freeway from 1969 was inadequate to handle present traffic volumes and project counts. The Interstate 95 expansion was a large project broken up into several segments. The planned upgrades in Dade County were widening from six lanes to ten and twelve lanes from the Golden Glades Interchange to the Airport Expressway. From the Golden Glades Interchange to the Broward County line, it would be widened to eight lanes (ten lanes from Ives Dairy Road to the county line). In addition, one of the new lanes constructed in each direction would be a high-occupancy vehicle (HOV) lane, restricted to buses and carpools of three or more people. This was later changed to two people.
The ultimate cost for the entire project was $400 million, which was nearly one-third of the amount it cost to construct all of Interstate 595 in Broward County at the same time. The first section of I-95 to be upgraded was from the Golden Glades Interchange north to the Broward County line. One high occupancy vehicle lane was constructed in each direction in the median, and one lane was constructed outside from Ives Dairy Road to the county line. Work started the first week of November 1986 and was completed in mid-December 1988, at the cost of $15.8 million.
The frontage road connecting NW 62nd Street to 54th Street opened in August 1988. This road was built to give Interstate 95 motorists access to 54th Street (via the 62nd Street exit) that they had not had upon the closing of the 54th Street ramps in 1976. Business owners along NW 54th Street also pushed for this road, complaining that lack of access hurt their businesses.
The next segment of reconstructed Interstate 95 involved constructing HOV flyover ramps to the Airport Expressway. Depending on the direction, the high occupancy vehicle (HOV) lanes on I-95 would end / begin high above the westbound Airport Expressway. Construction started in October 1987 and ended in December 1990.
Additional segments of Interstate 95 between the Airport Expressway and the Golden Glades Interchange began construction, with the last section of widening occurring between NW 129th and 151st Street. Construction began in May 1992 and ended February 1995.
Part of this project also entailed a pair of one mile long, 94-foot high flyover ramps which would carry the Interstate 95 HOV lanes above the Golden Glades Interchange, therefore missing it entirely. These ramps opened on January 11, 1995, to mixed reviews and $40 million. Some felt that much money had been wasted on ramps that would be utilized by few, and others felt that they were ugly. They drastically changed the look of the Golden Glades Interchange, and were visible from miles away peeking through residential neighborhoods. The HOV lanes were only in effect from 7:00 a.m. to 9:00 a.m., Monday through Friday.
With the flyovers and remaining projects completed by mid-July, thus marked the end of an eight-year long ordeal of continuous construction from Miami to southern Palm Beach County. It was undoubtedly one of the most complex, expensive, yet impressive road construction projects in Florida and the nation, perhaps more so than Interstate 595. Now it would be the time to reap the results of a wider Interstate 95 and the benefits it would bring.
In August 1999, a seven-month project began to grate and smooth the surface of Interstate 95, which had no doubt been disrupted by the construction projects five to ten years prior. The grating of the road was to provide increased traction when the road becomes slick with rain.
From 2001-2002, sound walls were constructed along most of Interstate 95 from the Golden Glades Interchange to SR 112. Prior to this, the only section in Dade County that had sound walls was the segment between the Golden Glades Interchange and Ives Dairy Road. Many segments of I-95 in Broward and Palm Beach County had sound walls installed during the widening in the late 1980s, but somehow Dade was left out. The sound walls have a "Florida" theme, graced with imprints of birds and painted a sand color.
With a limited right of way, improvements to Interstate 95 focused on redesigning the existing freeway to include High Occupancy Toll (HOT) lanes. Named the 95 Express Lanes, a two phase project (Phases 1A and 1B) reconfigured both roadways along I-95 to include two express lanes. The express lanes replaced the former HOV-2 lane in both directions by restriping the roadway with slightly narrower lanes (11 foot versus 12 foot lanes) while utilizing a portion of the shoulders.7
The northbound lanes were reconfigured and opened in 2008, with tolling operations commencing on December 2. The southbound lanes were completed in December 2009 and tolled starting on January 15, 2010. Ramp meters were added at 22 entrance ramps throughout the project area as well.7
Plastic pylons separate the managed lanes from the general travel lanes and tolls are collected electronically, primarily through Sunpass transponders. Vehicles meeting the three passenger requirements can use the Express lanes free of charge, but must be registered. All other users of the Express lanes pay variable toll rates depending upon time of day and traffic congestion.
Phase 2 of the 95 Express Lanes extended the HOT lanes northward from the Golden Glades Interchange into Broward County. This included modifications to the Ives Dairy Road interchange (Exit 16) at North Miami Beach. Work ran through April 2015.
The retired South Florida Roads web site (southfloridaroads.com by Jason Learned) provided useful information on Florida's east coast interstate. Much of the information provided here was originally posted on TropicalTurnpikes.com and was reproduced with permission by Justin Cozart.
| | |
| --- | --- |
| | scenes |
| | |
| --- | --- |
| | SW 25th Road at the half diamond interchange (Exit 1A) with Interstate 95 in the Brickell neighborhood of Miami. 05/07/06 |
| | |
| --- | --- |
| | St. Lucie Boulevard east at Interstate 95. 10/18/14 |
| | |
| --- | --- |
| | Separate ramps connect St. Lucie Boulevard westbound with I-95 north to Vero Beach and Melbourne and south to Jupiter and West Palm Beach. 10/18/14 |
| | |
| --- | --- |
| | Leading east from I-95 at Exit 289, Palm Coast Parkway next intersects Old Kings Road N. 19 miles of Old Kings Road, which parallels I-95 through Palm Coast, doubles as the Heritage Crossroads Florida Scenic Highway system. 07/23/13 |
| | |
| --- | --- |
| | Interstate 95 trailblazer posted along Palm Coast Parkway west after Florida Park Drive. This stretch of the parkway partitions with roadways separated by businesses. 07/23/13 |
| | |
| --- | --- |
| | The northbound on-ramp to I-95 leaves Palm Coast Parkway west after its intersection with Old Kings Road North. The on-ramp is devoid of a guide sign for Jacksonville. 07/23/13 |
| | |
| --- | --- |
| | Old St. Augustine Road heads west from U.S. 1 (Philips Highway) at Bayard in Jacksonville to a folded diamond interchange (Exit 335) with Interstate 95. 03/03/13 |
| | |
| --- | --- |
| | Old St. Augustine Road meets Interstate 95 between Flagler Center and Batram Park by the Greenland neighborhood in south Jacksonville. 03/03/13 |
| | |
| --- | --- |
| | Interstate 95 travels south from Jacksonville to Daytona Beach. Old St. Augustine Road continues west to the Del Rio neighborhood and I-295 at Mandarin Station. 06/16/16 |
| | |
| --- | --- |
| | Old St. Augustine Road east at Interstate 95. 09/25/22 |
| | |
| --- | --- |
| | I-95 trailblazer posted at the exit of a hotel on Salisbury Road at Southside Jacksonville. The shield was installed in March 1995, replaced by 2013 and removed by 2018. 03/14/10 |
| | |
| --- | --- |
| | The Fuller Warren Bridge carries Interstate 95 over the St. Johns River between Exits 350B (San Marco Boulevard) and 351A (Park Street) near Downtown Jacksonville. 08/23/04 |
| | |
| --- | --- |
| | The concrete bases that supported the bascule section of the previous Interstate 95 bridge across the St. Johns River were removed by 2007. 08/23/04 |
| | |
| --- | --- |
| | San Marco Boulevard links SR 13 and the Acosta Bridge with Interstate 95 north across the Fuller Warren Bridge via Gary Street west. 06/13/08 |
| | |
| --- | --- |
| | High rises in Downtown Jacksonville rise beyond the Acosta Expressway in this scene along Palm Avenue north at Gary Street below the I-95 approach to the Fuller Warren Bridge. 07/22/04 |
| | |
| --- | --- |
| | View the Jacksonville skyline and the Acosta Bridge (SR 13) across the St. Johns River from Gary Street west at Palm Avenue adjacent to I-95. 06/13/08 |
| | |
| --- | --- |
| | A smaller version of the Florida welcome arch posted at the state line is located at the Florida Welcome Center. 05/26/19 |
| | |
| --- | --- |
| | I-95 trailblazer at the Florida Welcome Center in Nassau County. 05/26/19, 09/25/22 |
Sources:
"The never-ending I-95 construction Roadwork zones threaten to outlast drivers." The Florida Times-Union (Jacksonville, FL), August 23, 2003.
"I-95 Carpool Lane Opening in South County." Palm Beach Post (FL), September 20, 2004.
"I-95 Widening Starts in Busy West Palm Section." Palm Beach Post (FL), January 4, 2005.
"After 7 Years of I-95 Work, We're Near End of the Road." Palm Beach Post (FL), November 2, 2009.
"Wider I-95 with HOV lane ready." Palm Beach Post (FL), December 22, 2011.
"Work on I-95 south in Jupiter wraps up." Palm Beach Post (FL), February 24, 2012.
"Miami FL/I-95 southbound express lanes to toll from Jan 15, year-old NB lanes success." TollRoadNews, January 8, 2010.
Photo Credits:
07/22/04 by AARoads.
08/23/04 by Justin Cozart.
05/07/06 by AARoads.
06/13/08 by AARoads.
03/14/10 by AARoads.
03/03/13 by AARoads.
07/23/13 by AARoads.
10/18/14 by AARoads.
06/16/16 by AARoads.
05/26/19 by AARoads.
09/25/22 by AARoads.
Connect with:
Interstate 4
Interstate 10
Interstate 195 / State Road 112
Interstate 295 - East and West Beltway
Interstate 395 - Dolphin Expressway
Interstate 595 - Port Everglades Expressway
U.S. 1
U.S. 17
U.S. 90
U.S. 92
U.S. 98
U.S. 192
State Road 9B / Future Interstate 795
State Road 50
State Road 202 - J. Turner Butler Boulevard
State Road 528 - Martin Andersen Beachline Expressway
Page Updated 10-30-2022.