Interstate 295 consists of both the 11 mile urban loop through Portland and the former I-95 Coastal Route between Falmouth and Gardiner. Changes submitted to AASHTO in 1999 went into effect in 2004 involving extension of I-295 northward from the Maine Turnpike Falmouth Spur over the original I-95 alignment to its merge with the Turnpike main line at Gardiner. Interstate 95 shifted westward onto the entire Maine Turnpike main line, displacing I-495 in the process. Interstate 495 now constitutes an unsigned designation along the 4.2 mile long Falmouth Spur linking I-95 and I-295.
Interstate 295 Maine Guides
Initial construction along the Portland loop section of Interstate 295 took place in 1954 at the crossing of Back Cove. Four miles of the route were open to traffic in 1960 between the Falmouth Spur and East Deering in Portland. Work continued with the section from Exits 1 to 4 in South Portland ready for use in 1971. Completion of the route followed in 1974.1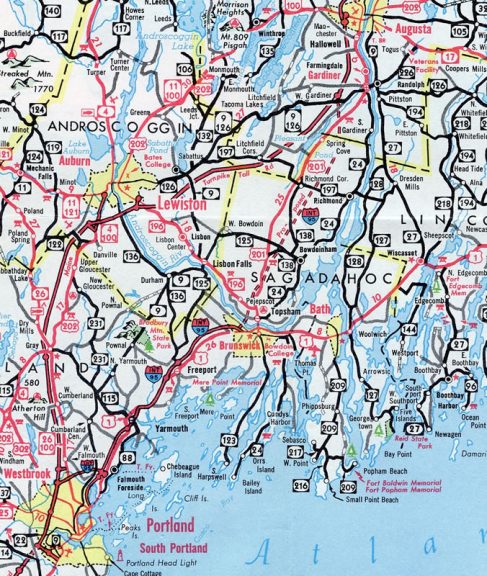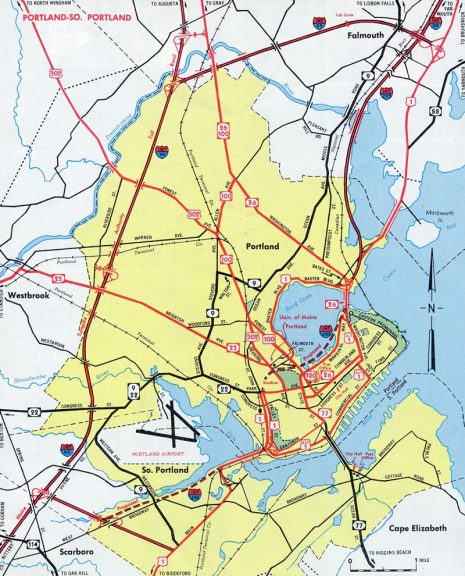 Interstate 295 north from Falmouth to Gardiner opened initially between Freeport and Brunswick in 1957 and from Freeport south to Falmouth in 1961. More stringent environmental regulations in 1970 delayed work on the freeway from Brunswick north to Gardiner. The three mile stretch between Exits 28 and 31 (Topsham) opened in 1973, followed by the remainder of the route north in 1977.1
Connect with:
Interstate 95
Interstate 495 - Falmouth Spur
U.S. 1
U.S. 201
State Route 196
Page Updated 02-05-2015.