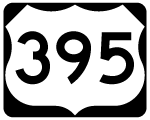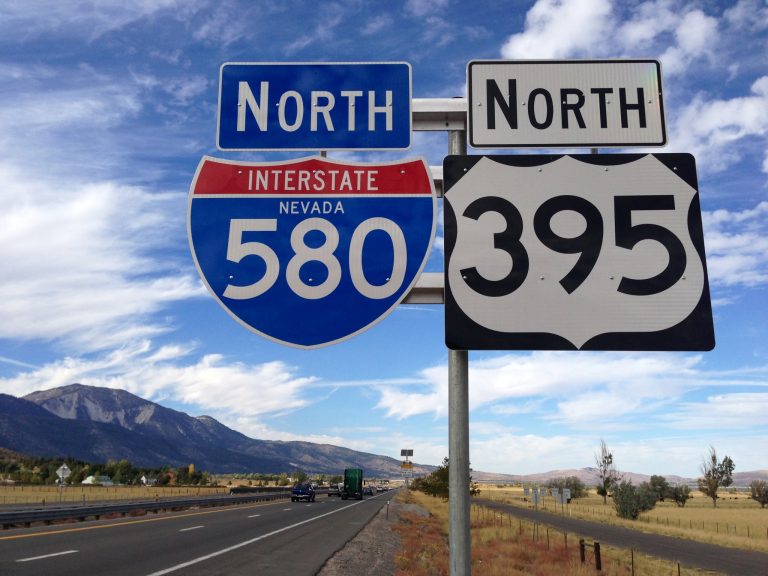 Interstate 580 begins at U.S. 50 (Carson Street) in Carson City and extends north 35.076 miles to meet Interstate 80 in Reno. The route overlaps with U.S. 395 along the Carson City Bypass, the Washoe Lake Freeway, the Interstate 580 Freeway Extension over Galena Creek, and the Martin Luther King Jr. Memorial (North-South) Freeway in Reno. Until early October 2012, the Interstate-standard segments of Interstate 580 were signed solely as U.S. 395, with I-580 unmarked. U.S. 50 also joins I-580 for the initial five miles of the Carson City Bypass, departing east at Williams Street (Exit 5) to Fallon.
The Carson City Bypass portion of I-580 opened in segments, with the southernmost 3.146 mile section opening to traffic on August 2, 2017. Beginning in Summer 2019, NDOT started changing exit numbers along the entire stretch of freeway between Carson City and Reno to reflect I-580 mileage. Exit numbers previously referenced U.S. 395 mileage, beginning at Exit 38 (Fairview Drive) and ending at Exit 68A/B (I-80). The new exit numbers begin at Exit 3 and conclude at Exit 36A/B. Completion of the changes took place by late 2019.
Interstate 580 Nevada Guides
History
Plans for the North-South Freeway (U.S. 395) in Washoe County developed in 1957 and studies were underway for the route from Winters Ranch to Glendale Avenue by 1963. A recommended freeway alignment for this segment was selected in 1968.1
Further south at Lakeview and the Carson City / Washoe County line, work was underway to upgrade U.S. 395 to four lanes by 1964. Construction progressed through 1970, when the segment from Eastlake Boulevard (Exit 44) at Lakeview north to Winters Ranch (near Exit 50) opened.1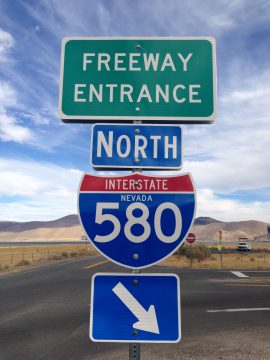 Opposition for the 1968 freeway recommendation through Reno meanwhile mounted, with lawsuits challenging the alignment filed in 1972 and 1973. The adoption of new federal legislation at the time required stricter environmental studies and an Environmental Impact Statement (EIS) as well, further adding delays to the North-South Freeway.1
North from Reno, construction was underway on the U.S. 395 freeway from East 2nd Street / Glendale Avenue (Exit 67) to U.S. 395 Business (Virginia Street) at Panther Valley (Exit 72). This section opened to traffic in 1973. The Final EIS for the freeway from South Virginia Street (Exit 63) north to Glendale Avenue in Reno was published in January 1977. This enabled construction on sections from Glendale Avenue (Exit 67) to Moana Lane (Exit 64) and from Moana Lane to South Virginia Street (Exit 63). Both were finished in 1980.1
The section of freeway south from South Virginia Street (Exit 63) to Winters Ranch however remained uncertain. Work on a Supplemental EIS for the corridor commenced in 1979. It was published in 1983. An ensuing series of construction projects built sections of this new alignment for U.S. 395, with the bypass of South Virginia Street between Exits 61 and 63 finished in 1983. The final Washoe County segment, from Winters Ranch to Mt. Rose Highway (Exit 56), was completed in 1998.1
Design work for the I-580 Freeway Extension project, north from Washoe City (Exit 50) to Mt. Rose Highway (Exit 56), commenced in 1998. 90% of the work was completed by 2002, and on June 12, 2003, NDOT opened bidding for construction.1 Construction on the freeway ran through August 2012, with the southbound lanes opened to traffic on the 24th and the northbound lanes three days later. A public walk and bicycling event was held previously over a portion of the freeway including the Galena Creek bridge.2 The concrete cathedral arch bridge is the worlds largest at 690 feet in height and 1,700 feet in length.3
Prior to completion of the I-580 Freeway Extension, over 40,000 vehicles per day (vpd) were recorded along U.S. 395 through Pleasant Valley. With the majority of commuters shifting to I-580, the old route, redesignated as U.S. 395 Alternate,4 improved from a community standpoint. Safety concerns were also addressed, as the old route of U.S. 395 through Steamboat, Pleasant Valley and Washoe City was the site over a dozen fatalities between 1990 and 2012, many because of head-on collisions.3
Signs designating all of the U.S. 395 freeway as Interstate 580, from Carson City northward to the Spaghetti Bowl interchange with I-80 in Reno, were added to the highway through October of 2012.4,5
The Carson City Freeway was constructed in a multi phase project. Phase 1 upgraded existing U.S. 395 to freeway standards from East Lake Boulevard (Exit 44) in Washoe Valley to North Carson Street near Bonanza Road. A new terrain alignment was built from there east to U.S. 50 (William Street).6 The four mile segment of Phase 1 was completed on February 16, 2006.
The section south from William Street to Fairview Drive (Exit 38) opened to traffic in September 2009. Work on the final link (Phase 2B-2) south to the junction of U.S. 50 and 395 near Indian Hills started in early 2013, with grading, storm water and utility work, and a new overpass built for Snyder Avenue. Phase 2B-2 construction was finished in summer 2014.
Started in Spring 2015, Phase 2B-3 completed the freeway with final grading, paving, sound wall construction, signing and lighting. An event on July 22 opened part of the freeway to pedestrians and cyclists. The new roadway opened to motorists on August 2, 2017.6
Future work (Phase 2B-4) will upgrade the at-grade intersection joining U.S. 50 east from Lake Tahoe, U.S. 395 north from Minden, South Carson Street and the freeway end into a single point urban interchange (SPUI). Funding for the phase is anticipated for the mid to late 2020's.6
Unsigned Interstate 580
Interstate 580 was originally unmarked along the North-South Freeway through Reno, and signed instead as U.S. 395. The designation appeared on the 1982 Reno map published by the California State Automobile Association (CSAA). The map displayed I-580 along the U.S. 395 freeway between South Virginia Street and Interstate 80. Other maps showed Interstate 580 as a marked route for three or four years, including the 1985 Rand McNally map of Reno.
Some signs for I-580 were posted in the field, including on approaches to U.S. 395 from intersecting roadways and on freeway entrance assemblies. Robert Herron further wrote on September 16, 2002 that guide signs displaying I-580 shields were greened out by the late 1980s, and that the rationale per a TV news story at the time was to reduce motorist confusion, since I-580 only ran south with U.S. 395 from Interstate 80.
Ed Wilson, retired Nevada DOT Customer Services Representative, added that the "general public remains more comfortable with the '395' moniker. Actually the proper designation seems to be important only to the FHWA, NDOT, land use planners, a few highway buffs, and such. Mr. and Mrs. America seem to just get confused with all the different letters and numbers, so we try to keep life simple for them."
Sources:
Project History and Overview, http://www.freewayextension.com I-580 Extension Project web site.
"New I-580 Freeway Opening Date Announced." KOLO-TV Reno, August 14, 2012.
"Gov. Brian Sandoval: I-580: The history -- and the promise by Governor Brian Sandoval." FOX-Reno News, August 14, 2012.
"New I-580's name explained." NEWS 4 Reno KRNV-TV, August 7, 2012.
"I-580 Or US 395?" KOLO-TV Reno, August 16, 2012.
Nevada Department of Transportation : I-580 / U.S. 395, NDOT project web site.
Connect with:
Interstate 80
U.S. 50
U.S. 395
State Route 659 - McCarran Boulevard
Page Updated 07-05-2018.