Interstate 670 is a 3.85 mile urban loop providing a through route bypass to the south of Downtown Kansas City, Kansas and Missouri. The route provides a direct route for Interstate 70 through traffic headed west toward the Kansas Turnpike or east toward St. Louis as I-70 takes an circuitous route north along side various routes including Interstate 35, U.S. 24, U.S. 40, U.S. 71 and U.S. 169.
I-670 forms the south leg of the Alphabet Loop, a beltway encircling the Quality Hill and the Central Business District of Kansas City, Missouri. The freeway is nicknamed as such because of the exit numbering convention, where all off-ramps are assigned as Exit 2 with a lettered suffix. The numbering convention extends on all four quadrants of the loop and uses every letter of the alphabet except for I and O due to similarities with the numbers one and zero.
Interstate 670 Kansas City Guides
Signs to Interstate 670 sometimes reference Interstate 70 east to St. Louis instead, or are displayed dually as Interstate 70 Alternate. Newer sign installations give more recognition to the I-670 designation, perhaps as GPS units and smart phone navigation became more widespread.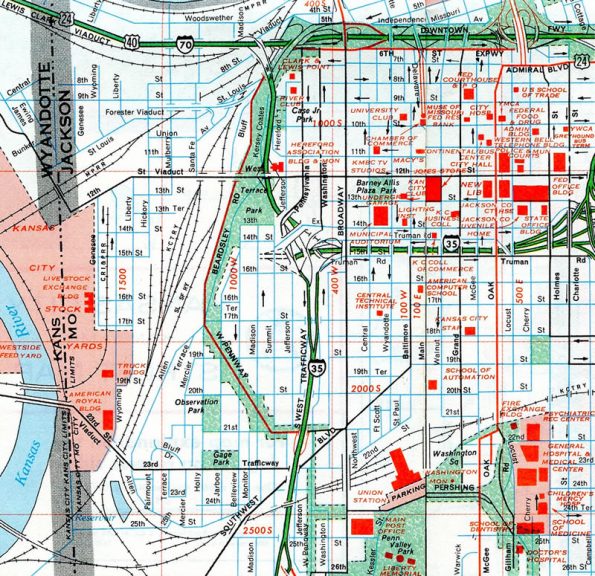 The south leg of the Alphabet Loop was opened initially as the Crosstown Freeway, and was incorporated in the mainline of Interstate 35, with I-35 using the east leg of the loop and I-29 extending along the north and west legs. Six bridges spanning the Crosstown Freeway were built between 1961 and 1966. The route between I-35 and I-70 cost $30 million to complete. It opened initially in July 1967.1 The designation changed in 1975, with the truncation of I-29 to the northeast corner of the loop and the establishment of Interstate 670 as the sole route along the south end.
The Jay B. Dillingham Freeway portion in Kansas City, Kansas was the last section completed. It was dedicated in 19902 and cost $130 million to complete.3 Actions by the Missouri Legislature extended the freeway name east to Interstate 70 in Missouri based upon recommendations of community and municipal leaders on May 4, 1984.4 Dillingham was president of the Kansas City Stockyards Company for nearly 30 years and served as the president of Chambers of Commerce for both Kansas City, Kansas and Missouri. He was also a chairman of the Missouri Highway and Transportation Commission who helped secure federal funding for Interstates 435 and 670.5
| | |
| --- | --- |
| | scenes |
| | |
| --- | --- |
| | The eastbound entrance ramp for I-670 from the service road linking Genessee Street south with Wyoming Street north. Photo taken 10/30/16. |
| | |
| --- | --- |
| | Interstate 670 trailblazer directing motorists from W 14th Street east onto Wyoming Street north at West Bottoms in Kansas City, Missouri. Photo taken 11/03/16. |
2 photos

2 photos

Wyoming Street leads north from HyVee Arena to the split diamond interchange with Interstate 670. Photos taken 11/03/16.
| | |
| --- | --- |
| | Wyoming Street north at the westbound service road for Interstate 670 at the West Bottoms area of Kansas City, Missouri. Photo taken 10/30/16. |
| | |
| --- | --- |
| | The westbound entrance ramp for I-670 at Genessee Street. Photo taken 11/03/16. |
Sources:
"Mystery surrounds how Grand Boulevard bridge broke and what to do with other bridges." Kansas City Star, The (MO), May 20, 2016.
"KC needs more clout Presence on state commissions can decide whether area gets what it needs." The Kansas City Star, April 10, 1994.
"Interstates show wear of 35 years More traffic, stress of weather, heavy trucks damage nation's roads." The Kansas City Star, August 4, 1991.
"Highways - Naming Highways," Commission Action Missouri Highways and Transportation Commission Policies.
"Heavy hitters help shape area Leadership in politics, business and the community is attained through wealth, power, family and ability." The Kansas City Star, June 23, 1991.
Photo Credits:
10/30/16 by AARoads and . 11/03/16 by AARoads.
Connect with:
Interstate 35
Interstate 70
U.S. 71
Page Updated 02-24-2020.