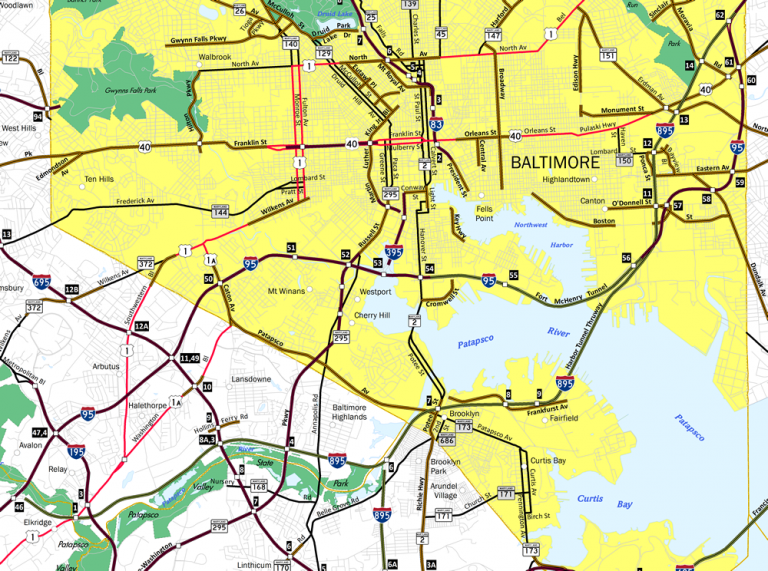 For a time, the Harbor Tunnel Thruway and John F. Kennedy Memorial Highway were both a part of Interstate 95. This alignment of Interstate 95 lasted until the sections through Baltimore were built. The Harbor Tunnel Thruway ended at U.S. 1 (Exit 3) until Interstate 95 was completed southwest of the Beltway.
Interstate 895 Maryland Guides
Interstate 895 features a spur route between the Harbor Tunnel Thruway and Interstate 97 & Maryland 2 (Ritchie Highway) at Glen Burnie. The freeway allows southbound travelers direct access to the southbound beginning of Interstate 97 and the Ritchie Highway just south of the Beltway. Interstate 895 Spur northbound brings Maryland 2 and Interstate 97 northbound drivers directly onto Interstate 895 north ahead of the Harbor Tunnel.
The K-Truss Bridge west of Baltimore Harbor Tunnel was redecked between August and October 2012. During the $3.9-million project, lanes were restricted at times to just two overall or reduced in width. Additional work focused on repairing the steel structure of the span.1

Sources:
"Harbor Tunnel bridge project enters toughest phase for drivers." The Baltimore Sun, August 1, 2012.
Connect with:
Interstate 95
Interstate 695 - Baltimore Beltway
Route 295 - Baltimore-Washington Parkway
Page Updated 08-01-2012.