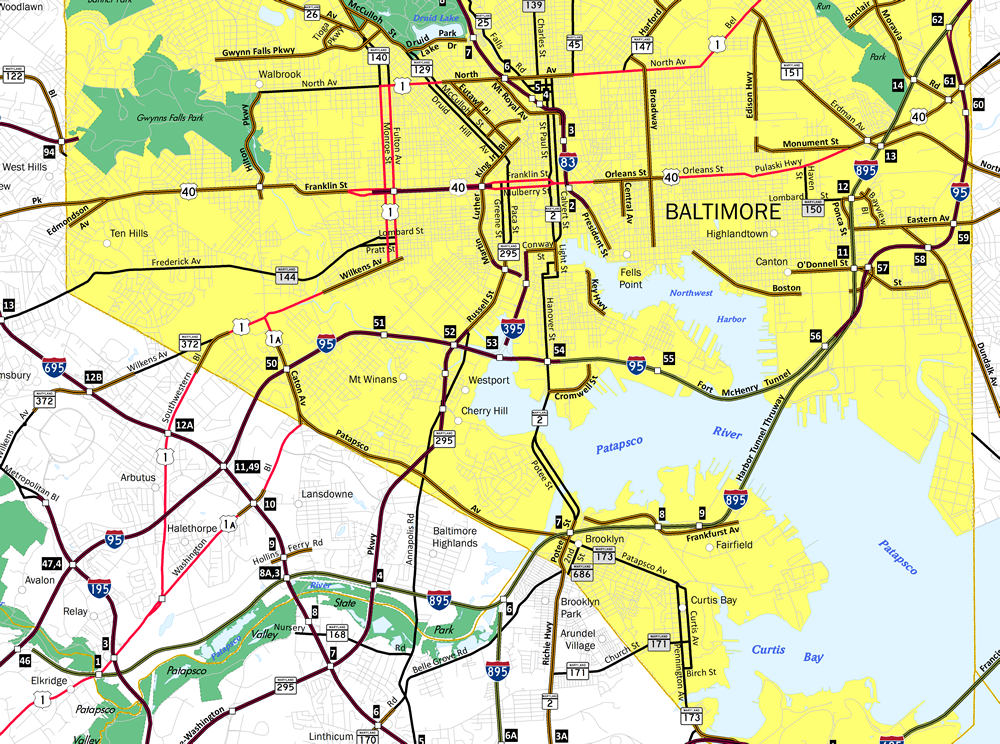 The lone entry for I-895 in the Interstate Highway System is the Baltimore Harbor Tunnel Thruway. The 16 mile toll road provides an alternative to I-95 and the Fort McHenry Tunnel for through traffic passing through the city of Baltimore. The four lane highway crosses the Patapso River through the Harbor Tunnel.
Interstate 895 includes a pair of spurs joining the Baltimore Harbor Tunnel Thruway with Glen Burnie and Anne Arundel County to the south. The west "A" leg of I-895 Spur connects with I-97 around Glen Burnie. The eastern "B" leg ties into MD 2 (Ritchie Highway) south of I-695 (Baltimore Beltway).
Interstate 895 Maryland Guides
The Harbor Tunnel opened to traffic in 1957. The Harbor Tunnel Thruway north connected with Moravia Road just inside the Baltimore city limits. Moravia Road linked with U.S. 40 (Pulaski Highway), the main route at the time east to U.S. 13 at State Road, Delaware. The Harbor Tunnel Thruway (future I-895) was extended north to directly connect with the John F. Kennedy Memorial Highway once it opened in November 1963.1
The Harbor Tunnel Thruway ended at U.S. 1 (Exit 3) to the southwest until Interstate 95 was completed outside the Beltway. Before the Fort McHenry Tunnel was built, but after the approach freeway from the Baltimore Harbor Tunnel Thruway was opened, signs at the I-95/895 split read "southeast Baltimore" for the eventual Interstate 95 and "Washington via I-95" for the Harbor Tunnel Thruway.1 The Baltimore Harbor Tunnel Thruway acted as the temporary alignment for Interstate 95 until the Fort McHenry Tunnel and its approach freeways were completed.
The K-Truss Bridge west of Baltimore Harbor Tunnel was redecked between August and October 2012. During the $3.9 million project, lanes were restricted at times to just two overall or reduced in width. Additional work focused on repairing the steel structure of the span.2
| | |
| --- | --- |
| | Moravia Road - South at |
| | |
| --- | --- |
| | Moravia Road south at the parclo A2 interchange with Interstate 895 (Baltimore Harbor Tunnel Thruway). An entrance ramp connects Moravia Road with the I-95 Express Toll Lanes directly. 01/04/19 |
| | |
| --- | --- |
| | A loop ramp follows from Moravia Road southbound for I-895 north to the General Purpose Lanes along Interstate 95. 01/04/19 |
| | |
| --- | --- |
| | Interstate 895 merges with I-95 (John F. Kennedy Memorial Highway) north one mile from Moravia Road. 01/04/19 |
Sources:
Moore, Carl. "I-895 (Maryland)." Personal email, November 9, 2004.
"Harbor Tunnel bridge project enters toughest phase for drivers." The Baltimore Sun, August 1, 2012.


Photo Credits:

01/04/19 by AARoads

Connect with:
Interstate 95
Interstate 695 - Baltimore Beltway
Route 295 - Baltimore-Washington Parkway

Page Updated 06-25-2020.