U.S. 40 stretches across much of Maryland, traveling a portion of the original National Road and the Pulaski Highway east from Baltimore to State Road, Delaware.
U.S. 40 Maryland Highway Guides
U.S. 40 Cecil County Average Annual Traffic (AADT)
28,168 - Thomas J. Hatem Memorial Bridge
25,151 - MD 222 to MD 272
32,621 - MD 272 to MD 279
33,011 - MD 279 to MD 213
30,431 - MD 213 to MD 781
29,051 - MD 781 to Delaware state line
Source: Maryland Department of Transportation (MDOT) - 2016 Traffic Volume Maps by County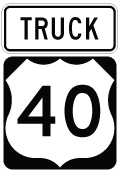 U.S. 40 Truck - Baltimore
U.S. 40 Truck serves in-city commercial traffic using the US route across Baltimore. The truck route bypasses U.S. 40 alignments along the couplet of Franklin / Mulberry Streets and Orleans Street between Edmondson Avenue and Pulaski Highway. Although sparsely signed, U.S. 40 Truck follows the following route from west to east:
Hilton Parkway north to North Avenue
North Avenue east to Belair Road
Belair Road north to Erdman Avenue
Erdman Avenue south to the Pulaski Highway
U.S. 1 overlaps with U.S. 40 Truck both on North Avenue between Monroe Street and Belair Road and along Belair Road between North Avenue and Erdman Avenue. U.S. 40 Truck also combines with Maryland 151 on Erdman Avenue to an interchange with Pulaski Highway at Interstate 895 (Harbor Tunnel Thruway). A companion U.S. 1 Truck route follows U.S. 40 Truck along Hilton Parkway and North Avenue between U.S. 40 and U.S. 1 respectively. U.S. 1 Truck continues south of Edmondson Avenue via Hilton Street to Caton Avenue and U.S. 1 (Wilkens Avenue). U.S. 1 Truck is signed even more sporadically than U.S. 40 Truck.
---
| | |
| --- | --- |
| | Ground level views of the Thomas J. Hatem Memorial Bridge as seen from Frenchtown Road in Perryville. Frenchtown Road parallels the Susquehanna River between Maryland 7 (Broad Street) and Mt. Ararat Farm Road outside of Port Deposit and Maryland 222 (Bainbridge Road). A boat launch site lies along the river just north of the U.S. 40 cantilever bridge. Parallel to the span on the southside is the AMTRAK Northeast Corridor bridge. Photos taken 03/28/04. |
| | |
| --- | --- |
| | Northbound Aisquith Street at U.S. 40 (Orleans Street) in the city of Baltimore. U.S. 40 travels east to Johns Hopkins Hospital and west onto the Orleans Street Viaduct from here. Photo taken 06/27/10. |
2 photos

2 photos

Caroline Street northbound at U.S. 40 (Orleans Street) by Johns Hopkins Hospital in Baltimore. Posted at this intersection is a modern U.S. 40 trailblazer and an old city-installed assembly both pointing toward eastbound Orleans Street. Photos taken 06/20/12.
Photo Credits:
03/28/04, 06/27/10, 06/20/12 by AARoads
Connect with:
Interstate 68 - National Freeway
Interstate 70
Interstate 81
Interstate 270
Interstate 695 - Baltimore Beltway
U.S. 1
U.S. 15
Maryland 7
Maryland 213
Maryland 222
Page Updated 07-14-2012.