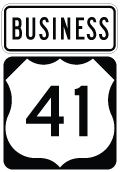 U.S. 41 Business was created in 1962 from a realignment of U.S. 41 through North Fort Myers into Fort Myers via a new Caloosahatchee River crossing. The bannered route follows Tamiami Trail from U.S. 41 (Cleveland Avenue), near the Shell Factory, south through unincorporated North Fort Myers. Beyond there U.S. 41 Business crosses the Caloosahatchee River by way of the Edison Bridge to the east side of the Fort Myers central business district. This section of U.S. 41 Business doubles as unsigned State Road 739.
Changes made by the mid-2000s in Downtown Fort Myers involved the relinquishment of SR 80 west along First and Monroe Streets and SR 80 east along Second Street. U.S. 41 Business overlapped with the state road along the one-way couplet of SR 80 prior to that time. The business route was then realigned with southbound following SR 739 (Fowler Street) south from First Street to SR 82 (Dr. Martin Luther King, Jr. Boulevard) west and northbound along SR 82 east and SR 739 (Evans and Park Avenues) north to Second Street. Signage however remains inconsistent, with shields still referencing the southbound turn from Fowler Street to First Street and the route unposted at SR 82.
The western leg of U.S. 41 Business utilizes Monroe Street north from SR 82 (MLK Boulevard) to Main Street, and Main Street west two blocks to the Five Points interchange with U.S. 41 (Cleveland Avenue) and McGregory Boulevard (old SR 867). This portion of the route is somewhat signed, including an overlap with SR 80 along Main Street.
U.S. 41 Business Guides
The final two-lane section of U.S. 41 Business through North Fort Myers was expanded to a four lane divided highway between Littleton Road and U.S. 41. Construction on the $8.5 million project was underway between late October 2013 and Spring 2015.1
Sources:
"U.S. 41 road widening begins." North Fort Myers Neighbor, October 30, 2013.
Connect with:
U.S. 41
State Road 78
State Road 80
State Road 82
Lee County Road 78A - Pondella Road
Page Updated 11-23-2016.