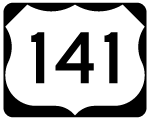 U.S. 141 travels 116.7 miles through northeast Wisconsin and nearly 169 miles overall between Interstate 41 in Ledgeview and U.S. 41 near Covington, Michigan. The route formerly extended south to Milwaukee, with upgrades to freeway sections as part of the eventual I-43. U.S. 141 was dropped south of Exit 178 in 1981 with completion of Interstate 43.
The remainder of U.S. 141 runs north through Bellevue and Green Bay along a series of surface streets and boulevards to Downtown. The US highway emerges from the city to join Interstate 41 north through the village of Howard as part of a 16.2-mile overlap along the U.S. 41 freeway to Abrams.
U.S. 41 veers northeast from Abrams to Oconto and Marinette while U.S. 141 remains northward along its own expressway to Stiles and Lena. Beyond Pound, U.S. 141 reverts to a two-lane rural highway for the rest of the journey north in Wisconsin to Niagara. A ten-mile overlap takes the route along side U.S. 8 as well.
U.S. 141 Wisconsin Guides
Connect with:
Interstate 41 / U.S. 41
Interstate 43
State Trunk Highway 29
State Trunk Highway 54
State Trunk Highway 57
Page Updated 02-19-2016.