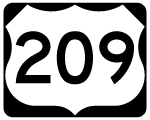 U.S. 209 originates in Millersburg along the Susquehanna River in east central Pennsylvania. The highway runs 150 miles northeast along a mostly rural course to the Delaware River at Matamoras.
U.S. 209 travels across northern Dauphin County from PA 147 to Elizabethville and Lykens. Continuing east into Schuylkill County, U.S. 209 meets I-81 near Tremont, passing through the county seat of Pottsville and converges with PA 309 at Tamaqua.
Through Carbon County, U.S. 209 joins the seat of Jim Thorpe with Leighton and the Pennsylvania Turnpike Northeastern Extension (I-476) near Parryville. East into Monroe County, U.S. 209 heads to Brodheadsville and Sciota, where U.S. 209 Business begins.
U.S. 209 combines with PA 33 along a freeway joining I-70 near Bethelehem with I-80 south of Tannersville. U.S. 209 and PA 33 combine for just 2.5 miles north by Kellersville. U.S. 209 turns to the east from Hamilton township to merge with I-80 eastbound in Stroud township.
I-80/U.S. 209 overlap through the boroughs of Stroudsburg and East Stroudsburg between Exit 304 and 309. Beyond their separation, I-80 curves south to Delaware Water Gap and Warren County, New Jersey while U.S. 209 curves northeast through Smithfield township.
U.S. 209 Business returns to U.S. 209 from East Stroudsburg near Marshalls Creek and the Middle Smithfield township line. U.S. 209 advances from there to Bushkill in southern Pike County and along the Delaware River to Dingmans Ferry and Milford.
U.S. 206 extends north across the Delaware River on the Milford-Montague Toll Bridge to conclude at U.S. 209 in Dingman parish. U.S. 209 enters the borough of Milford a short distance north from there where it joins U.S. 6 along Broad Street. Paralleling Interstate 84 through Westfall township, U.S. 6/209 overlap for 6.7 miles to the borough of Matamoras and the New York state line at Port Jervis.
The expressway system taking U.S. 209 east from Scotia onto PA 33 near Hamilton Square and northeast from PA 33 near Snydersville to I-80 outside Stroudsburg was completed in 1963. Adding two miles to the route, the American Association of State Highway Officials (AASHO) approved the relocation in Hamilton and Stroud townships on December 1, 1962. U.S. 209 was realigned onto the four lane The former route followed Strawberry Hill Road east to Hamilton East Road, which continued U.S. 209 north from Sciota to Sandhill, Snydersville and onto West Main Street into Stroudsburg. north of Sciota.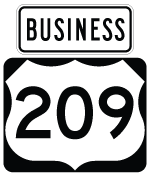 Also approved by AASHO on December 1, 1962 was the realignment of U.S. 209 onto Interstate 80 through Storudsburg and East Stroudsburg and over portions of PA 196 and PA 402 along Seven Bridge Road to Twin Falls and Marshalls Creek in Smithfield township. The former route on Main Street through Stroudsburg and Brown, Washington and Courtland Streets in East Stroudsburg were established as part of U.S. 209 Business. U.S. 209 Business continued northeast along Milford Road to Marshalls Creek.
U.S. 209 Business was eventually extended southward along old U.S. 209 to Sciota via Hamilton East Road. U.S. 209 Business was lengthened further to the north with the realignment of U.S. 209 onto the Marshalls Creek Bypass. U.S. 209 Business is 14.6 miles in length with one way couplets along Main Street north and McConnell Street south in Stroudsburg and along Brown/Courtland Streets north and Washington Street south in East Stroudsburg.
| | |
| --- | --- |
| | North |
| | |
| --- | --- |
| | Confirming marker for U.S. 209 Business formerly posted east of the exchange with Interstate 80 along W Main Street in the borough of Stroudsburg. 07/28/00 |
| | |
| --- | --- |
| | South |
| | |
| --- | --- |
| | U.S. 209 Business (W Main Street) meets I-80 at a parclo B2 interchange (Exit 305) along the western boundary of the Stroudsburg borough line. This assembly was replaced by 2007. 07/28/00 |
| | |
| --- | --- |
| | Replaced by 2007, these shields for I-80/U.S. 209 were posted at the eastbound entrance ramp from U.S. 209 Business (W Main Street) west. I-80 and U.S. 209 overlap between Exits 302 and 309. 07/28/00 |



Photo Credits:

07/28/00 by AARoads

Connect with:
Interstate 80
Interstate 81
Interstate 476
Route 61
Route 309
Route 611

Page Updated 01-16-2021.