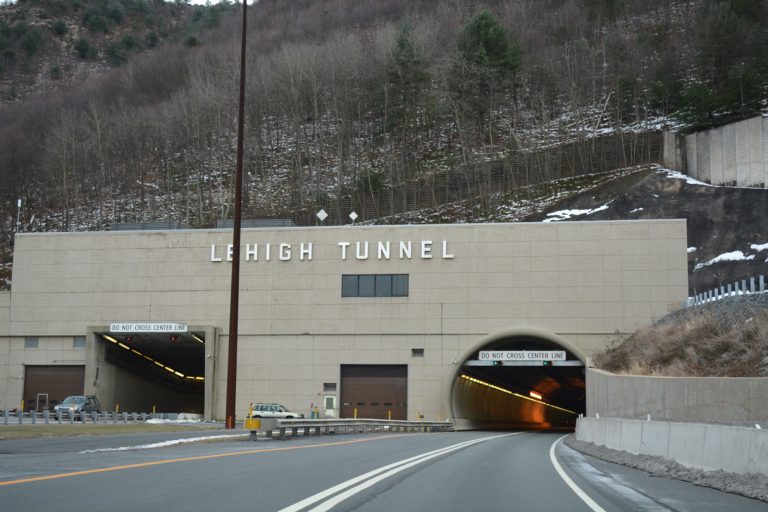 Traveling 130 miles overall from Chester to Clarks Summit north of Scranton, Interstate 476 is the longest branch route in the Interstate Highway System. The Mid-County Expressway provides a commuter route through the Delaware County suburbs to I-76 (Schuylkill Expressway) at West Conshohocken. The freeway also links I-95 at Chester with the Northeastern Extension of the Pennsylvania Turnpike at Plymouth Meeting. The toll road runs north through Montgomery County to Allentown, I-80 west of the Pocono Mountains, Wilkes-Barre and Scranton.
Growing commuter use northward to western Bucks County resulted in a major expansion project along I-476 between Interstate 276 and the Landsale Interchange with PA 63. The Northeast Extension Total Reconstruction and Widening Project continues northward to Milepost 38 (Clump Road), with a $224.9 million contract awarded in November 2017. Work through late Fall 2020 reconstructs the Turnpike from a four-lane roadway with 10 foot outside shoulders and a four foot barrier median to six overall lanes, with 12 foot in and outside shoulders. Completion of the project is anticipated for early Summer 2021.1
Additional work will further widen Interstate 476 to six overall lanes north from Clump Road to Milepost 44, north of Steinsburg Road. Split into two sections, reconstruction between Clump Road and John Fries Highway is forecast to start in 2020 or later. North from there to Steinsburg Road, including improvements at the Quakertown Interchange, may commence in 2024 or later.2
Interstate 476 Pennsylvania Guides
With origins in 1956 for a concept of a "mid-county" expressway included in the U.S. Interstate and Defense Highway System plan, Interstate 476 was the most environmentally sensitive roadway constructed by the Pennsylvania Department of Transportation during the the 20th century. A preliminary plan for a 21.5 mile, six-lane expressway arose in 1960 between Interstate 95 at Ridley Township and the junction of Interstate 280 (Pennsylvania Turnpike) and PA 9 (Northeast Extension) at Plymouth Township.3 The road was designated Interstate 480.
A public hearing in 1961 showcased four proposed alignments. The alignments were color coded blue, green, red and yellow, and displayed on a large map of the area. Feedback gathered led to the choice of the "Blue Route" as the preferred alignment, but several citizens opposed any construction.3
Estimated to cost $50 million, construction kicked off in July 1967 on a 2.5 mile segment between Darby Road in Haverford Township to Radnor Township and modern day Tower Road. This portion opened in October 1969. Work on five additional sections commenced between 1970 and 1974 between Upper Merion Township (County Line Road) and Plymouth Township (Chemical Road). Nine miles of the freeway were completed by 1978, but only three miles, from Interstate 76 to Chemical Road, were open to traffic in January 1979. Highway opponents utilizing the National Environmental Policy Act of 1969 delayed road work and ultimately halted construction during this time period with a successful suit filed in 1974, mandating additional environmental studies.3
Road work on Interstate 476 ceased until 1985 when a U.S. District Court denied an appeal filed by highway opponents to prevent work from resuming after the approval of a Supplemental Environmental Impact Statement (SEIS). The SEIS redesigned the freeway from an environmental standpoint, reducing the freeway from six to four lanes south of West Chester Pike.3
Groundbreaking in December 1985 celebrated the resumption of work on the Mid-County Expressway between Interstate 95 and MacDade Boulevard in Ridley Township. Additional law suits followed, focusing on wetland impacts and the need for a "Section 404 Permit" from the Army Corps of Engineers. Delays ensued, and Interstate 476 construction was pushed back to February 1988 and July 1988, when work resumed on the six remaining segments.3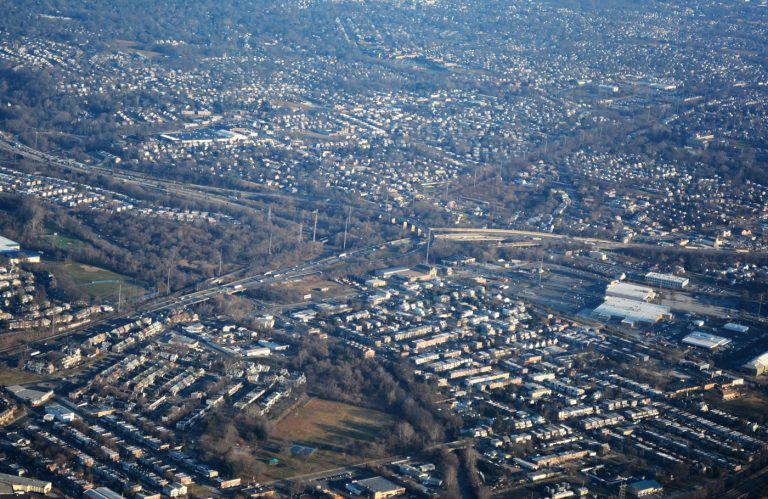 The U.S. District Court issued an order that effectively dismissed all cases on May 1, 1990. A year and a half later on December 19, 1991,4 Interstate 476 was completed between Interstate 95 and Chemical Road at a cost of $581.3 million.3 The connector to then-PA 9 and the Northeast Extension of the Pennsylvania Turnpike followed on December 16, 1992.4
Extension of the Interstate 476 designation onto the Northeast Extension was sought to link the toll road and Mid-County Expressway as one seamless route. The toll road, opened in 1957, was not Interstate standard due to the two-lane Lehigh Tunnel northwest of Allentown. Work to add a second bore and eliminate a notorious bottleneck commenced on February 14, 1989 and was finished on November 22, 1991. Completion of the tunnel project made the NE Extension eligible for inclusion into the Interstate system. AASHTO approved the extension of I-476 on April 23, 1995, followed by Federal Highway Administration approval on November 1, 1996.
| | |
| --- | --- |
| | scenes |
| | |
| --- | --- |
| | Baltimore Pike (SR 2016) west at Interstate 476 (Mid County Expressway) in Nether Providence township. 12/27/16 |
| | |
| --- | --- |
| | Chemical Road passes north of Interstate 476 by the Metroplex shopping center. A southbound ramp joins the Mid-County Expressway across from a driveway to the retail area. This scene looks at a replaced shield assembly on the then-two lane Chemical Road east. December 1999 |
| | |
| --- | --- |
| | Matsonford Road east ahead of the on-ramp to Interstate 476 southbound at West Conshohocken. All state-named shields along Matsonford Road were replaced by 2012. 03/23/04 |
| | |
| --- | --- |
| | Matsonford Road heads east from PA 320 (Gulph Road) to ramps with both I-476 and I-76 (Schuylkill Expressway) at Rebell Hill and West Conshohocken. 03/23/04 |
| | |
| --- | --- |
| | Matsonford Road advances west from the access ramp to I-76 east to a pair of on-ramps connecting with both I-476 (Mid-County Expressway) north to Plymouth Meeting and I-76 (Schuylkill Expressway) west to Valley Forge. 10/09/01 |
2 photos

2 photos

Ridge Pike (SR 3056) west at Interstate 476 in Plymouth township. 12/23/12
| | |
| --- | --- |
| | Ridge Pike (SR 3056) spans I-476 (Mid County Expressway) west ahead of a heavily developed retail area at Alan Wood Road (SR 3018). 12/23/12 |
| | |
| --- | --- |
| | A loop ramp joins Ridge Pike westbound with Interstate 476 south directly. 12/23/12 |
2 photos

2 photos

Ridge Pike continues from the parclo interchange with I-476 to a jughandle intersection with Alan Wood Road (SR 3056). 12/23/12
3 photos

3 photos

3 photos

Motorists on Ridge Pike westbound headed to I-476 north are directed to U-turn at the jughandle with Alan Wood Road to Ridge Pike east back to I-476. 12/23/12
| | |
| --- | --- |
| | Alan Wood Road (SR 3018) east at Ridge Pike (SR 3056). 12/23/12 |
3 photos

3 photos

3 photos

Ridge Pike (SR 3056) extends southeast from Main Street in the borough of Norristown to Interstate 476 at Exit 18. 12/23/12
| | |
| --- | --- |
| | Sign bridge partitioning traffic to the Pennsylvania Turnpike Northeast Extension at the Quakertown Interchange with PA 663. 04/24/04 |
| | |
| --- | --- |
| | PA 663 (John Fries Highway) travels 3.3 miles west from PA 309/313 in Quakertown to the Quakertown Interchange along the Pennsylvania Turnpike Northeastern Extension (I-476). 04/23/04 |
Photo Credits:
December 1999, 10/09/01, 03/23/04, 04/23/04, 04/24/04, 12/23/12, 12/27/16 by AARoads
Connect with:
Interstate 76
Interstate 78
Interstate 80
Interstate 81
Interstate 95
Interstate 276 / Pennsylvania Turnpike
U.S. 1
U.S. 22
U.S. 30
U.S. 209
Route 3
Route 63
Route 309
Route 940
Page Updated 01-20-2021.