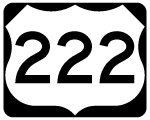 U.S. 222 travels a freeway from the Lancaster Bypass (U.S. 30) northeast to the Reading Bypass of U.S. 422. With planning starting in the 1950s, the freeway opened in stages, including four sections in Lancaster County. The first Lancaster County section opened in 1970 from U.S. 30 northward three miles. The portion from Ephrata to the Pennsylvania Turnpike near Denver opened on November 22, 1973 at a cost of $6.1-million. This six-mile portion sat unused from Fall 1972 as it awaited the addition of a new interchange with Interstate 76. Work on the three miles north from the PA Turnpike to the Berks County line occurred between spring 1974 and 1978. It was thought that the link to Schillington would be complete by 1978 as well,1 but that would have to wait almost another 30 years.
Completion of the Berks County stretches of the freeway followed much later, first with a two-mile portion south from Penn Avenue (U.S. 422) to Pennsylvania 724 (Revere Boulevard) near Sinking Spring between October 1998 and November 2000. Another two mile portion followed from PA 724 south to Grings Hill Road between August 2001 and November 2004, leaving the four-mile stretch from Grings Hill Road to the Lancaster County line between March 2003 and June 23, 2006. Total cost of the link between Adamstown and Sinking Spring was $144-million.2
U.S. 222 Pennsylvania Guides
Sources:
"New Route 222 Section to Open." Reading Eagle, October 5, 1973.
"Long road ends for Route 222 project - Expressway nearly complete." Intelligencer Journal (Lancaster, PA), June 24, 2006.
Connect with:
Interstate 76
U.S. 30
U.S. 422
Page Updated 06-20-2014.