U.S. 30 stretches 334.5 miles across the Commonwealth of Pennsylvania, from Greene Township, east of Chester, West Virginia, to the Benjamin Franklin Bridge (Interstate 676) across the Delaware River. The designation overlays the Lincoln Highway across Pennsylvania as part of its transcontinental route from New York to San Francisco. Through the Keystone State, many portions of the 1913 Lincoln Highway were bypassed by freeway or expressway alignments.
U.S. 30 Pennsylvania Guides
Spanning the width of the state, U.S. 30 angles southeast from the panhandle of West Virginia through Beaver County to Imperial in Allegheny County, where the route combines with U.S. 22 along a freeway (William Penn Highway) east towards Pittsburgh. The pair proceed east to PA 60, where Interstate 376 overtakes the route for the continuation to Carnegie and the Steel City. Prior to 2009, U.S. 22/30 continued as a fully marked route to I-79/279
Known as the Penn-Lincoln Parkway West, Interstate 376 and U.S. 22-30 combine along an overcrowded freeway east to the Fort Pitt Tunnel and the Fort Pitt Bridge across the Monogahela River. This stretch of expressway was designated a part of Interstate 279 until June 10, 2009, when the first leg of I-376's extension west and north was made. East from the Fort Pitt Bridge, U.S. 22/30 line Penn-Lincoln Parkway East, remaining generally unsigned along I-376 on an older freeway that straddles the shoreline of the Monogahela River to Schenley Park.
U.S. 30 leaves Penn-Lincoln Parkway East at Wilkinsburg, following Ardmore Boulevard and the Lincoln Highway southeast to Westmoreland County and Greensburg. Meeting the Pennsylvania Turnpike for the first time at Adamsburg, U.S. 30 commences a parallel course to the toll road that extends to Chester County in Southeast Pennsylvania. The route carries four lanes through much of Westmoreland County, but reduces to a two lane roadway east of Ligonier en route to Bedford, where U.S. 30 shifts onto a short stretch of freeway.
While running north of Interstate 76 between Greensburg and Bedford, U.S. 30 stays in close proximity to the toll road between Bedford and Sideling Hill, with a second freeway bypass carrying the route around Everett. Beyond the Turnpike split with I-70, U.S. 30 branches southward to Connellsburg, leaving I-76 for an easterly stretch across Chambersburg, Gettysburg, Lancaster and Coatesville. This portion includes a freeway bypass of York and an older freeway from Stonybrook to Columbia and Lancaster.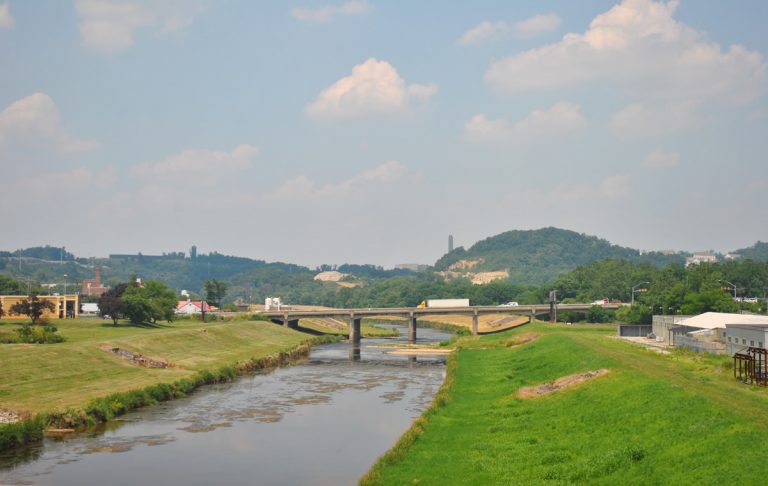 The freeway bypassing Lancaster dumps traffic from both U.S. 30 and PA 283 east from Harrisburg onto an arterial stretching across eastern Lancaster County to Chester County. This leads motorists onto another freeway section that bypasses Coatesville, Thorndale and Downingtown. Until 1993, U.S. 30 left that freeway for an arterial route through Exton, but that too was bypassed with a limited access highway.
Through travelers shift away from U.S. 30 onto U.S. 202, a freeway from West Chester to King of Prussia and the Schuylkill Expressway (Interstate 76) between Exton and Philadelphia. U.S. 30 remains on a multi lane boulevard through Malvern, Paoli, Berwyn, Saint Davids, Bryn Mawr and Ardmore before entering the city. Lancaster Avenue carries U.S. 30 southeast to Girard Avenue, which leads the route east to I-76. The easternmost extent of U.S. 30 overlaps with I-76 (Schuylkill Expressway) to I-676, and along the Vine Street Expressway and Ben Franklin Bridge to Camden, New Jersey.
U.S. 30 Reconstruction - Lancaster
A major project completely redesigned the freeway along U.S. 30 in Lancaster County from Rohrerstown Road east to the Lincoln Highway East wye interchange between 1996 and November 2002. Costing $87.5 million, the largest project undertaken in south central Pennsylvania at the time widened the route from four to six lanes between PA 283 and U.S. 222 north of Lancaster, while adding auxiliary lanes elsewhere. Split into three sections, the 2.5 mile central portion was completed in December 2001, though two years after its original scheduled completion date. The western section also fully opened to traffic in December 2001, six months ahead of schedule. The bulk of roadwork on the eastern section was completed on October 6, 2002, with sound wall and rumble strip installation continuing through November 2002.1
| | |
| --- | --- |
| | East - Breezewood |
| | |
| --- | --- |
| | Departing the community of Breezewood on U.S. 30 en route to McConnellsburg. The Lincoln Highway reaches Crystal Springs and PA 915 (Crystal Springs Road) in three miles. 08/07/04 |
| | |
| --- | --- |
| | West - Breezewood |
| | |
| --- | --- |
| | Entering the community of Breezewood on U.S. 30 (Lincoln Highway) westbound. The mountains of Sideling and Rays Hills open up to motels, gas stations, and fast food franchises as U.S. 30 nears the trumpet interchange with I-70/76 (Pennsylvania Turnpike). 08/07/04 |
| | |
| --- | --- |
| | The interchange between the Pennsylvania Turnpike connector and U.S. 30 is almost a complete trumpet with the exception of the missing directional ramp from the Lincoln Highway west onto the Turnpike access road south. Instead U.S. 30 motorists are directed to make a left turn to access I-70 west and I-76. Ahead I-70 east joins U.S. 30 along the signalized stretch of the Lincoln Highway. 08/07/04 |
| | |
| --- | --- |
| | scenes |
| | |
| --- | --- |
| | Greenfield Road west intersects Hempstead Road just ahead of the parclo interchange with U.S. 30 in Lancaster. Before U.S. 30 was rebuilt across the city, a folded diamond interchange joined Greenfield Road with the Lancaster Bypass. 09/18/04 |
| | |
| --- | --- |
| | Greenfield Road west at U.S. 30. Drivers joining the freeway westbound meet PA 23, U.S. 22 and PA 283 over the ensuing stretch. 09/18/04 |
| | |
| --- | --- |
| | Remington Road east at U.S. 30 (Lancaster Avenue) in Lower Merion township. 12/27/16 |
Sources:
"Work finished on Route 30 upgrade." Intelligencer Journal (Lancaster, PA), October 8, 2002.
Photo Credits:
08/07/04 by AARoads.
09/18/04 by AARoads and Carter Buchanan.
12/27/16 by AARoads and I.C. Ligget.
Connect with:
Interstate 70
Interstate 76
Interstate 81
Interstate 83
Interstate 376
Interstate 476
Interstate 676
U.S. 1
U.S. 15
U.S. 202
U.S. 222
U.S. 322
Route 10
Route 41
Route 272
Route 283
Route 462
Route 896
Page Updated 02-04-2021.