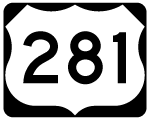 U.S. 281 is one of three routes serving the Rio Grande Valley region of South Texas. Doubling as the Interstate 69C corridor, the U.S. highway heads north from McAllen to Alice and George West, where IH 69C will combine with IH 69W. Just beyond there, U.S. 281 joins IH 37 north to San Antonio.
Within San Antonio, U.S. 281 remains paired with IH 37 to its north end at IH 35. U.S. 281 extends the freeway northward to San Antonio International Airport (SAT) and the northern suburbs of Bexar County.
Staying west of the Interstate 35 corridor, U.S. 281 travels a fairly rural route from Johnson City north to the county seats of Burnet, Lampasas, Hamilton, Stephenville, Mineral Wells and Jacksboro. Through Wichita Falls, U.S. 281 upgrades to a freeway, overlapping with SH 79, U.S. 287, U.S. 277 and IH 44. The US route exits the state along side IH 44 & U.S. 277 to Randlett, Oklahoma.
U.S. 281 Texas Guides
San Antonio / Bexar County
One of the original routes for the U.S. 281 freeway through north San Antonio had it running further west through the suburb of Olmos Park. Olmos Park successfully blocked the road, however, and its route was moved eastward into parkland at Olmos Basin. In January of 1961, voters approved a city bond issue to buy new parkland that could replace that which the freeway was to pave over. That did not appease conservationists, however, who mounted a fight against the U.S. 281 freeway that would become one of the most famous in US history.
Due to the legal fight of the freeway's route through parkland, work was delayed until 1969, when construction on the undisputed northern section of the road started. Construction was also halted from 1970-1974 as lawsuits about the route were handled in court. The state stepped in and eschewed all federal money to get the project out of the courts once and for all. The freeway opened in September of 1978, about 10 years late.
Before the 2008 completion of the systems interchange with IH 410, drivers along U.S. 281 were required to use Airport Boulevard north to the Loop 410 frontage road system to access the San Antonio beltway. The lack of a direct interchange created a serious congestion problem with both Airport Boulevard and nearby San Pedro Avenue, which connected the southbound direction of U.S. 281 with IH 410.
Beyond Sonterra Boulevard, U.S. 281 transitioned into a four-lane divided highway with traffic lights. The state planned to convert the highway into a toll road with the old U.S. 281 roadways converted to a frontage road system. Initial work commenced on the project in 2005, but was delayed after workers accidentally severed a sewer pipe. Work was halted at that time for a another environmental assessment. TxDOT eventually completed an Environmental Reevaluation in 2015 for a non toll designation for U.S. 281 with a six lane freeway with non-toll HOV lanes. Construction on the eight mile stretch north from SL 1604 to Borgfeld Drive commenced in 2017 and runs through 2022.
Connect with:
Interstate 10
Interstate 20
Interstate 37
Interstate 44
Interstate 410
U.S. 90
U.S. 287
Page Updated 07-27-2019.