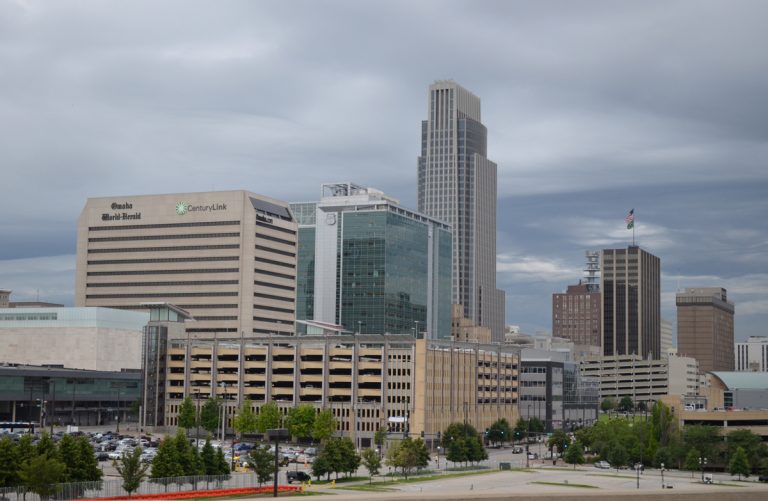 The Omaha-Council Bluffs metropolitan area boasts over 900,000 residents, comprising an eight county area across eastern Nebraska and western Iowa. Omaha is by far the largest city in Nebraska and the northern Great Plains in general. A number of companies are headquartered in Omaha, including TD Ameritrade, Werner Enterprises and the Union Pacific Railroad. The city also hosts the annual College World Series.
The city is named after the Omaha tribe, which translates to "Dwellers on the Bluff" The tribe agreed to a treaty during the Kansas–Nebraska Act of 1854, forming the Nebraska Territory on May 30 of that year. Omaha was founded on July 4, 1854 as the territorial capital. State hood took place on March 1, 1867, with the capitol established in Lincoln. Nonetheless, Omaha remained prominent economically as an industrial center with its placement on the transcontinental railroad.1
Growth in the late 1800s including the building of the Omaha Stockyards and the Sheelytown community in South Omaha. Omaha University was founded in 1908, and continued growth of the Stockyards through the 1940s catapulted Omaha as a leader in the meat packing industry.1
Hosting the College World Series starting in 1950, Omaha Municipal Stadium was constructed in 1947. Renamed to honor Omaha mayor Johnny Rosenblatt in 1964, the stadium became the largest ball park in Minor League Baseball to the 2010 season. TD Ameritrade Park replaced the venue as the home of the College World Series, with Rosenblatt Stadium subsequently demolished.2
Interstate 29 travels northwest from St. Joseph, Missouri to Mound City, Iowa, where it emerges from the bluffs rising east of the Missouri River. The rest of the freeway through the Hawkeye State traverses flat agricultural areas spreading east along the Missouri River to Sioux City. Through Council Bluffs, I-29 enters the city east of Lake Manawa and ahead of Interstate 80.
Construction through 2023 rebuilds the shared alignment of I-29 and I-80 on the south side of Council Bluffs so that each route travels independent of one another. New systems interchanges were built at both ends of their overlap, with four overall roadways running between the two exchanges. Interstate 29 otherwise circles around the city street grid northward to meet I-480 and U.S. 6 at the West Broadway Interchange outside Downtown. Three years of construction starting in November 2020 will rebuild the exchange and freeway between 9th Avenue and N 35th Street.
North from 16th Street (former Iowa 192 / old U.S. 75), I-29 straddles the east banks of the Missouri by Big Lake to exit Council Bluffs en route to Interstate 680 and Mormon Bridge Road (old Iowa 988) near the rural city of Crescent. Prior to Fall 2019, when the north leg of I-680 was renumbered as I-880, I-29 combined with I-680 for 9.6 miles to Loveland. The rural freeway proceeds north from Pottawattamie County to Missouri Valley.
The first section of I-29 built in the Omaha-Council Bluffs area was the concurrent route with U.S. 75 extending from N 16th Street (Exit 56) to U.S. 30 west of Missouri Valley. The succeeding portion opened from 16th Street south to 9th Avenue in Council Bluffs in October 1968. The freeway replaced U.S. 75 from Council Bluffs north to Sioux City. South into Missouri, I-29 was built along a new terrain alignment west of U.S. 275. Within Iowa, the Interstate was fully opened in 1973.
With 189,100 vehicles per day (vpd) recorded by NDOT in 2014, the busiest stretch of freeway in Nebraska the section of Interstate 80 between S 42nd Street and I-480 in Omaha. I-80 is well traveled across the Omaha and Council Bluffs metropolitan area, with counts ranging from 52,900 vpd (2014) west of N-50 (Exit 440) to 46,400 vpd (2014) east of the split with Interstate 29.
I-80 enters the Omaha area from Lincoln with six overall lanes. Suburban development replaces farm land along the freeway as it progresses northeast from N-380 (Exit 439). Lengthy collector distributor roadways accompany both sides of the freeway north from U.S. 275 (Exit 445) to the separation with Interstate 680 (Exit 446). Turning eastward, I-80 varies between eight and ten lanes from I-680 to the exchange with Interstate 480 and U.S. 75 (Kennedy Freeway) by Hanscom Park in Omaha.
The remainder of Interstate 80 in Nebraska to the Missouri River reduces to four through lanes with auxiliary lanes added between interchanges. Within Council Bluffs, Iowa, I-80 parallels I-29 across the south side of the city along side U.S. 6. Long term construction on the two routes through 2022 separated I-29/80 into a dual freeway configuration. The Council Bluffs Interstate System Improvement Program included a redesign of the East System Interchange, completed in March 2016, and 2008-12 expansion of the Missouri River Bridge to seven lanes. Work at the West System Interchange eliminated left exit ramps.
Beyond the split with I-29 south, Interstate 80 turns northeast along the Neola Diagonal. Paralleling Mosquito Creek, the freeway becomes rural again en route to the merge with I-880 north of Neola.
Interstate 80 was completed from U.S. 34 at West Lincoln to U.S. 6 (W Dodge Street) at West Omaha in August 1961. Opened in December 1972, the bridge across the Missouri River was the last section of I-80 built in the Omaha-Council Bluffs area.
Interstate 480 constitutes an urban loop connecting the central business district of Omaha with Downtown Council Bluffs, Iowa to the east and both I-80 to West Omaha and U.S. 75 (Kennedy Freeway) to South Omaha. The north-south leg travels below grade between the Hanscom Park and Deer Park neighborhoods along side U.S. 75 on the approach to Downtown. The east-west segment separates the central business district and Downtown Northeast from Creighton University, TD Ameritrade Park and Lewis & Clark Landing. With eight overall lanes, the Glenville Dodge Memorial Bridge spans the Missouri River east to 41st Street and I-29 in Iowa.
Opening initially from a temporary end of Interstate 80, I-480 extended northward to U.S. 6 (Dodge and Douglas Streets) at the Park East neighborhood by 1964. The Glenville Dodge Memorial Bridge was opened to traffic in November 1966, and the remainder of the freeway completed in 1970.
The North Freeway stems north from Interstate 480 by the Gifford Park neighborhood as the continuation of U.S. 75 north to N 30th Street at the Miller Park-Minne Lusa community. The six-lane freeway travels below grade 2.5 miles north to a three-wye interchange with Sorensen Parkway west and Arthur C. Storz Expressway east.
Proposals for the North Freeway arose in the 1960s as a high speed route from I-480 near 28th and Dodge Streets to I-680 in the Florence area. Community opposition and potential impacts to Miller Park, Forest Lawn Cemetery and Fort Omaha led to an impasse between city and state officials on a finalized route. The freeway was eventually shortened to no longer reach I-680, with delays for construction following.3
The southern section of the North Freeway, from I-480 to Lake Street, was open to traffic and signed as I-580 until 1980. The Interstate designation was subsequently removed due to funding issues related to bringing the freeway up to standards. U.S. 75 replaced U.S. 73 as the numbered route along the North Freeway in 1984. The remainder of the freeway north to the Storz Expressway was completed on November 15, 1988, when a 1.5-mile segment costing $55 million opened to traffic north of Lake Street. The freeway connected with Sorensen Parkway west and N 30th Street at that time, and by 1989 with Storz Expressway east.3
Interstate 680 encircles Northwest Omaha from I-80 by the Prairie Lane neighborhood north to Cunningham Lake and east to the Morman Bridge crossing the Missouri River between Wyman Heights and Florence Bend in Iowa. The beltway doubles as both a commuter route for West Omaha, and a bypass for the metropolitan area from the Loess Hills in northern Pottawattamie County.
The freeway leads north from Interstate 80 with eight overall lanes to U.S. 6 (West Dodge Freeway), six through lanes between U.S. 6 and Fort Street (Exit 5), and four lanes for the rest of the route east to the Morman Bridge and Pottawattamie County, Iowa. The route formerly continued north along an overlap with Interstate 29 across flat agricultural areas between the Missouri River and the Loess Hills, from Crescent north to Loveland. I-680 then traversed the Loess Hills east back to I-80 along a 17-mile long rural and scenic four-lane stretch. This changed on October 5, 2019 when AASHTO approved both the redesignation of I-680 east from I-29 as new Interstate 880 and the removal of the I-29/680 overlap south to Crescent. IowaDOT changed signs from I-680 to I-880 in November 2019.
Historically I-680 was originally designated as separate routes. Interstate 280 represented the loop around Omaha west from I-29. The northern leg between Loveland and I-80 near Neola was designated Interstate 80N. I-80N originated from the Iowa Highway Commission preference for a northerly route for Interstate 80.
Interstate 280 was renumbered as I-680 in 1965, due to the conflict with the second I-280 around the Quad Cities in eastern Iowa. I-80N was incorporated into an extension of I-680 in 1973, following the AASHTO mandate for the removal of suffixed routes from the Interstate system. Construction of I-680 was finished with the completion of the freeway section linking then-U.S. 73 (Morman Bridge Road) with the Morman Bridge in 1974.


The West Dodge Expressway carries U.S. 6 west from Interstate 680 and West Dodge Road by Westroads Mall to the village of Boys Town, West Omaha and Elkhorn in Omaha. West Dodge Road was upgraded into a full freeway during the $100 million West Dodge Expressway project from fall 2003 to July 2007.4 The work constructed separate express lane viaducts for U.S. 6 east and west above the commercial section of West Dodge Road from I-680 and Big Papillion Creek to N 120th Street.
West from 120th Street, U.S. 6 transitions into a grade level freeway with six overall lanes to the single point urban interchange (SPUI) with N 204th Street. Link 28B takes over as the numbered route for the freeway west from 204th Street in Elkhorn to U.S. 275 near West Shores Lake and the village of Waterloo. Link 28B provides a seamless connection to the U.S. 275 freeway leading northwest to Valley and Fremont.
Opened south from I-80/480 by 1984, the Kennedy Freeway (U.S. 75) weaves between the Brown Park, Burlington Road and Highland Park neighborhoods through South Omaha parallel to the Union Pacific Railroad. Crossing into Sarpy County, the Kennedy Freeway follows a more linear course south through the city of Bellevue to Offutt Air Force Base and La Platte.
The limited access section of U.S. 75 ended south of Fairview Road, but construction through 2019 upgraded the highway south to Club View Drive in Plattsmouth to a freeway. Included in the work was the addition of a diamond interchange with U.S. 34 east and Hidden Valley Drive west, and another south of the Platte River at Bay Road west and Webster Boulevard south.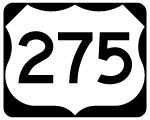 U.S. 275 parallels the Platte River northwest from western reaches of Omaha to the city of Fremont as a limited access highway. The freeway extends 18.3 miles north from Link 28B (West Dodge Expressway) to the villages of Waterloo and Valley and Luther Road on the northeast side of Fremont. U.S. 30 overlays the northern arc of the Fremont bypass, which is a controlled access expressway west to Fremont Municipal Airport (FET). U.S. 275 branches north from the Douglas County seat along a separate expressway, partially overlapping with U.S. 77, to Hooper and a point south to Scribner.

U.S. 6 travels across the city of Omaha from 204th Street at Elkhorn east to Downtown. The route travels north from the city of Gretna, straddling western fringes of the Omaha suburbs to a diamond interchange with U.S. 275/N-92 (Center Road). Two miles north from there, U.S. 6 overtakes L-28B along the West Dodge Expressway, a well traveled commuter freeway and commercial corridor leading east to I-680 at Westroads Mall.
West Dodge Road transitions into an eight-lane arterial leading east from N 96th Street. U.S. 6 shifts southward from Cass Street to cross Little Papillion Creek into a sprawling retail area anchored by Crossroads Mall. East between Elmwood Park and the Fairacres neighborhoods, U.S. 6 narrows into a five-lane boulevard, with lane control signals adjusting the center lane as a third lane for U.S. 6 east or west.
Passing north along the University of Nebraska Omaha (UNO) campus, U.S. 6 (Dodge Street) advances through the Dundee-Memorial Park neighborhood area. The five lane boulevard separates into a one-way couplet at N 31st Street. U.S. 6 east follows Douglas Street one block south of westbound Dodge Street through Downtown Omaha and Downtown Northeast.
U.S. 6 accompanies Interstate 480 (Gerald Ford Freeway) across the Missouri River into Council Bluffs, Iowa, where it combines with I-29 south. The US highway formerly extended east from the freeway end at I-29 onto Broadway, a five-lane commercial boulevard heading to the Council Bluffs city center. U.S. 6 then shifted northeast along Kanesville Boulevard, a divided arterial, to Interstate 80 at Exit 8.
Through the Omaha, U.S. 6 has always traveled along Dodge Street. It was cosigned with U.S. 30 Alternate east from its shared alignment with N-92 to North Broadway. Prior to construction of the I-480 bridge, the Ak-Sar-Ben Bridge (Nebraska spelled backwards), carried U.S. 6 east to Broadway in Council Bluffs. Broadway, Pierce Street and McPherson Avenue represent the historic alignment bypassed by Kanesville Boulevard.
Iowa petitioned AASHTO to relocate U.S. 6 off Broadway through Council Bluffs on May 25, 2016. Approved with a condition, the realignment takes U.S. 6 south along I-29 from I-480 to I-80, and east along I-80 to the Kanesville Boulevard interchange (Exit 8). The relinquishment allowed the city of Council Bluffs to redesign Broadway.

U.S. 34 overlaps with U.S. 75 northward from near Union in Cass County to Plattsmouth and La Platte in Sarpy County. The two separate at a diamond interchange completed in 2017, with U.S. 34 navigating eastward along a four-lane expressway across the Missouri River. Opened in October 2014, the new alignment and span for U.S. 34 east to Interstate 29 near Glenwood, Iowa replaced a surface route through Plattsmouth along Chicago and 1st Avenues and 6th, Main and 3rd Streets through Downtown. It also provided a new truck route across the Missouri River, bypassing the 402-foot long Plattsmouth Bridge, a narrow two lane span opened in 1929.5

Prior to 1984, U.S. 73 ran concurrent with U.S. 75 north from Richardson County to Omaha, and as a stand alone route from Downtown to South Sioux City. U.S. 73/75 entered Omaha and Douglas County along 13th Street north from Fort Crook Road through Bellevue. The two separated at U.S. 6 (Dodge / Douglas Streets) in Downtown Omaha, with U.S. 75 combining with U.S. 6/30 Alternate across the Ak-Sar-Ben Bridge to Broadway and Downtown Council Bluffs. U.S. 73 then dog legged northwest to Cuming Street.
30th Street extended U.S. 73 through North Omaha to Calhoun Road. Construction of I-680 in the 1970s realigned U.S. 73 to use McKinley Street west and Morman Bridge Road north toward Washington County.
With completion of the Kennedy Freeway south from I-80 and I-480, and removal of Interstate 580 from the southern half of the North Freeway, the planned truncation of U.S. 73 south from South Sioux City to Winnebago grew to include all of the route through Omaha. U.S. 75 was subsequently rerouted west from the I-29 corridor to overtake former U.S. 73 north to South Sioux City.
Beyond the freeway sections along the Kennedy Freeway, I-480 and the North Freeway, U.S. 75 joins the Omaha metropolitan area with Nebraska City to the south and Fort Calhoun and Blair to the north. Prior to 1984, U.S. 75 ran concurrent with U.S. 73 from Richardson County north to U.S. 6 (Dodge / Douglas Streets) in Downtown Omaha. The route crossed the Ak-Sar-Ben Bridge to Council Bluffs, and later the I-480 bridge over the Missouri River with just U.S. 6. 16th Street then turned U.S. 75 north onto Interstate 29 toward Sioux City. Historically U.S. 75/30 Alternate branched north from U.S. 6 (East Broadway) along North Broadway and Old Lincoln Highway to Crescent.
U.S. 75 overtook all of U.S. 73 north from Omaha to South Sioux City, initially taking the North Freeway before shifting westward onto N 30th Street through North Omaha. U.S. 75 parallels I-680 west along McKinley Street before crossing paths with the freeway along Mormon Bridge Road at Exit 12.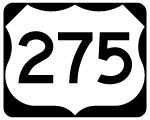 U.S. 275 enters the Omaha area as a freeway traveling southeast from U.S. 30 and Fremont. The US highway continues 2.5 miles south from the freeway transition to Link 28B (West Dodge Freeway) to combine with N-92. The two overlap and cross the Elkhorn River, becoming a suburban arterial (Center Road) east into West Omaha.
Industrial Road angles U.S. 275/N-92 southeast from Center Road by Oak View Mall to Millard Avenue (N-50) and South 132nd Street. The controlled access arterial then transitions into L Street ahead of a cloverleaf interchange with I-80. L Street separates big box retail and industrial areas to the north from subdivisions and office parks to the south to Big Papillion Creek.
L Street meets 72nd Street at a diamond interchange then crosses Little Papillion Creek ahead of the Wiercrest neighborhood. The remainder of U.S. 275/N-92 east across South Omaha constitutes a four-lane boulevard, following L Street east to U.S. 75 (Kennedy Freeway) and an S-curve onto Missouri Avenue.
Crossing the South Omaha Veterans Memorial Bridge, U.S. 275 enters Iowa, as N-92 becomes Iowa 92. The two routes continue east 5.2 miles along a divided arterial to Interstate 29, where U.S. 275 overlaps southward to U.S. 34 and Glenwood.
U.S. 275 has generally always followed L Street, Missouri Avenue and Veterans Memorial Highway between 72nd Street in Omaha and Interstate 29 at Council Bluffs. East of I-29, South Omaha Bridge Road west and Harry Langdon Boulevard represent the pre-freeway alignment of U.S. 275 heading southeast. Within Omaha, U.S. 275 originally combined with U.S. 6 and U.S. 30 Alternate along West Dodge Street east to 72nd Street. 72nd Street led U.S. 275 south to L Street east, while City U.S. 275 ran concurrently to Downtown with U.S. 6 on Dodge Street and U.S. 73/75 on 13th Street.

N-31 travels north-south across western reaches of Douglas and Sarpy Counties and through the city of Gretna and Elkhorn in west Omaha. U.S. 6 overlaps with the state highway 11.7 miles from just north of Interstate 80 at Exit 432 to the West Dodge Expressway along 204th Street. N-31 ends at U.S. 30 in Washington County to the north and at N-50 just across the Platte River from the city of Louisville to the south.
Historically, Q Street east to 24th Street (old U.S. 73/75) in South Omaha was a part of N-31.7

Traveling wholly within Douglas County, N-36 totals 27.8 miles east from the U.S. 275 freeway at Mercer to U.S. 75 (Mormon Bridge Road) by Raven Oaks in North Omaha. Generally a rural highway, N-36 connects Omaha with the city of Bennington and the village of Washington in conjunction with L-28J.

Center Road / Saddle Creek Road
N-38 formed a loop east generally along Center Road, Saddle Creek Road and Military Avenue through West and Central Omaha. The route number was carried over from historic U.S. 38, which was renumbered as part of the country wide extension of U.S. 6 in 1931.7 The urban route continued Center Road / Street east from U.S. 275/N-92 to the Aksarben-Elmwood neighborhood and 51st Street / Saddle Creek Road northeast from Morton Meadows to Blackstone and U.S. 6 (Dodge Street) in central Omaha.
The state highway replaced N-8 along then-47th Street, eventually overlapping with N-64 from Cuming Street north to Maple Street / Radial Highway. It meandered northwest along Military Avenue through the Benson and Keystone communities to end as Blair High Road where N-133 overtakes the arterial west from N 90th Street.
N-38 was initially rerouted away from Saddle Creek Road north to remain along Center Street east S 32nd Avenue at the Hanscom Park neighborhood. The route dog legged south along 32nd Avenue and east along Ed Creighton Avenue to end at Interstate 480 (Exit 1A). Military Avenue north of N-64 (Maple Street) was subsequently renumbered as Link 28K.

144th Street / Millard Avenue
Extending 91.6 miles north from the Kansas state line south of Du Bois, N-50 ventures north into rural south Sarpy County from Louisville. The state highway follows 144th Street north to the city of Springfield, where it expands into a four-lane divided highway. Through the southwest Omaha suburbs, N-50 has diamond interchanges with N-370 and I-80 amid industrial park areas east of Wehrspann Lake. The route angles northeast from 144th Street along Millard Avenue, a commercial arterial to its terminus at U.S. 275/N-92 (L Street).

Maple Road / Maple Street
N-64 originates from U.S. 77 in rural Saunders County. It crosses the Platte River east into the village of Valley, where it combines with the U.S. 275 freeway southeast four miles to Maple Road. N-64 follows Maple Road east from the village of Waterloo to the Elkhorn area of western Omaha. Heavy suburban development lines the arterial route east to Interstate 680.
Maple Street continues the state highway east to the Benson community. Radial Highway turns N-64 southward to Walnut Hill and Cuming Street east. Cuming Street, a divided four-lane boulevard, takes N-64 east 1.5 miles to U.S. 75 (North Freeway).
Maple Street west from Military Avenue was originally designated as N-130.
N-85 constitutes a suburban arterial linking the Papillion city center with N-370 to the south and U.S. 275/N-92 by the Mockingbird Hills neighborhood of Omaha. Totaling just 5.0 miles, N-85 also lines 84th Street through the cities of La Vista and Raston.


Center Road / Industrial Road / L Street / Missouri Avenue
Part of a multi-state route stretching across the width of both Iowa and Nebraska, N-92 and Iowa 92 overlap with U.S. 275 throughout of the Omaha and Council Bluffs area. Westward N-92 bee lines to Venice, Yutan and Mead, where it combines with U.S. 77. East from Interstate 29, Iowa 92 follows a rural course to Treyner and Carson.
MSR 92 was relocated to overlap with U.S. 275 across the Omaha and Council Bluffs area in 1958. The route previously overlapped with U.S. 6/0A further north. The realignment in Iowa overtook what was Iowa 100 along Concord Loop and Greenview Road leading east from South Avenue (old U.S. 275 / Iowa 375).7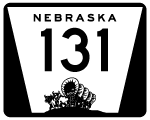 Galvin Road in Bellevue was formerly N-131 north two miles from Harlan Drive (old N-370) to Fort Crook Road (old U.S. 73/75).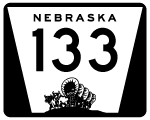 90th Street / Blair High Road
N 90th Street doubles as N-133 from U.S. 6 (West Dodge Street) and the Peony Park community of Central Omaha north to Blair High Road. The state highway turns northwest along a controlled access arterial to meet I-680 at Exit 6 and exit the city of Omaha en route to the Washington County seat of Blair.
The growing commuter route between Omaha and Blair was expanded to a four-lane, divided highway over a three phase project. Construction commenced northward from west of Interstate 680 in 2003. Expansion north into Washington County was underway in 2012, with work on the final section started in January 2015. A ribbon cutting ceremony celebrated the completion of the $55.4 million widening project on July 7, 2017. The new lanes were opened to traffic on July 10.6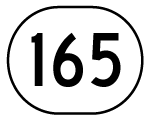 The half mile section of Abbott Drive passing through the Carter Lake, Iowa is state maintained as Iowa 165. Carter Lake is a small city bound by Omaha, Nebraska on three of four sides, and the Missouri River to the southeast. Formerly part of the Missouri River, Carter Lake wraps around the north side of the community.
Two additional routes were posted in Carter Lake. Iowa 348 ran east-west along Locust Street until 1986. Iowa 348 stemmed north from Locust Street along 13th Street until 1967.7
16th Street / South Expressway
Until December 2016, Iowa 192 followed a 4.8-mile route consisting of South Expressway and the one-way couplet of 6th/7th Streets north from I-29/80, Broadway west along side U.S. 6, and N 16th Street (historic U.S. 75) to I-29 at Exit 56. The turn back of U.S. 6 from Broadway through Council Bluffs coincided with the removal of Iowa 192 north of 6th Street and Kanesville Boulevard (old U.S. 6). The remaining 2.2 mile link south from Downtown Council Bluffs to I-29/80 was decommissioned on May 17, 2018.8
Prior to 1975, Iowa 192 navigated along a surface route north from Lake Manawa and 7th Street. The route was posted again in 1980 along the South Expressway and the couplet of 6th Street north and 7th Street south.7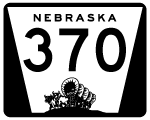 The 16.1-mile route of N-370 constitutes a controlled access arterial from Gretna to Papillion and Bellevue in Sarpy County. The state highway ends at the Union Pacific Railroad underpass between the U.S. 75 freeway and Fort Crook Road (old U.S. 73/75). It formerly extended east along Harlan Drive to Galvin Road south and Mission Avenue east through Downtown Bellevue. Spanning the Missouri River across the tolled Bellevue Bridge, N-370 formed a multi state route with Iowa 370 to Interstate 29 at Exit 42.
With the new U.S. 34 alignment and Missouri River bridge opening to the south, Iowa 370 was decommissioned in November 2014 and N-370 truncated westward.9 The former alignment is County Road H10 in Iowa.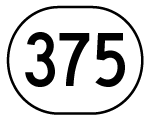 3rd Street / Harry Langdon Boulevard
Iowa 375 was the final designation applied to the combination of 9th Avenue east, 3rd Avenue south and South Avenue between Downtown Council Bluffs and Iowa 92. The state route was decommissioned on July 1, 1971, with the short portion along 4th Street north to U.S. 6 (Broadway) renumbered as part of Iowa 192.
Historically, the alignment of Iowa 375 was a part of U.S. 275, when it overlapped with U.S. 6-30A-75 west from Council Bluffs to Downtown Omaha. Prior to that, it represented the western most extent of U.S. 34.7

Link 28B extends the West Dodge Expressway 3.3 miles from the turn of U.S. 6 south along side N-31 on 204th Street in Elkhorn. Crossing the Elkhorn River, L-28B merges onto the U.S. 275 freeway north of Waterloo, while a second wye interchange connects with West Dodge Road to the West Shores community.

Link 28E is the half mile connector joining U.S. 275 south with N-92 (West Center Road) west and vice versa in southwest Douglas County.

A 0.1 mile section of N 156th Street between the Bennington city line and N-36 is state maintained and inventoried as L-28F.
Link 28H overlays a 0.2 mile section of N 30th Avenue from the turn of U.S. 75 onto McKinley Street to Interstate 680 (Exit 13) at the Wyman Heights neighborhood in north Omaha.

L-28J spurs 1.3 miles north from N-36 along 192nd Street and Road 25 to the rural village of Washington in south Washington County.

County Road G37 extends east from the cloverleaf interchange joining I-29/680 into the city of Crescent. Until 2003, the alignment on Morman Bridge Road east to then-Iowa 183 (Old Lincoln Highway) was Iowa 988.10
Arthur C. Storz Expressway
The Storz Expressway branches northeast from the east end of Sorensen Parkway and north end of the North Freeway (U.S. 75). The controlled access roadway wraps around the Levi Carter Sherman neighborhood 2.4 miles to Abbott Drive as part of a route joining the Omaha freeway network with Eppley (OMA) Airfield.
Named after Arthur C. Storz, an Omaha businessman and original member of the Eppley Airfield board of directors, construction of the expressway was partitioned into four phases. cost $19.4 million was paid for with both federal and city funds. The road opened to traffic after a ribbon cutting ceremony held on July 26, 1989.11
Fort Crook Road through Bellevue and the Offutt Air Force Base vicinity is the former alignment of U.S. 73 and U.S. 75 bypassed by the Kennedy Freeway to the west. South of Harlan Drive (old N-370), Fort Crook Road is a controlled access expressway with an interchange at Capehart Road and a gate into Offutt A.F.B. A wye interchange formerly joined the expressway south end with U.S. 75, but construction in 2016-17 removed the ramps and redirected Fort Crook Road to end at a modified interchange with Fairview Road.
Built by the city of Omaha and Douglas County, Sorensen Parkway winds eastward 5.9 miles across Northwest Omaha. With some access control, the four-lane roadway provides part of a commuter route to Downtown Omaha with the North Freeway (U.S. 75), and a direct route to Eppley Airfield (OMA) via Storz Expressway. The county built section loops northeast from N-133 (Blair High Road) and N 90th Street to N 72nd Street. The city constructed the remainder of the parkway east to U.S. 75 (N 30th Street).
Costing $23 million and split into four-phases, Sorensen Parkway was completed west from U.S. 75 (North Freeway) to N 72nd Street in October 1995. The 2.2 mile arc east from N-133 to Redick Avenue opened followed a ribbon cutting ceremony held on October 3, 2001.12
Sources:
Johnny Rosenblatt Stadium. Wikipedia.org.
"Traffic Rolls to 30th and Fort Streets Freeway Is Seen as Boon for North Omaha." Omaha World-Herald (NE), November 16, 1988.
"Project unties the traffic knot – Expressway's major work done earlier than expected – Smooth flow for construction." Omaha World-Herald (NE), July 20, 2007.
"New bridge gives Nebraska drivers another link to I-29." Lincoln Journal Star (NE), October 20, 2014.
"Commuters between Blair and Omaha to have smoother sailing with Highway 133 work nearing an end." Omaha World-Herald, July 8, 2017.
"Storz Expressway Gets Red – Ribbon Opening." Omaha World-Herald (NE), July 25, 1989.
"Omaha's Northwest Passage Starting today, it's finally an open road Sorensen Parkway Sorensen Parkway." Omaha World-Herald (NE) October 4, 2001.
Page updated February 16, 2020.