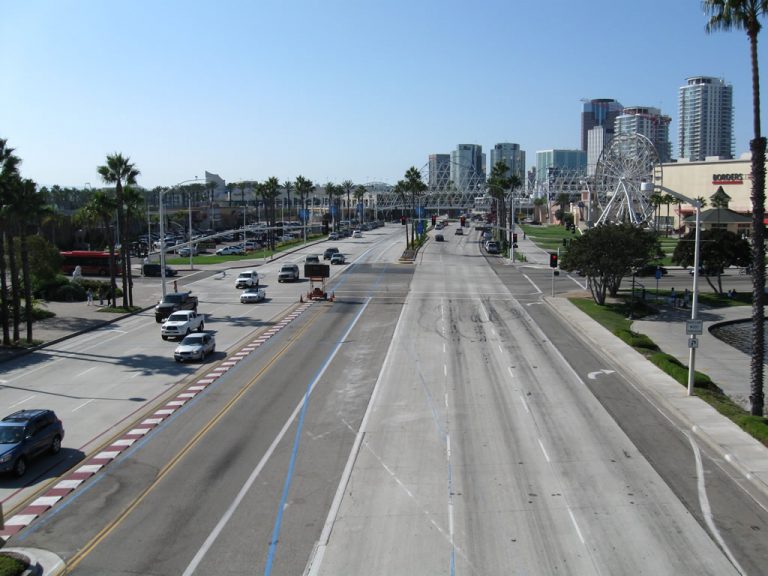 The city of Long Beach is the second largest city in Los Angeles County and is one of the most populated cities in California. Long Beach was incorporated on February 10, 1888 and then disincorporated July 24, 1896. It incorporated again on December 13, 1897. The city of Long Beach ("Many Unique Neighborhoods, One Great City") is home to the busy Port of Long Beach, Queen Mary, Aquarium of the Pacific, and California State University at Long Beach (CSULB). The city consists of 50 square miles (excluding water acreage) and had a population of 462,257 as of the 2010 Census. A vibrant waterfront, coupled with multiple tourist attractions, makes Long Beach a popular year-round tourist attraction.
Interstate 405 is the San Diego Freeway, traveling east-west through most of Long Beach. A major regional route, Interstate 405 carries traffic from Orange County and points south into Long Beach, then proceeds north to Los Angeles International Airport (LAX) and merges with Interstate 5 near Sylmar.
Interstate 710 is the Long Beach Freeway, following the Los Angeles River south into the city of Long Beach. The principal route into the Port of Long Beach, Downtown Long Beach, and the Queen Mary/Cruise Ship Terminal, Interstate 710 divides into several freeway routes upon reaching downtown Long Beach. These freeway spurs are (in sequence as one travels south on Interstate 710): Shoreline Drive, Harbor Scenic Drive, and Ocean Boulevard. Shoreline Drive connects to downtown, the Aquarium of the Pacific, the Pike, and Convention Center; Harbor Scenic Drive continues south as a freeway to the Queen Mary and Cruise Ship Terminal; and Ocean Boulevard carries Interstate 710 west to Terminal Island. The official southern terminus for Interstate 710 is at California 47 on Terminal Island near the border between the Port of Long Beach and the Port of Los Angeles.
California State Route 1 is the Pacific Coast Highway. Despite its name, the Pacific Coast Highway stays well inland, away from Downtown Long Beach and mostly north of the main port area. Through Long Beach, SR 1 takes a mostly east-west approach.

California State Route 19 is a major arterial that travels north-south through eastern Long Beach. Originating at Los Alamitos Traffic Circle with SR 1 (Pacific Coast Highway), SR 19 follows Lakewood Boulevard. The highway passes under a runway for Long Beach Airport, then proceeds north into Lakewood.
California State Route 22 enters Long Beach from the east, following Seventh Street from the I-405/605 interchange complex to SR 1 (Pacific Coast Highway). Most of SR 22 within Long Beach city limits is not a freeway. The state route upgrades to a freeway east of Interstate 405, as it passes through Garden Grove, Santa Ana and Orange.
SR 47 and SR 103 follow the Terminal Island Freeway alignment from Interstate 710 (Ocean Boulevard) north to the end of the freeway at Willow Street. SR 47 departs from the freeway at the off-ramp for Anaheim Street and Henry Ford Avenue. A portion of the Terminal Island Freeway is located in Los Angeles, and the remainder is in Long Beach. State Route 47 also follows Ocean Boulevard west of the Interstate 710 interchange until passing into Los Angeles.
California State Route 91 is the Artesia Freeway. Carrying significant traffic across the northern tier of Long Beach, SR 91 also connects to Gardena to the west and Anaheim and Riverside to the east. This major freeway sees substantial use especially east of SR 55 as it travels up the Santa Ana Canyon.
Long Beach Arterials and Streets
Page Updated November 12, 2010.