Paradise Parkway was first proposed as part of the 1960 Phoenix freeway plan. The road was originally proposed to be along the Bethany Home Road corridor, approximately four miles north of Interstate 10.
The freeway was incorporated into the 1985 Phoenix Freeway plan, to be funded with Proposition 300 tax dollars. The final design of the freeway led to a beginning at Loop 101 between Camelback Road and Glendale Avenue, then east to Interstate 17, and ultimately to SR 51. Paradise Parkway was tentatively designated Arizona Route 317 until being renumbered as Arizona Route 50.
The freeway was planned to run through already developed areas, as well as the densely populated Camelback Corridor between Central Avenue and Arizona 51. As a result, the freeway was controversial to begin with, and was to be the most expensive in the regional freeway system.
When a funding shortfall hit the freeway system, certain routes were sacrificed. The South Mountain Freeway (Loop 202) was one of the routes hit with loss of funding, as well as Loop 303. The Paradise Parkway ended up being canceled due to the funding shortfall, high construction costs ($55 million per mile, for a 13 mile freeway) and the previously mentioned community opposition. No efforts have been made to add the route back to the state highway system.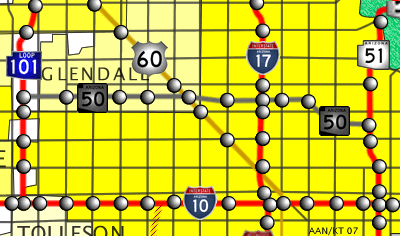 The freeway was designed to be at grade, with below grade road crossings, from Loop 101 to 59th Avenue. It would then cross over 51st Avenue, US 60 and 43rd Avenue, then drop under 35th Avenue to climb and pass above I-17. From Interstate 17, the road drops below grade and remained fully depressed until reaching SR 51. The road was planned to be six main lanes from Loop 101 to US 60, 8 main lanes to Interstate 17, and six main lanes to SR 51, with HOV lanes along both directions.
Proposed exits:
Loop 101 (westbound only)
91st Avenue (westbound only)
83rd Avenue
75th Avenue
67th Avenue
59th Avenue
51st Avenue (eastbound only)
US 60
43rd Avenue (westbound only)
35th Avenue
Interstate 17
19th and 17th Avenues
7th Avenue
7th Street
14th Street (eastbound only)
Arizona Route 51
Connect with:
Interstate 17
U.S. 60
State Route 51
Loop 101
Page Updated 04-02-2007.