Representing the longest Interstate highway in Illinois at 364 miles, I-57 travels nearly the height of the state from the Mississippi River near Cairo to Champaign and the Dan Ryan Expressway (I-94) in south Chicago. Throughout most of Illinois, the freeway traverses rural and agricultural areas, including a swath through Shawnee National Forest. The route also connects smaller regional cities, including Marion, Mattoon and Kankakee among others. Two overlaps add cross country traffic to I-57 as well, with a 5.59 mile shared alignment with I-70 through Effingham and a 4.14 mile overlap with I-64 at Mount Vernon.
Interstate 57 Illinois Highway Guides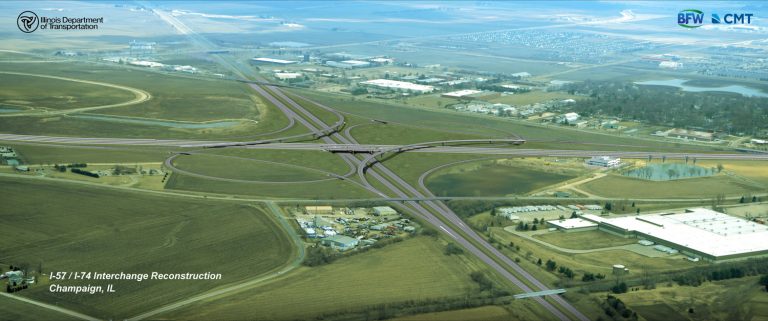 Estimated to cost $74.3 million in 2016,1 the Interstate 57 & Interstate 74 Interchange Reconstruction project will upgrade the exchange joining I-57 and I-74 northwest of Champaign. Designed in 1958 and built in 1965, the cloverleaf interchange between the two freeways will be replaced by a high-speed cloverstack interchange. Phase III construction will commence following completion of Phase II. Currently underway, Phase II involves land acquisition, utility relocation and environmental mitigation.
| | |
| --- | --- |
| | Ashland Avenue comprises a northbound side frontage street from Calumet Park north to West 112th Street at the West Pullman neighborhood of Chicago. A diamond interchange with West 119th Street utilizes Ashland to make the connections with Interstate 57 below. Pictured here is the northbound on-ramp ahead of Exit 355. Photo taken 09/04/05. |
| | |
| --- | --- |
| | Trombone style mast-arm signal assemblies at Hamlet Avenue north and 112th Place, just beyond the off-ramp from Interstate 57 north at Exit 355. Photo taken 09/04/05. |
| | |
| --- | --- |
| | Signs for northbound on-ramps to Interstate 57 in Far Southeast Side Chicago direct traffic toward the Chicago Loop. Photo taken 09/04/05. |
| | |
| --- | --- |
| | Original trailblazers for Interstate 57 were posted along 112th Place west ahead of the Hamlet and Marshfield Avenue on-ramps in the Morgan Park neighborhood of Far Southeast Side Chicago. Photo taken 09/04/05. |
2 photos

2 photos

Hamlet Avenue provides northbound access from 112th Place to the final three miles of Interstate 57. Photos taken 09/04/05.
2 photos

2 photos

112th Place becomes Monterey Avenue west of Interstate 57 to West 111th Street within Morgan Park. Marshfield Avenue comprises the southbound side frontage street for I-57. Photos taken 09/04/05.
| | |
| --- | --- |
| | An on-ramp drops onto Interstate 57 south from Marshfield Avenue near 112th Place and Monterey Avenue for Calumet Park, Markham and Kankakee. Photo taken 09/04/05. |
Sources:
"IDOT planning upgrade for I-57/I-74 interchange." The News-Gazette (Champaign, IL), May 30, 2016.
Photo Credits:
09/04/05 by AARoads
Connect with:
Interstate 64
Interstate 70
Page Updated 05-08-2018.