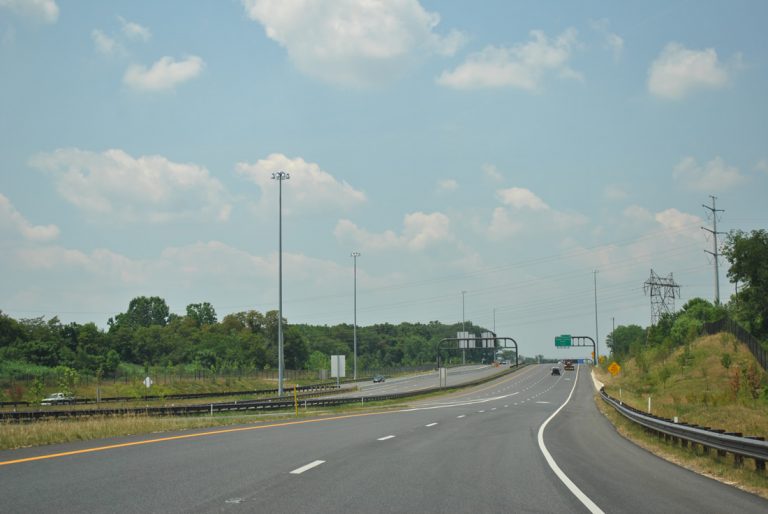 The Intercounty Connector (ICC), Maryland Route 200 is an 18-mile long toll road connecting I-370 by Gaithersburg and Rockville with Interstate 95 outside of Laurel. The $2.56-billion toll road opened in stages, with work commencing in November 2007. Contract A for the 7.2-mile segment between I-370 and MD 97, with a temporary connection to MD 28, was completed on February 23, 2011. Contracts B and C, extending MD 200 eastward from MD 97 to I-95, was finished on November 22, 2011.
Maryland Route 200 / Intercounty Connector Guides
MD 200 travels 17.21 miles in Montgomery County and 2.80 miles east to U.S. 1 (Baltimore Avenue) in Prince George&apos:s County.2 Contract D/E included work on the I-95 collector/distributor roadways at MD 200 and the ICC east from I-95 to U.S. 1. Costing $89.3 million, the MD 200 extension opened to traffic on November 7, 2014.
The Intercounty Connector is the first all-electronic toll (AET) road operating within the state of Maryland. Fees are collected at a series of four gantries with transponder readers along both directions of MD 200. Travelers without an E-ZPass transponder are billed via video tolling, with an invoice mailed to the owner of the vehicle based upon its license plate. Rates vary depending upon time of day: peak, off-peak and overnight. Dynamic message signs posted along I-95 and I-370 indicate the toll rate for the entire length of MD 200.
Sources:
"Most of Intercounty Connector opens to traffic." The Washington Post (DC), November 22, 2011.
Connect with:
Interstate 95
Interstate 370
U.S. 29
Page Updated 07-19-2012.