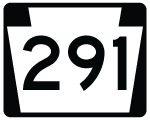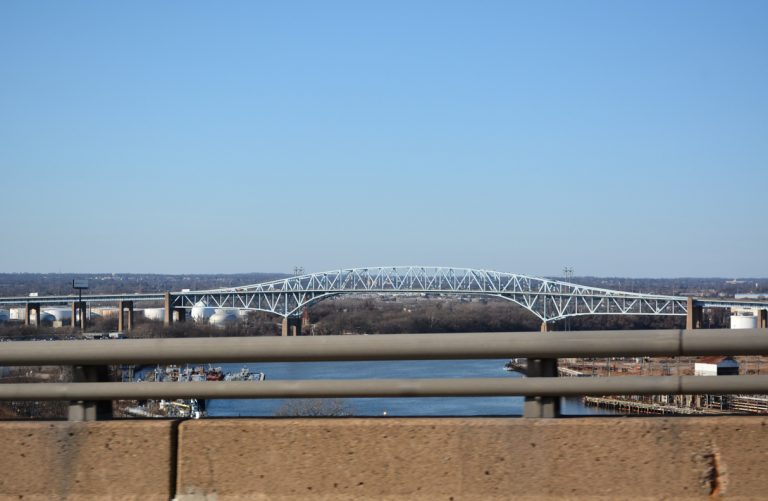 PA 291 is a 14.6 mile long urban route from U.S. 13 (Post Road) in the borough of Trainer to PA 611 (Broad Street) in South Philadelphia. PA 291 initially curves south from U.S. 13 along Price Street onto 2nd Street. Paralleling the Delaware River through the city of Chester, the state route advances east onto Industrial Highway through Eddystone.
Crossing Darby Creek, PA 291 enters Tincium township at Essington. The route partitions into a one way couplet along Governor Printz Boulevard through Lester before paralleling Interstate 95 along Industrial Highway to Philadelphia International Airport (PHL). PA 291 links I-95 north with the passenger terminal.
Due to expansion of Philadelphia International Airport, PA 291 was relocated from Industrial Highway between Bartram and Island Avenues by October 2006. The state route was realigned onto Bartram Avenue from Scott Way to Hook Road and Island Avenue, and Island Avenue east back to its original alignment at Penrose Avenue. A portion of Industrial Highway westward from Penrose Avenue permanently closed.1
PA 291 connects I-95 and Philadelphia International Airport with I-76 via the George C. Platt Memorial Bridge over the Schuylkill River. The Platte Bridge extends PA 291 northeast to Penrose Avenue at S 26th Street. S 26th Street leads north to I-76 (Schuylkill Expressway) while PA 291 remains along Penrose Avenue to W Moyamensing at I-76 and S 20th Street. PA 291 shifts onto Oregon Avenue from Moyamensing Avenue to concludes at PA 611 (Broad Street) by Marconi Plaza.
Pennsylvania Route 291 was truncated in 1987 from Broad Street and Downtown Philadelphia to Oregon Avenue. The route is unmarked north of S 26th Street, but signed with trailblazers from I-76 east at Exit 347A for S 26th Street.
Sources:
Philadelphia International Airport - Press Release. http://www.phl.org/ news/060918.html September 18, 2006.
Connect with:
Interstate 76
Interstate 95
U.S. 13
U.S. 322
Route 320
Route 611
Page Updated 02-03-2023.