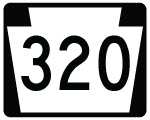 PA 320 constitutes an 18.8 mile long route from the city of Chester in Delaware County to Merion township in Montgomery County. PA 320 originates along the couplet of Madison Street north and Upland Street south from U.S. 13 (4th Street) at Downtown Chester. The north end is located at PA 23 outside the borough of West Conshohocken.
Heading north out of Chester, PA 320 follows Providence Avenue from Interstate 95 and PA 352 (Edgemont Avenue) to Widener University into Nether Providence township. Providence Road continues north along PA 252 to Palmers Corner and Media while PA 320 branches eastward along Chester Road to the borough of Swarthmore and Swarthmore College.
Chester Road leads PA 320 north to Sproul Road at Baltimore Pike (SR 2016) by Springfield Mall. PA 320 continues onto Sproul Road through Springfield township to PA 420 (Woodland Avenue) and a grade separated intersection with U.S. 1 (State Road). Spanning I-476 (Mid County Expressway), PA 320 advances through Marple township to meet PA 3 (West Chester Pike) at Broomall.
Paralleling Interstate 476 to the west, PA 320 (Sproul Road) passes through western Haverford township at Darby Road (SR 2005) into Radnor township. The route turns east from Ithan across the Mid County Expressway again to U.S. 30 (Lincoln Highway) at Villanova University.
PA 320 crosses into Lower Merion township and Montgomery County along Spring Mill Road just west of Montgomery Avenue. PA 320 turns onto Montgomery Avenue north ahead of I-476 and S Gulph Road at Matsonford Road (SR 3016).
S Gulph Road takes PA 320 north to ramps with I-76 east at Holston Road in Gulph Mills. PA 320 arcs northeast along Holston Road to Swedeland Road and PA 23 (Schuylkill River Road).
Photo Credits:
12/27/16 by AARoads and I.C. Ligget.
12/20/17 by AARoads.
12/23/17 by AARoads.
Connect with:
Interstate 76
Interstate 95
U.S. 1
U.S. 13
U.S. 30
Route 3
Route 23
Route 291
Page Updated 01-26-2021.