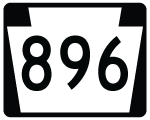 Pennsylvania 896 joins the Lancaster area with northern Delaware along a vastly rural 33.6-mile route. The state route begins at Smoketown (Pennsylvania 340) just north of U.S. 30, where the two converge at the east end of a heavily commercialized strip that includes Dutch Wonderland Amusement Park and Tanger Outlet Center. South from there, the state route heads to Strasburg, which is known for being the home to the Strasburg Railroad and Railroad Museum of Pennsylvania. There the route takes a 2009-completed bypass (Historic Drive) to avoid downtown and a previous overlap with Pennsylvania 741.
South of Strasburg, the road is rural with the exception of jaunts through settlements such as Georgetown and New London. Motorists taking this roadway will often encounter Amish horse and buggies as the route travels across farm fields and over Mine Ridge. Once in Chester County, the route remains virtually the same, though the Amish presence disappears as PA 896 heads south of U.S. 1 and suburbia becomes more prominent. South of Strickersville, the state route enters the northeastern corner of Maryland before entering Delaware as New London Road. Delaware continues the 896 numbering to Newark, Summit Bridge, Middletown and Boyd's Corner, where the route concludes at U.S. 13.
Pennsylvania 896 Highway Guides
| | |
| --- | --- |
| | When the Strasburg Bypass opened on November 17, 2009, Pennsylvania 896 was relocated from portions of Georgetown Road and Decatur Street and a 0.4-mile overlap with Pennsylvania 741 along East Main Street. This left Georgetown Road as a dead end roadway from the bypass to Gap Road. Photo taken 06/03/05. |
| | |
| --- | --- |
| | Shields that were posted for the former overlap of Pennsylvania 896 north with Pennsylvania 741 west from Georgetown Road to Decatur Street. Photo taken 06/03/05. |
2 photos

2 photos

Pennsylvania 741 west & 896 north followed East Main Street into downtown Strasburg where they split for Willow Street and Smoketown respectively. Photos taken 06/03/05.
| | |
| --- | --- |
| | Decatur Street carried PA 896 north from Main Street (PA 741) to Historic Drive until November 2009. The road becomes Map Post Office Road south to PA 372 at Eden Township. Photo taken 06/03/05. |
| | |
| --- | --- |
| | This set of signs once hung above Decatur Street southbound ahead of the former Pennsylvania 896 turn onto East Main Street (Pennsylvania 741) in Strasburg. Photo taken 10/08/01. |
Photo Credits:
10/08/01, 06/03/05 by AARoads
Connect with:
U.S. 30
Route 10
Route 796
Route 841
Page Updated 05-15-2013.