The Mississippi Gulf Coast varies from bayous along Mississippi Sound to sandy beaches between Pass Christian and Biloxi. The coastal cities are home to a number of shipbuilding facilities, military installations and busy ports. An array of oil rigs operate in the open waters south of the coast, and shrimping is also a staple of the region.
Biloxi allows gambling, and a number of mid-rise casinos line the coast and the Back Bay of Biloxi. The mild winters also draw tourists and snowbirds to the coastal areas while fishing is a popular past time all year long. Growing suburban areas spread along Interstate 10 at D'Iberville and Diamondhead and further north along the Mississippi 67 expressway at Traditions.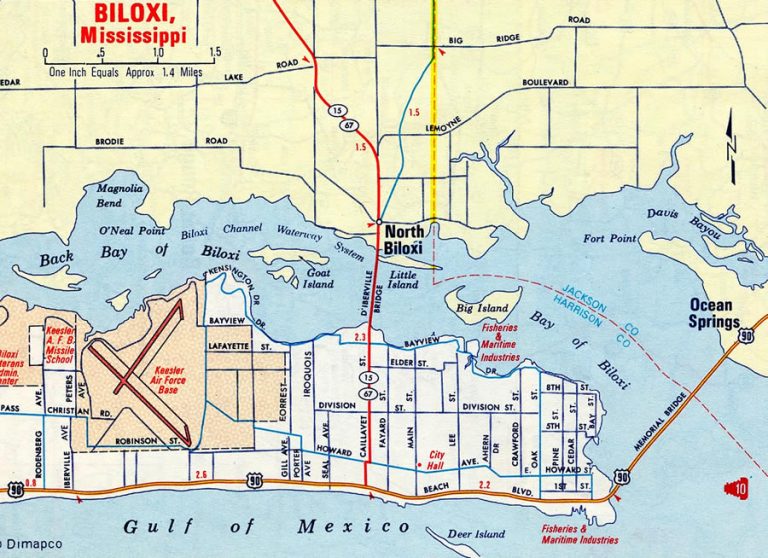 Moss Point and Pascagoula represent the largest population concentration in the otherwise rural southeastern counties including Greene, George and Jackson. Pascagoula is known for being the hometown of retired Republican Senator, and one-time Senate Minority Leader, Trent Lott and the site of naval shipbuilding facilities that made repairs to the USS Cole destroyer. Pascagoula spreads north from the waters of Mississippi Sound and east from the East Pascagoula River. Moss Point abuts the city to the north around the Escatawpa River, Interstate 10 and Trent Lott International Airport (PGL).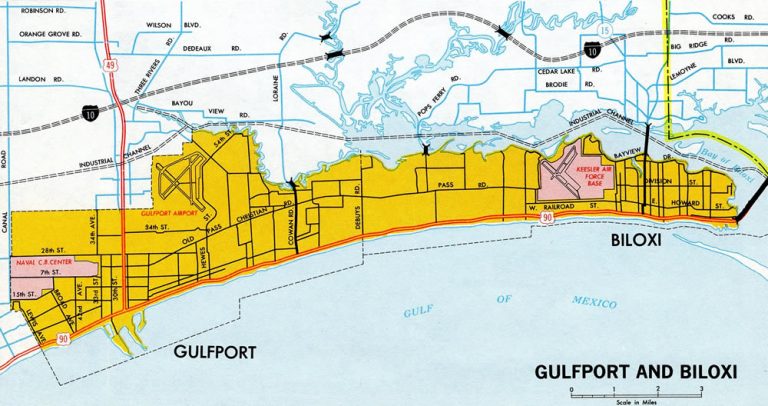 A number of hurricanes have struck the Mississippi Gulf Coast, leaving long lasting impacts. Noteworthy was the 1969 landfall of Hurricane Camille at Pass Christian and Hurricane Katrina at Bay St. Louis in 2005. Both caused catastrophic damage to the area. Rebuilding efforts from Katrina have mostly restored the coastal cities. Expansion of port and casino facilities and an increasing number of retirees moving to the area have further accelerated population growth and economic recovery.
The 2010 Deepwater Horizon oil spill also set back the local economy and hurt both the fishing and tourism industry. The ensuing years and settlement money from the BP lawsuit aided in a number of area projects, environmental cleanup and restoring the reputation of the Gulf Coast as a tourist destination.
Interstate 10 constitutes the main corridor serving the Upper Gulf Coast, and through Mississippi is no exception. The freeway is part of the trucking corridor linking New Orleans and Atlanta is moderately to heavily traveled throughout the region with 62,000 vehicles per day (vpd) recorded at Gulfport in 2015 and 72,000 vpd in Biloxi in 2015. Generally staying away from the Mississippi Sound coastline, I-10 carries the bulk of all through traffic, as U.S. 90 to the south varies with slow moving arterials through the coastal population centers and open highway serving local traffic in between.
The freeway is mostly rural with four lanes through Hancock County, except for the stretch between Exits 13 and 16 expanded during the 2002-04 Jourdan River replacement. East of Diamondhead, I-10 enters Harrison County and widens to six overall lanes at Exit 28 for Long Beach. Commercial and suburban development lines the freeway through north Gulfport to the Biloxi River and Biloxi city line. The six-lane freeway continues through the Wool Market community into the city of D'Iberville, where it meets Interstate 110 south and Mississippi 67 north at what is now a heavily commercialized junction.
The previously rural full cloverleaf interchange between Interstates 10 and 110 was the catalyst for development of the Biloxi Promenade, Lakeview Village shopping center and other adjacent retail. Growing residential areas north of the freeway also added traffic, leading to improvements along both freeways and Mississippi 15 leading north.
The Interstate 10/110 Interchange Improvements project ran from 2013 to September 2015. It added an eastbound collector distributor roadway to I-10, a half diverging diamond interchange (DDI) with Galleria Parkway (former Old Highway 67), and new ramps at Lamey Bridge Road. Associated work added interchanges along I-110 at Sangani Boulevard to the north and at Popps Ferry Road to the south while upgrading Mississippi 15/67. These projects followed expansion of I-10 to eight lanes from I-110 (Exits 46A/B) to Mississippi 609 (Exit 50) completed in 2005.
East from the Ocean Springs exit (MS 609), Interstate 10 becomes rural across areas by Old Fort Bayou and through Mississippi Sandhill Crane National Wildlife Refuge. Traffic counts remain sizable however, with 54,000 vpd recorded east of MS 57 in 2015. This stretch leads to four-mile long bridge system spanning the West and East Pascagoula Rivers and marshland in between.
I-110 links Interstate 10 at D'Iberville with the city of Biloxi and U.S. 90 along a 4.30 mile route. The freeway spur carries commuter, tourist and military based traffic south to the Biloxi casinos along U.S. 90 (Beach Boulevard) and Keesler Air Force Base and north to growing suburban areas along both I-10 and the Mississippi 67 expressway leading northwest.
Interstate 110 crosses the Back Bay of Biloxi on a 1973 built, four-lane draw bridge. The span replaced the D'Iberville Bridge, a parallel low rise draw bridge to the east. Mississippi 15 utilized the D'Iberville Bridge as the primary north-south route to the mainland prior to the completion of I-110.
Southward from the Back Bay bridge, Interstate 110 transitions onto a viaduct leading south to U.S. 90 (Beach Boulevard). The elevated roadway travels one to two blocks west of the former MS 15 alignment along Caillavet Street. The exchange joining I-110 with U.S. 90 is a unique trumpet interchange with flyovers looping over the beach and waters of Mississippi Sound.
U.S. 49 connects the Mississippi Gulf Coast with Hattiesburg, Jackson and northern Mississippi via Interstates 55 and 59. The US route follows a four-lane divided highway southward from U.S. 98 to Wiggins and Gulfport. The southern 9.4 miles of U.S. 49 consist of an often congested commercial arterial through suburban areas to a commercialized exchange with Interstate 10.
South from I-10, U.S. 49 travels with six lanes by Gulfport-Biloxi International Airport (GPT) to the street grid of the West Gulfport community. The route follows 25th Avenue southward to Downtown and U.S. 90 (Beach Boulevard) across from the Port of Gulfport. Long range plans called for alleviating traffic along U.S. 49 by constructing the Central Harrison Connector, a limited access highway from I-10 at Canal Road southeast to an elevated stretch along 30th Avenue to U.S. 90 at the Port of Gulfport. Right of way was acquired for the project and initial earthwork was underway when a 2011 lawsuit halted further construction. Opposition to the proposed viaduct, required new environmental studies and increasing costs for the roadway likely shelve the Connector for years to come.
U.S. 90 – Beach Boulevard
Originally known as the Old Spanish Trail, U.S. 90 (Beach Boulevard) straddles the Mississippi Sound coast from Pass Christian east to Ocean Springs as the main east-west arterial through Harrison County. A well traveled route serving both commuters, tourist and local traffic, U.S. 90 varies with 2015 counts of 14,000 vpd at the Bay St. Louis Bridge and 40,000 vpd through Ocean Springs.
While not a fast through route, U.S. 90 nonetheless joins Bay St. Louis with Pass Christian, Long Beach, Gulfport, Keesler AFB, Biloxi and Ocean Springs. All of those cities are generally bypassed by Interstate 10 to the north. The US highway carries four to six lanes overall, with the exception of the swampy stretch angling southwest from Mississippi 607 to Pearlington and St. Tammany Parish, Louisiana.
U.S. 90 provides a scenic drive through Harrison County from Henderson Point off St. Louis Bay to the Biloxi Bay Bridge into Ocean Springs. Spanish style homes, palm trees, and sandy beaches appear along Beach Boulevard through the Pass Christian and Long Beach areas and between U.S. 49 and Interstate 110 in Biloxi. West of Saint Louis Bay, and east of the Biloxi Bay, U.S. 90 travels more inland through older commercial corridors.
Bridges across St. Louis Bay and Biloxi Bay were heavily damaged by Hurricane Katrina, which made landfall on August 29, 2005 at Bay St. Louis. 22 foot storm surges toppled most of the concrete spans of the two low rise draw bridges. Emergency funds were allocated to replace both spans, with a new high level St. Louis Bay Bridge partially opened on May 17, 2007 and the high level Biloxi Bay Bridge opened with two lanes of traffic on November 1, 2007. Both spans now include multi use paths, while U.S. 90 was expanded to six lanes between Biloxi and Ocean Springs.

Prior to 2009, Mississippi 15 overlapped with Interstate 110 from U.S. 90 (Beach Boulevard) northward to I-10 at D'Iberville. The state route shifted onto the freeway from parallel Caillavet Street north from Bayview Drive following the 1973 completion of the Back Bay of Biloxi Bridge, and entirely onto I-110 once the viaduct was finished through Biloxi.
Beyond the D'Iberville Bridge, Mississippi 15 followed what is now Central Avenue, D'Iberville Boulevard and Galleria Parkway through the city of D'Iberville. Construction of I-110 here included a new divided highway for Mississippi 15 curving northwest from I-10 to Mississippi 67. The state route followed this alignment until 2009, when the new MS 67 expressway opened to replace the old two-lane MS 67 further west. MS 15 was truncated in the process to no longer overlap with I-110 south to Biloxi and instead run concurrent with MS 67 north from I-10 to a new trumpet interchange.
Mississippi 15 serves several subdivisions beyond its split with Mississippi 67 before entering DeSoto National Forest. The southern branch of MS 15 ends at MS 26 east of Wiggins within the National Forest. The northern branch of MS 15 originates at U.S. 98 in Lucedale and travels the height of the state to Tennessee 125, north of Walnut.
Together with Mississippi 603, Mississippi 43 represents the lone north-south route from Waveland and Bay St. Louis to northern Hancock County. The state route shares a four-lane alignment with MS 603 northward 7.0 miles from U.S. 90 to Stennis International Airport (HSA). The two routes separate 5.7 miles north of I-10, with MS 43 turning west to Pearl River County and Interstate 59 at Picayune.
MDOT plans call for expansion and realignment of Mississippi 43 & 607 north to Kiln and beyond. One proposal involved constructing a limited access route for MS 43 northwest to I-59 and U.S. 11 at Carriere. The freeway would bypass Kiln and provide another hurricane evacuation route.1

Mississippi 53 comprises a rural route west from U.S. 49 at Lyman to Lizona in Harrison County and Sellers through northern Hancock County. The 38.9 mile long highway provides a secondary route to the Mississippi Gulf Coast from Poplarville (Mississippi 26) and Interstate 59 north of Savannah.
Mississippi 57 constitutes a rural route leading north from U.S. 90 to Vancleave and McLain. The state route is one of three routes from coastal Jackson County to George County and the U.S. 98 corridor west to Hattiesburg.
Historically Mississippi 57 was designated as Mississippi 59, with Mississippi 57 instead assigned to what is now Mississippi 15 north through eastern Harrison and Stone Counties. This changed to the current alignments by the edition of the 1960 Official Mississippi Highway map.
Coupled with Mississippi 57 north from Leakesville, Mississippi 63 forms a four-lane highway joining Pascagoula and Moss Point with U.S. 45 north to Waynesboro, Quitman and Meridian. The expressway provides a high speed route to Lucedale and the U.S. 98 corridor as well.
Mississippi 63 followed what is now Mississippi 613 north from U.S. 90 in Pascagoula to Hurley, Agricola and Lucedale until at least 1955. The alignment west of Hurley to Mississippi 26 at Lucedale was completed by 1960. Through Moss Point, Mississippi 63 across the Escatawpa River was built by 1981.

Mississippi 67 angles southeast from U.S. 49 at Saucier to Interstates 10 and 110 at D'Iberville as a mostly controlled access divided highway. The 20.3 mile long route was realigned and upgraded to a four-lane corridor during six years of construction concluded on January 16, 2009. The new highway replaced a winding two-lane road to both provide an alternate to U.S. 49 south to I-10 for Biloxi and a catalyst for new development at Traditions. Portions of the old route are named Old Highway 67.
Before the Mississippi 67 expressway was built to D'Iberville, the state route traveled southward to Cedar Lake and Woolmarket, where it ended at Interstate 10 (Exit 44). An even older alignment took the route east and south to what is now Galleria Parkway.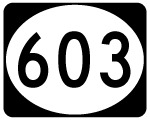 A 25.4 mile route, Mississippi 603 overlaps with Mississippi 43 northward from U.S. 90 in Bay St. Louis to Interstate 10 (Exit 13) and Kiln in southern Hancock County. North from MS 43, MS 603 meanders through agricultural and forest land through to its end at MS 53 near the settlement of Necaise.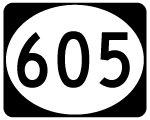 Mississippi 605 – Lorraine Road
Mississippi 605 was designated along Lorraine Road from U.S. 90 (Beach Boulevard) in Gulfport north to Handsboro and Interstate 10 at Exit 38. A new four-lane alignment was built north from Debaux Road, 8.2 miles to the Mississippi 67 expressway by Traditions. It opened on December 20, 2006.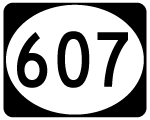 Mississippi 607 constitutes a four-lane link between Interstate 10 and U.S. 90 in southwest Hancock County. The split state route also comprises the main access road to John C. Stennis Space Center from I-10 (Exit 2) northward and I-59 (Exit 1) and U.S. 11 southward from Nicholson. The route is discontinuous through the military installation and not open to the general public.
A $15.2 million project between October 2013 and October 2015 widened Mississippi 607 to four overall lanes from Texas Flat Road to Interstate 59. This was the second phase of the overall expansion of the state route between Stennis Space Center and I-59.2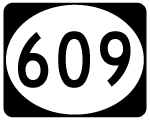 Totaling 2.885 miles in length, Mississippi 609 connects U.S. 90 (Bienville Boulevard) and the city of Ocean Springs with Interstate 10 and inland Jackson County across Old Fort Bayou. The official Mississippi State Map shows the state route extending north of I-10 along Tucker and Old Biloxi Roads to Latimer, but this route is either not assigned or unmarked. Following Washington Avenue south from a diamond interchange (Exit 50) with I-10, Mississippi 609 constitutes a five-lane commercial arterial through to the draw bridge across Old Fort Bayou.
Mississippi 611 is a 4.149 mile long spur extending south from U.S. 90 and the southern terminus of Mississippi 63 to Bayou Casotte Industrial Park in Pascagoula. The industrial route serves a number of plants and a landfill. The state route concludes at the Chevron Pascagoula Refinery. Construction of an overpass linking MS 611 with MS 63 over eliminated an at-grade crossing with the CSX Railroad line. A folded diamond interchange replaced the intersection between the two state routes and U.S. 90.
Main Street / Telephone Road
Traveling north from U.S. 90 in Pascagoula, Mississippi 613 follows Telephone Road and Main Street with at least four lanes through Moss Point to the second of two bridges crossing the Escatawpa River to inland Jackson County. North of Interstate 10, Mississippi 613 reduces to two lanes and parallels Mississippi 63 to the west through Escatawpa. The two routes cross paths on respective courses to Lucedale.
The 45.57 mile route concludes at Mississippi 198 near Downtown Lucedale. Until at least 1955, Mississippi 63 traveled the route of Mississippi 613 north from Moss Point to Hurley, Agricola and Lucedale.
Other Streets and Highways
Popps Ferry Road
Popps Ferry Road represents one of only two Back Bay of Biloxi crossings between the coastal and inland sections of Biloxi. The two-lane roadway travels north from Pass Road, a busy east-west arterial, to span the bay on a two-lane draw bridge. A peninsula separates Big Lake from the Back Bay of Biloxi. Causeway Drive along it represents the original alignment of Popps Ferry Road.
Popps Ferry Road arcs northeast between subdivisions to North Country Club Lane, where it expands into a five-lane boulevard (widening was underway in 2003-04) east to Cedar Lake Road. Cedar Lake Road connects with adjacent Interstate 10 while the remainder of Popps Ferry Road extends east with two lanes to D'Iberville Boulevard (former Mississippi 15). Construction of a new half diamond interchange with Interstate 110 at Big Ridge Road included the renaming of the east-west road between D'Iberville Boulevard and Lamey Bridge Road as an extension of Popps Ferry Road in 2015.
The proposed East Harrison Connector would alleviate traffic along Popps Ferry Road and provide a second high speed crossing of the Back Bay of Biloxi between I-110 and U.S. 90 (Beach Boulevard) if built. The planned route included an elevated portion through southwest Biloxi, which led to a reconsideration of the route in 2005.
| | |
| --- | --- |
| | The Popps Ferry Bridge crosses the channel connecting the Biloxi River and Big Lake with the Back Bay of Biloxi at Deep Point. The double leaf bascule bridge opened to traffic in 1979. 10/12/03 |
| | |
| --- | --- |
| | Lowering from the crest of the Popps Ferry Bridge, motorists continue north across a peninsula and shallow waters to Cedar Point. The bridge totals 3,984 feet in length.3 10/12/03 |
| | |
| --- | --- |
| | An I-10 trailblazer directs drivers onto Lamey Bridge Road north from the east end of Popps Ferry Road. This section of road replaced Big Ridge Road in 2015. 11/20/15 |
D'Iberville Boulevard / Galleria Parkway
D'Iberville Boulevard angles northwest from Central Avenue below I-110 to become Galleria Parkway at the diverging diamond interchange with I-10. The two roads along with Central Avenue south and Old Highway 67 to the north represent the pre-1973 alignment of Mississippi 15.
| | |
| --- | --- |
| | D'Iberville Boulevard north |
| | |
| --- | --- |
| | D'Iberville Boulevard north at Popps Ferry Road west to north Biloxi and the Popps Ferry Bridge. 05/09/15 |
| | |
| --- | --- |
| | Big Ridge Road was renamed as an eastern extension of Popps Ferry Road to coincide with the September 2015 opened interchange with Interstate 110. 05/09/15 |
| | |
| --- | --- |
| | D'Iberville Boulevard changes names to Galleria Parkway through the half diverging diamond interchange (DDI) with Interstate 10 west. 05/09/15 |
| | |
| --- | --- |
| | The DDI on Galleria Parkway was the first built in Mississippi. The interchange was constructed as part of a $50 million in roadway for Interstates 10 and 110 between July 2013 and June 2015.4 05/09/15 |
| | |
| --- | --- |
| | D'Iberville Boulevard south |
| | |
| --- | --- |
| | Galleria Parkway becomes D'Iberville Boulevard south from the DDI with Interstate 10 to Popps Ferry Road east. 05/09/15 |
| | |
| --- | --- |
| | Popps Ferry Road extends west from the former alignment of Mississippi 15 to the second crossing of the Back of Biloxi. 05/09/15 |
| | |
| --- | --- |
| | Auto Mall Parkway branches south as D'Iberville Boulevard arcs eastward to Central Avenue. 05/09/15 |
| | |
| --- | --- |
| | D'Iberville Boulevard passes below Interstate 110 without direct access. 05/09/15 |
| | |
| --- | --- |
| | D'Iberville Boulevard south becomes Central Avenue at the intersection with Lamey Bridge Road. Central Avenue is the former alignment of MS 15 south to the Back Bay of Biloxi. 05/09/15 |
Franklin Creek Road
Franklin Creek Road is a four-lane connector from I-10 south to U.S. 90, and a local road north to Independence Road and residential areas along Franklin Creek.
| | |
| --- | --- |
| | Franklin Creek Road north |
| | |
| --- | --- |
| | Franklin Creek Road connects U.S. 90 and Interstate 10 in rural east Jackson County. 05/29/04 |
| | |
| --- | --- |
| | Old Stage Road stems west from Franklin Creek Road as a south side frontage road to I-10. Prior to completion of I-10 in Jackson County, Old Stage Road extended north to Franklin Creek Road along Independence Road. 05/29/04 |
| | |
| --- | --- |
| | Interstate 10 crosses the Alabama state line 1.2 miles east of Franklin Creek Road near Grand Bay. The freeway reaches the city of Mobile in 20 miles. Westbound, Interstate 10 returns to Moss Point in six miles en route to Biloxi and Gulfport. 05/29/04 |
Ingalls Avenue
Ingalls Avenue constitutes a three to four lane boulevard south of Downtown Pascagoula. The urban arterial originates at the gate to the former Pascagoula Ingalls Shipbuilding plant at Desoto Street. Ingalls Avenue extends east to Bayou Casotte Parkway and industrial areas along Bayou Casotte.
| | |
| --- | --- |
| | Ingalls Avenue eastbound at Pascagoula Street. 05/29/04 |
| | |
| --- | --- |
| | The west end of Ingalls Avenue at Desoto Street and the former Ingalls Shipbuilding plant entrance. Since removed, the mast arm signals here were set to flash mode. 05/29/04 |
| | |
| --- | --- |
| | Martin Street northbound at Ingalls Avenue in eastern Pascagoula. Martin Street stems north from Beach Boulevard and Mississippi Sound to the intersection of Orchard Road and Old Mobile Avenue. 05/29/04 |
Pascagoula Street
Pascagoula Street arcs through Downtown Pascagoula from Beach Boulevard off Mississippi Sound north to River Road along the Pascagoula River.
| | |
| --- | --- |
| | A loop ramp departs from the high-level bridge taking U.S. 90 east across the Pascagoula River to both Pascagoula Street south and Cypress Avenue west to Magnolia Street. 05/29/04 |
| | |
| --- | --- |
| | Mast arm assemblies were installed at the intersection of Pascagoula Street and Live Oak Avenue, one block south of Magnolia Street, in 2002. 05/29/04 |
| | |
| --- | --- |
| | Entering downtown Pascagoula at the split intersection with Jackson Avenue east and Watts Avenue west. 05/29/04 |
| | |
| --- | --- |
| | This span wire array of traffic lights at the intersection of Pascagoula Street south at Convent Avenue were replaced by 2013. 05/29/04 |
| | |
| --- | --- |
| | Pascagoula Street southbound leaves Downtown and intersects Ingalls Avenue at its final traffic light. Ingalls Avenue travels west to Desoto Street near the Pascagoula River and east through residential areas to Louise Street. 05/29/04 |
| | |
| --- | --- |
| | Pascagoula Street south ends at Beach Boulevard along Mississippi Sound. Beach Boulevard hugs the shoreline in both directions from Pascagoula Street as a residential and scenic drive. 05/29/04 |
Page updated February 22, 2018.