Birmingham is the largest city and metropolitan area in Alabama. Named after Birmingham, England, the city developed around industry and railroad transport. Later growth focused on banking and telecommunications, with higher education and the health industry gaining prominence as the economic engine of the city.
Attractions and points of interest in Birmingham include the Alabama Sports Hall of Fame, the Birmingham Museum of Art, the Sloss Furnaces National Historic Landmark, the Birmingham Civil Rights Institute, and Vulcan Park among others. Population within the city has undergone a steady decline since 1960, when the numbers peaked around 340,000. The 2000 census recorded 242,820 residents, with a decrease of 30,000 by the 2010 census. With over 1.1 million people by 2010, the metropolitan area covers seven counties, with suburban growth spreading south through Shelby County and northeast through Trussville.
Mirroring the rise of Red Mountain northeast from Mc Ashen Mountain and Jones Valley northeast through Bessemer, Interstates 20 and 59 join Tuscaloosa to the west with Downtown Birmingham and Birmingham-Shuttlesworth International Airport (BHM) by their split. Interstate 20 heads east from there across Red Mountain into Shades Valley in Irondale. The freeway traverses a series of hills east from Birmingham to Leeds en route to Anniston. Interstate 59 remains along a northeastern trajectory to East Lake and Roebuck in northeast Birmingham, passing over Red Mountain ahead of Trussville. I-59 joins Birmingham with Gadsden.
Entering the Birmingham metropolitan area at McCalla, Interstates 20 & 59 carry six lanes of traffic east from Cottondale, outside Tuscaloosa. Northeast from I-459, the freeway narrows to four lanes through Bessemer, Midfield and Fairfield. The freeway expands to six lanes at the Valley Road interchange (Exit 118), and eight lanes from Avenue I (Exit 119B) to Interstate 65 (Exit 124). The exchange with I-65 is locally known as Malfunction Junction, due to an array of left-hand ramps connecting the two freeways. Carriageways along both routes also switch sides to accommodate shorter connecting ramps.
A pair of three lane viaducts extend I-20 & 59 east from Malfunction Junction to Downtown by the Greater Birmingham Convention Center and Birmingham Museum of Art. The elevated roadway ties into the north end of the Elton B. Stephens Expressway, U.S. 31 & 280 leading south to Red Mountain by Vulcan Park. Reconstruction of the I-20/59 viaduct will run from late summer or fall 2018 through 2020, with replacement of the structure and a revamp of the ramp system connecting the freeway with Downtown.1 Associated work underway in 2016 adds new flyovers to better separate traffic from the central business district to I-65 at Malfunction Junction.
Beyond Downtown, I-20 and I-59 resume with eight lanes, winding through the Norwood, East Birmingham and Avon Park communities to separate at Woodlawn. This eight lane section includes a pair of viaducts spanning railroad lines and portion of the street grid. Interstate 59 continues with six lanes to U.S. 11 (Exit 132) at East Lake. Interstate 20 reduces to four lanes immediately following the partition with I-59, but expands to six lanes again from Oporto Madrid Boulevard (Exit 132). I-20 remains six lanes wide east to the Coosa River, just beyond Exit 162 and U.S. 78.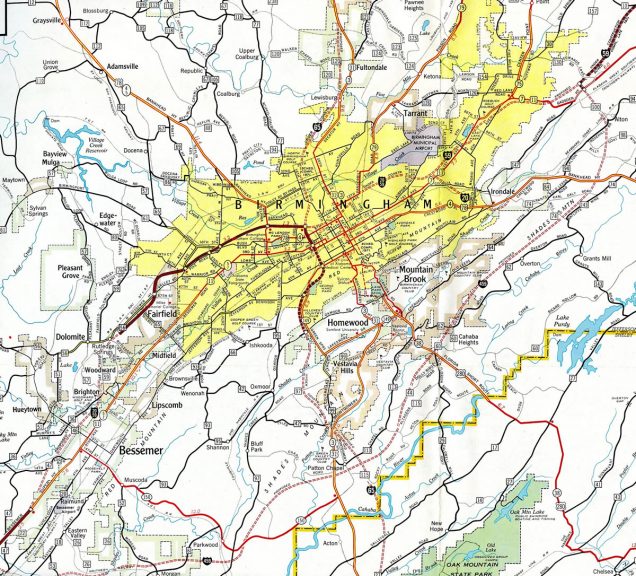 Completed on June 20, 2016, Interstate 22 links the north side of Birmingham with Jasper, Tupelo, Mississippi and Memphis, Tennessee along a 202-mile route to the northwest. Upgrades to the U.S. 78 corridor between Birmingham and Memphis were incorporated in Appalachian Development Corridor X. Within Alabama, initial work on the freeway commenced in 1978, with the freeway completed east to Coalburg Road (CR 77), just shy of I-65 in December 2009.
The freeway winds northwest through Adamsville, Graysville and rural Jefferson County. I-22 was constructed with six lanes west to Alabama 269 (Exit 63) on the south side of Jasper.
Interstate 65 winds north through the Shelby County suburbs of Alabaster, Pelham and Hoover, to cross the Cahaba River into Jefferson County. The freeway expands to six lanes north from Exit 242 (CR 52) to Exit 247 (CR 17), and eight lanes north to Exit 252 (U.S. 31 / Montgomery Highway). A series of S-curves take I-65 northwest around Little Valley Mountain between Hoover and Vestavia Hills, and across Shades Mountain into the suburb of Homewood.
Lowering from Red Mountain, Interstate 65 enters Birmingham at South Titusville with six overall lanes. Curving northwest by the University of Alabama at Birmingham (UAB), 2015 traffic counts top out at 141,260 vehicles per day (vpd). The freeway elevates over Norfolk Southern Railroad lines and the street grid east of Graymont and west of the central business district.
Malfunction Junction, where Interstates 20/59 and 65 come together near East Thomas and Fountain Heights, is one of the busiest interchanges in the state. Construction starting in 2016 addresses some of the weaving traffic patterns between the exchange and adjacent ramps to both Downtown and 6th Avenue North, by elevating and extending ramps to better separate traffic. This work is part of the 59/20 Project through 2020.
North from I-20/59, Interstate 65 continues with eight overall lanes through North Birmingham and Sayreton. Construction to extend Interstate 22 to a four-level interchange with I-65 included an expansion of the freeway through Lewisburg with two and three lane collector distributor roadways. I-65 retains eight lanes north to Exit 267 (Walker Chapel Road) at Fultondale, and six lanes from there to Exit 291 (SR 91).


The Northern Beltline is the planned freeway encircling Jefferson County north from Interstates 20/59 and I-459 at McCalla to Interstate 59 at Trussville. If completed, the 52-mile route will wrap around Hueytown and Pleasant Grove to meet Alabama 269 at Sylvan Springs. North from there, I-422 will wind eastward through Maytown and Adamsville to cross paths with Interstate 22 ahead of Brookside. There will not be a direct interchange between the two freeways due to the area terrain. Instead a short connector, designated Interstate 222, will join the two from Brookside south to I-22 near milepost 90.
Interstate 422 will turn east across Interstate 65 on the north side of Gardendale. Traversing hilly terrain, the Northern Beltline corridor will pass between Monmouth and Crosston to Alabama 79 (New Bradford Highway). With construction underway in 2014, a 3.4 mile segment of I-422 arcs east from there to Alabama 75 in north Pinson. The remainder of the planned route takes I-422 from Miles Mountain southeast to Clay and Interstate 59 by Hubbards Lake.
Interstate 459 branches east from I-20/59 at McCalla and Jones Valley to cross Red Mountain at Owens Gap. Advancing east with four lanes, I-459 travels across Shades Valley to southern reaches of Bessemer. The freeway widens to six lanes from Exit 6 (CR 52) into suburban areas of Hoover, where it turns northeast over Shades and Pine Mountains.
Continuing northeast through Hoover, Interstate 459 crosses paths with the commercial corridor of U.S. 31 (Montgomery Highway) by Riverchase Galleria mall. A four-level interchange follows with Interstate 65 north to Birmingham and south to the Shelby County suburbs. The freeway gradually turns northward over the ensuing drive through suburban areas of Vestavia Hills. A busy interchange, where some improvements were made by 2004, joins the belt line with U.S. 280 in east Birmingham.
Paralleling the Cahaha River, Interstate 459 reenters Vestavia Hills ahead of Mountain Brook, Flat Ridge and Irondale. A four-level interchange connects the bypass with I-20 before it arcs back to the west with six lanes to Exit 32 (U.S. 11). The final link with I-59 by Red Mountain and Trussville is four lanes.
The nearly 33 mile bypass of Birmingham was completed in 1984. Speed limits along Interstate 459 vary between 65 and 70 miles per hour.
U.S. 11 generally serves local traffic through the Birmingham area, such as it does in other parts of Alabama, and along the I-59 corridor in general. Construction of Interstates 20 & 59 directly overlaid the US highway north from Caffee Junction by Reno Lake, to where Bucksville Road emerges along the south side of the freeway near Exit 100. Bucksville Road, Old Tuscaloosa Highway and 4th Avenue SW into Bessemer represent the former route of U.S. 11 northeast through Jones Valley.
Overlapping with I-20/59 and Alabama 5 north, U.S. 11 separates from the freeway at Exit 108 and shifts onto parallel 9th Avenue. Formerly known as the Bessemer Super Highway, this four lane arterial was the original bypass of Downtown Bessemer for through traffic north into Birmingham. The arterial extends north to Brighton, Midfield and Fairfield to enter Birmingham at the Monte Sano and Glenview neighborhoods.
Following Bessemer Road into the city, U.S. 11 transitions onto 3rd Avenue West ahead of U.S. 78 (Arkadelphia Road) and the Smithfield community. U.S. 11 & 78 combine east east along 3rd Avenue North to Graymont and I-65, where they briefly separate into a one-way couplet along 9th Street North and 13th Street North. The split directions recombine along 1st Avenue North through Downtown and 24th Street North.
U.S. 78 partitions with U.S. 11 for 24th Street South while U.S. 11 remains along 1st Avenue North to Kingston and Woodlawn in northeast Birmingham. The five lane boulevard meets I-20 at the Wahouma neighborhood and I-59 at East Lake. Shifting onto Parkway East, U.S. 11 parallels I-59 closely by Roebuck to Alabama 75. Gadsden Highway continues the route east across Red Mountain at Sadler Gap to Roebuck Plaza in east Birmingham. U.S. 11 leaves the city along a commercialized stretch through west Trussville.
One minor change was made to the alignment of U.S. 11 through central Birmingham. The northbound component along 3rd Avenue North was shortened by three blocks, with U.S. 11 relocated west from 16th Street North.
U.S. 31 constitutes a suburban arterial, freeway and urban boulevard along its course north through the Birmingham metropolitan area. North through the Shelby County cities of Calera, Alabaster and Pelham, U.S. 31 represents a slow moving route serving commuters and local traffic as it parallels Interstate 65. Entering the city of Hoover beyond New Hope Mountain, U.S. 31 (Montgomery Highway) expands to six lanes through to Riverchase Galleria mall and Interstate 459.
Interstate 65 and U.S. 31 converge again at Exit 252 near Patton Chapel. Montgomery Highway widens with a grassy median as it curves northeast through Vestavia Hills onto Shades Mountain. A pair of interchanges line the route north through Homewood at Brookwood Medical Center Drive and Alabama 149 (Lakeshore Drive). East of the Homewood business district, U.S. 31 straightens out and merges with U.S. 280 west along the Elton B. Stephens Expressway.
Also known as the Red Mountain Expressway, U.S. 31 & 280 north traverse Red Mountain through a dramatic rock cut near Vulcan Park. The six lanes freeways lowers from there onto a viaduct east of Downtown and west of the Sloss Furnaces historic site. The expressway concludes at a high speed interchange with Interstates 20 & 59. U.S. 280 ends there as U.S. 31 transitions onto 26th Street North.
26th Street North comprises a five-lane urban boulevard to North Birmingham and Decatur Highway, which U.S. 31 follows north from Park Place. U.S. 31 and I-65 meet again at Lewisburg, next to the east end of Interstate 22. A future connection will directly link Decatur Highway with I-22 west. U.S. 31 otherwise progresses north as a commercial arterial into Fultondale.
Prior to the completion of the Red Mountain Expressway, which extended north to 3rd Avenue North by 1980, U.S. 31 followed a convoluted surface route across Red Mountain. Turning west from Montgomery Highway, U.S. 31 followed 29th Avenue by Homewood city hall to 18th Street South. The route continued north by Vulcan Park along 18th Street (old Park Avenue) onto what is now Richard Arrington, Jr. Boulevard to 20th Street South. 20th Street angled U.S. 31 northwest through the Five Points South community to 7th Avenue South, which dog legged U.S. 31 east four blocks to 24th Street. 24th Street doubled as both U.S. 31 and U.S. 78 north from 3rd Avenue South to 8th Avenue North. U.S. 78 turned west across Downtown while U.S. 31 turned east two blocks to join 26th Street through to North Birmingham.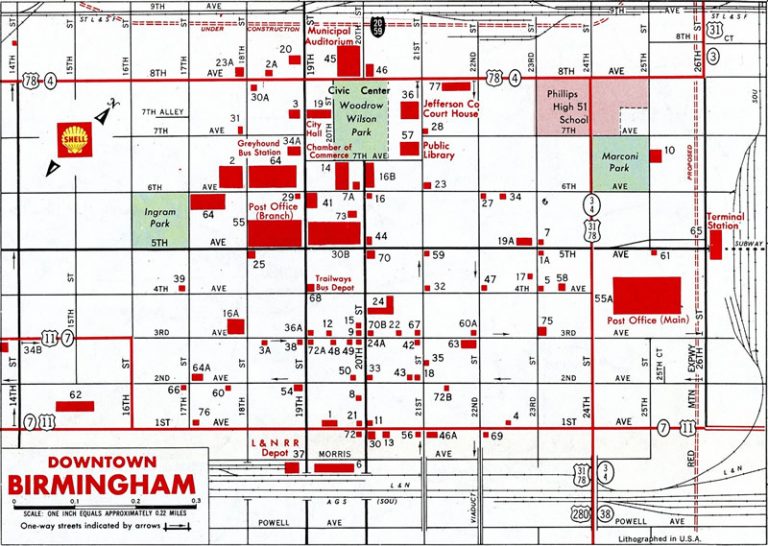 U.S. 31 and U.S. 280 were formally relocated onto all of the Red Mountain Expressway as approved by AASHTO on June 6, 1989. Another slight alignment change previously took place in 1968 with the completion of the 26th Street North viaduct over 27th Avenue North, the BNSF Railroad and 29th Avenue at North Birmingham. U.S. 31 previously shifted one block east from 26th to 27th Streets North via 29th Avenue.
U.S. 78 joins the city of Birmingham with Fultondale, Adamsville and Graysville to the northwest and Irondale and Leeds to the east along four-lane arterials. With the 2016 completion of Interstate 22 northwest from I-65, through traffic shifted away from U.S. 78 (Arkadelphia Road / Forestdale Boulevard) northwest from Interstates 20 & 59 at East Thomas to the Bankhead Highway interchange with the freeway at Exit 85.
South along Arkadelphia Road, U.S. 78 heads south from I-20/59 by Birmingham Southern College and Legion Field to U.S. 11 (3rd Avenue West) at Owenton. U.S. 78 turns east and combines with U.S. 11 through Graymont and Downtown along a combination of 3rd Avenue North and 1st Avenue North. The two part ways at 24th Street North.
U.S. 78 ascends over the Norfolk Southern Railroad and portion of the Downtown street grid on the 24th Street viaduct to connect with the couplet of 4th Avenue South eastbound and 3rd Avenue South westbound. The split directions of U.S. 78 combine at 36th Street South in Avondale. 3rd Avenue South leads the route east to 4th Avenue South.
5th Avenue South takes U.S. 78 east into a wye intersection with Crestwood Boulevard, a four-lane divided arterial east across Red Mountain. U.S. 78 and Interstate 20 cross paths by a sprawling retail area and the site of Crestwood Plaza mall. The two routes commingle east to Leeds and St. Clair County.
Interstate 22 east and U.S. 78 overlap east from Byhalia, Mississippi to Graysville. U.S. 78 remains posted along Bankhead Highway southeast to Arkadelphia Road and Birmingham. Appalachian Development Corridor shields for U.S. 78 however are also posted along the final ten miles of I-22 east to its end at Interstate 65.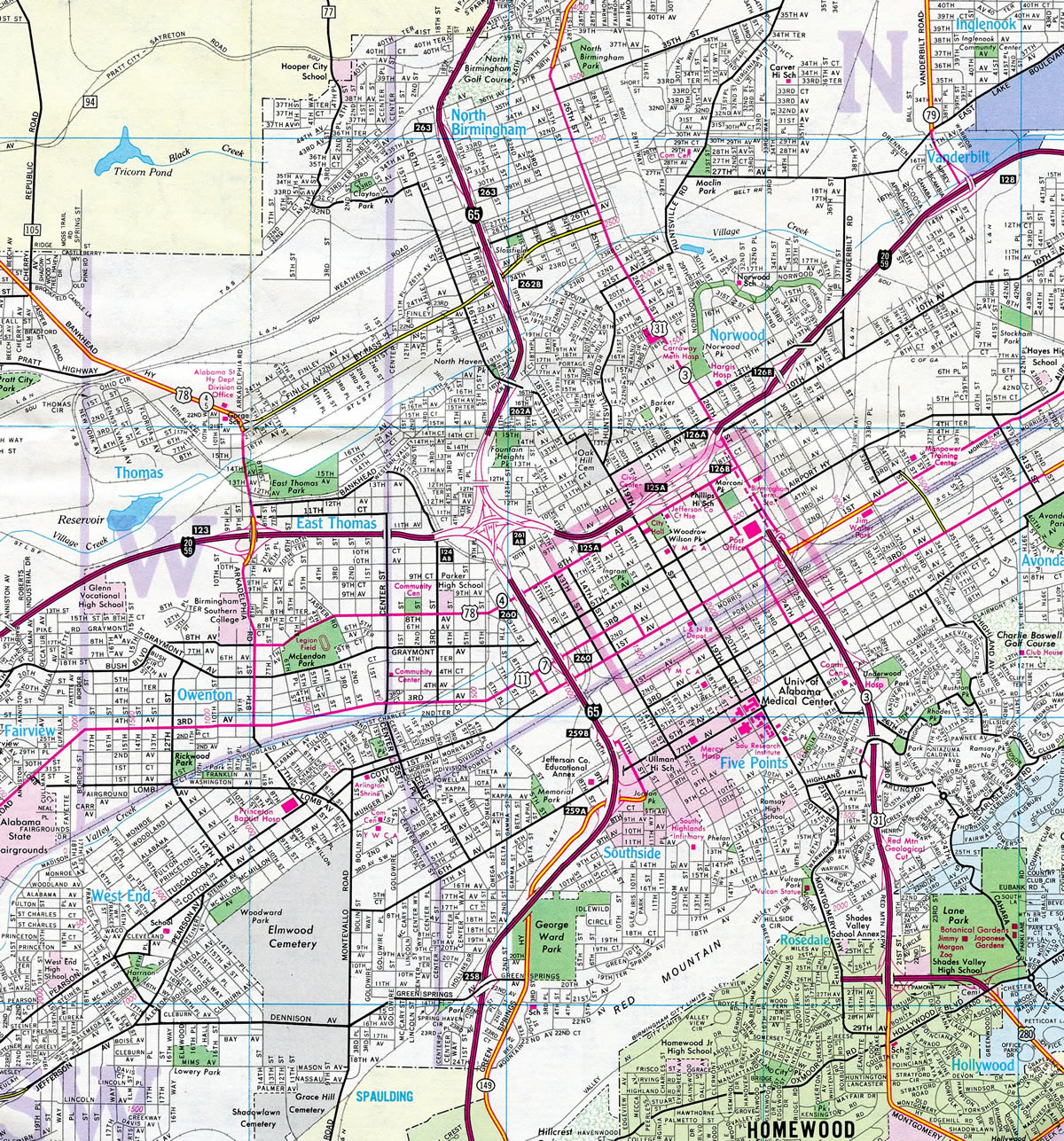 Historically, U.S. 78 split with Arkadelphia Road for 8th Avenue West by McLendon Park. Now named Reverend Abraham Woods, Jr. Boulevard, 8th Avenue extended U.S. 78 east through northern reaches of Downtown to 24th Street North, where it turned south along side U.S. 31.
A second adjustment for U.S. 78 in Birmingham took place with the conversion of 3rd Avenue South into a one-way street westbound. This change coincided with the completion of the Red Mountain Expressway north from Homewood, as ramps with the elevated freeway tie into 25th and 27th Streets between the 3rd and 4th Avenue South couplet.
U.S. 280 originates from the north end of the Elton B. Stephens Expressway, where U.S. 31 and Interstates 20/59 meet near Downtown Birmingham. U.S. 280 overlaps with U.S. 31 south along the freeway for 3.33 miles to Rosedale Drive in Homewood. The US highway turns east from there by Birmingham Zoo along a short freeway segment into Mountain Brook.
A folded diamond interchange connects U.S. 280 with the end of Alabama 149 (Shades Creek Parkway) just north of Shades Mountain. Traffic counts exceed 100,000 vpd as U.S. 280 advances southeast from there as a six-lane, controlled access arterial to The Summit retail area at Interstate 459. Beyond the Birmingham belt line, U.S. 280 trudges through suburban areas of Hoover and unincorporated Shelby County as a congested commercial arterial. Traffic counts along hits stretch topped out at 87,370 in 2015.
Originally known as the Florida Short Route, U.S. 280 leads southeast from the Birmingham area to Childersburg, Sylacauga and U.S. 431 at Opelika. Four laning of the corridor north from the Shelby County line to Hollywood Boulevard and Lane Park in Birmingham was completed by 1966.
The historical route of U.S. 280 can be traced along a section of Old Highway 280 intersection Alabama 119 at Cahaba Valley, and west from the Shelby County line along the loop of Cahaba River Road south toward Acton and Dolly Ridge. Another segment of old U.S. 280 is Brookwood Green Trace across Little Shades Creek in south Mountain Brook.
North into Birmingham, U.S. 280 followed Cahaba Road around the exchange with Alabama 149 to Lane Park. Zigzagging across Red Mountain, Cahaba Road north took U.S. 280 to Arlington Avenue west. The route combined with U.S. 31 (20th Street South) via Highland Avenue west at Five Points South. The two ran concurrently north from there to 24th Street North at 8th Avenue, where U.S. 78 split with U.S. 31 to the west and U.S. 280 ended.

Alabama 75 originates from a diamond interchange (Exit 134) with Interstate 59 opposite Esplanade Drive at Roebuck in northeast Birmingham. The state route lines Parkway East, initially with six lanes, northward toward the city of Center Point. Center Point Parkway continues the commercial arterial north to Alabama 151 at Pinson.
Beyond Pinson, Alabama 75 expands into a four-lane, divided highway alongside Red Mountain. The highway meets a segment of the Northern Beltline (future Interstate 422) under construction at Palmerdale, and exits Jefferson County en route to Oneonta.
Alabama 75 replaced Alabama 38 north to Oneonta, which overlaid U.S. 11 north from central Birmingham to Parkway East. The state route was extended slightly southward from U.S. 11 (Gadsden Highway) to end at Interstate 59.

Like SR 75, SR 79 also begins at Interstates 20-59. The state route follows Vanderbilt Road west of Birmingham Shuttlesworth International Airport (BHM) to the Inglenook and Bartonville neighborhoods of north Birmingham. Curving northeast, SR 79 widens into a divided highway through Tarrant City, northern reaches of Birmingham by Greens Station, and around the west side of Pinson.
SR 151 constitutes a 0.404 mile link between SR 79 and adjacent SR 75, as the two diverge northward to the first segment of the Northern Beltline (future Interstate 422) under construction. North into Blount County, the state route progresses 14.84 miles to SR 160 at Cleveland. Overall, SR 79 totals 117.61 miles from Birmingham to the Tennessee state line near Hytop.
St. Vanderbilt Place, Main Street and Old Pinson Highway represent a short segment of old SR 79 west of the mid-1960s completed alignment across the Birmingham and Tarrant City line. Further south, SR 79 took Vanderbilt Road west from Tallapoosa Street and south to 12th Avenue N. 12th Avenue N, which was realigned due to construction of I-20/59, led the route west to U.S. 31 at 26th Street. SR 79 was redirected along Tallapoosa Street to end at I-20/59 (Exit 128) upon its completion.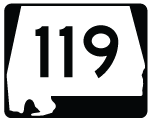 Cahaba Valley Road doubles as SR 119 northeast from U.S. 31 in Pelham to Indian Springs, east Birmingham by Lake Purdy, and U.S. 78 (Parkway Drive) in Leeds. The 39.63 mile route varies as a five-lane commercial boulevard or rural two lane highway through northern Shelby County.
Alabama 149 forms an L-shaped route, initially leading south along Green Springs Highway from George Ward Park in Birmingham to Homewood. The east-west component of Alabama 149 follows Lakeshore Drive east to Samford University. An antiquated cloverleaf interchange joins Lakeshore Drive east and Shades Creek Parkway west with U.S. 31 (Montgomery Highway) in east Homewood. Alabama 149 ends just to the east where Shades Creek Parkway meets U.S. 280.
Prior to May 2015, SR 149 continued north from Green Springs Avenue to run along side I-65 on University Boulevard to Exit 259. University Boulevard returned the route east to U.S. 31 & 280 (Elton B. Stephens Expressway) at the Southside neighborhood. This leg of SR 149 was vastly unsigned, with a lone reassurance marker posted at 11th Street.
University Boulevard replaced 8th Avenue South from Interstate 65 east to the Red Mountain Expressway. Alabama 149 previously took 8th Avenue South from Green Springs Highway east to 8th Street South, where it dog legged north one block onto 7th Avenue South. The state route ended at 20th Street South, the historic alignment of U.S. 31 and 280. This alignment changed by 1980, with Alabama 149 truncated to end at ramps with Interstate 65 at Exit 259B.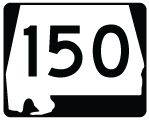 Alabama 150 (14th Street) stems east from U.S. 11 (9th Avenue North) through the Bessemer street grid to cross Red Mountain at Readers Gap. Entering Shades Valley at Muscoda, where Lakeshore Parkway ties in from the north, Alabama 150 continues east by Bee Mountain to Parkwood and suburban areas of west Hoover. The route through Hoover constitutes a four to five lane commercial boulevard as it parallels Chestnut Ridge and I-459. The 11.83 mile course of Alabama 150 ends at U.S. 31 (Montgomery Highway) by Riverchase Galleria mall.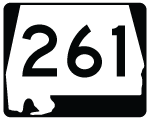 SR 261 spurs 5.90 miles southwest from U.S. 31 in Pelham through the city of Helena to the intersection of CR 17 and CR 91 (Coalmont Road).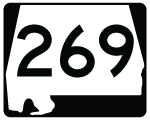 Alabama 269 constitutes a 41.52 mile loop south from Jasper to Ensley in Birmingham. The state route begins west of Downtown Jasper, at the turn of Alabama 69 at 20th Street West and Elliott Boulevard. South to the rural town of Parrish, Alabama 269 replaced a winding alignment of Alabama 18. The route continues by a number of mining operations through to Goodsprings, and east by the Gorgas Generating Plant along the Mulberry Fork (Bankhead Lake).
Crossing into Jefferson County south of Pumpkin Center, Alabama 269 makes a number of curves through rocky terrain through to Powhatan. The route emerges from the Appalachian Piedmont at Sylvan Springs, where it arcs north to Maytown and then southeast along a four lane, divided highway. The state route concludes at a split diamond interchange (Exit 120) with Interstates 20 and 59.