U.S. 19 parallels Interstate 79 throughout most of its 195 mile course in Pennsylvania. The US Highway enters the Keystone State just west of I-79 at Mount Morris. The north end is located in the city of Erie at U.S. 20 (26th Street) south of Downtown.
U.S. 19 overlaps with U.S. 40 two miles west from Laboratory into the city of Washington. The route crosses I-70/79 at a diverging diamond interchange (DDI) northeast from Washington. Staying east of I-79, U.S. 19 continues to Upper St. Clair , Mount Lebanon and the city of Pittsburgh.
U.S. 19 Truck branches east from U.S. 19 at Dormont along Liberty Avenue to PA 51 on Saw Mill Run Boulevard in Pittsburgh. The two converge by the west portal of the Fort Pitt Tunnel. U.S. 19 Truck joins I-376/U.S. 22-30 northeast toward Downtown and the North Shore while U.S. 19 heads northwest to West End Village and Manchester. U.S. 19 Truck returns to U.S. 19 north of West View in McClandless township.
Advancing north to Cranberry, U.S. 19 shifts to the west of Interstate 79, meeting the Cranberry Connector to the Pennsylvania Turnpike (I-76). U.S. 19 (Perry Highway) generally serves local traffic northward to Zelienople and Mercer. Within Crawford County, U.S. 19 combines with U.S. 6/322 east across I-79 into the city of Meadville. U.S. 322 turns southeast toward Franklin while U.S. 6/19 remain overlapped north to Cambridge Springs and U.S. 6N in Erie County.

North

East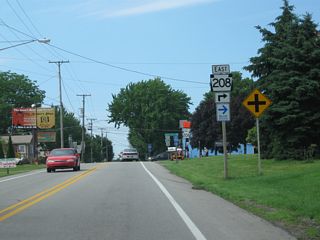 PA 208 continues east from U.S. 19 (Perry Highway) along Leesburg Grove City Road to nearby Schollard and the borough of Grove City.
06/11/10

North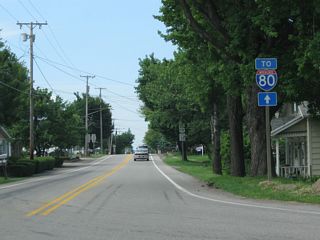 U.S. 19 (Perry Highway) advances north from PA 208 and Leesburg to Interstate 80 at Exit 15.
06/11/10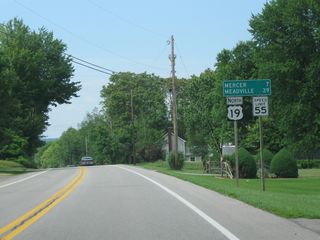 Mercer lies seven miles north of Leesburg Station Road (SR 2002) and Springfield Falls on U.S. 19.
06/11/10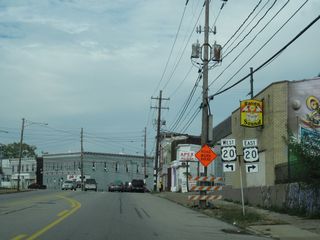 U.S. 20 passes south of Downtown Erie along 26th Street. State Street runs north from the adjacent intersection with PA 505 to the city center.
09/30/10

scenes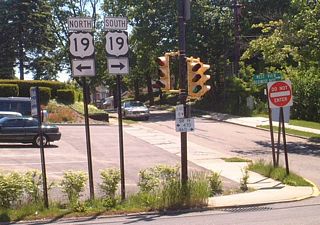 Ground level traffic lights at Highland Avenue and U.S. 19 (Perry Avenue) were replaced with a span wire signal array after 2007. Only one of the U.S. 19 shields remained posted as of 2016.
05/24/02
Photo Credits:
05/24/02 by AARoads
Connect with:
Interstate 70
Interstate 76
Interstate 79
Interstate 80
Interstate 90
Interstate 279
Interstate 376
U.S. 20
U.S. 322
U.S. 422
Route 208
Route 956
Page Updated 01-28-2021.