Home to 563,626 as of the 2010 census, Wyoming is served by three major Interstate highways: north-south Interstate 25 (Las Cruces to Buffalo), transcontinental I-80 (San Francisco to Fort Lee, NJ) and I-90 (Seattle to Boston). Out of the three, Interstate 80 spends the most time in Wyoming, traveling between Evanston and Pine Bluffs at a little more than 402 miles across the southern tier of the state. Both I-80 and I-25 serve the capital city of Cheyenne, which is also the most populous city in the state, with a population of 59,467 (2010 census).
East from Bridger Valley in Unita County, to the Red Desert/Great Divide Basin and Rawlins, Interstate 80 passes through high elevation desert steppes and plains with limited vegetation and modest elevation changes. Green River, Rock Springs, and Rawlins all have elevations well in excess of 6,000 feet above sea level. Interstate 80 will not drop below a mile high elevation (5,802 feet above sea level) until east of Cheyenne. Snow fences are placed all along Interstate 80 in Wyoming, from Evanston east to Cheyenne.
Interstate 80 and U.S. 30 overlap east from Little American to Walcott Junction, although there are arguments that U.S. 30 separates from Interstate 80 at Green River, Rock Springs and Rawlins. WyoDOT has made good efforts in recent years to clarify signage so that it is clear that Business U.S. 30 follows the business route through the three cities rather than mainline U.S. 30. At Walcott Junction, U.S. 30-287 will follow the Lincoln Highway through Hanna, Medicine Bow, Rock River and Bosler before meeting Interstate 80 again in Laramie.
Interstate 80 Wyoming Guides
Interstate 80 Wyoming Business Routes
History
Interstate 80 is routed over the original Lincoln Highway between San Francisco, California, and Youngstown, Ohio. Much of Lincoln Highway in Wyoming was originally U.S. 30.
The following table shows the history of the construction of Interstate 80 across the southern tier of Wyoming. Uinta County, at the western end of Wyoming Interstate 80, was the first county in the state to complete its section of Interstate highway.
| Section | Length | Month Opened |
| --- | --- | --- |
| Utah State Line to one mile west of Evanston | 2.9 miles | 8/64 |
| Evanston Marginal | 3.35 miles | 1/68 |
| East Evanston Interchange | 0.6 miles | 7/66 |
| East Evanston (Business Loop I-80) Interchange to Painter Interchange | 3.5 miles | 10/62 |
| Painter Interchange to French Interchange | 17.6 miles | 10/61 |
| French Interchange to Fort Bridger (Business Loop I-80) Interchange | 6.2 miles | 10/59 |
| Fort Bridger (Business Loop 80) Interchange to East Bridger Valley (Business Loop I-80) Interchange | 14.8 miles | 6/69 |
| East Bridger Valley (Business Loop 80) Interchange to Sweetwater County Line | 8 miles | 10/62 |
| Uinta County Line to Westvaco Road (To Wyoming 374) | 14.7 miles | 7/68 |
| Westvaco Road (To Wyoming 374) to Wyoming 372-374 (La Barge) Interchange | 10.8 miles | 7/67 |
| Wyoming 372-374 (LaBarge) Interchange to East Green River (Business Loop 80) Interchange (including marginal) | 9.6 miles | 11/66 |
| East Green River (Business Loop 80) Interchange (including marginal) to one mile west of Rock Springs | 9.5 miles | 10/69 |
| Rock Springs Marginal | 5.9 miles | 11/64 |
| Pilot Butte Interchange (East Rock Springs, Business Loop 80) to Baxter Road (Airport/Wyoming 370) Interchange | 3.55 miles | 9/64 |
| Baxter Road (Airport/Wyoming 370) Interchange to two miles west of Thayer Junction | 9.2 miles | 7/64 |
| Two miles west of Thayer Junction to Point of Rocks | 9.65 miles | 10/64 |
| Point of Rocks to Black Buttes Road | 8 miles | 11/63 |
| Black Buttes Road to five miles west of Tipton | 15.7 miles | 10/61 |
| Five miles west of Tipton to two miles west of Wamsutter | 17.9 miles | 9/59 |
| Two miles west of Wamsutter to two miles east of Wamsutter | 4.3 miles | 9/62 |
| Two miles east of Wamsutter to Wyoming 789 (Creston Junction) Interchange | 12.2 miles | 10/63 |
| Wyoming 789 (Creston Junction) Interchange to Carbon County Line | 11.85 miles | 10/62 |
| Sweetwater County Line to Johnson Road | 11.1 miles | 9/62 |
| Rawlins Marginal | 5.7 miles | 1/65 |
| Cedar Street (Business Loop 80, East Rawlins) Interchange to West Sinclair (Wyoming 76) Interchange | 3.6 miles | 8/59 |
| Sinclair Marginal | 3.9 miles | 12/66 |
| East Sinclair (Wyoming 76) Interchange to Fort Steele Rest Area Interchange | 3.55 miles | 10/65 |
| Fort Steele Rest Area Interchange to U.S. 30-287 and Wyoming 130 (Walcott Junction) Interchange | 6.8 miles | 10/63 |
| U.S. 30-287 and Wyoming 130 (Walcott Junction) Interchange to Laramie (Albany County) - longest stretch of Interstate highway ever opened at one time | 77 miles | 10/70 |
| Laramie Marginal: Curtis Street (Business Loop 80) Interchange to Third Street (U.S. 287) Interchange | 2.4 miles | 10/64 |
| Laramie Marginal: Third Street (U.S. 287) Interchange to Grand Avenue (Business Loop 80) Interchange | 4.1 miles | 9/63 |
| Grand Avenue (Business Loop 80) Interchange to Lower Telephone Canyon | 1.95 miles | 10/61 |
| Lower Telephone Canyon to Interstate 80 Summit | 3.4 miles | 12/66 |
| Interstate 80 Summit to Blair Road | 4.6 miles | 10/66 |
| Blair Road to Laramie County Line | 9.5 miles | 10/64 |
| Albany County Line to West Lincolnway (Business Loop 80/U.S. 30; West Cheyenne) Interchange | 22.5 miles | 11/62 |
| West Lincolnway (Business Loop 80/U.S. 30; West Cheyenne) Interchange to Interstate 25/Interstate 80 Interchange | 0.45 miles | 10/64 |
| Cheyenne Marginal: Interstate 25/Interstate 80 Interchange to Interstate 180/U.S. 85 Interchange | 2.5 miles | 12/66 |
| Cheyenne Marginal: Interstate 180/U.S. 85 Interchange to Sun Valley (Campstool Road) Interchange | 1.8 miles | 3/77 |
| Sun Valley (Campstool Road) Interchange to two miles east of Archer (U.S. 30) Interchange | 8.5 miles | 5/77 |
| Two miles east of Archer (U.S. 30) Interchange to two miles east of Egbert | 21 miles | 11/65 |
| Two miles east of Egbert to West Pine Bluffs (Business Loop 80) Interchange | 7.1 miles | 12/64 |
| Pine Bluffs Marginal: West Pine Bluffs (Business Loop 80) Interchange to Nebraska State Line | 2.3 miles | 1/67 |
During the 1998-1999 construction seasons, Interstate 80 was being widened to five lanes through Telegraph Canyon. This is not the first location where an auxiliary climbing lane has been added to Interstate 80. The initial such project, completed in 1990, widened a 2.3 mile section of westbound Interstate 80 between Evanston and Fort Bridger. Since then, three more similar climbing lanes have been added at other lengthy upgrades east of Evanston and one has been installed for eastbound traffic on Dana Ridge between Rawlins and Elk Mountain.
Guide
Interstate 80 enters Wyoming from Utah at Evanston, one of the larger towns in southwestern Wyoming. Evanston (elevation 6,748 feet) has grown quite a bit. In the 1990s a Wal-Mart and an auto parts super store opened. More houses are constructed every year. As the eastern gateway to Park City, Evanston experienced a boom in visitation and as a result of the Salt Lake City Winter Olympic Games in Winter 2002.
Just to the south of Interstate 80 at Evanston is Wyoming 150. This scenic drive takes you to the High Uintas of Utah and Wyoming. It is worth the detour off the mainline Interstate 80 for this trip. The road connects to Utah 150, and loops back to Interstate 80 via either U.S. 40 or Utah 32 (old U.S. 189).
Heading out of Evanston, check out the "crossing gates," added back in 1997. These gates are lowered across the freeway whenever the State Highway Patrol decides that conditions warrant shutting down the freeway (due to an accident, weather, etc.). A small white sign with flashing yellow lights above it sits to the side of the crossing gate, and it tells travelers to return to Evanston because the road is closed.
Interstate 80 between Evanston and Granger parallels old U.S. 30S. U.S. 30 used to split between Rupert, Idaho, and Granger. The southern definition took travelers roughly along Interstate 84 (old Interstate 80N) through Idaho and Utah to Echo Junction, then Interstate 80 northeast to Granger. The northern definition is now mainline U.S. 30 through American Falls, Pocatello, and Kemmerer. U.S. 189 is cosigned with the interstate for a few miles east of Evanston, then it leaves to the north to serve La Barge, Big Piney/Marbleton, and Jackson.
About where U.S. 189 splits, Interstate 80 is heading through some major grades. This area is collectively known as "the Three Sisters." The Department of Transportation has seen fit to install a third climbing lane for trucks along the uphill portions of the roadway through the Three Sisters area.
Interstate 80 ascends to the first of the three sisters at the Divide Interchange (7,470 feet). The highway then descends to Lazeart Junction, where U.S. 189 splits to the north. Heading uphill again, the crest of the second sister is just east of the Leroy interchange. Heading downhill is an incredible view of the valley below. It was truly difficult to maintain the speed limit when the limit was 65 mph; now that it is 75 mph, it is no problem. The hill in front of you is the Bigelow Bench; this will take you up and over into Bridger Valley.
Bridger Valley (elevation 6,650 feet) is home to the communities of Lyman, Mountain View, Urie, and Fort Bridger. This area is probably more agricultural in nature than any other part of southwestern Wyoming. Take the I-80 business loop to see the towns in Bridger Valley as well as the Fort Bridger State Historical Park. Business I-80 here is unlike any other business loop in the state, because it serves several communities and is rather long (over ten miles).
Leaving Bridger Valley, Interstate 80 meets U.S. 30 for the first time at Granger Junction. U.S. 30 and Interstate 80 are merged from here to Walcott Junction (east of Rawlins). Old U.S. 30 is frequently visible along Interstate 80 as a state secondary route, a frontage road or a dirt road.
Look for Little America right after the U.S. 30 merge; it is motel and gas station complex located in the middle of nowhere. You can tell where the property line is for Little America because the grass and trees abruptly give way to sagebrush.
Little America is an incorporated town in Wyoming, even though the whole "town" consists of a multi-faceted private enterprise (hotel, restaurant, gas station, and so on). All land in the town is owned by the Little America corporation. Apparently the founder of the Little America chain (which is also located in Cheyenne, Salt Lake City, and Flagstaff) was a sheepherder working one cold winter in central Wyoming when he thought that he should build an "oasis" for travelers to escape from the elements. The marketing for the town of Little America compared itself to Ellis Island, as the town was developed prior to the Second World War.
For the next several miles, deep under Interstate 80 are trona mine tunnels. This mineral, which is used to produce glass, baking soda, and detergent, can be found in two locations in the U.S.: Green River, Wyoming, and Trona, California. Both trona deposits are located in ancient, dried-up lake beds. Trona is what keeps the Green River economy going -- there are reserves of trona available for at least the next century. The trona is shipped via the Union Pacific Railroad and via truck. Access to Interstate 80 makes trucking very easy.
You will see the Union Pacific Railroad clearly for the next hundred or so miles along Interstate 80 and U.S. 30. When U.S. 30 was first built, it directly followed the Union Pacific alignment. While the railroad has several jogs and turns to avoid hills and gulleys, the Interstate was aligned in a much straighter path. So there are some times when the railroad will "disappear" behind a mountain only to "reappear" a few miles down the road.
The Interstate crosses the Black's Fork River around the trona mines, then it ascends to Peru Hill, the junction of Wyoming 372, a quick route to the Seedskadee National Wildlife Refuge. More importantly for fishermen, Wyoming 372 provides easy access to the Fontenelle Reservoir. Interstate 80 descends to the Green River just beyond this interchange; this is the lowest point along the freeway between Utah and Cheyenne.
The Interstate 80 bypass (known as a "marginal" by the Wyoming Department of Transportation) around Green River is routed along the north side of town at the base of Tollgate Rock, Teakettle Rock, and the Green River Palisades.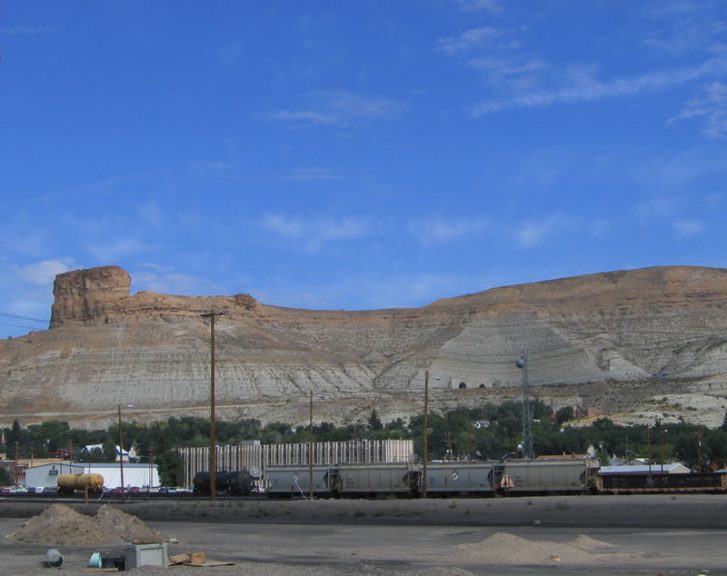 The town of Green River has about 13,000 people. Green River is the Sweetwater County seat, but the economy is driven by the aforementioned trona mines. While Rock Springs (the next town to the east along Interstate 80) is driven by coal and oil, Green River is dubbed the "Trona Capital of the World."
Tourism and fishing are also big deals here. South of Green River, along Wyoming 530, lies the Flaming Gorge Reservoir. It is worth the five- to eight-hour detour off Interstate 80 to take Wyoming 530 as part of a scenic loop around the lake. You can see Buckboard Crossing, Lucerne, Sheep Creek Canyon, Red Canyon, the Flaming Gorge Dam, Dutch John, and Firehole Canyon. Fishermen love the lake too, because some of the largest bass ever caught came from this lake.
Interstate 80 continues east to Rock Springs, meeting U.S. 191 along the way. U.S. 191 is half of the loop around Lake Flaming Gorge (the other half is Wyoming 530/Utah 43/Utah 44). U.S. 191 follows Interstate 80 and U.S. 30 around the city, then takes off north on its own toward Farson, Pinedale, and Jackson via Elk Street.
Rock Springs features regional shopping, including a Wal-Mart, several motels, a mall, a hospital, and the Western Wyoming Community College. Most services are clustered around Exit 102 with Business Loop I-80 (Dewar Drive).
Upon leaving Rock Springs, Interstate 80 connects to the Rock Springs airport (Exit 111, Wyoming 370), the Superior exit, and the Point of Rocks exit. After passing by the mighty Jim Bridger power plant just north of Interstate 80 at the Point of Rocks interchange, the freeway enters the Red Desert en route to Wamsutter and Rawlins. The power plant facility is notable for having the tallest man-made structure in the state. Students at the University of Wyoming in Laramie were dismayed to learn that the Jim Bridger power plant is taller than twelve stories, because dormitory residents used to argue about which of the two twelve-story dorms was taller. Last we heard, White Hall was taller than McIntyre Hall because it had a taller antennae.
There really isn't much to stop for between Rock Springs and Rawlins except for seeing some sections of old U.S. 30 and historic Lincoln Highway. Table Rock is interesting because there used to be this large, chimney-shaped, water tower surrounded by houses that seemingly sprang up in the middle of the desert. This company town had been around for at least twenty years, but it was removed and reclaimed in the 2000s. The water tower and houses are now gone.
Interstate 80 crosses the Continental Divide, first at Milepost 158 (elevation 6,930 feet above sea level) and again at Milepost 206 (elevation 7,000 feet above sea level), at the Hadsell Road Exit. The western crossing of the Continental Divide marks where all water flows to the Pacific Ocean via the Green, Snake, and Columbia Rivers, and the eastern crossing of the Continental Divide marks where all water flows to the Atlantic Ocean via the Yellowstone, Platte, and Missouri Rivers. In between these two crossings, water stays in the basin. Interstate 80 spends approximately 52 miles in this basin. The Wyoming 789 junction at Creston lies within this basin.
Finally entering Rawlins, Wyoming 789 jets north toward Muddy Gap, while U.S. 287 joins the mix along Interstate 80 westbound. U.S. 30-287 will be combined for the next 100 miles. At first, they are merged with Interstate 80, but they go on their own to serve towns such as Hanna, Medicine Bow, and Rock River via the original Lincoln Highway.
When the state doled out its facilities, every city received something different. Cheyenne became the state's capital, Laramie became home to the state's only four-year university, Sheridan became home to the girls school, Worland got the boys school, Evanston landed the state mental hospital, Douglas has the state fairgrounds, and Rawlins received the state penitentary. It lies south of Interstate 80 at the southern terminus of Wyoming 78, Higley Boulevard. The original state penitentary, closed in 1982, is available for tours.
Rawlins has a fair number of old houses in its central business district, including a few Victorian homes. Many folks from around Carbon County come to Rawlins to conduct their shopping and to take in a movie or two. Interstate 80 skirts the city to the south, hitting a few truck stops. Leaving Rawlins and passing by Sinclair, home to an oil refinery, Interstate 80 proceeds across the North Platte River.
U.S. 30-287 split off at Walcott, and Wyoming 130 heads south to serve Saratoga, Encampment, and the Snowy Range Scenic Byway. Interstate 80 heads along the northern fringe of the Snowy Range, passing by massive Elk Mountain right away. When the highway planners decided to route Interstate 80 along the mountains, instead of via U.S. 30-387, they felt they were doing the traveling public a favor. And in my opinion, they did. But the first winter along Intersate 80 right after it first opened on October 3, 1970, was pretty bad. There were no snow fences anywhere along the route, and this caused incredible amounts of "horizontal snow" (that is, wind blown snow) to blow across the road.
Incidentally, this stretch of Interstate 80 -- which was routed over the historic Overland Trail between Laramie and Walcott Junction -- all opened at once, setting a national record at the time for the longest section of Interstate highway opened at one time.
This excessive snow situation was alleviated when snow fences were erected; in fact, this section of Interstate is well-known for snow fence research. Snow collects at the snow fences so it doesn't blow or collect upon the Interstate. In the spring, it is rather funny to see green grass almost everywhere, except at a snow fence, where snow remains in a big, icy glob at the base of the fence until late May or June. Interstate 80 received the nickname "Snow Chi Minh Trail" as a result of the ground blizzards and snow buildup.
Interstate 80 descends from an elevation of 7,781 feet above sea level into Arlington. Local rumors indicate that the most frequently closed section of Interstate 80 in the country is the section around Arlington. It is likely that Arlington competes with Donner Pass in California for that title.
At Cooper Cove, Interstate 80 passes into Albany County, home of the University of Wyoming. As you may have noticed, Interstate 80 has not seen the railroad for a while. The Union Pacific Railroad (UPRR) follows the U.S. 30 alignment between Walcott and Laramie, then it avoids Interstate 80's climb up Sherman Hill by heading south almost to the Colorado border. Interstate 80 and the UPRR follow each other more closely again east of Cheyenne.
After going over little hills in the Laramie Basin, you finally get to the Curtis Street (Business Loop I-80) interchange. There are several truck stops here, most of which are relatively new. The Pilot Truck Stop used to have the cheapest gas in Laramie.
Laramie is known as the Gem City. In addition to being a railroad hub, Laramie is also home to the University of Wyoming, which is locally described as the "coolest summer school" in the United States. The reason for this is the high elevation (7,220 feet above sea level) and the relatively cool temperatures throughout the summer, especially at night. The wind never stops blowing here either. Laramie competes with San Francisco for hosting the coldest summers.
Once in Laramie, exit Interstate 80 at Exit 310 (Business Loop I-80/Curtis Street) and follow the signs into downtown and to the University of Wyoming campus. Both downtown and campus are walkable, and parking is usually easy and free (look for visitor parking). Downtown Laramie is full of shops and restaurants befitting a college town. On campus, most of the buildings are constructed of native Wyoming sandstone, which adds a local flavor to the school.
When you get into town, you forget that the basin around you is treeless high plains and grass, as the city is full of trees. A classic example is along Grand Avenue between Ninth and Fifteenth Streets. The trouble is, the trees lose their leaves in the early fall and don't get them back until May due to the short growing period. In addition, the leaves have to withstand some tremendous winds, occasionally gale forces, due to the role of the Laramie Basin as a conduit for wind during all seasons.
Interstate 80 continues out of Laramie to ascend Sherman Hill through Telephone Canyon. U.S. 30 merged back onto Interstate 80 at the Grand Avenue interchange, which is at the base of the hill. The Telephone Canyon project, completed in 2001 at a cost of $16 million, widened 5.1 miles of highway, started at milepost 319 (about two miles east of the Grand Avenue Interchange just outside Laramie) and continued up the canyon to milepost 324 (about a mile east of the Happy Jack Summit Interchange). Work was similar to the Laramie marginal project, with new base and pavement replacing old. The eastbound lanes were widened to provide a third "auxiliary" lane for slow-moving uphill traffic.
Work on the Telephone Canyon project began in 1996 and was initially focused on enlarging several rock cuts, requiring extensive blasting operations, to accommodate the new, wider road. The blasting work forced numerous one-hour closures of the highway, starting mid-summer that year and continuing into the fall and winter.
By the spring of 1997, most of the rock work was complete, and crews moved on to the next phase of the project, that being replacement of the old eastbound (uphill) lanes. During the 1997 construction season, the old westbound lanes, along with a widened shoulder, carried three lanes of traffic (two uphill and one downhill). During the summer of 1998, the process was repeated, with the new eastbound lanes carrying all traffic while the westbound lanes were under reconstruction.
The new section of eastbound Interstate 80 through Telephone Canyon has a paved width of 48 feet, encompassing the three 12-foot travel lanes, an eight-foot outside shoulder and a four-foot inside shoulder. The westbound section measures 38 feet (two 12-foot lanes, 10-foot outside shoulder and four-foot inside shoulder). Travel lanes are being paved with 11 inches of concrete, while shoulders are being constructed with asphalt. Numerous underdrains will carry snow melt and rain water away from the roadway and into a new storm sewer system installed down the canyon adjacent to eastbound lanes.
The high point of Interstate 80, U.S. 30, and the Lincoln Highway is at the top of Sherman Hill, at elevation 8,640 feet. A giant bronze bust of Abraham Lincoln gazes down on the interstate from a rest area at the summit. Wyoming 210 exits from the interstate, following Happy Jack Road to Cheyenne. If you're not in a hurry, take this exit. You can climb rock formations, hike some national forest trails, and visit Curt Gowdy State Park (named after the famous sportscaster). Vedauwoo, right off Interstate 80 in this area, is excellent for rappelling and rock climbing.
If you elect to stay on Interstate 80, the freeway begins to gradually descend into Cheyenne. The radio dial opens up to catch signals from Denver, Boudler, and Fort Collins radio stations. You can clearly see the Colorado Rockies to the south. Look for the tree in the rock (located at a parking area in the middle of the road) and the Ames Monument pyramid. Both of these are worth a look.
At Cheyenne, Interstate 80 intersects several north-south highways, including U.S. 85, U.S. 87, Interstate 25, and Interstate 180. Interstate 180 is notable for being one of the few Interstate highways in the country with stoplights on its mainline.
The Interstate 25/80 interchange is a large cloverleaf interchange, the only one left in the entire State of Wyoming. There is a tri-level interchange between Interstate 25 and Interstate 90 in Buffalo, but most of the others are diamond interchanges or variations on that theme. The exit numbering on Interstate 80 is Interstate 25/U.S. 87 North, Casper, EXIT 359A, and Interstate 25/U.S. 87 South, Denver, EXIT 359C. On Interstate 25, it is Interstate 80 East, Omaha, EXIT 8B and Interstate 80 West, Laramie, EXIT 8D. These letters are used to denote the four ramps of the cloverleaf (Ramps A, B, C, and D).
Cheyenne is home to the state government headquarters, as well as the F.E. Warren Air Force Base. Every time the University of Wyoming plays Air Force Academy in college football (once every two years), cadets fly jets over War Memorial Stadium in Laramie. All services are available here, and Cheyenne overtook Casper as the state's largest city in the 2000s. As more people moved into the Front Range of Colorado, some moved into Wyoming.
Interstate 80 sees its first cultivated fields since Bridger Valley on the gentle, downward slope east of Cheyenne. Now the fields are irrigated with water from tributaries to the North Platte River reservoir system and from the underground Ogallala Aquifer. The tiny towns of Hillsdale, Burns, and Egbert -- all located along the original U.S. 30 and Lincoln Highway -- are now located on secondary state route spurs from the Interstate.
Before you know it, you are in Pine Bluffs and crossing into Nebraska. You will see the "pine bluff" to the south of the interstate, while the town stays to the north. U.S. 30 splits off from Interstate 80 to parallel it closely for the next 200 miles, but U.S. 30 does not merge with Interstate 80 ever again heading eastbound.
Page Updated 03-31-2017.