Part of a corridor between the Baltimore / Washington metropolitan area and North Jersey / New York City, Interstate 295 in Delaware provides an important link between Interstate 95 and the New Jersey Turnpike. Varying between six and eight lanes, the freeway also serves regional traffic on the Delmarva Peninsula and local commuters between Newport, Wilmington and New Castle. U.S. 40 overlaps with I-295 between Dupont Highway at Farnhurst and the New Jersey Turnpike.
The Delaware River and Bay Authority (DRBA) maintains Interstate 295 between I-95 and the New Jersey Turnpike. The freeway overall comprises a 93.77 mile long route between I-95 outside Newport, Delaware and I-95 and I-276 at Levittown, Pennsylvania. The designation previously ended opposite I-95 at U.S. 1 in Trenton, New Jersey. It was extended westward to Bucks County in Spring 2018 ahead of the September 23, 2018 relocation of I-95 onto the Pennsylvania Turnpike.
The south end ties into an expansive interchange connecting I-95/U.S. 202, Interstate 495 (Wilmington Bypass) and SR 141 (Newport Freeway) east of Christiana Marsh. I-95 (Delaware Turnpike) expands to five lanes northbound at the split with I-295. Two lanes are allocated for I-295 and a c/d roadway for SR 141 north (Exit 5 B) and three for I-95 and I-495 north. Ramps also connect with I-295 north from I-95, I-495 and SR 141 southbound. During peak travel hours and holiday travel periods, traffic congestion is routine at the northbound I-95/295 split. Delays often occur during holidays at the Delaware Memorial Bridge toll plaza southbound as well.
Interstate 295 Delaware Guides
Constructed in 1951 to provide access between Dupont Highway and the new Delaware Memorial Bridge, the Farnhurst interchange joins I-295/U.S. 40 with U.S. 13. Initial work to rebuild the exchange at U.S. 13 commenced in 1999. Further reconstruction of I-295 from 2001 to 2003 resurfaced the entire freeway and rebuilt the interchange with SR 9 (New Castle Avenue). Accommodating relocation of the ramp from I-295 southbound to U.S. 13 (Dupont Highway) south, work at Farnhurst removed the left side ramp from U.S. 13 south to I-295 north. A left turn from Dupont Highway south to the northbound on-ramp for I-295 from U.S. 13/40 replaced that connection.
Other changes at the Farnhurst Interchange included the addition of a U-turn ramp on the north side of the exchange allowing access to U.S. 13 (DuPont Highway) south from the left exit on I-295 north. This eliminated weaving traffic across the northbound mainline between the I-95/495 entrance ramp and the right side off-ramp for U.S. 13/40.
Started in February 2016, follow up work at the Farnhurst Interchange redesigned the exchange further with a new loop ramp from U.S. 13 north to I-295 south. This eliminated the directional ramp merging on the left side of the freeway southbound. Additionally the southbound span of I-295 was expanded to three overall lanes, as was Dupont Parkway northbound below the freeway. Until the Fall 2016 opening of the new ramp from U.S. 13 north to I-295 south, motorists were directed on I-295 north to make a U-turn via the loop ramps with SR 9. Including reconstruction of pavement along I-295 south between Landers Lane and the directional T interchange with Interstate 95, the $33.7 million project extended into Spring 2019.3
I-295/U.S. 40 travel between an array of post World War II built subdivisions including Wilmington Manor, Minquadale and Garfield Park among others. Neighborhoods to the south of I-295 were somewhat isolated due to construction of the freeway. Therefore a compromise was made between the state and local residents, resulting in the addition of the Landers Lane off-ramp from Interstate 295 northbound. The local ramp ties into Landers Spur as it serves a number of subdivisions north of Boulden Boulevard and Moores Lane and west of New Castle Avenue.
Further east Interstate 295 meets SR 9 (New Castle Avenue) at a full cloverleaf interchange with collector distributor roadways in both directions. New Castle Avenue constitutes a four lane arterial north to Southbridge in Wilmington and south to the historic city of New Castle. Construction from 2001 to 2003 rebuilt and resurfaced the ramps and roadways at the exchange and installed new guide signs in all directions.
The Delaware River and Bay Authority (DRBA) offices lie within the median of I-295/U.S. 40 east of New Castle Avenue. The access road to the facility ties into the northbound c/d roadway of SR 9 and a sidewalk and tunnel connect the DRBA offices with the adjacent War Memorial.
Delaware Memorial Bridge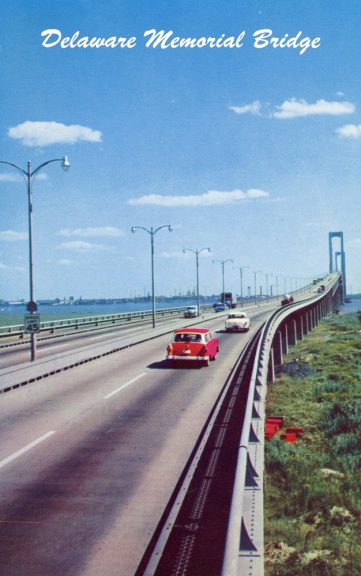 The Delaware Memorial Bridge carries I-295/U.S. 40 across the Delaware River between New Castle, Delaware and Deepwater, New Jersey. The twin suspension bridges carry eight lanes of traffic (four per direction) at a variable speed limit of 50 miles per hour depending upon weather conditions. Lane control signals operated on both spans allow the DRBA to close lanes as needed due to construction, traffic accidents or congestion. Tolls are levied to southbound travelers across the Delaware Memorial Bridge, with fares collected at a plaza just west of the span.
Toll Rates
The Delaware River and Bay Authority maintains both New Castle County Airport (ILG) and the Cape May-Lewes Ferry in addition to the Delaware Memorial Bridge. As of March 1, 2019, travelers crossing the Delaware River from New Jersey are charged tolls at a rate of $5.00 per passenger vehicle. This increase funds over $440 million in capitol projects, mostly related to bridge maintenance and repairs, over a five year period.
DRBA voted on July 17, 2007 to increase tolls from $3.00 to $4.00 per axle for all commercial vehicles crossing the Delaware Memorial Bridge. The January 2008 toll increase generated $11 million in additional funds for the DRBA budget. $85 million in capital improvements went to expanding Interstate 295 from four to six lanes at the Farnhurst Interchange, replacing the bridges over the Norfolk Southern Railroad east of the toll plaza, and other projects associated with the Cape May Lewes Ferry. An additional toll increase was implemented in 2011 to fund $300 million in future projects including a bridge deck replacement on both of the twin spans.2
The rate previously increased to $3.00 from $2.00 per passenger vehicle in May 2000 to fund a DRBA $150 million capital budget increase. Included in the 2000 budget were allocations of funds for the reconstruction project of Interstate 295 in 2001-2003. Tolls along the bridge were switched from two-way to one-way in 1992.
The eastbound span of the Delaware Memorial Bridge opened to traffic in August of 1951.1 Previously motorists used one of two ferry crossings between Delaware and New Jersey. The U.S. 40 ferry linked New Castle, Delaware with Deepwater, New Jersey. A second ferry crossing carried drivers from Wilmington, Delaware to Penns Grove, New Jersey via multi state route 48. Both ferry services ceased operations when the bridge opened.
The 1951 Delaware Memorial Bridge constituted the longest suspension bridge in the world at one time. It was later superseded by the Verrazzano-Narrows Bridge (Interstate 278) in New York City. However with the addition of the westbound span, the Delaware Memorial Bridge represents the longest twin span suspension bridge worldwide. The slightly longer of the two bridges opened to traffic in September 1968.1
Interstate 295 Average Annual Daily Traffic
Source: Delaware Vehicle Volume Summary 2019 (Traffic Counts) - Delaware Department of Transportation (DelDOT).
Veterans Memorial Park
Veterans Memorial Park occupies the southeast quadrant of the exchange joining I-295/U.S. 40 with SR 9. Interstate 295 is part of the Blue Star Memorial Highway system that honors the armed forces. The Blue Star represents the blue star in the service flag, which was used during World War II on flags and homes of families who had a loved one serving overseas. The names of all armed service members from Delaware and New Jersey who lost their lives during World War II, the Korean War, the Vietnam War, and the Gulf War are inscribed on walls at Veterans Memorial Park. The bridge represents a lasting memorial to soldiers who gave their lives in those conflicts.
Interstate 295 Delaware Mileage: 5.71
Delaware Reference Road Number: 56
| | |
| --- | --- |
| | scenes |
| | |
| --- | --- |
| | An Interstate 295 trailblazer directs motorists west from Veterans Memorial Park to SR 9 (New Castle Avenue) north. 05/19/07 |
| | |
| --- | --- |
| | The full cloverleaf interchange between Interstate 295 and SR 9 lies just north of Cherry Lane. The eastbound off-ramp from I-295 ties into Cherry Lane from just across New Castle Avenue here. 05/19/07 |
Sources:
The Delaware Memorial Bridge http://www.hsd.org/DHE/DHE_where_transport_DMB.htm, Historical Society of Delaware.
"Toll hikes proposed for Del. Memorial." The News Journal (Wilmington, DE), June 8, 2007.
"Heads up, I-295 drivers, construction is coming." The News Journal (Wilmington, DE), December 9, 2015.


Photo Credits:

05/19/07 by AARoads

Connect with:
Interstate 95
Interstate 495
U.S. 13
U.S. 40
State Route 9
State Route 141

Page Updated 11-01-2022.