Interstate 95 enters Delaware east from Elkton along the John F. Kennedy Memorial Highway that originates in Baltimore, Maryland. The John F. Kennedy Memorial Highway continues 11 miles into New Castle County along I-95 from the state line east to SR 141 near Newport. Tolls along the Delaware Turnpike are collected at a plaza in Newark between the Otts Chapel and Welsh Tract Road overpasses.
SR 896 (South College Avenue) meets Interstate 95 at one of two interchanges serving Newark and the University of Delaware (UD). Forested frontage from there eastward shroud adjacent development to the Delaware House Service Plaza preceding Exit 3 with SR 273. The Service Plaza provides travelers with a food court, fuel options, truck parking and a tourist information center.
Traffic counts increase with additional commuters joining Interstate 95 east from SR 273 as the Delaware Turnpike enters the busy exchange with SR 1/7 by Christiana Mall. The former cloverleaf interchange was redesigned to incorporate new flyovers between the freeways in conjunction with expansion of I-95 to ten lanes across Christina Marsh.
The ten lane stretch takes I-95 north to the split with Interstate 295 ahead of the cloverleaf interchange (Exits 5A/B) with SR 141 (Newport Freeway). Four lanes carry through traffic toward the adjacent split with Interstate 495 north as I-295 branches eastward toward New Castle and the Delaware Memorial Bridge.
U.S. 202 overlaps with Interstate 95 north from SR 141 for a shared route into Wilmington. Interstate 495 branches east to bypass the city while I-95 turns northward toward Browntown and Downtown Wilmington. The freeway traverses wetland areas along the Christina River before ascending onto the Wilmington Viaduct by Frawley Stadium and the Riverfront. The elevated roadway transitions into a trenched freeway at the Appalachian fall line between 4th and 5th Streets in Wilmington.
Continuing north between the couplet of Adams and Jackson Streets, I-95/U.S. 202 emerge from below grade at Lovering Avenue to span Brandywine Creek across a high-level six lane bridge. The freeway expands to six lanes with auxiliary lanes between Exit 7 (SR 52) and Exit 8 (U.S. 202 / SR 202).
Just beyond the city line, U.S. 202 parts ways with Interstate 95 north at a directional cloverleaf interchange with Concord Pike. U.S. 202 lines Concord Pike, a six-lane commercial arterial, northward to Delaware County, Pennsylvania while I-95 remains northeast through the Brandywine Hundred community.
The remainder of Interstate 95 through northern Delaware carries four lanes with rural design standards. This stretch of freeway parallels a CSX Railroad line by a number of older subdivisions toward Ardencroft, Ardentown and Claymont. A wye interchange returns I-495 traffic onto I-95 north within a diamond interchange with SR 92 (Naamans Road) as the freeway approaches the Pennsylvania state line outside Marcus Hook.
Speed limits along Interstate 95 between the Maryland state line and the split with I-495 were increased from 55 to 65 miles per hour by May 21, 2015.1
Mileage: 23.43
Delaware Reference Numbers:
56 - Maryland state line to Interstate 295
59 - Interstate 295 to Pennsylvania state line
Interstate 95 Delaware Guides
History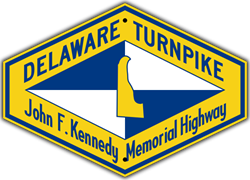 The first section of Interstate 95 within the First State opened to traffic on November 15, 1963. The Delaware Turnpike extended east from Maryland's Northeast Expressway to the Delaware Memorial Bridge freeway (U.S. 40). Initial toll rates levied on passenger vehicles were set at 30 cents at the main line plaza.2 Ramp tolls at a rate of 10 cents per passenger vehicle were collected at SR 896 (Exit 1), SR 273 (Exit 2) and SR 7 (Exit 4) by coin drop basket.
Tolls collected at the Newark toll plaza increased by 25 cents to $1.00 per passenger vehicle in 1991. This preceded expansion of the facility by four lanes. Delaware joined the E-ZPass system in 2000, with several booths at the Newark toll plaza rededicated as E-ZPass only lanes. Tolls for all passenger vehicles subsequently increased from $1.25 to $2.00 in 2000 as well, and increased again from $2.00 to $3.00 in Fall 2005 as part of hike approved by DelDOT transportation secretary Nathan Hayward to generate $63 million in funds.3 Tolls rose once more with the passing of the 2007 State Budget on October 1, 2007 to $4.00 per passenger vehicle.4
Newark Toll Plaza
Throughout the 1990s and into the early 2000s, the Delaware Turnpike toll plaza at Newark was notorious for traffic congestion during holidays and other peak travel periods. It was not uncommon to find motorists backed up for two to three miles beyond the plaza during these periods. A $60 million improvement for the facility was announced by the state in May 2004. It was reported that 40 percent of traffic that used the Delaware Turnpike were E-ZPass users at that time. Therefore the project proposed the creation of four high-speed E-ZPass lanes through the middle of the plaza similar to those found on the SR 1 Turnpike plazas at Biddles Corner and Dover. This would coincide with demolition of the original 20 toll booth plaza and construction of 12 new booths. Safety improvements included the building of a tunnel system to allow toll takers access to booths below the roadway. DelDOT expected major delays associated with the one to two year project,5 which was unscheduled due to a lack of funding in the 2008-2013 CTP.6
Money was finally secured for the Newark Toll Plaza reconstruction project as part of the $140.9 million allocation through the American Recovery & Reinvestment Act (ARRA). A $32.66 million contract was awarded for the work that ran between April 12, 2010 and June 30, 2011.7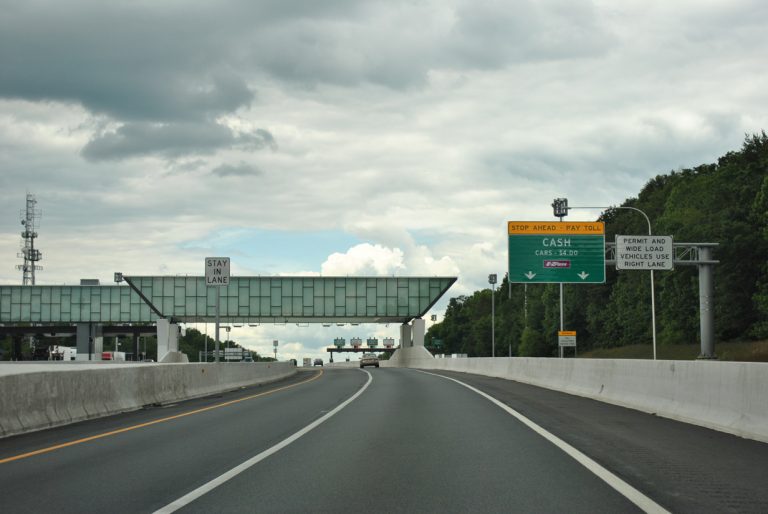 Toll collection at Exits 1, 3 and 4 ceased in October 197622 in an effort to alleviate traffic on local area roads. Until that time, commuters were opting for alternatives to the Delaware Turnpike, including local arterials such as U.S. 40 (Pulaski Highway) and SR 2 (Kirkwood Highway). The removal of ramp toll barriers was completed by 19828
Early 2000s discussion involved implementing tolls at Exits 1, 3 and 4. The state debated the idea of a potential public/private partnership in which private money would be used to help cover the costs of rebuilding the failing interchanges. Tolls in turn would compensate private investors for funding infrastructure improvements. The proposal was preliminary and never implemented.
A minor improvement at Exit 1 involved repaving of the existing ramps and smoothing of the flat area from the former toll booths on the northbound on-ramp from SR 896 north to Interstate 95 and heightening the curb and retaining wall on one of the loop ramps. This project was undertaken between June and fall 2007.
Exit numbers for Interstate 95 use a sequential based system. There is no Exit 2 however. The number was reserved for an interchange planned midway between SR 896 (Exit 1) and the Delaware Turnpike Service Plaza near Chapman Road. During the 1960s and to the 1980s, a north-south freeway was planned along the U.S. 301 corridor between Middletown and Newark. The limited access highway was to travel northward from the Summit Bridge over the C & D Canal to Interstate 95 at Exit 2. North of I-95 as the Pike Creek Freeway, the alignment extended to SR 2 (Kirkwood Highway) at Upper Pike Creek Road and SR 7 (Limestone Road) by way of Linden Hill Road. Although long since canceled, DelDOT retained several parcels of undeveloped land along the reserved right-of-way. The project was still included within the 2010 25-year plan9.
A directional cloverleaf interchange connects Interstate 95 and SR 273 (Christiana Road) at Exit 3. Originally a simple diamond, the exit was expanded with two directional ramps and two loop ramps in 1976.10 A toll plaza once operated on the northbound entrance ramp. The wide shoulders along that off-ramp today allude to the former toll booths.
The first of three public workshops addressing safety issues along SR 273 at both Harmony Road and Interstate 95 was held on May 11, 2015. One alternative considered involved constructing a diverging diamond interchange (DDI) in place of the directional interchange with I-95. Interim road work, the HSIP NCC, SR 273 and I-95 Interchange Improvement project, got underway in March 2021. Addressing weaving traffic along SR 273 west from I-95 to Harmony Road, construction completed in November 2022 relocated the southbound exit ramp to a new signalized intersection with SR 273 westbound.
The succeeding exit north of SR 273 with SR 7 consisted of a partial access interchange until 1976.9 A single off-ramp served movements from I-95 south to SR 7 via Churchmans Road (SR 58) west while a loop ramp connected I-95 north onto SR 7 north only. Additionally there was no southbound ramp from SR 7 north; instead motorists were directed onto SR 273 west from Christiana to access the turnpike.
Exit 4 Reconstruction
A public workshop held by DelDOT on December 2, 2003 outlined several upgrades to Interstate 95 along the Delaware Turnpike.12 Besides the Newark toll plaza project, the workshop discussed the $150 to $180 million project to redesign the cloverleaf interchange at SR 1/7. The proposals included options to build a new flyover ramp from I-95 south to SR 1 south with a 50 MPH design speed with a tighter curve radius, estimated to cost $70 million, or to construct a broader sweeping ramp with a 60 MPH design speed, estimated to cost $80 million.13 A subsequent public workshop on May 10, 2004 favored a $90 million reconstruction plan for the interchange.5
Work finally commenced in 2011 when an $111.9 million contract was awarded on July 6. The winning bid was $34 million lower than revised DelDOT estimates with a time table 14 months shorter.14 Improvements here also expanded SR 1 north with a new flyover shuttling drivers onto the left side of Interstate 95 north for the split with I-495 while adding a single lane ramp from the right to the right side of I-95 for Interstate 295.
The new flyover from Interstate 95 to SR 1 southbound opened to traffic on August 27, 2013.15 A ribbon cutting ceremony was held on October 17, 2013 for the new flyover ramp linking SR 1 north with I-95 north. Associated work on ramps to the adjacent Christiana Mall ran through Thanksgiving 2013, with final paving completed in Spring 2014.16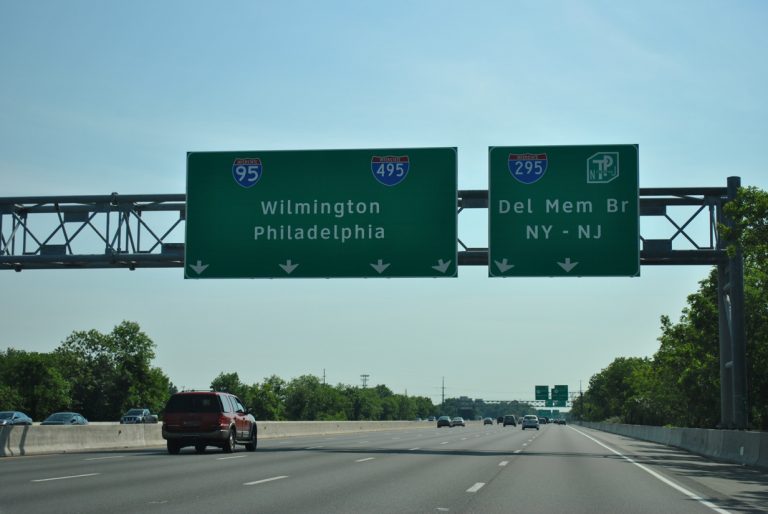 Turnpike Widening
Increasing traffic demands along the Delaware Turnpike led to widening the toll road from four to six lanes in 1972 and to eight lanes by the early 1980s. Further expansion of Interstate 95 was announced by DelDOT in 2004 as part of a $24.3 million plan to expand the freeway from eight to ten overall lanes across Christina Marsh.5 Work commenced on the "5th-Lane Project" in June 2007 with the low bid of $52 million by contractor R.E. Pierson for a 544-day contract. Crews expanded the freeway outward with a new lane in each direction while adding new 12 to 14 foot shoulders. Work was completed between Exits 4 and 5 by November 2008.2
Widening of Interstate 95 required the replacement of the aging overpass for SR 58 (Churchmans Road). Began in April 2005 and completed on December 8, 2006 at a cost of $13 million, the new span carries two lanes and a bicycle path.17
The Delaware Turnpike ends at the I-95/295 split and junction with SR 141 (Exits 5A/B). SR 141 travels along an elevated freeway north from I-95 through the city of Newport to SR 2 (Kirkwood Highway) at Prices Corner. The freeway was constructed in the late 1970s to replace a surface route of SR 41. South from I-95, U.S. 202 was added alongside SR 141 (Basin Road) as part of a realignment approved by AASHTO on December 7, 1984.18 U.S. 202 overlaps with SR 141 north from U.S. 13/40 at Wilmington Manor to I-95, and alongside I-95 to Exit 8.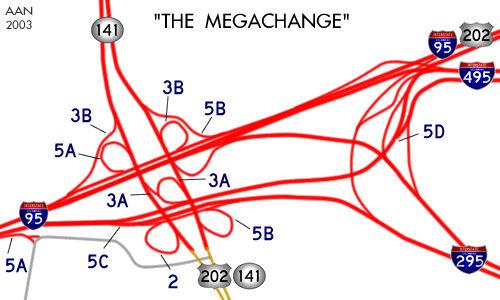 A 1999-2000 project involved the redecking of the SR 141 overpasses over I-95/295 and the repaving of several of the associated ramps. The project coincided with a major resurfacing and resigning project of the Newport Freeway between 1997 and 1999.
The SR 141 and I-95 Ramp Interchange Project started in early 2016 addressed safety issues at several of the ramps associated with the cloverleaf interchange joining I-95, I-295 and SR 141. Geometric improvements improved the ramps between SR 141 and I-95 southbound, and from SR 141 south to I-295 north. Work also relocated the ramp from I-295 south to SR 141 north to increase the distance from it to the succeeding entrance ramp for I-95 south. The four overpasses carrying SR 141 across I-95 were replaced and the loop ramp from SR 141 north to I-95/495 north was expanded to two lanes. Work extended to Spring 2022. Unfunded in the project was a proposed new ramp from SR 141 (Basin Road) north to Interstate 295.
North of the partition with I-295, traffic separates again at the wye interchange with Interstate 495. Opened in 1977, I-495 provides a six lane bypass of Wilmington as the preferred route to Delaware County and Philadelphia, Pennsylvania.
Wilmington Viaduct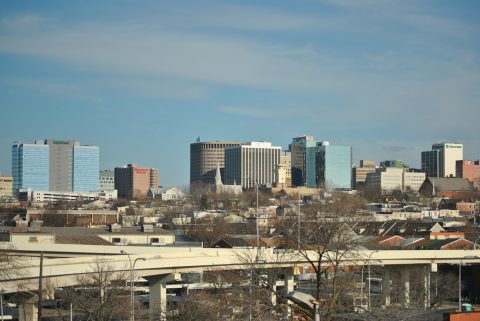 The Wilmington Viaduct takes Interstate 95 above AMTRAK's Northeastern Corridor and the city street grid to the West Side neighborhood. The elevated roadway opened to traffic as part of an extension of I-95 north from the Delaware Turnpike to Seventh Street in 1967.22 The bridge system underwent major reconstruction between 1979 and 1982. The prolonged road work resulted in the temporary renumbering of I-95 east onto Interstate 495 and the creation of Interstate 895 along the original I-95. The project also included a relocation of the northbound off-ramp to SR 52 (Exit 7) two blocks northward from Seventh to Ninth Streets.
Major reconstruction of the Wilmington Viaduct will start in 2021. Costing nearly $200 million, the two-year project rebuilds the deck along the viaducts and resurfaces the overall freeway from the split with Interstate 495 to a point north of the Brandywine River Bridge. Work also removes the southbound on-ramp from SR 48 (Lancaster Avenue) eastbound at Jackson Street and expands the adjacent entrance ramp from SR 48 (2nd Street) westbound to handle additional traffic. Associated improvements will add capacity along one block of Lancaster Avenue east and Adams Street north as motorists are redirected from Jackson Street south.23
New Wilmington Riverfront Ramps
A project originating in the mid 1990s was resurrected with the passage of the Safe, Accountable, Flexible, Efficient Transportation Equity Act of 2005 - A Legacy for Users (SAFETEA-LU) federal highway bill in August 2005. Estimated to cost $75 million in 199519, the project to construct new ramps from Interstate 95 into south Wilmington and to redesign the local street grid to improve access to the growing Christina Riverfront gained $20 million in federal funding as provided by the 2005 SAFETA-LU. The 1995 plan endorsed by then Governor Tom Carper included the following items:19
Building a directional T interchange between the Riverfront and Interstate 95.
Developing a new northbound only exit roadway from the riverfront area from South Madison Street. Madison Street would become a one-way southbound street to coincide with the new road.
A $3 million transit hub constructed adjacent to the Wilmington Train Station. (this element was completed by 2000)
Extending Terminal Avenue (SR 9A) west to U.S. 13 across a new harbor.
Construction of a new Christina River crossing to link South Madison and South Market (U.S. 13 Business) Streets.
Adams-Jackson Freeway
Interstate 95 north previously ended at the Delaware Avenue off-ramp between Sixth and Seventh Streets in Wilmington.2 Also referenced as the Adams-Jackson Freeway, for the two streets I-95 parallels, the remainder of the route through Wilmington was controversial due to the displacement of area residents and separation of the Cool Spring-Tilton Park and Trinity Vicinity neighborhoods in 1964.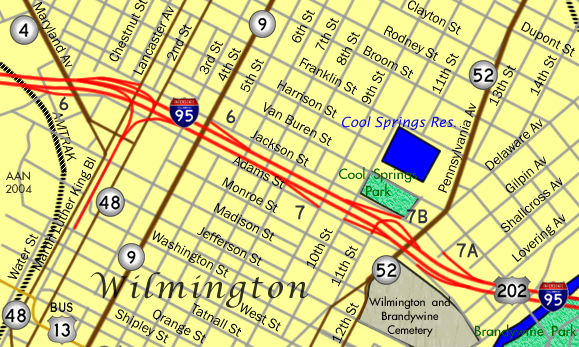 Wilmington Mayor James M. Baker presented several ideas for the city at an economic development conference on May 12, 2004. One of the visions described to the public was the concept of building a deck over Interstate 95 between Delaware Avenue (SR 52) and West Eighth Street. Included in the design concept were plazas, parks, and a multi-use high-rise to be built on the deck. The mayor also cited the benefit of reunifying the community and the Cool Spring-Tilton Park and Trinity Vicinity areas.20
The long-term vision also included the creation of an urban corridor between West Second Street and Lancaster Avenue (SR 48) with light rail and widened roadways, changes to the Christina River waterfront and the Seventh Street Peninsula, and a redevelopment of the area bounded by Eighth, Ninth, Madison, and West Streets.19. This Interstate 95 proposal however never gained traction.
Interstate 95 through the Wilmington underwent another major face lift in the early 2000s. All of the associated overpasses and bridgework were repainted and structurally repaired. The landscape of the trenched freeway between Adams and Jackson Streets was also improved between 2003 and 2004. Existing shrubbery was removed and replaced with new trees and ground cover.
Brandywine Creek Bridge
The Brandywine Creek Bridge, with initial construction commencing in August 1962,2 crosses high above the scenic creek and park between Shallcross Avenue and 18th Street. The six-lane span includes auxiliary lanes running between interchanges with SR 52 (Exit 7) and SR 202 and the departing U.S. 202 north (Exit 8).
As part of the early 2000s improvement project for I-95, the bridge over the Brandywine River was retrofitted and adorned with new decorative lamps and aesthetic improvements including cursive "W's" inscribed onto the sides of the span. The protective screens on the four lane viaduct through the Browntown section of the city were replaced with cream colored fences also adorned with the cursive "W" for Wilmington.
Exit 8 Reconstruction
A $27.61 million project20 rebuilt the directional-cloverleaf interchange with U.S. 202 (Concord Pike) north and SR 202 (Concord Avenue) south near Blue Ball. Improvements of the project included construction of a new directional ramp from I-95 north to U.S. 202 with two lanes and a full shoulders. Work also removed the loop ramp (Exit 8A) from Interstate 95 south to SR 202 south to accommodate a new two-lane ramp from U.S. 202 south onto I-95 south. A new left-hand turn was added to Exit 8B for SR 202 south from I-95 south. This project was completed in November 2014.
This work was preceded by a previously modification of the Interstate 95 northbound off-ramp to SR 202 south completed in 2004-05. That added a traffic signal to SR 202 south for drivers destined for the left-hand turn onto Broom Street north from Concord Avenue nearby.
Interstate 95 opened to traffic from SR 3 (Marsh Road) northward into Delaware County, Pennsylvania following a ceremony attended by government officials from both states in Upper Chichester Township on the morning of November 1, 1968. The freeway initially opened with one lane in each direction while final construction on a bridge between Talley and Shipley Roads and guard rails work continued for another three weeks.22 This same stretch of freeway underwent reconstruction in 2000 when sections of I-95 were closed between Exit 8 and Interstate 495. Contractors rubbilized the 1960s concrete roadway to form a new base for fresh asphalt while allowing for additional clearance under several low overpasses. All bridges were repainted as well. During the project one direction of the freeway closed at a time for a three month period. The partial closure sped up construction, allowing crews to finish the six month project three weeks ahead of schedule in October of 2000.
Interstate 95 Annual Average Daily Traffic (AADT)
Begin Milepost
From:
To:
AADT Composite
0.00
MD state line
SR 896 / Exit 1
71,795
2.34
SR 896 / Exit 1
SR 273 / Exit 3
121,743
6.63
SR 273 / Exit 3
SR 1-7 / Exit 4
172,509
7.89
SR 1-7 / Exit 4
I-295 split
179,689
12.65
I-495 split
SR 4 / Exit 6
100,471
14.78
SR 4 / Exit 6
SR 48 / Exit 6
83,005
14.95
SR 48 / Exit 6
SR 9 / Exit 6
85,688
15.45
SR 9 / Exit 6
SR 52 / Exit 7
65,619
15.68
SR 52 / Exit 7
northwest Wilm. city limits
71,583
16.56
northwest Wilm. city limits
U.S. 202 / Exit 8
102,116
16.97
U.S. 202 / Exit 8
SR 3 / Exit 9
49,688
19.12
SR 3 / Exit 9
Harvey Road / Exit 10
51,040
21.30
Harvey Road / Exit 10
SR 92 / Exit 11
49,667
23.10
SR 92 / Exit 11
PA state line (23.43)
119,937
Source: Traffic Summary 2014 (DelDOT)
---
Canceled Proposals

During the late 1990s a proposal arose to redesignate Interstate 95 through the city of Wilmington as Business Loop I-95 and I-495 east of the city as the I-95 mainline. It was thought that switching the designations would shift the bulk of through traffic currently using I-95 onto the six lane bypass. Concerns for traffic congestion related to the 2000 reconstruction of the freeway north of Wilmington further supported the concept. However Wilmington city leaders and local area politicians lobbied against the proposal insisting that the Interstate 95 mainline remain near Downtown rather than bypass it altogether.
In 1992 Through Traffic and Local Traffic placards were installed on the I-95/495 guide signs at the respective splits north and southbound. The 2000 reconstruction project included the placement of new guide signs on Interstate 95 northbound at I-495 northbound. New panels no longer reference the local and through traffic applications of the freeways. The PennDOT signs however still retain the placards.

Another proposal that briefly surfaced in January 2000 was to renumber I-95 in Wilmington as Interstate 195, and I-495 as I-95. New Castle County Council contended that the renumbering would further encourage through traffic to use the eastern bypass of Wilmington. The planned reconstruction and nearby road work at Blue Ball (U.S. 202, SR 141 and SR 261) provided additional support for the concept. New Castle County Council also contended that expansion of the Astra-Zeneca site at Blue Ball and the additional 1000 plus jobs it created would result in traffic grid lock on Interstate 95.
| | |
| --- | --- |
| | scenes |
| | |
| --- | --- |
| | The main entrance of the Delaware Welcome Center Travel Plaza. The new facility opened for business in June 2010. 06/26/10 |
2 photos

2 photos

Commemorative trailblazers for the Delaware Turnpike were posted at the Delaware Welcome Center Travel Plaza in 2013. 08/03/13
| | |
| --- | --- |
| | Guide sign for the return ramp to Interstate 95 north from the Delaware Welcome Center Travel Plaza. 12/22/20 |
| | |
| --- | --- |
| | An original trailblazer for Interstate 95 on 3rd Street references the Jackson Street entrance ramp beyond SR 48 (Lancaster Avenue). This ramp permanently closes in Summer 2020. 12/23/08 |
| | |
| --- | --- |
| | This is the lone state named shield for Interstate 95 remaining in the entire state of Delaware. 07/31/13 |
| | |
| --- | --- |
| | Flyovers separate from Martin Luther King, Jr. Boulevard west to Interstate 95 on the Wilmington Viaduct. 12/22/12 |
| | |
| --- | --- |
| | Adams Street parallels I-95 northward from SR 4 (Maryland Avenue) in Wilmington. An entrance ramp for the freeway south departs from SR 48 (2nd Street) westbound in one block. 12/20/17 |
| | |
| --- | --- |
| | Adams Street north at SR 48 (2nd Street) below the flyover linking MLK Boulevard with the freeway north. The adjacent ramp for southbound will be expanded to two lanes during 2020-23 reconstruction of I-95 through Wilmington. 12/20/17 |
| | |
| --- | --- |
| | Connecting with Interstate 95 across the Brandywine River Bridge, Adams Street resumes north from SR 52 (Delaware Avenue) westbound 12/20/17 |
| | |
| --- | --- |
| | Jackson Street joins SR 52 (Delaware Avenue) with Interstate 95 at the first of three southbound entrance ramps in Wilmington. 12/20/17 |
| | |
| --- | --- |
| | Harvey Road east at the southbound entrance ramp to Interstate 95 from Ardencroft. 12/28/12 |
| | |
| --- | --- |
| | Harvey Road west at the half diamond interchange with Interstate 95 near the Ardens. 12/30/18 |
| | |
| --- | --- |
| | Harvey Road west at the southbound entrance ramp for I-95 to Wilmington. Harvey Road continues between the villages of Ardencroft and Ardentown along the ensuing stretch. 12/30/18 |
Sources:
"TRAFFIC ALERT - I-95 Speed Limit Increases in Delaware." DelDOT, Press Release, May 13, 2015.
"I-95 in Delaware linked East Coast, divided city of Wilmington." The News Journal (Wilmington, DE), November 14, 2013.
"DelDOT to revisit slashed projects." The News Journal (Wilmington, DE), June 5, 2005.
"State budget raises taxes, tolls and fees." The News Journal (Wilmington, DE), June 21, 2007.
"State decides on fix for I-95 traffic." The News Journal (Wilmington, DE), May 11, 2004.
I-95 Newark Toll Plaza http://www.deldot.gov/information/projects/ jfk_mem_hwy_improvement/newarktoll-i95/overview.shtml, JFK Memorial Highway Improvement Program (DelDOT).
American Recovery and Reinvestment Act (ARRA). https://www.deldot.gov/information/ projects/recovery/index.shtml DelDOT web site.
Taber, John. "Re: DE I-95 Public Workshop." Online posting. misc.transport.road, November 26, 2003.
Weaverling, Ken. "Re: DE I-95 Public Workshop." Online posting, misc.transport.road, November 26, 2003.
Weaverling, Ken. "Re: DE I-95 Public Workshop." Online posting, misc.transport.road, November 25, 2003.
"DelDOT to revisit slashed projects." The News Journal (Wilmington, DE), June 5, 2005.
Weaverling, Ken. "DelDOT i95 workshop report." Online posting, misc.transport.road, December 2, 2003.
"I-95 plans unveiled." The News Journal (Wilmington, DE), December 3, 2003.
"Contract cuts cost, time of I-95 project." The News Journal, July 7, 2011.
"Flyover ramp from SB I-95 to Del. 1 opens Tuesday." The News Journal, August 22, 2013.
"New ramp from Del. 1 to NB I-95 opens." The News Journal, October 17, 2013.
"Churchmans Road bridge over I-95 completed." The News Journal, December 8, 2006.
U.S. 202 Maine to Delaware, Federal Highway Administration.
"Riverfront ramps face more hurdles." The News Journal (Wilmington, DE), July 1, 1995.
"Vision for Wilmington: Deck over I-95." The News Journal (Wilmington, DE), May 12, 2004.
"Middletown company wins bid for I-95-U.S. 202 project." The News Journal, September 27, 2011.
"Interstate 95 in Delaware: Timeline of its history and future construction." The News Journal (Wilmington, DE), October 12, 2018.
"Think your commute is bad now, wait until Wilmington I-95 project starts." The News Journal (Wilmington, DE), October 9, 2018.
Photo Credits:
12/23/08, 06/26/10, 12/22/12, 12/28/12, 07/31/13, 08/03/13, 12/20/17, 12/30/18, 12/22/20 by AARoads
Connect with:
Interstate 295
Interstate 495
U.S. 202
State Route 1
State Route 3
State Route 4
State Route 7
State Route 9
State Route 48
State Route 92
State Route 141
State Route 202
State Route 273
State Route 896
Page Updated 10-31-2022.