U.S. 13 represents the longest signed route within the First State. The route alternates between sections of rural highway and urban arterial throughout its course north through cities and towns such as Laurel, Seaford, Bridgeville, Camden, Dover, Smyrna, Odessa and Wilmington. Through Wilmington, the route varies as an urban boulevard and along one-way streets as it bypasses the city center to the east. The remainder to Claymont and Pennsylvania runs along Governor Printz Boulevard, a four-lane divided highway, and Philadelphia Pike, a four-lane boulevard.
U.S. 13 Delaware Guides
Dupont Highway
Origins of the Dupont Highway predate the U.S. Highway system. T. Coleman du Pont, an engineer from the Delaware famous du Pont family, envisioned a paved route traveling statewide from south to north. Coleman du Pont proposed the project to the citizens of Delaware in 1908. He envisioned separate north and southbound lanes, trolley lines and pathways for horse-drawn vehicles. By 1924 a two-lane version of the highway opened to traffic between southern agricultural areas and the urbanized center of Wilmington. The road was a huge success and by 1933 the State Highway Department expanded the highway, making it the world's first divided highway.1
U.S. 13 Guide - North to South
U.S. 13 enters Delaware from the industrial borough of Marcus Hook, Pennsylvania along Philadelphia Pike. The four lane boulevard intersects the east end of SR 92 (Naamans Road) by the site of the former Evraz Claymont Steel plant in Claymont (the plant was demolished in 2016-17). South of there a parclo interchange joins the US route with Interstate 495. Claymont, a census-designated place, varies with post World War II subdivisions and older retail plazas through the northeastern corner of the state. Philadelphia Pike represents the main north-south route through the community.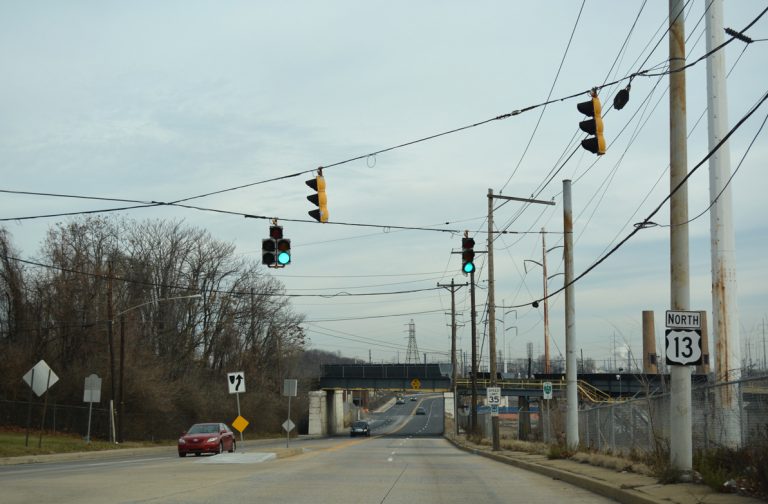 One half mile south of I-495 in Claymont, U.S. 13 branches east from Philadelphia Pike along Governor Printz Boulevard. Governor Printz Boulevard veers southwest to run along the west side of Interstate 495 between Claymont and an area near the town of Bellefonte. A grassy median or narrow concrete barrier separates the four lane highway. Philadelphia Pike, originally named Wilmington Post Road, continues southward into the city of Wilmington as U.S. 13 Business. Until 1970, Governor Printz Boulevard was posted as U.S. 13 Alternate while U.S. 13 remained along Philadelphia Pike to Market Street in Wilmington.
Once at Edgemoor, U.S. 13 (Governor Printz Boulevard) intersects SR 3 adjacent to the Edgemoor Road interchange with Interstate 495. SR 3 ends just to the south at I-495 and Hay Road by Edgemoor Industrial Park. U.S. 13 meanwhile turns more west beyond SR 3 by Merchants Square Shopping Center to enter Wilmington along Northeast Boulevard.
Northeast Boulevard comprises a four to five-lane arterial between the city line and the bridge over Brandywine Creek at Twelfth Street. U.S. 13 travels between the Eastlake and Riverside neighborhoods along this stretch. The boulevard and Governor Printz Boulevard were originally built to bypass the steep grades along Philadelphia Pike.
Just across Brandywine Creek, U.S. 13 (Northeast Boulevard) separates into a couplet at Kirkwood Park. U.S. 13 southbound follows East 11th Street west and Spruce Street south while northbound lines Church Street for ten blocks from SR 9 (East 4th Street) to East 11th Street.
The U.S. 13 couplet concludes at East Fourth Street, as the US route combines with SR 9 eastward across the Christina River on a double leaf bascule bridge. Beyond there, the tandem enter the Southbridge community while intersecting SR 9A (Christina Avenue). Three blocks further south, U.S. 13 & SR 9 partition along a couplet using Heald Street southbound and New Castle Avenue northbound. A loop ramp takes SR 9 southbound underneath the Heald Street bridge over a Norfolk Southern Railroad line to connect with New Castle Avenue. U.S. 13 northbound utilizes D Street for one block between the same bridge and New Castle Avenue (SR 9).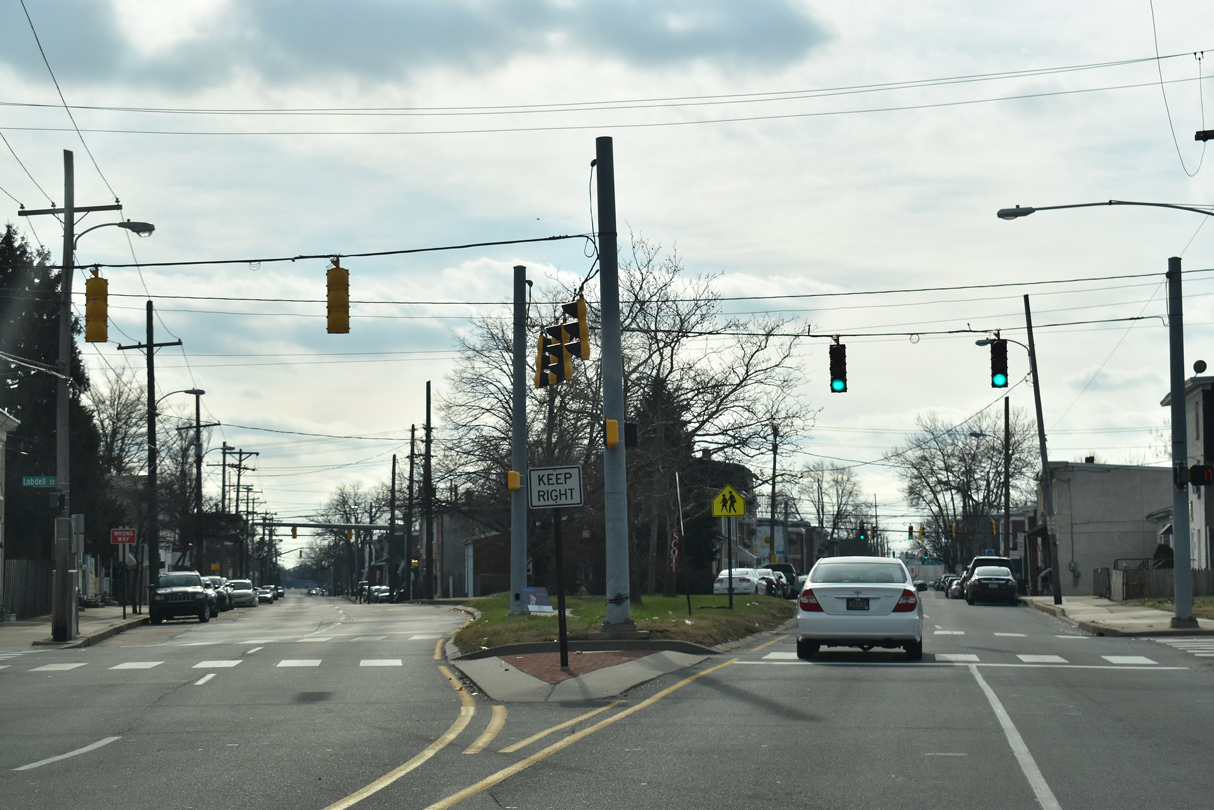 U.S. 13 exits the city of Wilmington just south of the connector ramp to SR 9. Heald Street curves southwest through industrial areas another half mile to the merge with U.S. 13 Business (Market Street) at Rogers Corner. There Dupont Highway begins as U.S. 13 meets Interstate 495 at a directional cloverleaf interchange. This exchange was expanded in 2000 to provide access between I-495 south to U.S. 13 north and from U.S. 13 south to I-495 north.
U.S. 13 widens to six lanes through the Minquadale community as it leads away from Interstate 495 toward the Farnhurst Interchange with Interstate 295 and U.S. 40. The directional interchange with I-295 was initially reconstructed between 2001 and 2003. Previous work eliminated the left-hand ramp from U.S. 13 south to I-295 north and replaced it with a left-hand turn onto the U.S. 13 northbound on-ramp to the freeway. Ramps from Interstate 295 south & U.S. 40 west to U.S. 13 were also redesigned in the process. Work between February 2015 and December 2018 further redesigns the Farnhurst Interchange to add a new loop ramp from U.S. 13 north to I-295 south in place of the current horseshoe ramp tieing into the left-hand side of the freeway.
U.S. 40 combines with U.S. 13 (Dupont Highway) between I-295 and Pulaski Highway at State Road for a four-mile overlap. The Farnhurst Interchange also represented the south end of U.S. 202 until 1970 and the north end of U.S. 301 until 1993. U.S. 202 previously overlapped with U.S. 13 north through Downtown Wilmington.
Dupont Highway expands to eight lanes along the cosigned stretch of U.S. 13 & 40 by Wilmington Manor, Penn Acres, New Castle County Airport (ILG) and Hares Corner. Meeting the arterial along this busy stretch is U.S. 202 and SR 141 at Basin Road and SR 273 at Frenchtown Road. The compact three-quarter cloverleaf interchange at Basin Road doubles as the southern terminus of U.S. 202. SR 141 otherwise leads south to New Castle and north to Newport.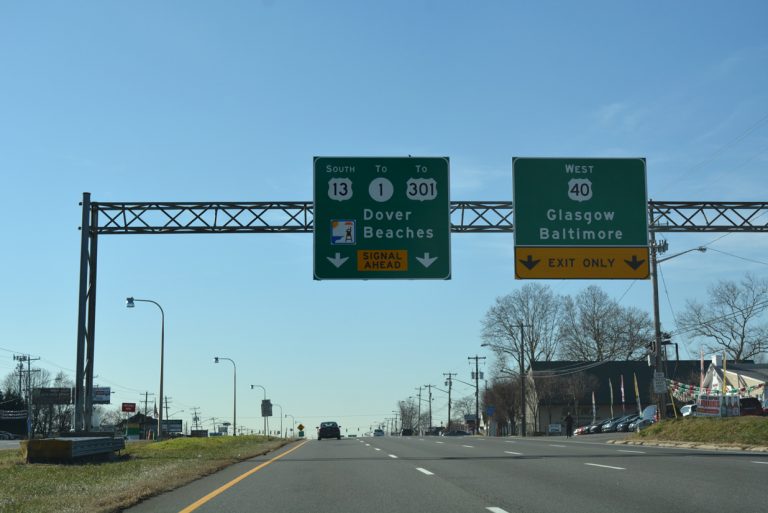 U.S. 13 south and U.S. 40 west part ways at State Road. U.S. 13 continues with four overall lanes by Llangollen Estates while U.S. 40 shifts westward along the four-lane Pulaski Highway to suburban Bear and Glasgow. Pulaski Highway extends west as the route of U.S. 40 to Baltimore, Maryland.
U.S. 13 runs southeast of Bear to merge with SR 1 at Tybouts Corner. Initially opened in 1991, SR 1 travels north to Interstate 95 and SR 58 at Churchmans Crossing. A wide trumpet interchange joins the four-lane commuter freeway with U.S. 13 (Dupont Highway) amid intersections with both SR 71 (Red Lion Road) and Bear Road. SR 71 branches southwest to Red Lion and Kirkwood as the historical route of U.S. 301 South. Bear Road provides northbound access to SR 1 toward Christiana.
Construction of the SR 1 Turnpike between 1992 and 1995 directly overlayed Dupont Highway southwest from Tybouts Corner across Red Lion Creek. South of Red Lion Cree, two segments of the original Dupont Highway remain in place along the west side of U.S. 13 & SR 1. The northbound roadway of the former route was abandoned while the southbound roadway was repurposed as a two-lane frontage road for adjacent homes and businesses.
Once over SR 7, U.S. 13 & SR 1 shift west of Dupont Highway. SR 7 saw extension southward from its previous terminus at U.S. 13 to run along Dupont Highway to SR 72 at Wrangle Hill. U.S. 13 rejoins Dupont Highway by doglegging east from SR 1 along SR 72 (Wrangle Hill Road). The U.S. 13 overlap with SR 1 between Wrangle Hill and Tybouts Corner was formally approved by AASHTO on April 19, 1996.
Continuing south from Wrangle Hill, U.S. 13 (Dupont Parkway) approaches the community of North St. Georges. Suburban development lines both sides of the four-lane highway by Dragon Creek. Once at the approach to the St. Georges Bridge, U.S. 13 reduces to one lane per direction.
Opened to traffic in 1942, the tied arch bridge across the Chesapeake and Delaware Canal links U.S. 13 with South St. Georges. Structural deterioration of the concrete deck and steel support beams in the 1980s and early 1990s resulted in a weight restriction for trucks across the span. A new Truck route for U.S. 301 was posted to redirect semis to use Summit Bridge to the west.
When the SR 1 C & D Canal Bridge opened just west of St. Georges on December 23, 1995, DelDOT intended on permanently closing the St. Georges Bridge and eventually dismantling it. A heated battle quickly ensued between the state, the Army Corps of Engineers, and St. Georges area residents concerning the future of the steel arch bridge. A temporary closure of the bridge followed in 1997, but the bridge was ultimately retained with reconstruction of the bridge deck and painting of the superstructure completed in 2001.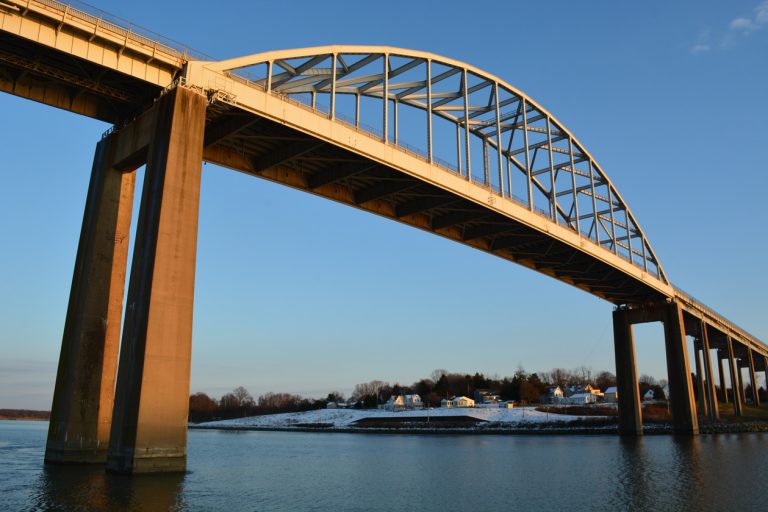 Advancing from South St. Georges, U.S. 13 sees a northbound ramp to SR 1 ahead of Biddles Corner through an increasingly suburban area. Construction underway through 2018 ties in the new U.S. 301 toll road from Middletown with SR 1 on this stretch. The SR 1 Turnpike and Dupont Parkway otherwise switch sides just north of Boyds Corner, where U.S. 13 intersects the south end of SR 896 (Boyds Corner Road).
Prior to 1993, SR 896 west from Boyds Corner to Mount Pleasant was a part of the U.S. 301 mainline as it separated from U.S. 13. The formerly rural route now bisects suburban areas anchored by the Bayberry community. Pole Bridge Road also ties into the SR 896 end from an adjacent diamond interchange with SR 1 and SR 9 at Port Penn.
U.S. 13 (Dupont Parkway) parallels the SR 1 Turnpike south from Boyds Corner to Drawyer Creek and the town of Odessa. Until November 1999, U.S. 13 through Odessa was often the site of heavy traffic congestion on weekends due to beach traffic, long signal cycles at the SR 299 (Main Street) intersection and slower speed limits. The Odessa bypass takes SR 1 west across U.S. 13 to the Appoquinimink River, where the routes parallel one another directly to Pine Tree Corners. For a brief period of time, U.S. 13 utilized SR 1 as portions of Dupont Parkway were reconstructed to accommodate the new tollway.
Dupont Parkway south from Pine Tree Corners to the Kent County line remains rural. SR 71 (Summit Bridge Road) ends at U.S. 13 near the town of Townsend. The north-south route links U.S. 13 with the growing city of Middletown to the northwest. Otherwise the bulk of through traffic takes the adjacent SR 1 Turnpike as it switches sides with U.S. 13 twice between H & H Corner and Blackbird.
Nearing the town of Smyrna, U.S. 13 and SR 1 cross paths once more at a parclo interchange. Opened on December 18, 1993, the Smyrna bypass of SR 1 takes the toll road east from U.S. 13 to the south Smyrna by Big Oak County Park. Between 1993 and 2003, U.S. 13 temporarily looped around the north end of the Dover-Smyrna bypass segment of SR 1. The interchange ties into a tourist information center and rest area along the east side of Dupont Parkway.
South across Duck Creek, U.S. 13 enters Kent County and transitions into a commercial arterial through the heart of Smyrna. Named Dupont Boulevard, U.S. 13 intersects the north end of SR 300 at Glenwood Avenue while overlapping with SR 6 from there to Commerce Street. SR 6 connects Smyrna with Woodland Beach to the east and adjoining Clayton to the west. SR 300 forms a multi-state route with MD 300 leading southwest to Kenton, Sudlersville and U.S. 301 in Maryland.
The SR 1 Turnpike remains east of the U.S. 13 corridor from Smyrna southward to the capital city of Dover. Dupont Boulevard becomes Dupont Highway south of the Leipsic River as U.S. 13 continues as a commercial arterial by the town and into north Dover. Scarborough Road links the US highway with SR 1 to the east and SR 15 to the southwest.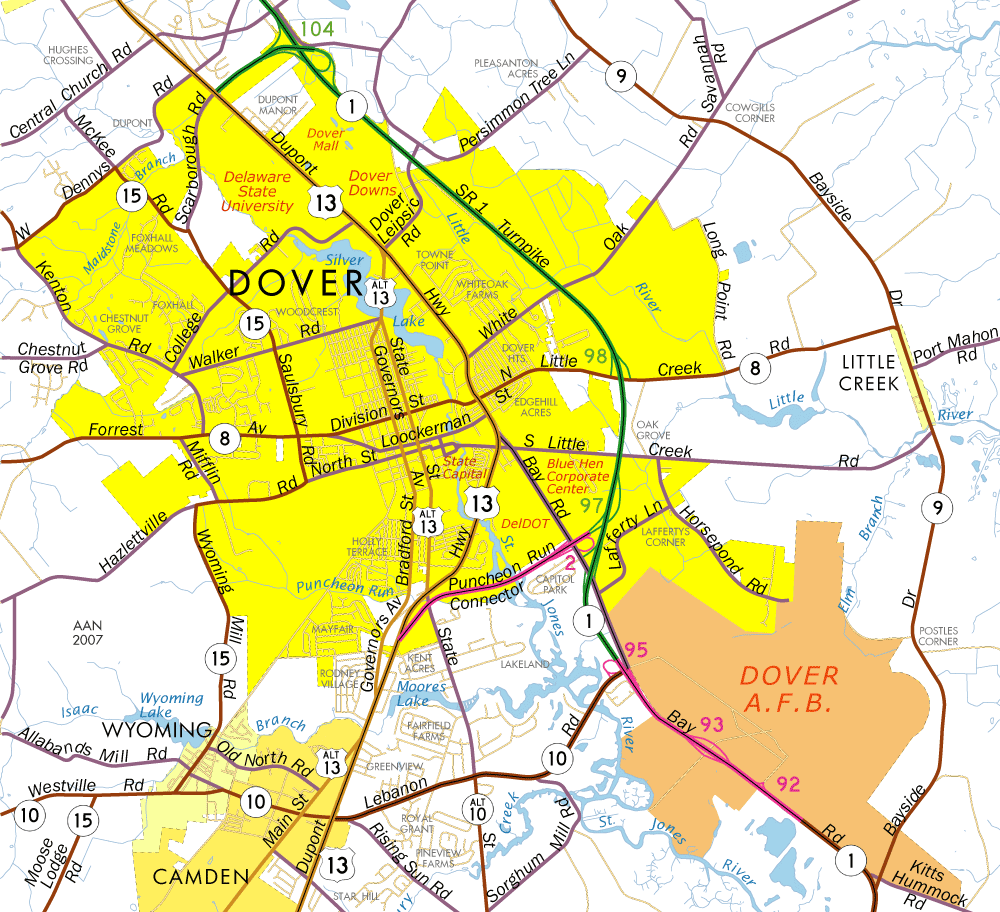 U.S. 13 expands into six-lanes south from Scarborough Road by Dover Mall, Dover International Speedway and Delaware State University. The busy route separates with U.S. 13 Alternate (State Street) at Leipsic Road on this stretch. U.S. 13 Alternate crosses Silver Lake to enter the Dover street grid ahead of Downtown. It returns to U.S. 13 by way of Governors Avenue near Moores Lake.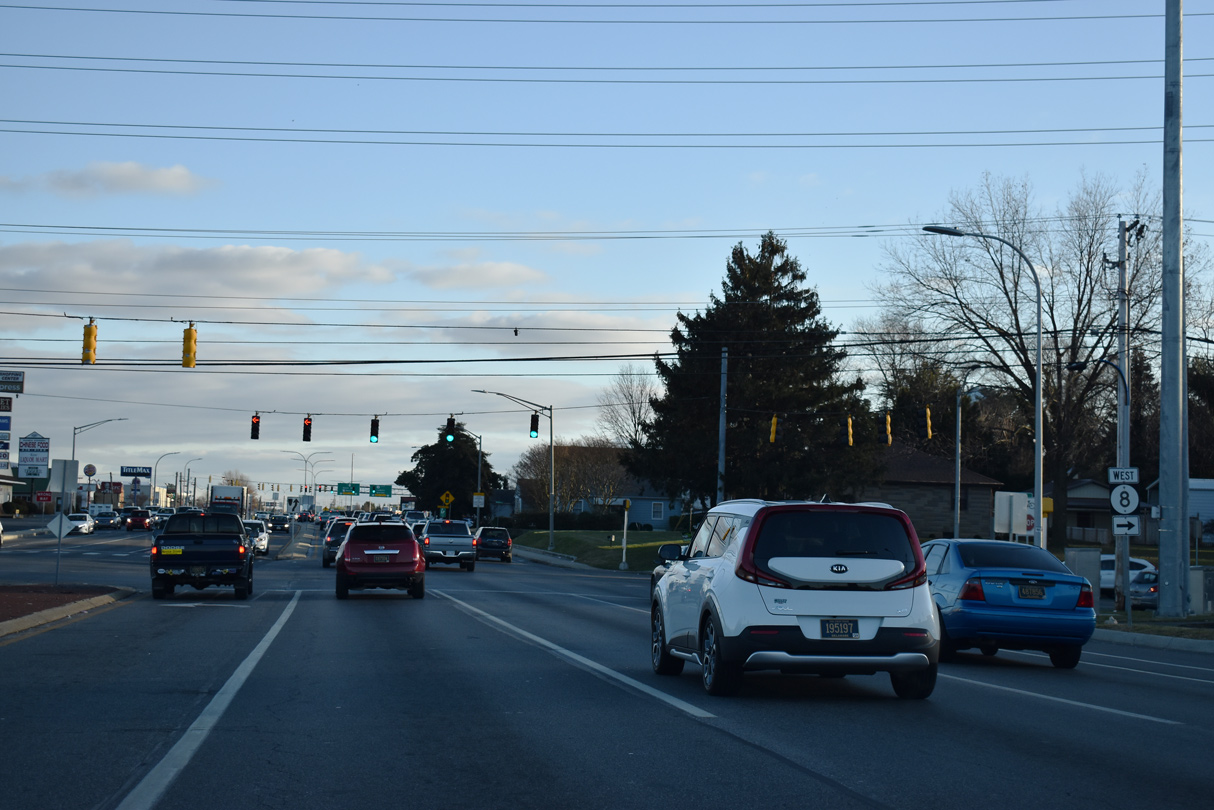 U.S. 113 was truncated from Dover south to Milford while U.S. 113 Alternate between Dover and Little Heaven was eliminated in February 2004. The split of Dupont Highway and Bay Road was a source of traffic congestion until the 1993 opening of the SR 1 toll road to the east. Bay Road otherwise joins Dover with Dover Air Force Base as an unnumbered arterial southeast to SR 1 at SR 10.
U.S. 13 turns westward from Bay Road as a four-lane commercial arterial through south Dover. Converging with Dupont Highway at Puncheon Run is a freeway spur from the SR 1 toll road. Opened to traffic by January 2001, the Puncheon Run Connector provides uninterrupted access between U.S. 13 and the SR 1 toll road mainline. The connection allows through long distance travelers bound for Salisbury, Maryland, Norfolk, Virginia, and other points downstate access to the turnpike to bypass the city.
0.9 miles south of the Puncheon Run Connector, U.S. 13 intersects Charles Polk Road at the new West Dover Connector. Construction commenced on the 3.2-mile project at a ground breaking ceremony held on February 6, 2015. When completed in summer 2017, the new $60-million facility will provide a bypass route between U.S. 13 near Camden and SR 15 at both Wyoming Mill Road and North Street.2
Crossing Isaac Branch south from Moores Lake, U.S. 13 enters the town of Camden. There a second U.S. 13 Alternate loops west along Old Camden Road and Main Street while U.S. 13 (Dupont Highway) runs along the east side of town. The auxiliary route continues southward from Camden along Upper King Road to Woodside before returning to U.S. 13 at Canterbury. Intersecting U.S. 13 along this stretch also is SR 10, an east-west route between Wyoming and Dover Air Force Base.
Leaving the Dover area, a number of subdivisions built over former farm land appear to the east of U.S. 13 as Dupont Highway nears the town of Felton. There SR 12 crosses paths with the US highway from Main Street through Felton to Midstate Road east to Frederica. Next along U.S. 13 is the city of Harrington, where Dupont Highway separates into a one-way couplet with businesses occupying space the north and southbound lanes. SR 14 connects the city with Milford to the east and Burrsville, Maryland to the west.
U.S. 13 (Dupont Highway) crosses the Sussex County line along a rural stretch south of Farmington. Within Sussex County, U.S. 13 is named Sussex Highway. 1.6 miles beyond the county border, the US route enters the town of Greenwood. Staying east of the town center, U.S. 13 separates into a one-way couplet along a commercial strip while intersecting SR 16 & 36 (Market Street / Beach Highway).
South from Greenwood, U.S. 13 parallels the Nanticoke River to SR 404 (Newton Road) north of Bridgeville. SR 404 combines with U.S. 13 south for 2.5 miles along the east side of Bridgeville as part of its multi state route east to Georgetown and Five Points and west to Denton and Wye Mills, Maryland. U.S. 13 Alternate provides a business loop from Sussex Highway west to the Bridgeville historic district as well.
The Bridgeville town limits extend south along U.S. 13 to SR 18 (Cannon Road). SR 18 west links U.S. 13 with Federalsburg, Maryland by way of MD 318. A short distance beyond there, U.S. 13 (Sussex Highway) reaches the city limits of Seaford.
The bulk of Seaford lies west of U.S. 13 (Sussex Highway), while the US highway overlaps with SR 20 for 0.84 miles south from a heavily developed retail corridor to cross the Nanticoke River to the town of Blades. SR 20 constitutes a cross county route west to Reliance and east to Millsboro and Fenwick Island.
Five miles south of Blades, U.S. 13 passes through eastern reaches of the Laurel town limits to intersect U.S. 9 (County Seat Highway). Extended into Delaware by way of the Cape May-Lewes Ferry in 1974, U.S. 9 runs east-west across Sussex County to Georgetown, Five Points and Lewes.
Crossing Records Pond, U.S. 13 (Sussex Highway) meets SR 24 (Laurel Road / 4th Street). The state route arcs northeast from near Sharptown, Maryland to Laurel, Millsboro and Midway. U.S. 13 bee lines south from SR 24 to intersect SR 30 east of Bacons to the town of Delmar. The US highway intersects SR 54 / MD 54 at the state line. The multi state route begins at Mardela Springs, Maryland to the west and ends at Fenwick Island to the east. U.S. 13 exits the state as a congested arterial route to Salisbury.
U.S. 13 Delaware Mileage: 103.33
U.S. 13 Annual Average Daily Traffic (AADT)
23,773 - Maryland state line to SR 30
24,833 - SR 24 to U.S. 9
34,283 - Middleford Road to south Seaford limits
20,688 - south Greenwood limits to SR 16 / E. Market Street
24,169 - School Street to SR 14
21,000 - Felton limits to Canterbury Road
43,116 - SR 10 to north Camden limits
43,830 - Caboose Road to U.S. 13 Alternate
24,424 - State Street to Martin Luther King, Jr. Boulevard (Dover)
54,522 - Loockerman Street to SR 8 / E. Division Street (Dover)
49,504 - White Oak Road to U.S. 13 Alternate (Dover)
54,269 - Entrance to Dover Mall to north Dover Limits & Road 100
24,888 - SR 6 / Commerce Street to SR 300 / Glenwood Avenue (Smyrna)
30,992 - Kent County line to Paddock Road
29,203 - SR 299 / Main Street to north Odessa limits
9,626 - Saint Georges Bridge
69,390 - SR 72 to split with SR 1
23,888 - SR 71 to Llangollen Boulevard
75,124 - U.S. 40 to SR 273
75,595 - U.S. 202 / SR 141 to Interstate 295
34,116 - Memorial Drive to Interstate 495
5,578 - south Wilmington limits to SR 9
4,809 - 11th Street to 12th Street (Wilmington)
19,154 - 12th Street to 14th Street (Wilmington)
11,268 - SR 3 / Edgemoor Road to Bellevue Road
21,577 - U.S. 13 Business / Philadelphia Pike to Interstate 495
7,009 - SR 92 to Pennsylvania state line
Source: Delaware Vehicle Volume Summary 2014 (Traffic Summary)
Auxiliary Routes of U.S. 13
There are four bannered routes for U.S. 13 in Delaware. Within Sussex County a Business Route loops 2.6 miles west from U.S. 13 (Sussex Highway) through the town of Bridgeville. Two Alternate routes are posted within Kent County. The southern route serves Woodside and Camden along a 5.69 mile course. The northern route provides a 3.86 mile long business loop through Downtown Dover along Governors Avenue and State Street.
The final bannered route is located in Northern New Castle County. U.S. 13 Business there runs through Downtown Wilmington and along Philadelphia Pike through Claymont. This route was formerly the U.S. 13 mainline, while U.S. 13 along Governor Printz and Northeast Boulevards through east Wilmington was designated U.S. 13 Alternate.
See the following guides for more detail on auxiliary routes for U.S. 13 in the First State:
Three bannered routes were previously posted for U.S. 13 in the state of Delaware: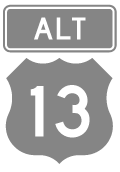 Delmar to Hearns Mill
A short lived auxiliary route, U.S. 13 Alternate took the former alignment of U.S. 13 for 16.5 miles between the Maryland state line and Hearns Mill in southwestern Sussex County. U.S. 13 Alternate was established after U.S. 13 opened along Sussex Highway to the east after 1953. The route was dropped on the 1957-58 Official Delaware Highway Map.
The route followed Bi-State Boulevard north from Delmar to Central Avenue through Laurel. Laurel Road extended the bannered highway northward to Market Street at Blades and Front Street through Seaford. This section also doubled as SR 20 between High Street and Stein Highway. Bridgeville Highway returned the route to U.S. 13 by way of Hearns Mill.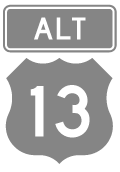 South Wilmington to Claymont
U.S. 13 Alternate followed the current U.S. 13 mainline between south Wilmington and Claymont via Heald Street, New Castle Avenue, 4th Street, Church & Spruce Streets, Northeast Boulevard and Governor Printz Boulevard. Prior to 1970, U.S. 13 traveled through Downtown Wilmington on what is now U.S. 13 Business.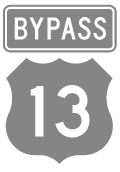 St. Georges
U.S. 13 Bypass was a temporary designation applied to SR 1 over the Chesapeake and Canal Bridge between Exit 152 by North St. Georges and U.S. 13 at South St. Georges. The route remained in place from 1995 to 1998 in an effort to shift traffic from U.S. 13 onto the then new bridge west of St. Georges. During that time plans called for the permanent closure of the 1942-built St. Georges Bridge and the span did close for a period in 1997. Ultimately the old bridge was rehabilitated and U.S. 13 Bypass was eventually decommissioned.
| | |
| --- | --- |
| | scenes |
| | |
| --- | --- |
| | Delaware Avenue acts as a business loop northeast from Downtown Harrington to U.S. 13 (Dupont Highway) at Jackson Ditch Road. U.S. 13 bypasses the town center to the east between Felton and Greenwood. 01/15/17 |
| | |
| --- | --- |
| | Joe Goldsborough Road connects Duck Creek Road and North Main Street from Smyrna with U.S. 13 (Dupont Parkway) across from Paddock Road. 12/31/16 |
| | |
| --- | --- |
| | Main Street leads north from Smyrna and SR 6/300 (Glenwood Avenue) to become Duck Creek Road leading into New Castle County. The rural road ties into U.S. 13 (Dupont Parkway) at the ramps with SR 1 south. 06/17/12 |
| | |
| --- | --- |
| | All signs posted along Duck Creek Road at U.S. 13 (Dupont Parkway) were replaced by 2014. The forthcoming signal ties in directly with the southbound on-ramp for SR 1 to Dover. 06/17/12 |
| | |
| --- | --- |
| | U.S. 13 travels north below SR 1 to the northbound on-ramp for Wilmington. U.S. 13 south enters Smyrna a short distance to the south. 06/17/12 |
| | |
| --- | --- |
| | Right in right out (RIRO) ramps connect U.S. 13 with S Main Street at the base of the St. Georges Bridge in South St. Georges. 12/15/17 |
| | |
| --- | --- |
| | S Main Street ties into the RIRO ramps joining U.S. 13 southbound with Lorewood Grove Road. 12/15/17 |
| | |
| --- | --- |
| | Bear Road provides the connection from U.S. 13 (Dupont Parkway) south to SR 1 north at Tybouts Corner. 09/27/14 |
| | |
| --- | --- |
| | SR 1 opened between U.S. 13 at Tybouts Corner and SR 273 near Christiana in 1991. The route constitutes a busy commuter route from Bear to I-95 at Churchmans Crossing. 09/27/14 |
| | |
| --- | --- |
| | Boulden Boulevard comprises a four lane arterial leading west from Moores Lane and Southgate Industrial Park to U.S. 13/40 (Dupont Parkway) just south of the Farnhurst Interchange. 06/02/12 |
| | |
| --- | --- |
| | Boulden Boulevard ties into U.S. 13/40 (Dupont Parkway) across from Bacon Avenue at the Wilmington Manor community. This intersection is often congested due to the proximity of Interstate 295. 06/02/12 |
| | |
| --- | --- |
| | Rogers Road branches southeast from U.S. 13 Business (Market Street) to quickly cross U.S. 13 (Heald Street) at Rogers Corner. U.S. 13 is well signed from both directions of the arterial. 07/31/13 |
| | |
| --- | --- |
| | U.S. 13 north leads back into the Southbridge section of Wilmington while southbound overtakes U.S. 13 Business (Market Street) to form the beginning of Dupont Highway leading south toward Farnhurst. Rogers Road otherwise connects U.S. 13 Business with SR 9 beyond I-495. 07/31/13 |
| | |
| --- | --- |
| | Cauffiel Parkway provides a direct connection from U.S. 13 Business (Philadelphia Pike) at Bellevue Parkway to U.S. 13 (Governor Printz Boulevard), south of Sunset Drive and north of Bellevue Road. The two-lane road opened in 2000 through an addition of Bellevue State Park. 08/18/05 |
Sources:
The DuPont Highway http://www.hsd.org/DHE/ DHE_where_tranport_Rt13.htm, Historical Society of Delaware web site.
"LOCAL NEWS: Work begins on West Dover Connector." Dover Post, February 15, 2015.
Photo Credits:
08/18/05 by AARoads.
06/02/12 by AARoads.
06/17/12 by AARoads.
07/31/13 by AARoads and I.C. Ligget.
09/27/14 by AARoads.
12/31/16 by AARoads.
01/15/17 by AARoads.
12/15/17 by AARoads.
Connect with:
Interstate 295
Interstate 495
U.S. 9
U.S. 40
U.S. 202
State Route 1
State Route 6
State Route 8
State Route 9
State Route 10
State Route 12
State Route 14
State Route 16
State Route 20
State Route 141
Page Updated 06-20-2020.