Through Hazlehurst, U.S. 23 was relocated onto State Route 19 to partially bypass the Jeff Davis County seat. The former route through Downtown was redesignated as U.S. 23 Business. Both changes were approved by the American Association of State Highway and Transportation Officials (AASHTO) on May 25, 1987.
Another bypass added to U.S. 23 takes the route 4.1 miles around the east side of Cochran. The former route through the seat of Bleckley County was redesignated U.S. 23 Business. AASHTO signed off on these changes on June 26, 1985.
Prior to 1971, U.S. 23 overlapped with U.S. 41 northwest from Macon to Forsyth, and ran northeast along SR 42 from there to SR 87 near Flovilla. Within Macon U.S. 23 combined with U.S. 80 across the OcMulgee River along Spring Street, and with U.S. 41 Business along Georgia and Vineville Avenues. The US highway was realigned onto SR 87 (Riverside Drive) leading northwest from Downtown Macon, and the state route overall to Dames Ferry, Juliette and Flovilla. The relocation was approved by AASHTO on June 23, 1971.
Through Dekalb County and Atlanta, U.S. 23 runs north along Moreland Avenue to combine with U.S. 29-78-278 (Ponce De Leon Avenue) east to Decatur. The route previously traveled along Briar Cliff Road north to North Druid Hills Road and Brookhaven, where it joined Buford Highway northeast to Chamblee. AASHTO signed off on the realignment of U.S. 23 east from Briar Cliff Road to overtake SR 155 (Clairmont Road) north from Decatur to Buford Highway (SR 13) at Chamblee on November 14, 1980. SR 42 remains along the former route through Druid Hills and North Druid Hills.
U.S. 23 follows Buford Highway (SR 13) northeast through Doraville, Norcross, Duluth and Suwanee. The route shifts south from Buford Highway at Sugar Hill, overlapping with SR 20 (Buford Drive) to merge with Interstate 985 north to Gainesville. This change was finalized by AASHTO on October 26, 1969, after the SR 365 freeway opened to traffic from I-85 northeast to New Holland (Old Cornelia Highway).
Continuing north from Gainesville, U.S. 23 extends along an expressway 28.7 miles to U.S. 123 outside Toccoa. The four-lane roadway was complete from Gainesville northeast to Cornelia by 1981. The AASHTO approved relocation on June 25, 1981 included the elimination of U.S. 23 Business from Baldwin to U.S. 23 north of Cornelia. U.S. 441 accompanies the route northward from Cornelia to the North Carolina state line. Both highways were relocated to bypass the cities of Demorest and Clarkesville, with extension of their shared expressway north from U.S. 123 to SR 385. AASHTO approved the relocation on June 4, 1990.
U.S. 23 Georgia Guides



North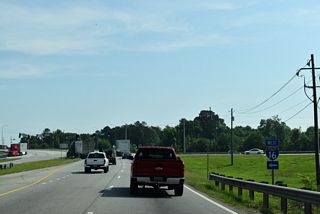 U.S. 23-129AL/SR 87 (Ocmulgee East Boulevard) meet Interstate 16 at a diamond interchange (Exit 6) and Smithsonia in Macon-Bibb County.
05/25/21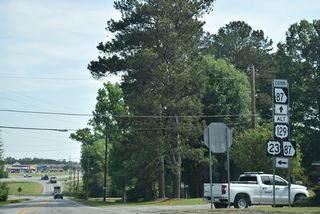 SR 87CO links U.S. 23-129AL/SR 87 with U.S. 80/SR 19-540 at Jeffersonville Road, 0.19 miles north of Riggins Mill Road.
05/25/21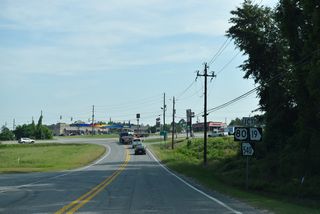 U.S. 80/SR 19-540 overtake Jefferson Road east from SR 87CO to East Macon. Jefferson Road loops north to Lakeside Reservoir and Cross Keys.
05/25/21
Connect with:
Interstate 16
Interstate 285 - Atlanta Perimeter Highway
Interstate 675
Interstate 985
U.S. 1
U.S. 80
U.S. 82
U.S. 84
U.S. 129
U.S. 301
U.S. 441
Page Updated 12-20-2021.