SR 7 connects the Upper Pike Creek Valley and the Hockessin area with Stanton and Churchmans Crossing to the north of Interstate 95, mostly as a four lane arterial. The route also parallels SR 1 south from Christiana, serving local and commuter traffic through suburban Bear and Red Lion to Wrangle Hill. SR 1 overlays the route by Christiana Mall and through interchanges with I-95 and SR 58 by the Stanton campus of Delaware Technical & Community College (DTCC).
The 1936-37 Official Delaware Highway Map shows SR 7 north from U.S. 13 (Dupont Highway) to the Pennsylvania state line at Southwood. The alignment is mostly the same today, with alignment changes around Christiana, Stanton, Milltown and the southern extension of Dupont Highway to U.S. 13 and SR 72 at Wrangle Hill.
Delaware State Route 7 Guides
SR 7 History and Guide
Completion of SR 1 north from the Chesapeake & Canal Bridge to Tybouts Corner in 1995 displaced a portion of U.S. 13 (Dupont Highway) between SR 7 (Bear Corbitt Road) north and SR 71 (Red Lion Road). Construction of the six lane freeway directly overlaid Dupont Highway across Red Lion Creek to Tybouts Corner. This left two segments of old alignment to the west of SR 1 near Red Lion for local use, and the Dupont Highway mainline south from Bear Corbitt Road to SR 72 (Wrangle Hill Road) as a southerly extension of SR 7.
Bear Corbitt Road takes SR 7 north to the settlement of Red Lion, where it meets SR 71 (Red Lion Road) at an angled intersection. The state route remains rural in design northward to the Norfolk Southern Railroad crossing in Bear. There it expands into an arterial style roadway through the commercialized intersection with U.S. 40 (Pulaski Highway). Bear is named after the 19th century Bear Tavern, which was once located at the cross roads with U.S. 40 (Elkton Road).
An overpass was previously proposed to take SR 7 over U.S. 40 to improve conditions at what was the deadliest intersection in the state. Those plans never materialized and development of the northeast quadrant of the junction proceeded with the addition of the Governor's Square Offices complex. The US 40 Corridor Program outlined a new roadway, the Eden Square Connector, between SR 7 and Eden Square Shopping Center to the southeast of U.S. 40 as an improvement for area traffic. Not yet funded in 2016, the connector included a new signalized intersection along SR 7, but eliminated the left turn from the retail area to U.S. 40 west, freeing up traffic at the adjacent SR 7.
Development lines the majority of SR 7 (Bear Christiana Road) north from U.S. 40 to SR 273 (Christiana Bypass). Growing traffic congestion led to a $5.9 million expansion project along a mile of the state route between Newtown Road and SR 273. Construction ran from April 2012 to 2014. It widened SR 7 to four lanes and made pedestrian and bicycle improvements while adding traffic lights at School Bell Lane.1
Newtown Road was originally proposed as a through road leading west from SR 1 to Salem Church Road. Community opposition halted construction, and only the road west from SR 7 to Smalleys Dam Road, and the Olde Mill Village community, was ever built. Future road work associated with SR 1 widening however may add a wye interchange from the freeway to SR 7 at Newtown Road.
The intersection of SR 7 and SR 273 (Christiana Bypass) was improved by late 2000 with the addition of a second left-hand turn lane from SR 273 west to SR 7 south. This area will change again once funding is obtained for the upgrade of the adjacent diamond interchange linking the Christiana Bypass with SR 1. A parclo interchange with a roundabout option will add a loop ramp from SR 7 (Bear Christiana Road) north to SR 1 south. A roundabout on the ramp system will tie into SR 7 (East Main Street) north into the unincorporated village of Christiana.
Through Christiana, SR 7 crosses the Christiana River along East Main Street. SR 273 bypasses to the west along a controlled access arterial. The two state routes formerly overlapped along Main Street prior to construction of the Christiana Bypass in the mid 1980s.
SR 7 turns onto North Old Baltimore Pike in Christiana to a portion of Stanton Christiana Road located just west of SR 1 and Christiana Mall. The mall opened in 1978, and construction of the enclosed retail center coincided with changes to SR 7 and the adjacent interchange with Interstate 95. A trumpet style interchange connected SR 7 with Mall Road, the service road encircling Christiana Mall. This included a sharp curve through a signalized intersection that allowed traffic on SR 7 north to access Mall Road via a jug handle, and exiting traffic from the mall access to SR 7 north.2 The state route proceeded north through a full cloverleaf interchange with the Delaware Turnpike. That exchange previously consisted of partial access, with ramps at the nearby interchange with SR 273 completing movements to and from Christiana.
Construction of the SR 1 freeway north from SR 273 near Christiana to I-95 in 1991-93 further altered the alignment of SR 7 by Christiana Mall. The state route was realigned to dog leg east from Stanton Christiana Road to a new folded diamond interchange with SR 1. SR 1 and 7 then overlapped north to Interstate 95, where SR 1 ended. Work also eliminated the signal and sharp ramp from SR 7 south to Mall Road, modifying it with a more gradual loop ramp.2
Population increases in Bear, and along the U.S. 40 corridor, coupled with increases in beach bound traffic during the summer months, overwhelmed both the SR 1 and I-95 cloverleaf interchange and the adjacent stretch of freeway by Christiana Mall. A long planned upgrade of the interchange finally broke ground in 2011 to construct two high speed flyovers, from SR 1 north to I-95 north and from I-95 south to SR 1 south, and make other improvements to area ramps and better separate traffic by the mall. The southbound flyover opened to traffic in August 2013, and the northbound flyover in November 2013. The $111.9 million project was completed overall in Spring 2014. For SR 7, concrete barriers now separate traffic from the main movements between SR 1 and I-95 as the state route proceeds north to SR 58 and the Stanton Campus of DTCC.
Prior construction from 1996 to 1999 along SR 7 north of I-95 constructed a parclo interchange (Exit 166) in place of the congested intersection with SR 58 (Churchmans Road). This coincided with a short extension of SR 1 north to the expressway end preceding AAA Boulevard east by the Morgan Christiana Center. Interchanges at I-95 and SR 58 were numbered Exits 100B/C and 101 respectively until the renumbering to use the kilometer based system used on SR 1 elsewhere.
SR 7 again rejoins Stanton Christiana Road north from SR 58 to combine with SR 4 east from Stanton Ogletown Road. Known as Churchmans Crossing, the area bound by Delaware Park to the north, I-95 to the south, and the Christiana Hospital vicinity to the west was previously named Metroform. Metroform was a large scale development planned in the 1980s/90s. Outside of the Fairplay train station at Delaware Park, plans for the town never materialized, and standard retail shopping centers and other development instead took place.
SR 4/7 combine with six lanes across White Clay Creek northward to the unincorporated community of Stanton. The controlled access arterial was constructed in the mid to late 1980s to bypass a narrow and flood prone stretch along Stanton Christiana Road, below the AMTRAK Northeast Corridor to the east. The previous T-intersection where the two combined, by the Hale-Brinton house state historical site, utilized two Eagle Flatback signals facing each direction. When work got underway for the bypass, traffic along SR 7 was detoured to follow SR 4 (Stanton Ogletown Road) west to Churchmans Road east to continue south to I-95. The old alignment of SR 4 now dead ends by the embankment for the overpass carrying the two state routes over the AMTRAK corridor.2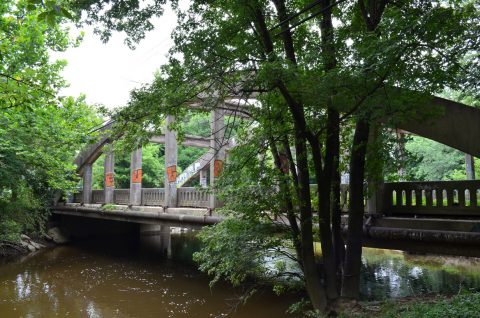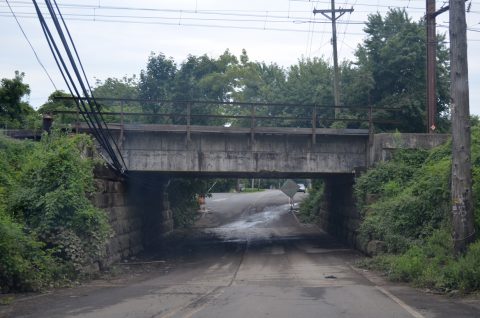 SR 4/7 bypass a concrete arch bridge over White Clay Creek as it curves northeast to intersect Delaware Park Boulevard and Telegraph Road. Both intersections were not signalized until the six-lane alignment opened.2 Just east of Telegraph Road, SR 4/7 separate into a one-way couplet of Mitch Road east and Main Street west at Stanton. The two routes split with SR 4 continuing east toward Newport and SR 7 joining Limestone Road north to the Pike Creek Valley. Originally this intersection was controlled by black painted Eagle signals with 12 inch red lens and 8 inch yellow/green lens.2
Limestone Road constitutes a four lane divided arterial from Stanton north across a CSX Railroad line to SR 2 (Kirkwood Highway) and Milltown Road. Two sets of traffic lights, including those at Stanton Middle School, were added south of the CSX Railroad in the early 1990s. The congested intersection with Kirkwood Highway underwent traffic pattern changes in the 1990s, where DelDOT restriped SR 2 west to use two dedicated left turn lanes, before returning to three through lanes for westbound traffic.2
SR 7 (Limestone Road) curves northwest from the partition with McKennans Church Road as both intersect Milltown Road by Milltown Shopping Center. Previously Eagle doghouse signals with 12 inch red lens operated at Milltown and Limestone Roads. Of note during that time period, the access road linking SR 7 north with McKennans Church Road by Mealey Funeral Home was not yet built. This resulted in traffic congestion due drivers making back to back turns onto Milltown Road east and McKennans Church Road north. Widening of SR 7 resulted in enhancement of the signal system here, with successive signals operating along Milltown Road.2
Winding west from Milltown, SR 7 (Limestone Road) gains over 180 feet in elevation as it climbs toward Linden Hill Road and Goldey Beacom College. Linden Hill Road winds west to Polly Drummond Hill Road. Stoney Batter Road follows east from SR 7 and Skyline Drive to the Limestone Hills community and Mill Creek Road east to SR 41. The intersection of Mermaid Boulevard, and what is today Mermaid-Stoney Batter Road, was quite different in the early eighties. Whereas today Mermaid-Stoney Batter Road runs just adjacent to Goldey Beacom College, that road was at one time just an emptying point for traffic exiting the parking lots there.2
Continuing north, SR 7 (Limestone Road) intersects Ocheltree Lane at the Shops at Limestone Hills. The center opened in the late 1980s, coinciding with the addition of traffic lights.2 SR 72 ends just to the north at Paper Mill Road. The state route arcs southwest toward Newark.
Four lane expansion of Limestone Road north from SR 72 to Brackenville Road was underway between 1999 and 2003. Widening replaced the blinking green signals at the entrances to Jarrell Farms and Mendenhall Village with conventional traffic lights.2
Nearing the Hockessin vicinity, SR 7 intersects Brackenville Road east / Little Baltimore Road west and Valley Road. Both of these intersections were the site of numerous accidents, but remained without traffic lights until the late 1980s. Rush Wickes added:2
According to what I have been told, U.S. Senator Joe Biden's first wife was killed along with their daughter, while his two young sons in the back were seriously injured after being struck by a truck at the [Valley Road] intersection in 1972. They were on a trip to go shopping for a Christmas tree at the time.
Despite suburban development extending to the Pennsylvania state line, the final 1.7 miles of SR 7 (Limestone Road) carry two lanes. Limestone Road otherwise extends another 0.9 miles as an unnumbered route to a grade separated intersection with PA 41 (Gap Newport Pike) at Kaolin. Historically SR 7 was a concrete roadway from Milltown Road north to Chester County, Pennsylvania.2
Delaware State Route 7 - 2015 Annual Average Daily Traffic (AADT)
5,375 - U.S. 13 / SR 72 to South Dupont Highway
10,902 - SR 71 to Bear Tybouts Road
15,705 - Bear Tybouts Road to U.S. 40
18,636 - Newtown Road to SR 273
3,277 - SR 273 to Old Baltimore Pike
7,732 - Main Street to Mall Road
90,054 - SR 58 to SR 4
53,369 - SR 4 (Ogletown Stanton Road) to split with SR 7
47,001 - SR 4 to SR 2
37,558 - Milltown Road to Arundel Drive
27,329 - Stoney Batter Road to SR 72
16,247 - Valley Road to Pennsylvania state line
| | |
| --- | --- |
| | scenes |
2 photos

2 photos

A loop ramp joins Mall Road with SR 1 leading north into the exchange with I-95 and SR 7. 12/29/18
| | |
| --- | --- |
| | The off-ramp (Exit 164) from SR 1 north to SR 7 (Road A) south becomes Center Boulevard north from Christiana Fashion Center to Christiana Mall. Road A spans the adjacent freeway west to Stanton Christiana Road. 12/30/16 |
| | |
| --- | --- |
| | Fashion Center Boulevard spurs east to adjacent big box retail while Road A leads west to ramps with SR 1 and SR 7. 12/30/16 |
| | |
| --- | --- |
| | Fashion Center Boulevard west at Center Boulevard north and Road A to SR 7 south. 08/18/21 |
| | |
| --- | --- |
| | A concrete divider separates traffic for SR 1/7 north to I-95 from Fashion Center Boulevard and Road A west to SR 1 and SR 7 south. 08/18/21 |
2 photos

2 photos

Bringing Road A to six overall lanes between the SR 1 underpass and the turn of SR 7 south onto Stanton Christiana Road, the second bridge along Road A opened to traffic just before Thanksgiving in 2020. 08/18/21
2 photos

2 photos

A flyover separates from the main ramp linking Interstate 95 south with SR 1 south for both SR 7 south to Christiana and Mall Road east to Christiana Mall. 12/22/20
| | |
| --- | --- |
| | The I-95 ramp continues beyond the Mall Road turn to Road A at the folded diamond interchange where SR 1/7 separate. 12/22/20 |
| | |
| --- | --- |
| | SR 7 loops away from SR 1 south to rejoin Stanton Christiana Road to the west by Faith City. 09/27/14 |
| | |
| --- | --- |
| | An I-95 trailblazer directs motorists exiting Christiana Mall east along SR 7 (Road A) northbound to the loop ramp onto SR 1 north. 12/22/20 |
| | |
| --- | --- |
| | Stanton Christiana Road (old SR 7) south connects Eagle Run Road with SR 7 at Road A west of Christiana Mall. 08/18/21 |
| | |
| --- | --- |
| | Trailblazers posted at the north access road linking Stanton-Christiana Road (old SR 7) with SR 4/7 south of White Clay Creek and Stanton. 08/03/13 |
| | |
| --- | --- |
| | The former alignment of SR 7 (Stanton-Christiana Road) ties into the six lane arterial for SR 4/7 just south of the original intersection with Ogletown Stanton Road (old SR 4) west. 08/03/13 |
3 photos

3 photos

3 photos

A multi use path follows the former alignment of SR 4/7 across the concrete arch bridge spanning White Clay Creek. The crossing was bypassed in 1981. 08/03/13
| | |
| --- | --- |
| | |
| | Telegraph Road arcs east from Old Capitol Trail and connects St. James Church Road with SR 4/7 at Stanton. This assembly directs motorists onto the southbound overlap to Churchmans Crossing. The companion shields for SR 4 east & 7 north were gone by 2014. 12/22/16 |
| | |
| --- | --- |
| | A narrow underpass takes Telegraph Road below the CSX Railroad line between SR 4/7 and St. James Church Road. 12/30/16 |
| | |
| --- | --- |
| | Milltown Road provides an east-west alternative to SR 2 (Kirkwood Highway) between Duncan Road and SR 7 (Limestone Road) through residential areas. The arterial meets Limestone Road where it splits with McKennans Church Road north at Milltown. 06/05/12 |
| | |
| --- | --- |
| | Milltown Road westbound expands to three lanes ahead of McKennans Church Road north and SR 7 (Limestone Road). McKennans Church Road veers northeast from Limestone Road to SR 41 (Newport Gap Pike) outside of Hockessin. 06/05/12 |
| | |
| --- | --- |
| | The short stretch of Milltown Road between McKennans Church Road and SR 7 provides little space for vehicles to queue, therefore signals for both intersections are in sequence together. 07/03/10 |
| | |
| --- | --- |
| | A pair of left turn lanes for SR 7 (Limestone Road) south are provided due to the influx of vehicles joining Milltown Road west from southbound McKennans Church Road. 06/05/12 |
| | |
| --- | --- |
| | Milltown Road intersects a section of Old Limestone Road just east of Mill Creek and west of SR 7 (Limestone Road). 12/21/16 |
| | |
| --- | --- |
| | SR 7 north curves west from Milltown en route through the Pike Creek Valley toward Hockessin. The state route leads south from Milltown Road by Limestone Acres and Limestone Gardens to SR 2 (Kirkwood Highway) and Stanton. 12/21/16 |
| | |
| --- | --- |
| | A northbound ramp directly serves motorists on SR 7 (Limestone Road) north across Milltown Road here to McKennans Church Road. McKennans Church Road extends north from Milltown through the Sherwood Park community to Delcastle Park and Golf Course. 06/23/12 |
| | |
| --- | --- |
| | Linden Hill Road winds east from Polly Drummond Hill Road to intersect SR 7 (Limestone Road) across from Goldey Beacom College in the Upper Pike Creek Valley. 07/31/04 |
2 photos

2 photos

Stoney Batter Road ties into SR 7 (Limestone Road) across from Skyline Drive by Goldey-Beacom College. 12/22/12
2 photos

2 photos

Brackenville Road ties into SR 7 (Limestone Road) across from Little Baltimore Road west from SR 41 (Lancaster Pike) in Hockessin. 12/24/18
Sources:
SR 7, Newtown Road to SR 273. https://deldot.gov/information/ projects/CompletedProjects/sr7_sr273/ index.shtml Delaware Department of Transportation, project web site. Accessed February 28, 2017.
Wickes, Rush, email. "A History of Limestone Road."
Photo Credits:
07/31/04 by AARoads.
07/03/10 by AARoads.
06/05/12 by AARoads.
06/23/12 by AARoads.
12/22/12 by AARoads.
08/03/13 by AARoads and Steve Alpert.
09/27/14 by AARoads.
12/21/16 by AARoads.
12/22/16 by AARoads.
12/30/16 by AARoads.
12/24/18 by AARoads.
12/29/18 by AARoads.
12/22/20 by AARoads.
08/18/21 by AARoads.
Connect with:
U.S. 13
U.S. 40
State Route 1
State Route 2
State Route 4
State Route 58
State Route 71
State Route 273
Page Updated 11-02-2022.