SR 71 joins rural areas of southern New Castle County and Townsend as a stand alone route along Summit Bridge Road to Middletown. North from Broad Street and Downtown Middletown, SR 71 follows Summit Bridge Road (former U.S. 301) to Mt. Pleasant, and with SR 896 from there to a short expressway across the Summit Bridge.
North of the Chesapeake and Delaware Canal, the state route turns east along Red Lion Road to encircle Lums Pond State Park. Red Lion Road extends northward through suburban areas to Kirkwood, Williamsburg and Red Lion to end at U.S. 13 (Dupont Highway).
Delaware State Route 71 Guides
Plans for the U.S. 13 Relief Route (SR 1) in southern New Castle County called for right in right out (RIRO) ramps linking the toll road with U.S. 13 (Dupont Parkway) and SR 71 near Townsend. The interchange was dropped to save costs as construction got underway for SR 1 between Smyrna and Odessa. With right of way acquired, WILMAPCO resurrected the project by advancing funding options for the new ramps in 2004. The project however never broke ground and remains unbuilt today.
SR 71 History
SR 71 originated in 1938 along roughly the same alignment that it travels today, from U.S. 13 at H & H Corner north to U.S. 13 at Tybouts Corner. The exception was at Summit Bridge, where prior to 1960, SR 71 crossed a 1920s-built steel lift bridge north from what is now Old Summit Bridge Road to a split with SR 896 along what is now Old Summit Road.
The first change for SR 71 took place by 1956 with the designation of Maryland 71 along a new highway constructed from U.S. 50 at Queenstown to the Delaware state line near Warwick. The new multi state route overtook SR 4, which was renumbered as SR 299, southwest along Middletown Warwick Road. The old route south from Middletown was renumbered as a long extension of SR 896.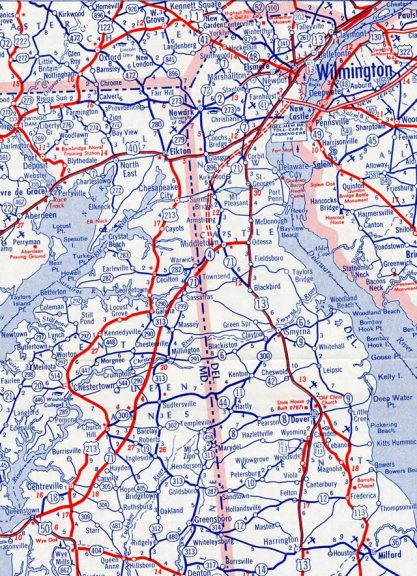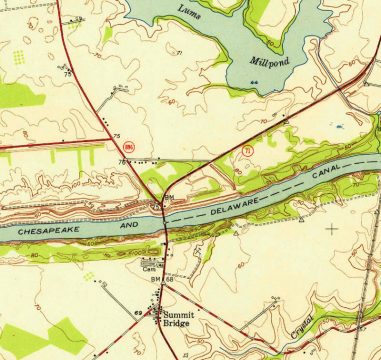 U.S. 301 replaced Maryland 71 by 1960 throughout the Eastern Shore. Within Delaware, U.S. 301 overlaid SR 71 northeast to Main Street and Peterson Road west of Downtown Middletown, where it partitioned into a North and South branch. U.S. 301 South and SR 71 overlapped north from Broad Street to Summit Bridge and Red Lion while U.S. 301 North ran east to Odessa and north along side U.S. 301. The continuous steel thru truss bridge across the Chesapeake & Delaware Canal opened to traffic on January 9, 1960.1
U.S. 301 consolidated onto a single alignment along side SR 71 and 896 (Broad Street) from Middletown to the north end of the Summit Bridge in 1971. The branch split remained northward from there, with U.S. 301 South following SR 71 on Red Lion Road and U.S. 301 North overlapping with SR 896 to Glasgow and U.S. 40 east to State Road.
The next change occurred by 1984 with the elimination of the U.S. 301 branch split and the realignment of SR 896 east along side U.S. 301 from Mount Pleasant to Boyds Corner. A subsequent truncation north to the Summit Bridge removed the long standing overlap of SR 71 with U.S. 301 south to the state line. By 1990, SR 71 was extended southward again, returning to its historical route along Summit Bridge Road south to H & H Corner.
Further realignment for U.S. 301 took place in 1993 when it was rerouted north along SR 71 & 896 across Summit Bridge to a new end at U.S. 40 in Glasgow. This will change again with the completion of the U.S. 301 toll road around Middletown, anticipated for late 2018.
Delaware State Route 71 - 2015 Annual Average Daily Traffic (AADT)
8,208 - U.S. 13 to Pine Tree Road
11,540 - Park Place to SR 299
26,518 - north Middletown limits to SR 896
29,175 - SR 15 to Red Lion Road
14,015 - SR 896 to SR 72
4,652 - SR 7 to U.S. 13