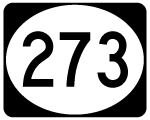 SR 273 forms a multi state route with MD 273 (Telegraph Road) from Cecil County. The state route provides a direct and scenic route between U.S. 1, west of Rising Sun, Maryland, and city of Newark. East from Downtown, SR 273 shifts from a one-way couplet onto a controlled access arterial to Ogletown and SR 4. The state route lowers to grade level through the Birchwood Park and Hillside Heights communities to link Newark with Interstate 95.
Continuing southeast, SR 273 bypasses Christina along a controlled access arterial to SR 7 and SR 1. Beyond a busy interchange with SR 1, the state route comprises an arterial by an array of older subdivisions to Hares Corner and U.S. 13/40 (Dupont Highway). Frenchtown Road leads the remainder of SR 273 east with two lanes by Airport Industrial Park and Centerpoint Business Complex to its conclusion at SR 141 (Basin Road) and SR 9 (Delaware Street) in New Castle.
Delaware State Route 273 Guides
SR 273 Guide and History
SR 273 was assigned east from MD 273 to Newark, Christiana and Hares Corner by 1935. Completion of the Delaware Memorial Bridge in 1951 shifted U.S. 40 north from New Castle and the ferry across the Delaware River. SR 273 was subsequently extended east over the former alignment along Frenchtown Road to New Castle. The route through Newark originally traveled alongside SR 2 on Main Street with two-way traffic. Delaware Avenue was extended east from Chapel Street to Capitol Trail as the new alignment for SR 273 eastbound by 1961.
Within Newark, SR 273 (Nottingham Road) descends into the Christina River valley to the intersection of Casho Mill Road. The two lane route then ascends alongside Newark Country Club and becomes West Main Street at Bent Lane. West Main Street merges with SR 896 south at Hillside Drive for one block before SR 273/896 turn onto South Main Street.
A one-way couplet separates east and westbound SR 273 traffic along through Downtown. SR 273 eastbound dog legs southward one block along South Main Street to connect with Delaware Avenue east across the University of Delaware campus. Westbound SR 273 follows East and West Main Street between Capitol Trail (SR 2/72) and the split with South Main Street (former Elkton Road) and New London Road (SR 896 north). With heavy pedestrian traffic from the University and businesses lining Main Street, SR 273 west is often congested during the peak commuting hours. Delaware Avenue encounters congestion from the S-curve east of Chapel Street to Newark High School and College Square Shopping Center.
East of Newark, SR 273 expands to four lanes along Ogletown Road through an industrial area to span the AMTRAK Northeast Corridor south to SR 4 (Chestnut Hill Road). Access roads link the expressway segment with a westward extension of Ruthar Drive from Harmony Industrial Park, Red Mill Road, and Ogletown Road (former SR 273). A parclo interchange joins the two state routes and Salem Church Road south at Ogletown, where MBNA once was headquartered.
Construction on upgrading SR 273 into a controlled access arterial / expressway east from Marrows Road to SR 4 was delayed in 1992 due to environmental concerns over wetland impacts for an area south of White Clay Creek. The state eventually offset the wetland loss along SR 273 by creating new wetlands on a tract at the intersection of Salem Church Road and Old Baltimore Pike. After nearly ten years of debate, delays, and construction, the new SR 273 alignment and interchange with SR 4 opened to traffic during July of 1997. Work on expanding two-lane Ogletown Road west to Marrows Road in Newark commenced in 1994 and was completed by 1998.
The 1997 alignment of SR 273 bypasses a narrow stretch of Ogletown Road south to the Chestnut Hill Estates community. The expressway leaves Ogletown Road just north of the "Avon Underpass" where the road narrowed below the AMTRAK Northeastern Corridor. Often flooding during heavy rain events, the crossing also precluded most trucks from using Ogletown Road due to its low bridge clearance.
The expressway and interchange with SR 4 removed a short concurrency where SR 273 dog legged east alongside SR 4 from Ogletown Road to Christiana Road. Congestion was a regular issue, with Salem Church Road tieing into the west split of SR 4 and 273, and Red Mill Road intersecting the two by their east split. The addition of the MBNA complex to the east further added to traffic as work progressed on the new interchange.
Christiana Road takes SR 273 southeast from SR 4 (Ogletown Road) to the signalized intersections with Brownleaf Road and Harmony Road. Commuter traffic overwhelms the four-lane arterial between Birchwood Park and Hillside Heights as it connects with Interstate 95 at a directional cloverleaf interchange. Future work may expand Christiana Road to six lanes and redesign the exchange with I-95 into a diverging diamond interchange. Previous interchange upgrades at SR 273 and I-95 took place in 1979 with the addition of two directional ramps and two loop ramps. These will be removed should the DDI alternative move forward.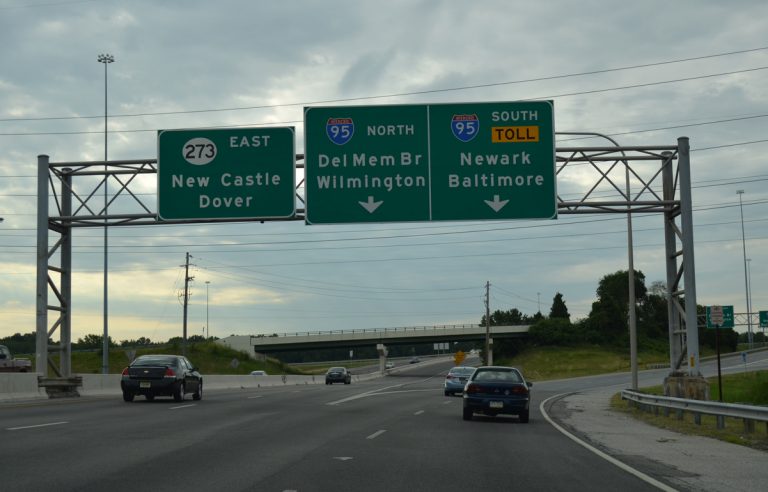 SR 273 winds south and east around the unincorporated town of Christiana. The state route initially intersects Chapman and Eagle Run Roads south of I-95 by University Plaza Shopping Center. The Christiana Bypass then veers SR 273 southward from Main Street, its former alignment east to SR 7 (Old Baltimore Pike). The controlled access route opened to traffic in 1986. It bypassed a narrow stretch of Main Street and eliminated the short concurrency with SR 7 south. The Route 273 Park and Ride along SR 7 (East Main Street) is where the two routes formerly split.
The Christiana Bypass rejoined the original alignment of SR 273 east by Lewden-Greene Park and the Eagle Glen subdivision. A diamond interchange opened by the east end of the bypass with SR 1 south to U.S. 13 at Tybouts Corner in 1991. Explosive population growth in Bear, and along the U.S. 40 corridor in general, was already underway when SR 1 was completed north to I-95 in 1992. Increasing commuter traffic, and beach traffic during the summer months, overwhelms SR 1, with ramps to SR 273 often backing up onto the freeway mainline. A redesign of the interchange is planned as part of a widening project along SR 1 from SR 273 south to the Chesapeake and Delaware Canal Bridge.
Option 1 includes a parclo A2 interchange at SR 7 and 273 with a wye interchange connecting SR 1 with SR 7 at Newtown Road further south. Option 2 replaces the diamond interchange with SR 273 into a parclo interchange, with a new on-ramp also connecting SR 1 north from School Bell Road. Both alternatives close off East Main Street (SR 7) north from SR 273, which would force emergency vehicles from the adjacent Christiana Fire company to follow Old Baltimore Pike west to SR 273 to respond to calls southward. A roundabout option was added to retain connectivity to East Main Street. The anticipated construction date was anticipated for 2016, but transportation funding constraints delayed the project indefinitely.
SR 273 advances east from SR 1 through an area of older subdivisions to Churchmans Industrial Center and Hares Corner. SR 37 (Airport Road) and SR 58 (Churchmans Road) both end at SR 273 along this stretch. The intersection with U.S. 13/40 (Dupont Highway) at Hares Corner lines up with the south end of the New Castle County Airport (ILG) runway. Runway lights are positioned above the angled intersection, as the two routes meet beside the New Castle Farmers Market.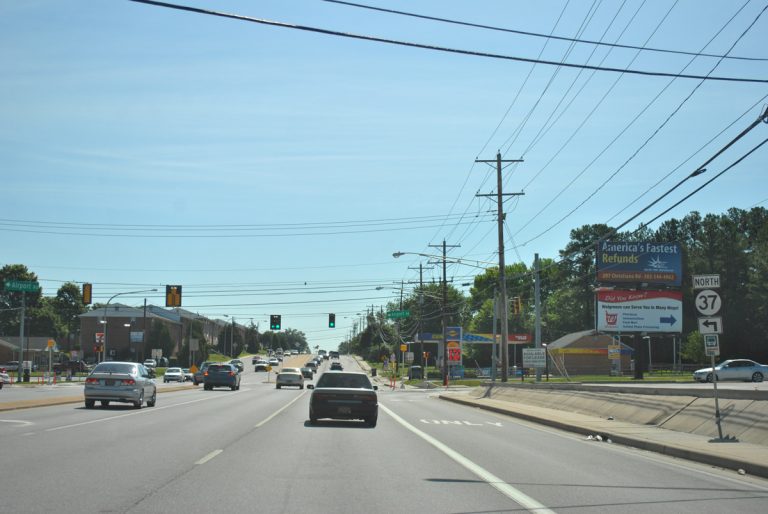 Construction to widen SR 273 east from the Christiana Bypass to Dupont Highway began in 1994 and was completed by 1999. With that work complete, all of the state route from Newark to Hares Corner accommodates four lanes with full shoulders. The four-lane section of SR 273 ends as Frenchtown Road intersects Traders Lane north and Quigley Boulevard south to Airport Industrial Park.
Frenchtown Road bee lines east from Hares Corner to the city of New Castle, where SR 273 intersects SR 141 (Basin Road) north and the turn of SR 9 from Washington Avenue onto Delaware Street. Prior to 1987, SR 9 followed Sixth Street through New Castle as part of its route south to Delaware City. The state route was realigned to bypass New Castle to move trucks away from the historic area. The bypass accompanied SR 273 along Delaware and Chestnut Streets east from Frenchtown Road to the SR 273 terminus at Sixth and Chestnut Streets. Since the cosigning was redundant, a new SR 273 end shield was added at Frenchtown Road and Washington Avenue by 2012.
Delaware State Route 273 - 2015 Annual Average Daily Traffic (AADT)
8,225 - Maryland state line to west Newark limits
23,549 - South Main Street to South College Avenue
17,740 - South College Avenue to Chapel Street
32,389 - SR 2/72 to Ruthar Drive
49,044 - Harmony Road to I-95
36,020 - Old Baltimore Pike to SR 7
34,146 - SR 37 to SR 58
30,166 - SR 58 to U.S. 13/40
17,422 - Airport Industrial Park to SR 9 and 141
| | |
| --- | --- |
| | scenes |
| | |
| --- | --- |
| | Shields for SR 2/273 along College Avenue (old SR 896) north ahead of Delaware Avenue in Newark. These were replaced in 2019 and no longer reference SR 2. 09/24/14 |
2 photos

2 photos

Vintage shields for SR 2/273 posted until 2019 along Academy Street north ahead of Delaware Avenue at the University of Delaware in Newark. 06/23/12, 08/02/13
| | |
| --- | --- |
| | Academy Street north at SR 273 (East Main Street) and former SR 2 in Downtown Newark. Despite the relocation of SR 2 away from Main Street in 1988, several shields for SR 2 remain posted throughout the city of Newark until 2019. 08/03/13 |
| | |
| --- | --- |
| | Academy Street links SR 273 (Main Street) west with SR 273 (Delaware Avenue) east. SR 273 formerly overlapped with SR 2 and then SR 2 Business along its one way couplet through Downtown Newark until 2013. 10/12/14 |
| | |
| --- | --- |
| | Shields for SR 2 and SR 273 west on Chapel Street north ahead of East Main Street in Newark. The assembly was replaced in 2019 and SR 2 is no longer acknowledged. 08/02/13 |
| | |
| --- | --- |
| | Approaching East Main Street (SR 273) east on Chapel Street (former SR 72) south in Newark. 09/24/14 |
| | |
| --- | --- |
| | SR 2 remained acknowledged for Delaware Avenue eastbound on Chapel Street south until 2019. 08/03/13 |
| | |
| --- | --- |
| | Marrows Road north at SR 273 (Ogletown Road) on the east side of Newark. 12/15/17 |
| | |
| --- | --- |
| | Trailblazers for SR 4 and SR 273 direct motorists on Red Mill Road south to Ruthar Drive west for its connection with the SR 273 expressway. 12/28/16 |
2 photos

2 photos

Ruthar Drive (Rd 65) was extended west from a dead end to link Red Mill Road with the SR 273 expressway near Ogletown in 1997. 12/23/20, 10/11/14
2 photos

2 photos

SR 273 spans the AMTRAK Northeast Corridor nearby and meets the ramps to SR 4 in 0.68 miles. 12/23/20
| | |
| --- | --- |
| | Bala Road (Rd 91) links Red Mill Road (Rd 352) with the expressway along SR 273 west from the Harmony Woods neighborhood, and to Ogletown Road (old SR 273) west of SR 273. 12/26/20 |
3 photos

3 photos

3 photos

Salem Church Road north ties in directly with the SR 273 expressway at Ogletown. The connection overtook a portion of Ogletown Road as it took SR 273 northwest to the Avon Underpass. 12/22/20, 09/26/14
| | |
| --- | --- |
| | Harmony Road south ends at SR 273 (Christiana Road) across from Gerald Drive south to the Birchwood Park subdivision. Dual turn lanes accommodate commuter traffic turning onto SR 273 east to the adjacent on-ramps for Interstate 95. 12/24/16 |
2 photos

2 photos

Chapman Road comprises a minor arterial linking Salem Church Road with SR 273 near Christiana. Chapman Road east ties into SR 273 across from Eagle Run Road at University Plaza Shopping Center. 12/26/17
| | |
| --- | --- |
| | |
| | Completed by 2020,1 the Eagle Run Road connector links SR 273 at Chapman Road with Stanton Christiana Road just north of SR 7 (Road A). Supporting planned warehouses and industrial development, the first of two signalized intersections lines the two lane road just east of SR 273. 08/18/21 |
| | |
| --- | --- |
| | A second signalized intersection along Eagle Run Road precedes 110 foot and 78 foot long bridges across Eagle Run and an associated tributary.2 08/18/21 |
| | |
| --- | --- |
| | W Main Street from Christiana was realigned to tie into the Christiana Town Center access road between Browns Lane and SR 273. This set of contractor installed shields directs motorists from the historic alignment of SR 273 to the Christiana Bypass. 06/23/12 |
Photo Credits:
06/23/12 by AARoads.
08/02/13 by AARoads.
08/03/13 by AARoads and Steve Alpert.
09/24/14 by AARoads.
09/26/14 by AARoads.
10/11/14 by AARoads.
10/12/14 by AARoads.
12/24/16 by AARoads.
12/28/16 by AARoads.
12/15/17 by AARoads.
12/26/17 by AARoads.
12/22/20 by AARoads.
12/23/20 by AARoads.
12/26/20 by AARoads.
08/18/21 by AARoads.
Connect with:
U.S. 13
U.S. 40
State Route 1
State Route 2
State Route 4
State Route 7
State Route 9
State Route 37
State Route 58
State Route 72
State Route 141
State Route 896
Route 273
Old Baltimore Pike
Page Updated 01-03-2023.