Conceived in the late 1950s, Interstate 82 travels 132.57 miles from Interstate 90 near Ellensburg to the Columbia River near Plymouth. Original plans for the route called for the shortest alignment from Ellensburg to then-Interstate 80N near Boardman, Oregon. This alignment including a southward swing from a point west of Prosser to Oregon at Blaylock Island. Shifts to the alignment eastward to Umatilla, Oregon followed at the urging of politicians from Pendleton, Oregon1 and a 113 mile route was recommended in May 1963.5 Further north, the route through Yakima Firing Range was approved in November 1965 over a western proposal through Yakima River canyon along original U.S. 97.6
Interstate 82 Washington Guides
Efforts from Senator Warren G. Magnuson, shifted the course of I-82 in 1966 from south of the Yakima River and across Horse Heaven Hills to a more eastern alignment into the Tri-Cities.1, The decision on where to build the freeway south from the Tri-Cities was still uncertain. An eastern path through Franklin and Walla Walla Counties to Pendleton was touted, but ultimately failed in favor of the current alignment south to Umatilla, Oregon.1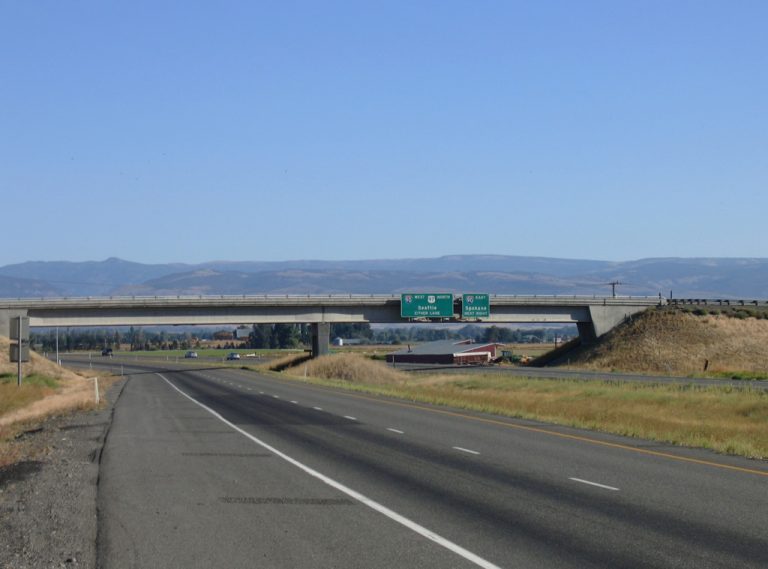 Since Interstate 82 would not directly serve the Tri-Cities via the path east of the Yakima River, Senator Magnuson proposed an idea to join the area with I-82 via a freeway spur (Interstate 182). The State Highway Commission got on board with the spur concept and approved it in July 1969. While Interstate 82 does not directly pass through the urban area, the communities were joined with the freeway via Interstate 182, a 13 mile spur from Goose Gap to Pasco.
The path of Interstate 82 was altered in 1970 to only skim the Yakima Indian Nation after objections from the Yakimas on having a freeway run through the reservation.2,3 This shifted the freeway from a path south of the Yakima River to its alignment north of the waterway through Yakima Valley.
A second crossing of the Columbia River at Umatilla was added for the northbound lanes of Interstate 82 at a cost of $28 million. Southbound traffic uses the original U.S. 395 toll bridge. That cantilever bridge was closed after the new crossing opened, so that the north end of the original span could be raised and sidewalks along it replaced with concrete barriers, allowing for a slightly wider roadbed.7
Construction of the freeway entailed 23 separate projects.4 Some Interstate 82 completion dates:
Ellensburg to Yakima - November 1971
Union Gap to Zillah - November 1981
Granger and Grandview - November 1982
Prosser Bypass - by August 1979
Prosser to Plymouth - 1985 or 1986
Two miles from Plymouth northward - July 29, 1981.
Sources:
"I-82 saga was 25-year freeway tug-of-war." Tri City Herald, November 25, 1984.
"I-82 to be dedicated in Valley on Oct. 29." Tri City Herald, September 29, 1982.
"Slow, costly I-82 freeway nears finish." Tri city Herald, September 29, 1982.
"I-82 builders aim to finish job in 1986." Tri city Herald, January 6, 1982.
"113-Mile Road To Plymouth Given Routing." Ellensburg Daily Record, May 22, 1963.
"Firing Center Route Chosen for I-82." Ellensburg Daily Record, November 16, 1965.
"I-82 To Cross New Umatilla Bridge." Tri city Herald, February 9, 1983.
Connect with:
Interstate 90
Interstate 182
U.S. 12
U.S. 97
U.S. 395
Page Updated 09-29-2011.