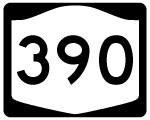 The Genessee Expressway, Interstate 390 is a regional freeway joining the Southern Tier of New York with Rochester. Originating from I-86/NY 17 between Kanona and Avoca, I-390 heads northwest to Cohocton and Dansville, traversing areas of piedmont and farmland into Livingston County. Paralleling NY 36 and NY 63 northward, I-390 advances to Geneseo, where it turns eastward toward Conesus Lake and NY 15 (old U.S. 15). Continuing from near Avon, I-390 reaches the southern Rochester suburbs at West Henrietta and the New York Thruway.
Interstate 390 passes through a heavily developed retail corridor through Henrietta. North from there, I-390 meets the south end of Interstate 590 and the Rochester Outer Loop freeway. I-590 comprises the eastern half of the Outer Loop through Brighton. I-390 follows the western half northward to Greater Rochester International Airport (ROC) and Gates Center. NY 390 extends 7.99 miles north from the end of I-390 at Interstate 490 along a freeway to Greece and Lake Ontario State Parkway at Braddock Bay State Park.
Interstate 390 New York Guides
The first section of the Genesee Expressway completed was the link between Wayland (NY 15/21) and Dansville. This segment was designated as New York Route 245. Interstate 390 eventually replaced U.S. 15 north into Rochester. The US highway was truncated north of Painted Post in 1974, with the route northward redesignated as NY 15. NY 15 and I-390 overlapped northwest from I-86/NY 17 to Exit 3, while the former alignment is NY 415.
Original plans for the Genesee Expressway extended the freeway northward from the Outer Loop to I-490/Inner Loop at Downtown Rochester. This section of the Genesee Expressway was cancelled due to high costs with right of way acquisition and impacts to area neighborhoods.
Construction underway at the north end of I-390 and along NY 390 at NY 31 (Lyell Avenue) reconfigures the exchanges joining I-390/490 and NY 390/31. A new southbound roadway will be built for I-390 while the existing lanes are reconfigured as a collector distributor roadway for Lyell Avenue and I-490. This eliminates weaving traffic and the left side ramps with Interstate 490. Improvements along I-390/NY 390 northbound adds a grade separation for the NY 31 (Lyell Avenue) off-ramp above the entrance ramp from I-490 while realigning other ramps to improve their geometry and/or capacity. Phase one for the 390-Lyell Improvement Interchange project was announced by Governor Andrew M. Cuomo on June 20, 2016.1
| | |
| --- | --- |
| | scenes |
| | |
| --- | --- |
| | Michigan Hollow Road (Route 961J) connects NY 415 and the town of Avoca with Interstate 390 at Exit 1. 05/11/05 |
2 photos

2 photos

U.S. 15 was formerly posted at the northbound entrance ramp for I-390 from Michigan Hollow Road (Route 961J). U.S. 15 was decommissioned north of Painted Posted in 1974. 05/11/05
| | |
| --- | --- |
| | Michigan Hollow Road south at the diamond interchange with Interstate 390. NY 15 followed I-390 between NY 21 at Exit 3 and I-86/NY 17. 05/11/05 |
| | |
| --- | --- |
| | I-390 concludes 1.4 miles south of Michigan Hollow Road at I-86/NY 17 (Southern Tier Expressway). Route 961J runs 0.54 miles between Kanona Road and NY 415 (old U.S. 15). 05/11/05 |



Photo Credits:

05/11/05 by AARoads

Connect with:
Interstate 86 / Route 17
Interstate 90 / New York Thruway
Interstate 490
Interstate 590 / State Route 590

Page Updated 03-05-2020.