Interstate 495 in Virginia was completed on April 2, 1964 at a total cost of $56.6-million. The beltway carried four lanes between McLean southeast to Springfield and six lanes elsewhere. The original Woodrow Wilson Bridge between Jones Point, Virginia and Oxon Hill, Maryland opened to traffic in December 1961. The American Legion Bridge to the north at Cabin John, Maryland was completed in December 1962.1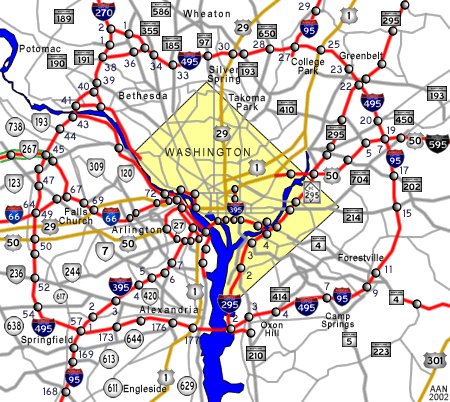 The Capital Beltway was wholly designated as Interstate 495 until 1977, when I-95 was applied to the eastern half of the freeway between Springfield, Virginia and College Park, Maryland. I-495 shields were added to the entire beltway again in 1989.
Interstate 495 Capital Beltway Guides
495 ExpressLanes
Construction commenced in 2008 on a project to add High-Occupancy Toll (HOT) Lanes to Interstate 495 between the Springfield Interchange (I-95/495) and Old Dominion Drive at McLean. The ExpressLanes project added Lanes within the median of the Capital Beltway and new ramps at various interchanges that allow drivers using the inside lanes access to the intersecting roadways. Work was completed in four phases:
Tysons Corner / McLean - the Beltway north of Interstate 66
Merrifield - Interstate 66 interchange
Annandale - the Beltway south of Interstate 66
Springfield Interchange
Work between 2008 and 2011 involved constructing four new outer lanes on the Beltway and the demolition and reconstruction of all Interstate 495 interchanges. Work between 2011 and 2012 shifted traffic onto the new outer lanes while crews constructed two inner HOT lanes. The project completion was expected in 2013, but instead occurred on November 17, 2012.
| | |
| --- | --- |
| | scenes |
2 photos

2 photos

A trumpet interchange and access road links Van Dorn Street (SSR 619) with the Capital Beltway from Franconia, south of Alexandria. Photos taken 12/16/16.



Photo Credits:

12/16/16 by AARoads

Connect with:
Interstate 66
Interstate 95
Interstate 395 - Henry G. Shirley Memorial Highway
U.S. 1
U.S. 29


Page Updated 12-17-2018.