179 miles long in Virginia, Interstate 95 joins the Washington, DC area with Richmond both as a commuter route from Fredericksburg northward and a through route for travelers to and from Florida. The freeway varies between six and eight lanes throughout much of this stretch with a tolled three-lane reversible roadway from Stafford County northward to I-395 through Alexandria.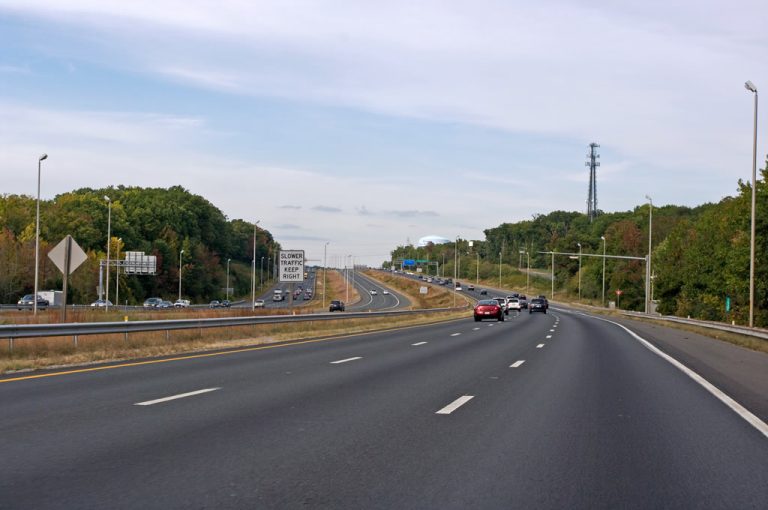 Designated the Henry G. Shirley Memorial Highway, I-95 from Woodbridge north to D.C. opened as Virginia 350 before the Interstate system was designated. The Shirley Highway was signed as Interstate 95 into Washington, D.C. until plans to complete the freeway into Prince Georges County, Maryland were cancelled by 1977. I-95 north of the Capital Beltway at Springfield was redesignated as Interstate 395.
Interstate 95 between Petersburg and Richmond opened in 1958 as the Richmond-Petersburg Turnpike. Tolls were collected on the roadway until 1992, when bonds were fully paid off. South from Petersburg, Interstate 95 replaced U.S. 301 as the main route to Emporia and Rocky Mount, North Carolina. Portions of this freeway were not completed until 1982.
Tolls were previously proposed along Interstate 95 between Petersburg and the North Carolina state line as part of the "Interstate 95 Corridor Improvement Program." Toll money was sought to generate funds for needed improvements.
Interstate 95 Virginia Highway Guides
Limits along 597 miles of rural Virginia Interstate highways were permitted to increase to 70 mph by Governor Bob McDonnell in October 2010.1 This affected a 35-mile stretch of Interstate 95 between Hanover and Spotsylvania Counties, where signs reflecting the higher limit were installed by early December 2010.2
---
2 photos

2 photos

Wagner Road enters a full cloverleaf interchange with Interstate 95 & U.S. 460 west. The four-lane divided highway connects U.S. 301 (South Crater Road) with County Drive and Virginia 106 (Courthouse Road) in south Petersburg. U.S. 460 utilizes the arterial east from Exit 48 to County Drive. Photos taken 12/21/12.
2 photos

2 photos

U.S. 460 splits from Wagner Road westbound for Interstate 95 north to Interstate 85 south. A loop ramp onto the freeway south to Emporia follows before Wagner Road ends at U.S. 301 (Crater Road). Photos taken 06/25/10.
| | |
| --- | --- |
| | An 18 inch trailblazer for Interstate 95 stands along Staffordborough Road south at SSR 610 (Garrisonville Road) near the cloverleaf interchange at Exit 143. Photo taken 10/14/01. |
2 photos

2 photos

Virginia Secondary 906 turns from Commerce Street onto Washington Street within the village of Occoquan. The route represents a former alignment of Virginia 253 leading south to Woodbridge. Pictured here is a SSR 906 southbound shield assembly posted on Washington Street ahead of Center Lane. A state-named Interstate 95 shield directs motorists east on Commerce Street to Virginia 123 (Gordon Boulevard) south for its interchange with the freeway (Exit 160). Photos taken 08/31/09.
Sources:
"Speed limit on rural Va. interstates increasing to 70 mph." Richmond Times-Dispatch, October 21, 2010.
"70 mph now legal on I-95 between Hanover, Spotsylvania exits." Richmond Times-Dispatch, December 6, 2010.
Photo Credits:
10/14/01 by AARoads.
08/31/09 by Will Weaver.
06/25/10 by AARoads.
12/21/12 by AARoads.
Connect with:
Interstate 64
Interstate 85
Interstate 195 - Beltline Expressway
Interstate 295
Interstate 395 - Henry G. Shirley Memorial Highway
Interstate 495 / Capital Beltway
U.S. 1
U.S. 301
Page Updated 06-09-2014.