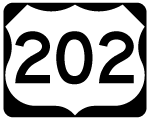 U.S. 202 continues northward from the First State into Pennsylvania as a four to six lane arterial. Development is not as heavy as it is in Delaware but is nonetheless still substantial. Mostly commercial in design, U.S. 202 retains heavy traffic volumes as it advances northward to West Chester. There U.S. 202 bypasses the Chester County seat on a controlled access expressway. Beyond the intersection with Matlack Street, U.S. 202 is fully limited access.
U.S. 322 overlaps with U.S. 202 north from the intersection with U.S. 1 near Chadds Ford. The two combine to West Chester, where U.S. 322 branches west along a north bypass of the city to Downingtown Pike. U.S. 322 Business passes through the city along the former alignment.
Continuing north, U.S. 202 travels to the west Philadelphia suburbs of Exton, Malvern, Paoli, Berwyn, Devon and ultimately King of Prussia. The original alignment of U.S. 202 roughly follows Paoli Pike to the south of the freeway.
The freeway linking West Chester and King of Prussia was constructed in the 1960s. As the area grew in population, the limited access highway succumbed to congestion and capacity related issues. Planned in the 1980s and constructed from the mid-1990s onward, a five year $290 million reconstruction project upgraded northern reaches of the freeway. U.S. 202 was expanded from four to six lanes between Tredyffrin Township and King of Prussia mall, with additional work focused on a complete redesign of the interchange with Interstate 76 and U.S. 422. The project included the replacement or construction of 36 separate ramps. All work was completed by October 30, 2003.1
U.S. 202 Pennsylvania Guides
| | |
| --- | --- |
| | scenes |
| | |
| --- | --- |
| | Erroneous PA 202 shields posted at the Saulin Boulevard intersection with U.S. 202 (Dekalb Pike) at King of Prussia. 08/15/04 |
| | |
| --- | --- |
| | Dekalb Street south at 5th Street in Bridgeport. Dekalb Street carries U.S. 202 northbound through both Bridgeport and Norristown. U.S. 202 southbound follows Markley Street, the Dannehower Bridge over the Schuylkill River, and Dekalb Pike to the west. Replaced by 2007, the signals here were set to flash. 08/15/04 |
| | |
| --- | --- |
| | Ford Street (SR 3055) and Dekalb Street converge ahead of U.S. 202 (Bridgeport Bypas) in south Bridgeport. The separate directions of U.S. 202 combine along Dekalb Pike to King of Prussia and I-76 (Schuylkill Expressway). The Bridgeport Bypass north leads to Norristown via the Dannehower Bridge. 08/15/04 |
| | |
| --- | --- |
| | Main Street (former U.S. 422) east at U.S. 202 (Markley Street) southbound in Norristown. U.S. 202 south ascends across the Dannehower Bridge over the Schuylkill River to PA 23 (Schuylkill Parkway). Main Street continues four blocks east through Downtown to U.S. 202 north on Dekalb Street. 08/15/04 |
Sources:
"Route 202 project comes to an end." The Philadelphia Inquirer (PA), October 30, 2003.


Photo Credits:

08/15/04 by AARoads

Connect with:
Interstate 76
U.S. 1
U.S. 30
U.S. 322
U.S. 422
Route 3
Route 179
Route 309
Route 491
Route 611
Route 926

Page Updated 02-03-2021.