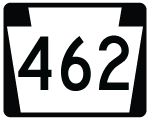 PA 462 is a 33.0 mile long route east from York to Lancaster in Southeastern Pennsylvania. The state route follows the pre-freeway alignment of U.S. 30 along the Lincoln Highway. Originating in West Manchester township, PA 462 heads east to Kurtz Place, the borough of West York and across the city of York while U.S. 30 bypasses to the north.
Through York, PA 462 separates into a couple with eastbound following Market Street and westbound paralleling to the north along Philadelphia Street from Harrison Street to PA 74 (Carlisle Avenue). Continuing to East York, PA 462 stays south of U.S. 30 to Yorkshire, the borough of Hallam and the borough of Wrightsville. Crossing the Veterans Memorial Bridge over the Susquehanna River, PA 462 enters Columbia in Lancaster County. East along Columbia Avenue, the state route parallels the freeway along U.S. 30 through Mountville to West Lancaster.
Through the city of Lancaster, PA 462 partitions into a couplet along King Street eastbound and Orange Street westbound. The two directions combine at Broad Street by Reservoir Park, and PA 462 proceeds east to Bridgeport and along Lincoln Highway to U.S. 30 at Greenland.
PA 462 was established through Lancaster with the completion of the limited access bypass for U.S. 30 to the north in 1965. The 13.469 mile alignment from west of Mountville to Greenland was approved as U.S. 30 by the American Association of State Highway Officials (AASHO) on June 29, 1965.
Photo Credits:
06/27/10 by AARoads
Connect with:
Interstate 83
Business Loop I-83
U.S. 30
U.S. 222
Route 24
Route 272
Route 340
Page Updated 02-04-2021.