Austin, the capital of the Lone Star State, is centrally located along the Interstate 35 corridor between San Antonio and the Dallas-Fort Worth metropolitan area. It is the home to state government offices, the sprawling University of Texas campus and the Longhorns' stadium), and an up and coming music scene. Austin's Sixth Street is the place to go for many varieties of music from all over the state.
Peak hour traffic in Austin devolved into a traffic-choked nightmare. Many freeway projects have been proposed over the years, but most have been cancelled due to community opposition. The political climate in Austin is unlike any other in Texas, which is part of the charm of the city. Nevertheless, several projects were studied or saw progress:
IH 35 – reconstruction of IH 35, including the double-deck section north of Downtown.
Loop 1 – widening and expansion of the freeway, as well as extending the freeway north as a toll road.
SH 130 – Construction of the first link of the Trans-Texas Corridor, as a toll road around the east side of Austin. This was eventually completed, with an extension south to IH 10.
SH 45 – Construction of a 15-mile toll road on the north side of Austin.
SH 45SE – Construction of a 7.4 mile toll road on the south side of Austin.
Hwy 183A – Construction of a tolled bypass of US 183.
Interstate 35 crosses the city from south to north. The roadway was originally built as US 81 (in the 1939 realignment of the state highway system) between 1953 and 1957, and completed as a limited-access freeway by 1962.
A section of IH 35 north of downtown (near the University of Texas) was double-decked between 1971 and 1975. Incremental improvements have been made to the freeway, however Interstate 35 is overcrowded and remains mostly in a six lane configuration through Austin.
Many studies have been made with regards to reconstructing IH 35, but no work has been done to date.
US 183 was designated through Austin in 1951. The original alignment into the city from the south was overlapped with SH 71 along 7th street to downtown, then overlapped with US 81 along Guadalupe Avenue to 45th street, then north on Burnet Road to the current route.
In 1954, the road was realigned to follow Airport Boulevard (present day Loop 111) then Research Boulevard. With the construction of the east bypass, US 183 was realigned onto that road in 1966.
Research Boulevard was widened to a multi-lane boulevard in the 1970s. Traffic became a major problem with the growth of Austin, and freeway plans were formulated. The road was upgraded between IH 35 and Loop 1 between 1995-1997, and extended north to SH 45 in 2003.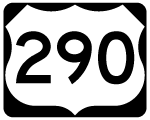 US 290 – West Ben White Boulevard
US 290 was designated through Austin in 1935, along First Street to US 81, then south across the Congress Avenue Bridge, then south on South Lamar Boulevard.
In 1951, US 290 was realigned, entering Austin via the present-day alignment from the northeast, then south along East Avenue (now IH 35) to 7th Street, meeting SH 71 there. In 1961, US 290 was realigned away from downtown and west on Ben White Boulevard west of IH 35, to meet Lamar Boulevard west of there. This 1961 alignment remains the current alignment.
There are plans to convert US 290 west of Williamson Creek (end of the present freeway) to west of FM 1826 to a toll road. The tolled lanes would be built in the median of US 290, with construction beginning in 2007.


SH 71 was extended through Austin in 1951 along with US 183, as part of a realignment of US 290. The first route brought SH 71 into Austin along 7th street, ending at US 81 Downtown. SH 71 was realigned to the new Ben White Boulevard in 1961, with the 7th street alignment remarked as Business SH 71.
SH 71 was earmarked for freeway conversion, particularly as the eastern half of the route leads to the new Austin-Bergstrom International Airport. The road was eventually converted to freeway west of IH 35
Express toll lane construction along SH 71 took place from 2015 to February 2017. They run along SH 71 from Presidential Boulevard east to SH 130. The lanes debuted to commuters on February 28, 2017.1
Plans were laid for an expressway on the west side of downtown as early as 1964, along the Missouri Pacific Railroad Tracks (hence the nickname, MoPac Boulevard, which stuck). The freeway first opened in 1975 between Far West Boulevard and Enfield Road, followed by Far West Boulevard to US 183 in 1980. Loop 1 was extended south to Loop 360 in 1981, then across Barton Creek to US 290 in 1986. The freeway was progressively extended during the 1990s to SH 45 on the south end, and to Parmer Road.
The Tolled section runs from Parmer Road to Texas Toll 45 (North). This section was opened on November 1, 2007. There will be no further extension south of SH 45 on the south side of Austin.
The MoPac Improvement Project added express toll lanes to SL 1 northbound from RM 2222 to Palmer Lane and south from Cesar Chavez Street to Parmer Lane. These were completed in summer 2017. A Central Texas Regional Mobility Authority (CTRMA) study focuses on adding express lanes along the MoPac between Cesar Chavez Street and Slaughter Lane in south Austin.1

SH 130, part of the Trans-Texas Corridor, was established in the 1985 freeway plan from Georgetown to US 183 on the east side of Austin. This plan was scrapped in 1994, but revived in the 2001 transportation plan as a toll road, as part of Governor Perry's Trans-Texas Corridor. The first sections of Texas Toll 130, from Interstate 35 south to U.S. 290, opened by November 1, 2006 followed by a southward extension to Texas 71 on September 6, 2007. Another 8.7 miles of Texas 130 opened to traffic between Texas 71 and U.S. 183 in Spring 2008.
Segments 5 & 6 of SH 130 extended the toll road south 41 miles from SH 45SE and Mustang Ridge to IH 10 in Seguin. Completed in 2012 at a cost of $1.35 billion, the new travel lanes lengthened SH 130 overall to 91 miles from IH 10 to Georgetown. The Sh 130 Concession Company operates the publicly owned toll road.2
SH 45 was designated in 1985 as a full loop of Austin. However, it was eliminated as part of the 1994 freeway plan, with the south and north legs added back to the 2001 freeway plan as a toll road. The first section (SH 1 to SH 130) on the north side of Austin opened on November 1, 2006, followed by completion of the route between U.S. 183 & SH183A and SH 130 on April 27, 2007. Construction began on SH 45SE in July 2007 between Interstate 35 at Buda and U.S. 183 & SH 130 at Mustang Ridge. Completion of the SH 45SE followed in 2009.
Work to construct SH 45 Southwest, from the MoPac Expressway (SH 1) to FM 1626 broke ground in November 2016. The new toll road is expected to open in 2019.1
Highway 183A was added to the 1994 Austin transportation plan as a tolled bypass of US 183 north of SH 45. Construction began in 2005 that saw completion of the toll road on March 3, 2007.
The 183 South project constructs a toll road for U.S. 183, with new lanes running between the frontage road system. The first phase of the project opens in 2019.1
Loop 111 was first added to the state highway system in 1960, from IH 35 at Anderson Lane to US 183 (along the present-day US 183 alignment). The road was realigned in 1966, with the original Loop 111 alignment transferred to US 183 and Loop 111 taking the old US 183 alignment.
Airport Boulevard travels next to the old Austin Mueller Municipal Airport site, hence the name.

Congress Avenue / Lamar Boulevard
Loop 275 is the original, pre-1939 alignment of US 81. In 1939, US 81 was moved to the IH 35 alignment, renumbering this route as Loop 275. Between 1954 and 1975, Loop 275 was signed as Business US 81.
The Congress Avenue Bridge over the Colorado River, with its arches and eccentricities, is one of the most interesting bridges in Austin. Bats live under the bridge, and then fly away in droves at the twilight of each day. This spectacle has become an Austin tradition. Brandon Kraft adds:
Amazingly, even though the area is very close to water, there are no mosquitoes because of the bats. [Watching the bats leave the bridge every evening is] just an awesome thing.
A plague posted by the Congress Avenue Bridge provided some history. Two Congress Avenue Bridges spanned the Colorado River previously. A fixed, wooden bridge was erected in 1869, built due to growing public frustration with unreliable ferries and pontoon bridges. The wooden bridge collapsed in 1885 due to rotten timber supports. An iron bridge was built at the crossing by 1894, with it replaced by the current span in 1910.

Loop 343 was designated in 1961, to cover former alignments of SH 71 (from US 183 to Lamar Boulevard, along 7th Street) and US 290 (from 7th Street along Lamar Boulevard south to present-day SH 71/US 290). The road has since been realigned.
The Lamar Boulevard Bridge carries State Loop 343 across the Colorado River on the west side of Austin. The arch bridge spans the Colorado River between Riverside Drive and Cesar Chavez Street by Gables Park Plaza.
Brandon Kraft writes:
Also, about how you said that Lamar Street wasn't posted as Loop 343, Texas has a lot of 'secret' roads with little or no signage to the effect. Not exactly sure why they're not signed. Most, that I've seen up in North Texas, were designated because of where the funding came from and for little else."
Mike Dahmus adds:
Only the part of the road south of the river is part of the Texas highway system as Loop 343. Actually, another segment north of U.S. 183 is also part of the Texas highway system. The reason the parts in between are not signed is thus pretty obvious – they're owned and maintained by the city of Austin. (At the north end, there's a sign which says "state maintenance ends" at the transition point).

Loop 360 was designated in 1962 as a beltway around the west side of Austin. Plans were to convert the road to a freeway, but those plans were abandoned in 1992. The road was built during the early 1970s, and was completed in 1982.
Today Loop 360 serves a number of high-tech firms that have located in the Austin area, making this road important to Austin's economy.
Sources:
"Express toll lanes on SH 71 open this week." KXAN (Austin, TX), February 26, 2017.
"About SH 130 Segments 5 and 6." SH 130 Concession Company, LLC, web site.
Page Updated January 22, 2018.