U.S. 90 parallels Interstate 10 across southern Mobile County and central Baldwin County between Pascagoula, Mississippi and Pensacola, Florida. SR 16 doubles as the state counterpart for all 77.031 miles of U.S. 90 across Lower Alabama.
U.S. 90 Alabama Guides
The route through Mobile County starts out rural with two lanes to the west of Grand Bay. The US highway expands to four lanes through an interchange with CR 39 at Irvington and again from Theodore north to Tillmans Corner and Mobile.
Through Mobile, U.S. 90 follows Government Boulevard and Government Street to Midtown and Broad Street outside Downtown. Once the roadway for five different U.S. routes and two U.S. Truck routes, Broad Street carries U.S. 90, 98 and Truck U.S. 98. The urban boulevard, in conjunction with Beauregard Street, forms part of the Hank Aaron Loop. Named after the original Major League Baseball home run king and Mobile Native, Hank Aaron Loop encircles Downtown Mobile.
U.S. 90 & 98 Truck overlap east from Broad Street and Bishop State Community College along Beauregard Street to the south end of Interstate 165 at Water Street. The two follow the freeway north to Bay Bridge Road in Prichard. Bay Bridge Road constitutes the east-west leg of a loop taking U.S. 90 across the Mobile River and south to U.S. 98 at the Bankhead Tunnel.
Completed in 1991, the Cochrane-Africatown Bridge spans the Mobile River east from Magazine in Mobile. The west bridge approach rises from the intersection with Paper Mill Road at the Plateau community of Mobile to pass over industrial sites along the west banks of the river. The cable-stayed bridge curves south and touches down on Blakeley Island, 2.3 miles north of Battleship Parkway.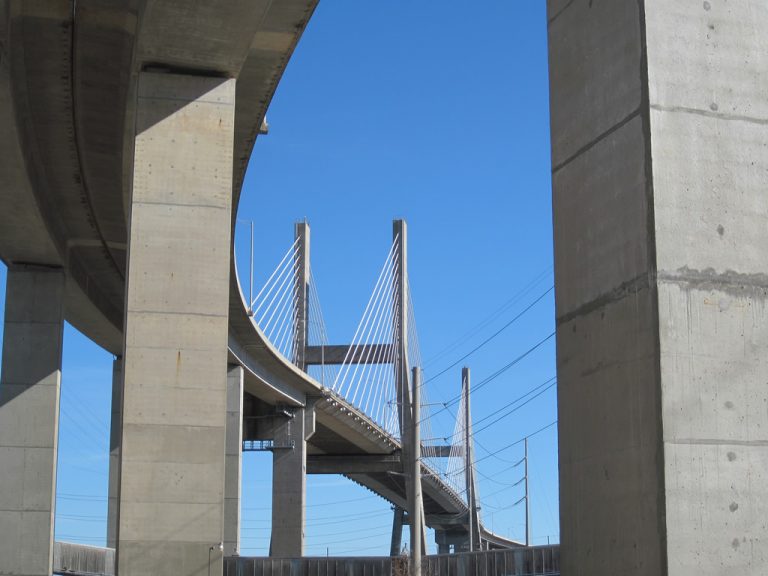 Battleship Parkway leads U.S. 90/98 east on a parallel alignment to Interstate 10 from their merge at the Bankhead Tunnel exit to Meaher State Park and a wye interchange in Spanish Fort. Named after the USS Alabama, which is situated at Battleship Park on the northwest shore of Mobile Bay, the four-lane highway travels just above sea level and across a series of low rise bridges. An array of seafood restaurants, boat ramps, and pull offs line the seven mile drive east to the bluffs rising east of the Blakeley River.
Battleship Parkway was expanded to four overall lanes during the mid-1990s. Prior to that time, several bridges along the roadway were closed due to to structural deficiencies. With increasing traffic due to suburban grown in Baldwin County, and the need for additional capacity during hurricane evacuations, closed bridges along the parkway were rebuilt to accommodate four-laning of U.S. 90 and 98.
U.S. 90/98 briefly separate through Spanish Fort, with U.S. 98 taking a controlled access bypass to the south of an L-shaped alignment of U.S. 90 to the north. U.S. 90 rises from Mobile Bay along Spanish Fort Boulevard to intersect the south end of U.S. 31. U.S. 31 takes Spanish Forest Boulevard east through suburban areas while U.S. 90 heads south to meet U.S. 98 again at their interchange with Interstate 10 (Mobile Bayway).
U.S. 98 continues south along the Eastern Shore of Mobile Bay as a busy commuter route to Daphne and Fairhope. U.S. 90 meanwhile resumes an eastern heading, paralleling I-10 closely to Malbis and SR 181, then shifting southward to merge with SR 59 at Loxley.
SR 59, the main route to the Gulf beaches, and U.S. 90 overlap for 5.4 miles to Robertsdale. Beyond their separation, U.S. 90 transitions into a rural two lane highway, stays well south of I-10 through the communities of Elsanor and Seminole to exit the state across the Perdido River.
| | |
| --- | --- |
| | scenes |
| | |
| --- | --- |
| | Old Highway 90 spurs west from U.S. 90 to a private driveway and a barricaded end. This alignment previously connected U.S. 90 with Hall Road. Hall Road intersects U.S. 90 just beyond a bridge across the old roadway and Franklin Creek. 07/17/07 |



Photo Credits:

07/17/07 by AARoads

Connect with:
Interstate 10
Interstate 65
U.S. 31
U.S. 43
U.S. 98
State Route 59
State Route 163 - Dauphin Island Parkway
State Route 181
State Route 188
State Route 193

Page Updated 09-13-2011.