The Palmetto Expressway (State Road 826) was constructed as the original bypass of Miami. The freeway travels north from U.S. 1 (Dixie Highway) in the vicinity of Kendall and Pinecrest to Miami Lakes to Coral Terrace and Westchester in unincorporated Miami-Dade County. Staying just outside the Miami city limits, SR 826 proceeds north to a four level interchange with SR 836 (Dolphin Expressway) near Miami International Airport (MIA). Straddling the Doral city line, the Palmetto Expressway advances to Medley, Hialeah and Hialeah Gardens.
Interstate 75 south and SR 924 (Gratigny Parkway) west converge with the Palmetto Expressway along the Hialeah and Miami Lakes city line. 1.25 miles beyond that exchange, SR 826 turns east at what is sometimes referred to as the "Big Curve." Continuing across Miami Gardens, the Palmetto Expressway concludes at the Golden Glades Interchange with I-95, Florida's Turnpike, U.S. 441 and SR 9. The state road extends east another 5.73 miles from the Palmetto Expressway, initially following Miami Beach Boulevard, a commercial arterial, across North Miami Beach to U.S. 1. East of U.S. 1 SR 826 follows Sunny Isles Boulevard (NE 163rd Street) along the northern boundary of Oleta River State Park to a pair of draw bridges spanning the Intracoastal Waterway. SR 826 ends at SR A1A (Collins Avenue) in the city of Sunny Isles Beach.
Florida State Road 826 Guides
Palmetto Express Lanes
A long range project to add tolled Express Lanes to the Palmetto Expressway started on March 31, 2014. The initial section of the 25 mile long managed lane system runs north from SR 968 (W Flagler Street) at Fountainebleau to NW 154 Street in Miami Lakes. It ties into the I-75 Express Lanes that extend north to NW 170th Street at Hialeah. Completed in Spring 2019, the 13 mile system along both SR 826 and I-75 was constructed at a cost of $262 million.1
Design work is underway to expand SR 826 with the Palmetto Express Lanes from Interstate 75 to NW 17th Avenue, just west of the Golden Glade Interchange in Miami Gardens. Projected to cost $627 million, construction may commence in December 2022. A PD&E Study underway from July 2017 to February 2020 focused on adding Express Lanes along the remainder of SR 826 south to U.S. 1 at Kendall. Construction costs for the seven mile project are estimated to be $684 million.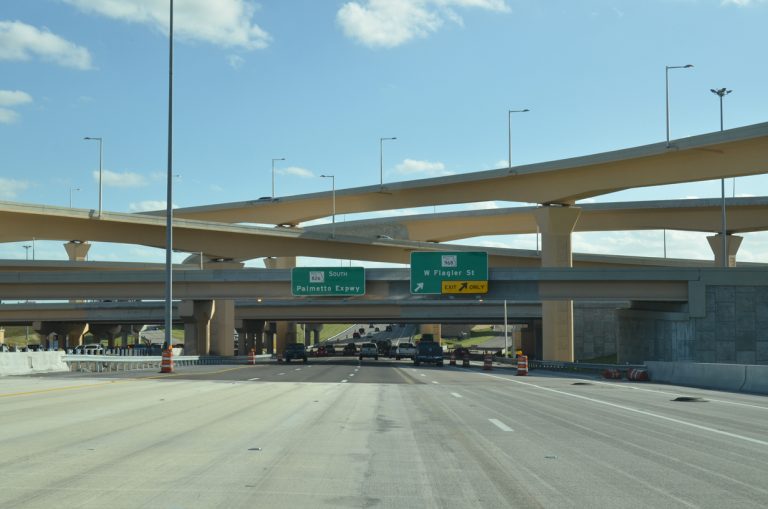 The Palmetto Expressway section of SR 826 originally consisted of two separate freeways: the Palmetto Expressway from U.S. 1 north to the Big Curve, and the Golden Glades Expressway from the Big Curve to the Golden Glades Interchange. The north-south section was named for the road it essentially replaced, Palmetto Road (SW/NW 77th Avenue). Some of the frontage roads still retain that name. The Golden Glades section basically replaced NW 167th Street. Despite the two names, South Florida motorists generally refer to the entire route of SR 826 as the Palmetto Expressway.
The Palmetto Expressway was one of the first freeways to be designed and constructed in metropolitan Miami. Built in stages between 1958 and 1962, the roadway was originally planned as a bypass. Over time population growth and congestion along Interstate 95 and the Homestead Extension of Florida's Turnpike (HEFT) resulted in a much broader responsibility, with the Palmetto Expressway both moving commuters through the metropolitan area and providing an alternative to I-95 and the HEFT.
When it opened in 1962, the Palmetto Expressway had only four lanes with frontage roads along the majority of its route. The Golden Glades Interchange, which connected with Interstate 95 and Florida's Turnpike, opened in 1964. Through the 1960s traffic rapidly increased as development encroached on the freeway corridor. Most of the agricultural and undeveloped land that once spread along the freeway corridor was eventually replaced with housing developments, outlying business parks, shopping centers and more arterial roadways. Miami International Airport (MIA) grew in importance through the 1960s, and the Palmetto Expressway was seen as a major route to the airport. The Palmetto Expressway could not keep up with the increasing volume of traffic.
By the end of the 1960s, the Palmetto Expressway clearly needed expansion and relief with additional lanes and possibly support from additional, unconstructed freeways. As further development spread along the corridor, the Palmetto Expressway became increasingly congested. To ameliorate these concerns, a transportation study was issued in 1969. This study called for immediate expansion of much of the route from four to six or eight lanes and for construction of the West Dade Expressway, the previous name for the Homestead Extension of Florida's Turnpike (SR 821).
During the early 1970s, a variety of improvements were made along the Palmetto Expressway corridor. SR 826 was expanded to six lanes between SR 874 (South Dade Expressway) and the Golden Glades Interchange. The interchange with the new Dolphin Expressway corridor (SR 836) was also constructed. Opening of the HEFT by 1974 offered some traffic relief to the Palmetto Expressway as well. When it opened, there were a total of 24 interchanges along the Palmetto Expressway. An additional four were added by 2005.
Additional upgrades along the Palmetto Expressway followed:
October 1984 through July 1987 - eighth lane added to SR 826 between SR 817 (NW 27th Avenue) and Golden Glades Interchange.
1982 through October 1986 - Interstate 75 interchange is constructed, while retaining access to NW 138th Street.
1987 through 1992 - SR 924 (Gratigny Parkway) connection is constructed at the exchange with I-75.
1992 - new interchange opened at NW 25th Street.
Scheduled from 1994 to 2010, the "Palmetto Expressway: Getting the Bugs Out!" expansion project project along the entire SR 826 corridor focused on adding lanes and realigning interchange ramps and merge areas within the remaining rights of way:
Widening from NW 122nd Street to NW 154th Street, which also involved reconstruction of all entrance and exit ramps, and collector distributor roads.
Widening of the southern leg from Sunset Drive to Kendall Drive, and reconstructing the interchange at Kendall Drive and the adjacent Dadeland Mall. This interchange won an Merit Award for the Federal Highway Administration (FHWA) Excellence in Design Awards in 1998.
Widening from Okeechobee Road (U.S. 27) to NW 58th Street, including the construction of a flyover ramp from U.S. 27 north to SR 826 south.
Widening the on-ramp from northbound SR 826 to Interstate 75.
Widening from NW 54th Street to NW 31st Street, including the reconstruction of the NW 36th Street interchange from a full cloverleaf to a parclo by removing the northeast and southwest loop ramps.
Reconstructing the Dolphin Expressway (SR 836) interchange, which consisted of completely demolishing the existing interchange, and constructing a four-level exchange with direct high occupancy vehicle (HOV) lane connections for all directions. This project also included widening of the Palmetto Expressway and Dolphin Expressway, providing both with 14 lanes throughout the area.
Constructing one high occupancy vehicle lane in each direction for the entire length of the road.
| | |
| --- | --- |
| | scenes |
| | |
| --- | --- |
| | A direct ramp links Dadeland Mall Circle with SR 826 (Palmetto Expressway) north at Kendall. 12/28/03 |
| | |
| --- | --- |
| | The Sunshine State Arch rises above NW 13th Avenue alongside the Palmetto Expressway in Miami Gardens. Constructed over a period of three months, the parabolic structure was completed on July 16, 1964. It was listed in the U.S. National Register of Historic Places on May 19, 2014.2 07/25/17 |
| | |
| --- | --- |
| | NW 13th Avenue connects with the Palmetto Expressway with Sunshine State Industrial Park across from NW 12th Avenue to the Scott Lake Manor neighborhood in Miami Gardens. 07/25/17 |
| | |
| --- | --- |
| | The eastbound entrance ramp for SR 826 from NW 167th Street and NW 13th Avenue at Sunshine State Industrial Park. 07/25/17 |
Sources:
Major Projects Report. Florida Department of Transportation - District 6, accessed May 7, 2019.
Sunshine State Arch. National Register of Historic Places Program web site.
Reproduced with permission, the original research and background information on the Palmetto Expressway was compiled by Justin Cozart and Jason Learned and previously posted on TropicalTurnpikes.com.


Photo Credits:

12/28/03, 07/25/17 by AARoads

Connect with:
Interstate 75
Interstate 95
Florida's Turnpike
U.S. 1
U.S. 27
U.S. 41
U.S. 441
State Road 836 - Dolphin Expressway
State Road 874 - Don Shula Expressway
State Road 924 - Gratigny Parkway

Page Updated 10-13-2020.