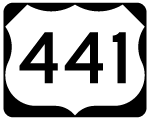 U.S. 441 runs nearly the height of the Florida peninsula along a 433-mile route from Miami to the Georgia state line in Columbia County. The highway parallels the I-75 corridor south from Lake City to Ocala, portions of Florida's Turnpike from Lake County to Broward County, and I-95 for the remainder in Miami. Throughout most of the state, U.S. 441 generally serves local traffic interests on urban boulevard or commercial arterials.
U.S. 441 Florida Guides
Beginning at U.S. 41 in the Calle Ocho neighborhood of Miami, U.S. 441 travels through urbanized areas throughout Miami-Dade and Broward Counties. Northward through Palm Beach County, U.S. 441 lines western reaches of developed areas from Boca Raton to Royal Palm Beach, where it combines with U.S. 98 west toward the Florida interior.
U.S. 98/441 overlap for 75 miles along a rural four lane highway west to State Road 15 and a two lane alignment north along Lake Okeechobee to the city of Okeechobee. U.S. 98 separates with U.S. 441 there for Sebring and Avon Park while U.S. 441 remains northward to Yeehaw Junction and Holopaw along a mostly two lane alignment across open ranch land and wetland areas.
West from Holopaw, U.S. 441 combines with U.S. 192 for 24.5 miles, along a varying four lane divided highway or six lane arterial, to Kissimmee. The route west to New Harmony and St. Cloud was four laned in 2008. The commercialized stretch between St. Cloud and Kissimmee parallels a portion of Florida's Turnpike with separate interchanges joining the two roads.
Where U.S. 192 splits with U.S. 441, U.S. 17/92 combine with it. The three routes lead north along Main Street through Kissimmee to become Orange Blossom Trail (OBT), a busy six-lane arterial through, Hunters Creek, Southchase and other Orange County suburbs. The route becomes more commercial as the trio progress north by number of industrial parks both south and north of the Turnpike and Beachline Expressway (SR 528). OBT continues into the city of Orlando as a slow moving boulevard to Colonial Drive (SR 50), where U.S. 17/92 branch east toward the central business district.
U.S. 441 remains along OBT northwest from Orlando to Lockhart and Apopka in Orange County. The arterial serves older suburbs and industrial areas along this stretch. A tolled bypass of Apopka provides commuter traffic an alternative around the city as U.S. 441 passes through Downtown to the north. Northwest from Plymouth, U.S. 441 takes on more rural characteristics with a grassy median and concrete surface as it exits Orange County via Zellwood and Tangerine.
Northward into Lake County, U.S. 441 bypasses Mt. Dora along a four to six lane route. Growth along the route adds traffic as the US highway turns west and transitions into a commercial arterial to Eustis and Taveras. Once at Leesburg, U.S. 441 resumes a northerly course while combining with U.S. 27 ahead of Fruitland and the sprawling Villages community.
U.S. 27/441 run concurrent for 19.5 miles to merge with U.S. 301 within the city of Belleview. The three routes follow a five lane boulevard (Abshier Boulevard) north from Downtown to a four-lane divided highway northwest into the city of Ocala. U.S. 27 parts ways with U.S. 301/441 in Downtown Ocala, 11.7 miles north of the merge.
Belleview Beltway
Plans for a beltway around the east side of Belleview originated in the 1990s.1 A $15.34 million project underway from fall 2015 to February 2017 finished the long proposed Belleview Beltway (SE 92nd Loop) around the east side of Belleview. The final 5.2 miles of the bypass linked existing sections of the loop: SE 132nd Street Road to the south and SE 92nd Place Road to the north.2 With its completion, the beltway provides a truck bypass east from U.S. 301 to U.S. 27/441, north to County Road 25 (Ocala Road) and SR 35, and west back to U.S. 27-301-441. The route is unnumbered otherwise.
U.S. 301/441 remain paired from NW 10th Street (U.S. 27) in Ocala for another 9.9 miles to a rural wye interchange. There U.S. 301 trends east to Hawthorne and Orange Heights before eventually turning northeast to Starke and Jacksonville. U.S. 441 heads westward, staying with the I-75 corridor to Orange Lake, Micanopy and Gainesville.
U.S. 441 represents the lone US highway serving the city of Gainesville. 13th Street takes the route between the University of Florida and Downtown along a five-lane urban boulevard. Exiting the city, U.S. 441 angles northwest to Alachua to cross paths with Interstate 75 for the first time at milepost 373.
Remaining with four lanes, U.S. 441 stays west from I-75 into the city of High Springs, where it joins its parent route along a rural two lane course north back to Interstate 75 at Ellisville. U.S. 41/441 partition after 22.7 miles just south of Lake City. U.S. 41 shifts west onto a four-lane arterial (Main Boulevard) while U.S. 441 follows three lane Marion Avenue on a parallel alignment just to the east. The two reconvene at U.S. 90 on the south side of Downtown.
Lake City
Florida applied for a realignment of U.S. 441 through Lake City at the Spring 2016 AASHTO Meeting. The application indicated that city would take over the state maintained stretch of Marion Avenue through the historic district while the U.S. 441 mainline would shift onto the signed Truck Route. The U.S. Route Numbering Committee approved the decision with the condition that documentation is provided where roadways were transferred from the city to the state.3

The relocation of U.S. 441 allowed Lake City to utilize grants for historic preservation along Marion Avenue through Downtown. As stated in the AASHTO application, the realignment called for relinquishing Marion Avenue between U.S. 90 and County Road 100A, a distance of 0.636 miles.3 The U.S. 441 truck route previously overlaid U.S. 41 (Main Boulevard) from the split with U.S. 441, between CR 252 and Columbia High School, and Columbia County Road 100A (Bascom Norris Drive) at the north end of the Lake City street grid. U.S. 441 was realigned three blocks west along side U.S. 90 onto U.S. 41, and then north along U.S. 41 (Main Boulevard) to Bascom Norris Drive. Leading U.S. 441 east 0.363 miles back to Marion Avenue, Bascom Norris Drive was reinventoried as State Road 100A.
North from SR 100A / CR 100A (NE Bascom Norris Drive), U.S. 441 maintains five lanes through a rural street grid to a Target Distribution Center and diamond interchange with Interstate 10. The remainder of the US highway in Columbia County traverses sparsely populated areas with two lanes to Deep Creek, Needmore and Benton. U.S. 441 leaves the state for Fargo, Georgia.
| | |
| --- | --- |
| | scenes |
| | |
| --- | --- |
| | SW 1st Street (SR 968) eastbound approaching U.S. 441, which follows 8th Avenue through Little Havana just west of downtown Miami. 12/28/03 |
| | |
| --- | --- |
| | A mid rise apartment building was constructed at the southwest corner of SR 968 (SW 1st Street) and U.S. 441 (SW 8th Avenue) in 2007. The U.S. 441 shield assembly here was removed during construction. 12/28/03 |
| | |
| --- | --- |
| | Coconut Creek Parkway west at U.S. 441 in the city of Margate. Street signs reference SR 7, though the state road is not shielded. 09/30/17 |
| | |
| --- | --- |
| | Palmetto Park Road eastbound at U.S. 441/SR 7 in unincorporated West Boca Raton. Palmetto Park Road leads east from University Drive as a four-lane divided arterial to Interstate 95 in Boca Raton. Palmetto Park Road was a part of SR 798. 10/25/08 |
| | |
| --- | --- |
| | County installed cutouts for U.S. 98/441 and unique SR 80 shields posted at the south end of Lion Country Safari Road, west of Loxahatchee Groves in Palm Beach County. Similar SR 80 shields are posted at the east end of County Road 880. 02/16/08 |
| | |
| --- | --- |
| | Lion Country Safari Road joins U.S. 98-441/SR 80 with the Lion Country Safari amusement park, zoo and campground. U.S. 98 heads directly east to Interstate 95 in West Palm Beach. 02/16/08 |
| | |
| --- | --- |
| | U.S. 441 shield posted along Sheeler Avenue southbound between its intersections with SR 436 (Semoran Boulevard) and Orange Blossom Trail. Sheeler Road connects Semoran Boulevard west with U.S. 441 south in Apopka. A wye interchange links the routes directly to the west. 11/04/06 |
| | |
| --- | --- |
| | Old / Marion Avenue - North |
| | |
| --- | --- |
| | Confirming marker formerly posted north of U.S. 90 (Duval Street) on Marion Avenue in Downtown Lake City. 06/04/17 |
| | |
| --- | --- |
| | Madison Street intersects Marion Avenue (old U.S. 441) a block west of the Columbia County Courthouse. 06/04/17 |
| | |
| --- | --- |
| | Hamilton Street leads west from Lake DeSoto to Memorial Stadium. 06/04/17 |
| | |
| --- | --- |
| | Marion Avenue (old U.S. 441) north at Washington Street (unsigned CR 0242). 06/04/17 |
Sources:
"Completion nearing for Belleview Beltway." Ocala StarBanner (FL), January 8, 2017.
"Belleview Beltway: Road construction continues in two phases." Ocala StarBanner (FL), February 4, 2016.
http://route.transportation.org/Documents/2016 SM Des Moines, IA/US_Routes_Binder_ALtoIA.pdf.
Photo Credits:
12/28/03 by AARoads.
11/04/06 by AARoads and Justin Cozart.
02/16/08 by AARoads.
10/25/08 by AARoads.
06/04/17 by AARoads.
09/30/17 by AARoads.
Connect with:
Interstate 4
Interstate 10
Interstate 75
Interstate 595 - Port Everglades Expressway
U.S. 17
U.S. 27
U.S. 41
U.S. 90
U.S. 92
U.S. 98
U.S. 192
U.S. 301
Page Updated 09-30-2020.