Interstate 75 is the longest freeway in Florida, traveling nearly 471 miles from the Miami area to the Georgia border. Beginning at SR 826 (Palmetto Expressway), I-75 travels north the first 19 miles before turning west at I-595 and SR 869 (Sawgrass Expressway) toward Naples. The freeway stretches across the state through the Everglades via Alligator Alley (toll facility) before curving northward again through southwest Florida, passing Fort Myers, Punta Gorda, Sarasota, and Bradenton to the east. I-75 then bends around the east side of the Tampa area before turning northeast to meet the Florida's Turnpike at Wildwood. One more kink northwest takes the freeway by Ocala, Gainesville and Lake City before entering Georgia near the town of Jennings.
Interstate 75 Florida Guides
History
The original plan authorized by the Federal Highway Act of 1956 called for Interstate 75 to end just shy of Downtown Tampa at an interchange with Interstate 4. By the mid 1960s, however, several cities in southwest Florida lobbied for a connection to the Interstate system. Using the previous West Coast Turnpike proposal as a footprint, an extension of I-75 southward from Tampa to Miami took shape, and by July 1968 the extension was included as part of the Interstate network for Florida. The 252 mile extension was formally approved December 13, 1968.1 Several alignment changes and 25 years later, the southern section of Interstate 75 was complete between Pasco County and Hialeah.
Georgia State Line to Tampa
The 212 mile Interstate 75 freeway opened to traffic in segments between 1963 and 1968 from the Florida/Georgia line south to Tampa. A slight adjustment occurred in 1961 to bring I-75 closer to Ocala and Wildwood to meet up with an extension of Florida's Turnpike.2
Interstate 75 completion:
Jul 1963 - SR 6 (Exit 460) to Georgia state line
Nov 1963 - U.S. 90 (Exit 427) to SR 6 (Exit 460)
Early 1964 - Alachua to U.S. 90 (Exit 427)
Jul 1964 - Florida's Turnpike (Exit 328) to Alachua
Aug 1966 - Bearss Avenue (Exit 53 - I-275) to SR 52 (Exit 285)
Mar 1968 - SR 582 (Exit 51 - I-275) to Bearss Avenue (Exit 53 - I-275)
Sep 1968 - Sligh Avenue (Exit 48 - I-275) to SR 582 (Exit 51 - I-275) - final segment to open3
Work is ongoing to widen Interstate 75 through Pasco, Hernando, and Sumter counties. Expansion work through Pasco County was finished in March 2018, while construction further north continues through 2019.
Tampa to Naples Extension
Plans for the southern extension of Interstate 75 from Tampa to Miami date back as far as 1964, during which time a west coast turnpike was also proposed to link Tampa with Naples. Local opposition across Southwest Florida grew over the proposed toll road and by 1968 was dropped in favor of a toll-free I-75 extension.
The initial proposed I-75 extension would be routed through St. Petersburg while the Tampa bypass would carry Interstate 275 around the east side of the bay area. As a part of the extension, Interstate 4 was truncated to the Downtown interchange and replaced with I-75 toward Pinellas County and St. Petersburg. Studies though determined that it would be too expensive to maintain the freeway through the cities with the estimated high traffic volumes. One idea was to designate the Tampa bypass as Interstate 75E, but due to a 1973-based AASHTO rule that suffixed routes be renumbered to reduce motorist confusion, that designation was shelved. Instead, the I-75 and I-275 designations were swapped into their current configuration.
A I-75 NOW Task Force organized in 1975, and successfully lobbied to secure funding to build I-75 through Southwest Florida quicker than originally scheduled.4 The task force was formed by civic leaders and several politicians and businessmen to fast track the completion of Interstate 75 through Southwest Florida after predictions that the Tampa-Miami freeway would not be finished until after 2000.5
The Tampa bypass portion of Interstate 75 began construction mid-July 19796, and would take seven years to complete. When the final piece opened July 1986, I-75 was seamless between Sault Ste. Marie, Michigan and Alligator Alley in Naples.
Interstate 75 extension completion:
Late 1979 - Corkscrew Road (Exit 123) to SR 78 (Exit 143)
Jan 1980 - SR 78 (Exit 143) to Tuckers Grade (Exit 158)
Jul 1981 - Collier County 846 (Exit 111) to Corkscrew Road (Exit 123)
May 1981 - River Road (Exit 191) to U.S. 301 (Exit 224)
Dec 1981 - Tuckers Grade (Green Gulf Boulevard) (Exit 158) to River Road (Exit 191)
Mar 1982 - U.S. 301 (Exit 224) to Hillsborough County 672 (Exit 247)
Late 1983 - Hillsborough County 672 (Exit 247) to U.S. 301 (Exit 254)
Apr 1984 - Hillsborough County 582A (Exit 266) to I-275 north (Exit 274)
Jul 1985 - Interstate 4 (Exit 261) to Hillsborough County 582A (Exit 266)
Jul 1986 - U.S. 301 (Exit 249) to Interstate 4 (Exit 261)
The majority of Interstate 75 through Southwest Florida maintains at least six lanes of traffic, with construction ongoing or planned for the remaining segments.
Alligator Alley and Southeast Florida Extension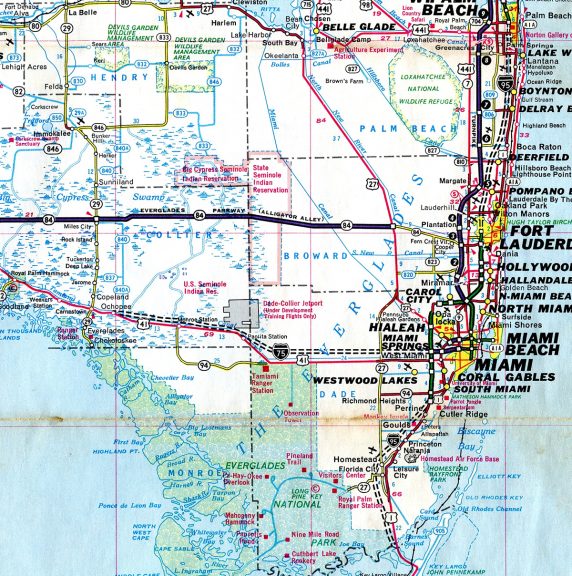 Leaving Southwest Florida, three ideas were proposed for taking I-75 across the vast everglades to the Miami area. One proposal took Interstate 75 southeast parallel to U.S. 41 (Tamiami Trail) through the Everglades, then connecting it with SR 836 (Dolphin Expressway, formerly East-West Expressway) for the remainder to Miami. Its end would have been at the Midtown Interchange between I-95 and I-395. This proposed routing would also take the freeway close to the Dade-Collier Jetport (now defunct) which was under development at the time. Another proposal extended the freeway across the two lane Alligator Alley (State Road 84) between Naples and Andytown then turn it southerly to reach Miami. A third and least favorable of the proposals, called for the freeway to turn southeast near Fort Myers toward Fort Lauderdale and Miami, bypassing Naples and skirting the Everglades to the north.
The Fort Myers-Fort Lauderdale-Miami option, recommended by the University of Miami Center for Urban Studies, was not favored primarily by residents and business interests in Naples as well as by some transportation officials.7 Differing opinions, both economic and environmentally based, between the first two options also put the Florida Department of Transportation (FDOT) at odds with its own environmental study team in regards to the final path I-75 would take to cross the peninsula.7 Political controversy also surrounded the finalization of selecting either route as the primary corridor. By November 1971, however, the Federal Highway Administration (FHWA) chose the Alligator Alley corridor as the preferred route Interstate 75 would use to cross the Everglades.8 The southern route parallel to the Tamiami Trail was shelved due to the strong opposition and political concerns, as well as the costs to upgrade the East-West Expressway to Interstate standards.
Alligator Alley began its conversion to I-75 on July 7, 1986 with construction beginning on a 10.6 mile segment in Broward County.9 As part of the conversion, numerous wildlife underpasses and water vents were built to allow safe passage for free roaming animals and to uninhibit the natural flow of water through the Everglades ecostructure. The transition of the 78 mile Alligator Alley to Interstate 75 was complete by November 1992, and was also the last segment in completing the Sault Ste. Marie, Michigan to Miami freeway. Tolls were also proposed to be removed once the conversion was complete, but continuing maintenance of Alligator Alley requires the tolls to remain in place.
The remaining 23 miles of Interstate 75 from U.S. 27 to SR 826 (Palmetto Expressway) began construction in 1980, with a 4.1 mile section opening between SR 818 (Griffin Road) and SR 820 (Pines Boulevard) by August 1984. The freeway was completed in Broward and Miami Dade counties by October 1986.
When I-75 was completed in Southeast Florida, the eight lane freeway opened up largely uninhabited farmland for development. Through the 1990s, the cities of Miramar, Pembroke Pines and Weston saw enormous population increase with the growth concentrated along the I-75 corridor. Between 1990 and 2000 the city of Pembroke Pines alone grew at a rate of 210 percent, from 65,452 to 137,427 residents. Traffic volumes have steadily increased along this stretch of Interstate 75, with traffic counts being as high as 163,084 between the Palmetto Expressway and Miramar Parkway (Exits 7AB).10
Express Lanes were constructed along 19 miles of Interstate 75 in Broward11 and Miami-Dade12 counties between SR 826 (Palmetto Expressway) and the I-595/SR 869 exchange. Completed by April 2018, the $780 million projects added over 30 miles of managed lanes with limited access points at key locations throughout the entire length.
State Road 93 and 93A
SR 93 is the state road counterpart for the majority of Interstate 75 in Florida, minus the portion between the I-275 tie ins at Palmetto and Wesley Chapel. State Road 93A follows I-75 along the Tampa bypass while SR 93 travels with I-275 through St. Petersburg and Tampa.
| | |
| --- | --- |
| | scenes |
| | |
| --- | --- |
| | Scenes from the Everglades Wildlife Management Area recreation area along Interstate 75 northbound at mile marker 32. 04/23/16 |
| | |
| --- | --- |
| | Trailblazer for the northbound return to Interstate 75 from the Everglades Wildlife Management Area at mile marker 32. 04/23/16 |
| | |
| --- | --- |
| | The Broward County rest area along Alligator Alley functions similar to a service area, with access from both directions of the toll road. Frontage roads wind west from the facility to access adjacent boat ramps and the northbound side of I-75. 12/23/13 |
| | |
| --- | --- |
| | I-75 northbound trailblazer posted at the frontage road looping west from the Broward County rest area to boat ramps nearby and the loop ramp for Naples. 12/23/13 |
| | |
| --- | --- |
| | Small guide signs and trailblazers direct motorists from the Broward County rest area frontage road toward the southbound on-ramp for I-75 to Miami. 04/01/14, 12/23/13 |
2 photos

2 photos

The Francis S. Taylor Wildlife Management Area recreation area lines the north side of Interstate 75 at mile 35.2. The stop includes boat ramps, an observation platform and the Everglades Trail Nature site. 04/23/16
2 photos

2 photos

A service road links the Francis S. Taylor WMA recreation area with the Brown County Rest Area located on the south side of Interstate 75. 04/23/16
| | |
| --- | --- |
| | Interstate 75 trailblazer posted at the Everglades Wildlife Management Area recreation area near milepost 41. 03/04/14 |
2 photos

2 photos

Shields for Interstate 75 posted at the Collier County rest area direct motorists exiting the facility onto an access road to the northbound side ramps and the southbound return ramp toward Miami. 09/30/17, 03/20/20
| | |
| --- | --- |
| | SR 29 leads south from Immokalee into the Big Cypress National Preserve and to a diamond interchange with Interstate 75 (Alligator Alley). Signage posted here originally referenced I-75 with east-west cardinal directions. These were later changed to the conventional north-south banners for the Interstate. 12/28/03 |
| | |
| --- | --- |
| | Looking west along Interstate 75 (Alligator Alley) from the SR 29 (Exit 80) overpass. The end of the Alley lies 21 miles to the west where I-75 meets Collier County Road 951 (Exit 101) south of Golden Gate. 06/25/05 |
| | |
| --- | --- |
| | Interstate 75 travels east from SR 29 (Exit 80) into the Big Cypress National Preserve as it continues toward the southeast coast. Snake Road (Broward County Road 833) will join Alligator Alley in 31 miles near the edge of the Miccosukee Indian Reservation at Exit 49. 06/25/05 |
2 photos

2 photos

Canals line both sides of I-75 (Alligator Alley) as the tolled route travels through the Big Cypress National Preserve. Alligators can often be spotted in the water or lounging along the banks. 06/25/05
2 photos

2 photos

Additional views of the low right-of-way and canals along Alligator Alley. Standard fencing with reinforced tension cables line the right-of-way boundaries the entire length of the Alley to aid in keeping larger animals out. 06/25/05
3 photos

3 photos

3 photos

Gibsonton Drive connects I-75 with U.S. 301 at Riverview and U.S. 41 at Gibsonton in Hillsborough County. 03/02/14
2 photos

2 photos

Pasco County Road 41 (Blanton Road) intersects Interstate 75 at Exit 293 near the community of Blanton. North Interstate 75 leads motorists to Ocala while south Interstate 75 leads motorists toward Tampa. 04/01/04
| | |
| --- | --- |
| | Church Road spans Interstate 75 across a 1966-built bridge in rural southern Hernando County. 02/09/14 |
Sources:
"Boyd Approved I-75 Extension to Miami." St. Petersburg Times (FL), December 14, 1968.
"Interstate 75 Ruling Is Seen Within Week." The Palm Beach Post (FL), July 25, 1961.
"Interstate 75 Dedication Wednesday." St. Petersburg Times (FL), September 24, 1968.
"I-75 to Open From Naples to Tampa by 1986." Sarasota Journal (FL), July 7, 1981.
Article from Sarasota Journal, April 8, 1981.
"Tampa Bypass to be Built." Lakeland Ledger (EM), April 20, 1979.
"DOT At Odds With Own Team On I-75 Everglades Route." Sarasota Herald-Tribute (EM), December 7, 1970.
"I-75 To Follow Alley Across The Everglades." Lakeland Ledger (EM), October 31, 1971.
"Work on I-75 Across Everglades Begins." St. Petersburg Times (FL), July 8, 1986.
Florida Department of Transportation (FDOT) Florida Traffic Online web-based viewer (http://www2.dot.state.fl.us/
FloridaTrafficOnline/viewer.html)
FDOT Palmetto Express website (www.palmettoexpresslanes.com)
I-75 Express Lanes Project (www.75-express.com)
Much of the background information on I-75 in Florida was originally posted on TropicalTurnpikes.com and is reproduced with permission by Justin Cozart.
Photo Credits:
12/28/03 by AARoads.
04/01/04 by Unknown.
06/25/05 by Unknown.
12/23/13 by AARoads.
02/09/14 by AARoads.
03/02/14 by AARoads.
03/04/14 by AARoads and Chris Kalina.
04/01/14 by AARoads and Carter Buchanan.
04/23/16 by AARoads.
09/30/17 by AARoads.
03/20/20 by AARoads.
Connect with:
Interstate 4
Interstate 10
Interstate 275
Florida's Turnpike
U.S. 17
U.S. 27
U.S. 41
U.S. 90
U.S. 98
U.S. 129
U.S. 301
U.S. 441
State Road 24
State Road 26
State Road 50
State Road 52
State Road 54
State Road 56
State Road 60
State Road 78
State Road 80
State Road 200
State Road 618 - Lee Roy Selmon Expressway
State Road 681
Page Updated 01-18-2023.