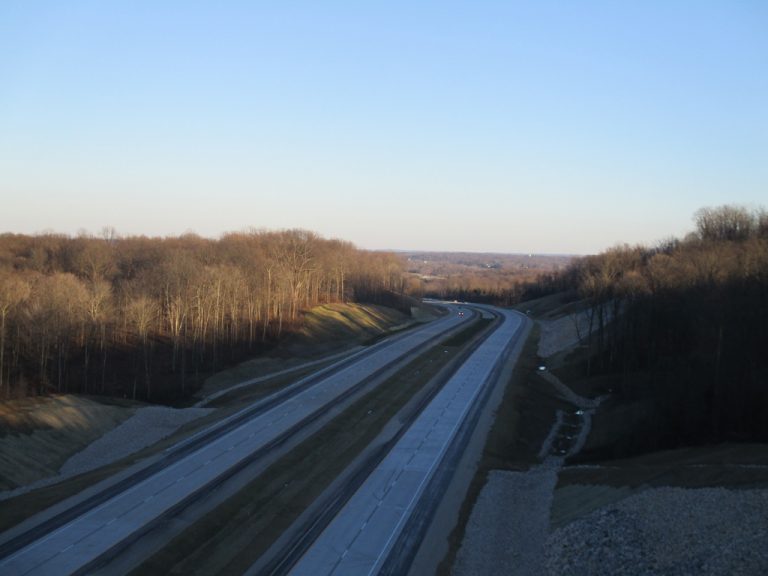 Interstate 69 currently stretches 294.47 miles on a diagonal course through the Hoosier State, connecting Evansville with Bloomington, and Indianapolis with Fort Wayne on two discontinuous segments. The original 157.3 miles of I-69 was completed by November 1971, linking Indianapolis with Anderson, Fort Wayne, and ultimately Port Huron, Michigan. The southern extension of I-69 traverses along a 135 mile course between U.S. 41 in Evansville and the south end of Martinsville in Morgan County, with construction of the final leg to south Indianapolis underway. When complete, I-69 will be the longest interstate in Indiana at nearly 330 miles, connecting its three largest cities (Evansville, Indianapolis, and Fort Wayne).
Northern Segment
I-69 was originally to begin in Downtown Indianapolis at the North Split interchange with I-65/70, but local opposition opted for the freeway to begin along the northeast quadrant of the Indianapolis Beltway (I-465) near Castleton. The initial 10 miles of freeway pass through the suburb cities of Castleton and Fishers while skirting Noblesville to the south. Beyond the Indianapolis metro area, I-69 turns north along flat, agricultural terrain as it bypasses Anderson, Muncie, and Marion enroute to Fort Wayne, the second largest city in Indiana. I-69 connects with the Indiana Toll Road (I-80/90) ahead of its departure from the Hoosier State into Michigan.
U.S. 27 overlapped with I-69 between Fort Wayne and Lansing, Michigan until 2002, when both INDOT and the Michigan Department of Transportation (MDOT) successfully petitioned the American Association of State Highway and Transportation Officials (AASHTO) to truncate a portion of the U.S. highway. U.S. 27 was completely eliminated in Michigan, with an updated northern terminus at I-69 in Fort Wayne.
Interstate 69 Indiana Guides
Southern Segment
Discussion for what would become Interstate 69 in southern Indiana dates back to the 1970s, when a "Southwest Indiana Highway" was envisioned to link Evansville with Bloomington.1 The Intermodal Surface Transportation Efficiency Act (ISTEA) of 1991 established new transportation corridors throughout the United States, which resulted in a 1,250 mile extension of Interstate 69 from Indianapolis southwest to Laredo, Texas. Part of High Priority Corridor 18, I-69 would extend southwest from Indianapolis to Bloomington and Evansville before entering Kentucky.
The final route for I-69 between Indianapolis and Evansville was selected by March 2004, following SR 37 southwest from I-465 to Martinsville and Bloomington before branching on a new alignment to the I-64/164 exchange north of Evansville. Despite fierce opposition from environmentalists and residents along portions of the planned freeway, construction began in 2008 on the first segment of the southern leg of I-69, extending 1.77 miles north from I-64/164 to SR 68. By 2012, 67 miles of I-69 were open between I-64 and U.S. 231 south of Bloomfield. The subsequent 27 mile section opened December 9, 2015, connecting I-69 to SR 37 near the southern limits of Bloomington. Section Five work consisted of upgrading 21 miles of the SR 37 expressway between Bloomington and Martinsville, and was officially designated I-69 on September 18, 2018. Construction commenced in March 2019 to build the final leg of Interstate 69 from Martinsville to south Indianapolis. Divided into five contracts, the I-69 Finish Line project upgrades SR 37 to a freeway along with a new connection to I-74/465. Work on Section Six of I-69 runs through late 2024.
The 20.70 mile I-164 spur into Evansville was eliminated by October 2013 in favor of I-69 as a result of being extended southwest through Indiana. Signs along the route were switched out by the end of 2014.3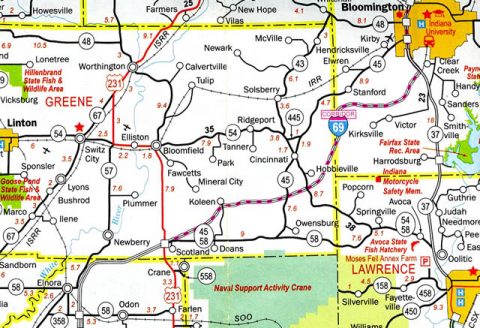 Interstate 69 begins at U.S. 41 in south Evansville, initially advancing east parallel to the Ohio River. The southern terminus at U.S. 41 is temporary until the completion of a new crossing over the Ohio River into Kentucky, which is still under study. I-69 turns north at SR 662 (Exit 5) and travels away from Evansville to meet I-64 (Exits 21AB) in Gibson County. The freeway continues along a northeasterly course, bypassing Oakland City, Petersburg and Washington. At Elnora, I-69 arcs eastward to U.S. 231 (Exit 87) north of the Crane Naval Support Activity Center. Beyond U.S. 231, I-69 traverses northeast across hilly terrain to join SR 37 near Bloomington, where the two routes line the west side of the city along a 2018-finished freeway. I-69 currently concludes south of SR 39 at Martinsville as SR 37 continues northward to I-465 in Indianapolis.
The first three sections of I-69 were built from I-64 north of Evansville to U.S. 231 near Crane. These sections were constructed simultaneously and were funded through the Major Moves program, which provided the funds through the leasing of the Indiana Toll Road to a private agency. The fourth section from U.S. 231 to SR 37 in Bloomington was also funded and completed through the same program. Section 5 along SR 37 through Bloomington was designed and built through a new public-private partnership with the I-69 Development Partners group. What was supposed to be a two year project to convert the existing SR 37 expressway into I-69 was extended by two years. In 2016, problems emerged as there were construction delays and work stoppages, which resulted in an extended construction time by two additional years. The problems escalated enough to the point that the Indiana Department of Transportation (INDOT) terminated the P3 partnership in 2017 and resumed control over the construction, using traditional means to finish the segment. Construction of Section 5 ultimately took almost four years to complete, with mounting frustration from Bloomington residents, some of who previously disapproved of the location of I-69 around the city.
Section 6 is being built using using the state gas tax increase to largely fund the project. The planned route between I-69 and I-74/465 will coincide with a widening of I-465 on the south side of Indianapolis. I-69 will be four lanes wide through Martinsville and north to the Smith Valley Road interchange, and six lanes north through the south side of Indianapolis to the exchange with I-74/465, which is being constructed to the west of the existing interchange with SR 37 (Harding Street).
Interstate 69 Exit Renumbering
Exits along Interstate 69 between Indianapolis and Michigan were renumbered in Fall 2012 to account for the southerly extension to Evansville. To make it simple for motorists to adjust to the change, INDOT added 200 to the existing exit numbers, resulting in Exit 0 to become Exit 200, Exit 1 to become Exit 201, etc. Dual exit numbers were maintained along the original portion of I-69 until October 2015, with all references to the old exit numbers removed by October 1, 2017.2
| | |
| --- | --- |
| | scenes |
| | |
| --- | --- |
| | A trailblazer assembly for I-64/69 and U.S. 41 stands along Veterans Memorial Parkway south of Riverside Drive in Evansville. Veterans Memorial Parkway defaults onto I-69 north ahead at U.S. 41. 01/01/16 |
| | |
| --- | --- |
| | SR 57 joins SR 68 west for a half mile overlap to a diamond interchange with I-69. SR 57 turns south onto I-69 to I-64 and Evansville. 11/07/11 |
| | |
| --- | --- |
| | SR 64 east at I-69 north, midway between Francisco and Oakland City. 11/21/12 |
| | |
| --- | --- |
| | Traveling west from Oakland City, SR 64 meets I-69 at a diamond interchange. I-69 advances south to Evansville as SR 64 continues west to Francisco. 11/21/12 |
| | |
| --- | --- |
| | Westward view of I-69 from the Harmony Road overpass in Monroe County. 01/02/16 |
| | |
| --- | --- |
| | This I-69 trailblazer previously stood along SR 45 south of SR 37 in Bloomington, directing motorists to the then opened segment beyond U.S. 231 near Crane. It was removed by 2018. 04/14/13 |
| | |
| --- | --- |
| | E 82nd Street passes under I-69/SR 37 at a folded diamond interchange (Exit 201) in Castleton. 10/16/04 |
| | |
| --- | --- |
| | E 96th Street west at the diamond interchange (Exit 203) with I-69/SR 37. The arterial follows the Marion and Hamilton County line across the freeway. 10/16/04 |
| | |
| --- | --- |
| | Lower Huntington Road east at the northbound on-ramp to I-69/U.S. 24-33. The local road splits with Airport Expressway just east of Exit 299, with both roads serving the south side of Fort Wayne. 11/06/11 |
| | |
| --- | --- |
| | SR 8 east at I-69 in Auburn. I-69 supplanted U.S. 27 as the main route from Fort Wayne north to Auburn, Angola, Coldwater and Lansing, Michigan. This assembly was still in place in 2018. 02/06/12 |
| | |
| --- | --- |
| | Ramps separate beyond the toll booth at the exchange linking Indiana Toll Road (I-80/90) with I-69 near Fremont in Steuben County. The southbound entrance ramp for I-69 also connects with SR 120. 02/06/12 |
| | |
| --- | --- |
| | Baker Road angles southwest from Michigan to become Lake George Road at the northernmost interchange along I-69 in Indiana. U.S. 27 was formerly displayed here. 11/06/11 |
| | |
| --- | --- |
| | I-69 heads a half mile south from Lake George Road to the Indiana Toll Road and 42 miles to I-469 at Fort Wayne. An Emergency Detour route for I-69 follows Lake George Road west to Old US 27. 11/06/11 |
Photo Credits:
10/16/04 by AARoads.
11/06/11 by AARoads.
11/07/11 by AARoads.
02/06/12 by Thomas Decker.
11/21/12 by Thomas Decker.
04/14/13 by Thomas Decker.
01/01/16 by Thomas Decker.
01/02/16 by Thomas Decker.
Connect with:
Interstate 64
Interstate 80
Interstate 90
Interstate 465
Interstate 469
U.S. 24
U.S. 30
U.S. 50
State Road 3
State Road 37
Page Updated 09-16-2020.