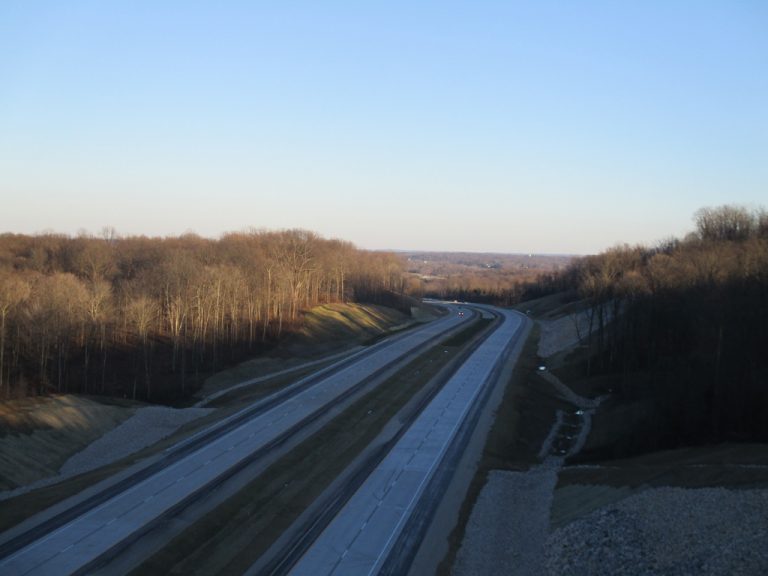 Interstate 69 has perhaps the most interesting of histories for Indiana interstates, largely because it is still a work in progress. The original 157 miles of Interstate 69 was finished in the 1970s. The highway was originally slated to start in Downtown Indianapolis at the Northern Split of Interstate 65 and 70, but local opposition pushed the start up to Interstate 465 on the northeast side. The first 10 miles of the interstate go through the growing suburbs of Hamilton County. Beyond there, it passes by the mid-sized cities of Anderson, Muncie, and Marion as it passes through flat, agricultural fields. North of there, it goes through Fort Wayne, the state's second largest city, before heading north through the moraine and lake country around Auburn and Angola. It crosses the Indiana Toll Road just as it leaves for Michigan.
Interstate 69 Indiana Guides
Then there is the 135-mile long southern portion of the highway. For many years, there was a need for an interstate to link up Indianapolis with Evansville. The current path between those two cities had been marked by a combination of various divided and undivided highways. In the early 2000s, Indiana finally got to work on a finalized route and picked the current alignment in 2003. Despite fierce opposition from environmentalists and residents of Bloomington and Indianapolis (who are around the proposed route) the construction began in 2008 and on November 19, 2012 the first 67 miles of the extension were opened. The fourth section of the interstate opened to traffic on December 9, 2015 and runs another 27 miles from U.S. 231 to Indiana State Road 37 in Bloomington. The fifth section, which consisted of the conversion of the SR 37 expressway from Bloomington to just south of Martinsville became Interstate 69 on September 18, 2018. Section 6, the remaining expressway from Martinsville to I-465 in Indianapolis, got underway with construction on Contract 1 in March 2019. Divided into five contracts, work runs through late 2024.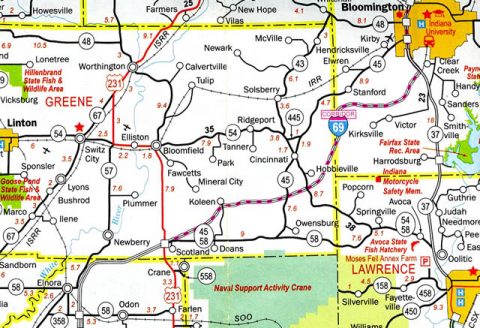 Interstate 69 begins at U.S. 41 in Evansville, a temporary terminus until the completion of a new bridge over the Ohio River to Kentucky, which will be built a few miles east of the current U.S. 41 bridges. From there the interstate passes by the east side of Evansville and meets up with I-64 in Gibson County. Following a northeasterly course, I-69 advances by Oakland City, Petersburg, Washington, past the Crane Naval Support Activity Center and across hilly terrain toward the city of Bloomington. The December 2015 opening of Section 4 finally connected Bloomington with Evansville and created a four-lane highway connecting Indianapolis (via SR 37) with Evansville (via I-69). As of September 18, 2018 I-69 continues north along the former SR 37 route around the city of Bloomington and north to near the interchange with SR 39 in Martinsville, where its current northern terminus lies.
The overall highway will be around 330 miles in length, connecting the three largest cities in the state of Evansville, Indianapolis and Fort Wayne. As of 2018 it is the longest interstate in Indiana, running for 293 miles along its two sections. Section 5 of I-69, upgrading the SR 37 expressway between Bloomington to Martinsville was slated for completion in late 2016 but construction problems related to an ultimately failed P3 partnership delayed it to October 2018. The sixth and final section of I-69 got underway in March 2019 with initial work in Martinsville. It follows the SR 37 expressway around the city of Martinsville and northeast toward Indianapolis, passing through the suburbs of Greenwood and southern Indianapolis toward a planned directional T interchange with I-74/465. From there I-69 is slated to follow the Interstate 465 beltway around the south and east sides to the start of the northern section around Castleton.
The first three sections of Interstate 69 were built from I-64 north of Evansville to U.S. 231 near Crane. These sections were constructed simultaneously and were funded through the Major Moves program, which provided the funds through the leasing of the Indiana Toll Road to a private agency. The fourth section from U.S. 231 to SR 37 in Bloomington was also funded through the same program and completed the new terrain portion of the interstate's construction. Section 5 was to be designed and built through a new public-private partnership with the I-69 Development Partners group. What was supposed to be two years to convert the existing SR 37 expressway to the I-69 freeway was stretched out another two years. In 2016 problems began to emerge as there were construction delays and work stoppages that pushed out the construction even longer. The problems were bad enough that the state terminated the P3 partnership in 2017 and resumed control over the construction, finishing the construction through more traditional means. The construction along Section 5 ultimately took almost four years and frustrated the residents of the Bloomington area, some of who previously disapproved of the interstate's location around the city.
The last section of Interstate 69 will be built in a more traditional manner with Indiana's increase in the gas tax largely funding the project. The project will rebuild SR 37 to freeway standards from Martinsville northward to I-74/465 in Indianapolis by late 2024. The planned route between Interstate 69 and I-74/465 will coincide with a widening of I-465 on the south side of Indianapolis. I-69 will be four lanes wide through Martinsville and north to the Smith Valley Road interchange, and six lanes north through the south side of Indianapolis to the exchange with I-74/465, which will be constructed just west of the existing interchange with SR 37/Harding Street.
Interstate 69 Exit Renumbering
Exit along Interstate 69 between Indianapolis and the Michigan state line were renumbered in Fall 2012 to account for the southerly extension to Evansville. Rather than add 184 miles to every exit number, the estimated addition to I-69 at the time, the Indiana Department of Transportation (INDOT) instead rounded that figure to 200 to make it easier for motorists to adjust to the extended length of I-69. Exit 0 changed to Exit 200 and Exit 157 to Exit 357. Dual exit numbers were maintained along the original Interstate 69 to October 2015, with all references to the old exit numbers removed by October 1, 2017.1
| | |
| --- | --- |
| | scenes |
| | |
| --- | --- |
| | An Interstate 69 shield accompanies trailblazers for I-64 and U.S. 41 along Veterans Memorial Parkway after the turn off of Riverside Drive by Downtown Evansville. The three-digit width I-69 shield was a replacement of a former Interstate 164 shield. Photo taken 01/01/16. |
| | |
| --- | --- |
| | SR 57 joins SR 68 west for a half mile overlap to the diamond interchange with Interstate 69. SR 57 turns southward onto Interstate 69 to I-64. Photo taken 11/07/11. |
| | |
| --- | --- |
| | Indiana 64 eastbound at I-69, midway between Francisco and Oakland City. As of 2012, there was no control city for northbound Interstate 69, though judging by the length of the guide sign; it will likely read Indianapolis in the future. Photo taken 11/21/12. |
| | |
| --- | --- |
| | Indiana 64 at the southbound on-ramp for Interstate 69 to the west of Oakland City. Evansville is the control city for I-69 south along its new alignment from Interstate 64 north to U.S. 231. Photo taken 11/21/12. |
| | |
| --- | --- |
| | Looking west at Interstate 69 from the Harmony Road overpass in Monroe County. This is a ten mile exit less stretch. Photo taken 01/02/16. |
| | |
| --- | --- |
| | A new trailblazer added to SR 45 south of SR 37 in Bloomington directs travelers to the segment of Interstate 69 from near Crane southwest to Evansville. SR 45 can be followed to the current end of I-69 at U.S. 231. Photo taken 04/14/13. |
| | |
| --- | --- |
| | 82nd Street passes under Interstate 69 & Indiana 37 at a folded diamond interchange (Exit 1) in Castleton. The arterial provides the missing movement between Interstate 69 north and I-465 south via its loop ramps. Photo taken 10/16/04. |
| | |
| --- | --- |
| | East 96th Street west at the diamond interchange (Exit 3) with Interstate 69 & Indiana 37. The arterial follows the Marion and Hamilton County line across the freeway. Photo taken 10/16/04. |
| | |
| --- | --- |
| | Lower Huntington Road eastbound at the northbound on-ramp to Interstate 69 and U.S. 24-33. The local road splits with Airport Expressway just east of Exit 99, with both roads serving the south side of Fort Wayne. Photo taken 11/06/11. |
| | |
| --- | --- |
| | Heading underneath Interstate 69 along Indiana 8 in Auburn, an older sign designates the highway as both Interstate 69 and U.S. 27. Interstate 69 supplanted U.S. 27 as the main route from Fort Wayne north to Auburn, Angola, Coldwater and Lansing, Michigan. For a while the two were cosigned along the entire drive between Fort Wayne and Lansing. This ended in 2002 when MDOT and INDOT successfully petitioned AASHTO for a truncation of U.S. 27 north of Lansing and an extension of U.S. 127 north from Lansing to Grayling over former U.S. 27 in 2002. Photo taken 02/06/12. |
| | |
| --- | --- |
| | |
| | Looking west at the ramp from the toll booth off of the Indiana Toll Road (Interstates 80 & 90) near Fremont in Steuben County. Lansing is the northbound control city while Fort Wayne is the one for southbound traffic. A missing space on the left sign indicates a missing US 27 from the time that that highway was routed north from Fort Wayne prior to 2002. Indiana 120 is also reached via the ramp prior to it reaching southbound Interstate 69. Photo taken 02/06/12. |
| | |
| --- | --- |
| | Baker Road angles southwest from Michigan to become Lake George Road at the northernmost interchange of Interstate 69 in Indiana. A U.S. 27 shield once lined up beside I-69 on this overhead. Photo taken 11/06/11. |
| | |
| --- | --- |
| | Travelers turn onto Interstate 69 southbound from Lake George Road west for a one half mile drive to the Indiana Toll Road and 42 miles to Interstate 469 at Fort Wayne. An Emergency Detour route for Interstate 69 follows Lake George Road west to Old US-27. Photo taken 11/06/11. |
Sources:
More Miles, New Numbers. http://www.buildi69.com/?p=1685 Build I-69, project web site. July 25, 2012
Photo Credits:
10/16/04 by AARoads.
11/06/11 by AARoads.
11/07/11 by AARoads.
02/06/12 by Thomas Decker.
11/21/12 by Thomas Decker.
04/14/13 by Thomas Decker.
01/01/16 by Thomas Decker.
01/02/16 by Thomas Decker.
Connect with:
Interstate 64
Interstate 80
Interstate 90
Interstate 465
Interstate 469
U.S. 24
U.S. 30
U.S. 50
State Road 3
State Road 37
Page Updated 05-10-2020.