U.S. 92 generally parallels Interstate 4 between the Tampa Bay Area and Daytona Beach via Plant City, Lakeland, Osceola County, Orlando, Sanford and DeLand. Crossing the Florida peninsula in a southwest to northeast direction, U.S. 92 follows several state roads along its route:

SR 687 from St. Petersburg city hall (SR 595) north to the intersection with SR 686 and SR 694
SR 600 from that intersection in St. Petersburg east to Lakeland, including mileage along the Gandy Bridge, Dale Mabry Highway and Hillsborough Avenue in Hillsborough County.
A brief deviation from SR 600 occurs in Lakeland, where U.S. 92 follows SR 517 north and SR 546 (Lake Parker Boulevard / Memorial Parkway) east. SR 600 (George Jenkins Boulevard) through Lakeland was previously designated as U.S. 92 Business.
SR 600 resumes as the counterpart to U.S. 92 from east Lakeland (SR 546) to U.S. 441 in Kissimmee.
SR 500 and 600 travel jointly from U.S. 441 in Kissimmee north to Orlando, where U.S. 17-92 split from U.S. 441
SR 15 and 600 then head north from U.S. 441 in Orlando to DeLand along the U.S. 17-92 overlap
SR 600 from DeLand east to Daytona Beach - a distance of 23.132 miles in Volusia County.
U.S. 92 Florida Guides
U.S. 92 spends approximately two-fifths of its route merged with U.S. 17. The two highways share pavement between Lake Alfred and DeLand. Parts of the route through Orange County are known as the Orange Blossom Trail. Both U.S. 92 and its sole "child" route, U.S. 192, are located entirely within the state of Florida and are less than 300 miles long, so under the guidelines set forth by the American Association of Highway and Transportation Organizations (AASHTO), U.S. 92 and U.S. 192 should have been decommissioned. However, given the geography of the Florida peninsula, an exception seems warranted in order to allow east-west U.S. routes to serve the area.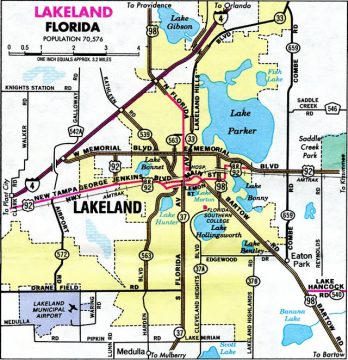 US-Highways.com indicated that the lone business route for U.S. 92 along Florida 600 was decommissioned in 1998, but many maps continued to acknowledge this urban route through the 2000s.
Gandy Bridge
The Gandy Bridge was the longest automobile bridge in the world when it first opened on November 20, 1924. The vision of Tampa businessman George "Dad" Gandy, who sought an easier link to St. Petersburg to improve area business, led to its construction. When it opened, the driving distance between Tampa and St. Petersburg dropped from 42 to 19 miles.1
The original two-lane Gandy Bridge was tolled until 1944, when the federal government paid $2.4 million to the bridge management company in an effort to help the war. The 1924-span remained in service until 1956, when a new bridge opened to replace it. A second span was added by 1976 for eastbound traffic, doubling the capacity between St. Petersburg and South Tampa.1 Deterioration of the westbound 1956-bridge led to the construction of its replacement in 1994 as part of a $31.2-million bridge improvement project.2 The 2.6-mile span opened on December 21, 1996 at a height of nine feet above its precedesser.1 The 1956 bridge was then closed to vehicular traffic and later reopened as the Friendship Trail for pedestrians and bicyclists. Dangerous deterioration due to steel corrosion of support elements led to its permanent closure on November 6, 2008.3
| | |
| --- | --- |
| | scenes |
| | |
| --- | --- |
| | Standing on the Friendship Trail bridge, the repurposed 1956-built roadway bridge for U.S. 92 across Tampa and Old Tampa Bays. This span was retained as a popular walking / pedestrian path from 1999 to 2008, when it closed due to structural damage, age and increasing upkeep costs. The bridge was subsequently demolished. Photo taken 11/20/03. |
| | |
| --- | --- |
| | Looking at the 1996-built westbound Gandy Bridge for U.S. 92 and the former Friendship Trail bridge from the eastern shore of Tampa Bay. Photo taken 11/20/03. |
| | |
| --- | --- |
| | Prior to 2018, U.S. 17/92 followed Seminole Boulevard directly along side Lake Monroe for three miles between French Avenue in Sanford and I-4. The two-lane highway is part of the River of Lakes Heritage Scenic Highway, a 120-mile system of roads extending northward to Putnam County and the St. Johns River.4 Photos taken 09/03/17. |
| | |
| --- | --- |
| | The entrance to Central Florida Zoo & Botanical Gardens ties into Seminole Boulevard (former U.S. 17/92) just to the east of I-4 in a wooded area. Photo taken 09/03/17. |
| | |
| --- | --- |
| | U.S. 17/92 converged with the north end of County Road 15 (Monroe Road) at a three-quarter cloverleaf interchange with I-4 adjacent to the St. Johns River. Photo taken 09/03/17. |
| | |
| --- | --- |
| | County Road 15 (Monroe Road) connected U.S. 17/92 with the eastbound on-ramp to Interstate 4. U.S. 17/92 overtook CR 15 along the five-lane boulevard south to SR 46 east in 2018. Photo taken 09/03/17. |
Sources:
"Bridges." Bayciti - Tampa Bay Urban Blog. Cozart, Justin, October 26, 2004. August 27, 2015.
"Gandy is dandy." St. Petersburg Times, December 22, 1996.
"Treasured Tampa Bay Link Shut." St. Petersburg Times, November 7, 2008.
River of Lakes Heritage Scenic Highway. City of Sanford web site.
Photo Credits:
11/20/03 by Justin Cozart. 09/03/17 by AARoads.
Connect with:
Interstate 4
Interstate 95
Interstate 275
U.S. 1
U.S. 17
U.S. 27
U.S. 41
U.S. 441
State Road 46
State Road 50
State Road 60
State Road 417 - Central Florida GreeneWay / Seminole Expressway
State Road 570 - Polk Parkway
State Road 580
State Road 618 - Lee Roy Selmon Expressway
Page Updated 09-04-2019.