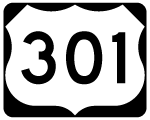 Traveling 270 miles within the Sunshine State, U.S. 301 originates in Downtown Sarasota. A mostly-arterial style route takes the US highway northward through Bradenton, Palmetto and Ellenton, with a U.S. 41 overlap across the Manatee River. Swinging east from Exit 224 of Interstate 75, U.S. 301 becomes a rural two lane road north of Parrish only to gain more suburban frontage from Sun City Center northward to Riverview.
Meeting Interstate 75 again at Exit 254, U.S. 301 traverses industrial areas east of Tampa before turning east again from near Temple Terrace to Thonotosassa and Zephyrhills. An overlap with U.S. 98 takes U.S. 301 north through Pasco County to Dade City. U.S. 98 turns west to Brooksville ahead of the Hernando County line as U.S. 301 remains north to Ridge Manor, Bushnell and Wildwood along a mostly rural route.
U.S. 27 & 441 combine with U.S. 301 at Belleview for an overlap into Downtown Ocala. There U.S. 27 turns west for Williston and Perry while U.S. 301 remains paired with U.S. 441. North from Ocala, U.S. 301 provides the main route, and a trucking corridor, between Interstate 75 and the Interstate 95 corridor at Jacksonville. As such the route carries four lanes with 65 mile per hour speed limits in rural areas.
Florida State Road 24 ties into U.S. 301 from Gainesville at Waldo. Waldo is the first of three towns along U.S. 301 known for their rigid speed enforcement. Starke, in addition to being the Bradford County seat, is also where traffic congestion increases along U.S. 301, especially southbound. A limited access bypass is proposed to take U.S. 301 west of Starke in the near future. Lawtey, seven miles to the north, rounds out the rigid speed enforcement ahead of a rural and straight stretch of U.S. 301 into Duval County (Jacksonville) and the town of Baldwin.
Baldwin lies at the cross roads of U.S. 90 and 301 and two railroad corridors. The town includes a large railroad yard and several truck stops. The dog leg U.S. 301 takes along side U.S. 90 creates issues with turning trucks, so a bypass is planned to take the route northward to avoid the overlap with U.S. 90. This new alignment, currently slated as SR 201, will tie into existing U.S. 301 leading northeast to Callahan and U.S. 1 & 23. This stretch is expanded to four lanes, to compliment the four-lane portion of U.S. 1-23-301 northwest to Hilliard and Folkston, Georgia.
U.S. 301 Florida Guides
Starke Bypass
A 7.3 mile long limited access bypass of Starke will provide congestion relief for U.S. 301 travelers through the Bradford County seat. Ground broke on the $90 million project in July 2017. Garnering the most public support of options considered to improve traffic, origins of the project dated back to the 1990s. The bypass runs from CR 227 to CR 233 and interchanges connect the four lane highway with SR 100 and SR 16.1 Expected to open by late Spring 2019, the expressway will be designated U.S. 301 Alternate.
State Roads of U.S. 301
State Road 683
SR 683 overlays U.S. 301 north from Sarasota to the overlap with U.S. 41 at Bradenton
State Road 55
U.S. 301 combines with U.S. 41 north through Bradenton to Palmetto, with SR 55 acting as the state designation.
State Road 43
SR 43 carries U.S. 301 north through Ellenton to a point just south of Interstate 4 and U.S. 92.
State Road 41
SR 41 continues U.S. 301 north from I-4 to SR 39 at Zephyrhills
State Road 39
SR 39 joins U.S. 301 northward as a hidden route from Zephyrhills to U.S. 98.
State Road 700
The overlap with U.S. 98 through Pasco and Hernando Counties includes SR 700.
State Road 35
SR 35 commences along side both U.S. 98 & SR 700 from Clinton Heights northward for U.S. 301.
State Road 533
SR 35 and 700 followed the U.S. 98 & 301 Business loop through Dade City until its decertification in 2006. The mainline bypass to the east remains SR 533 with a gap in both SR 35 and 700.
State Road 25
Where U.S. 301 joins U.S. 27 and 441 at Belleview, SR 35 emerges as its own route, with SR 25 taking over along side SR 500 northward into Ocala.
State Road 500
SR 500 is the counterpart to U.S. 27 through Marion County, following U.S. 301 and 441 between Belleview and Ocala.
State Road 200
State Road 200 joins U.S. 301 as its hidden route in Ocala, overlaying the highway northward to Callahan.
State Road 10
SR 10 follows U.S. 301 briefly through Baldwin as the counterpart to U.S. 90.
State Road 15
SR 15 represents U.S. 301 along side U.S. 1 & 23 from Callahan north to the Georgia state line at Boulogne.
| | |
| --- | --- |
| | U.S. 301 turns due north from outside Coleman to enter the city limits of Wildwood. Here U.S. 301 northbound approaches Florida's Turnpike (SR 91), which was marked with an older shield with a slightly off representation of the state of Florida. The Turnpike extends north to Interstate 75 nearby and south to Orlando. Photo taken 11/18/03. |
| | |
| --- | --- |
| | In Sumterville (in Sumter County), southbound U.S. 301 meets SR 471. U.S. 301 continues south toward Bushnell and the Tampa Bay Area, while SR 471 travels due south toward Lakeland in Polk County. Photo taken 11/18/03. |
| | |
| --- | --- |
| | Pasco County Road 578 (Lock Street) concludes at U.S. 98 & 301 in Dade City. A pair of county-installed colored shields remained in use here until 2006. Photo taken 11/23/03. |
| | |
| --- | --- |
| | Sumter County Road 656 intersects U.S. 301 at Croom A Coochee, just north of the Hernando County line. Photo taken 02/09/14. |
Sources:
"Faster path to the coast: Starke bypass project begins." Gainesville Sun (FL), July 22, 2017.
Photo Credits:
11/18/03 by Justin Cozart.
11/23/03 by Justin Cozart.
02/09/14 by AARoads.
Connect with:
Interstate 4
Interstate 10
Interstate 75
Florida's Turnpike
U.S. 27
U.S. 41
U.S. 98
U.S. 441
State Road 50
State Road 582 - Fowler Avenue
Page Updated 05-16-2019.