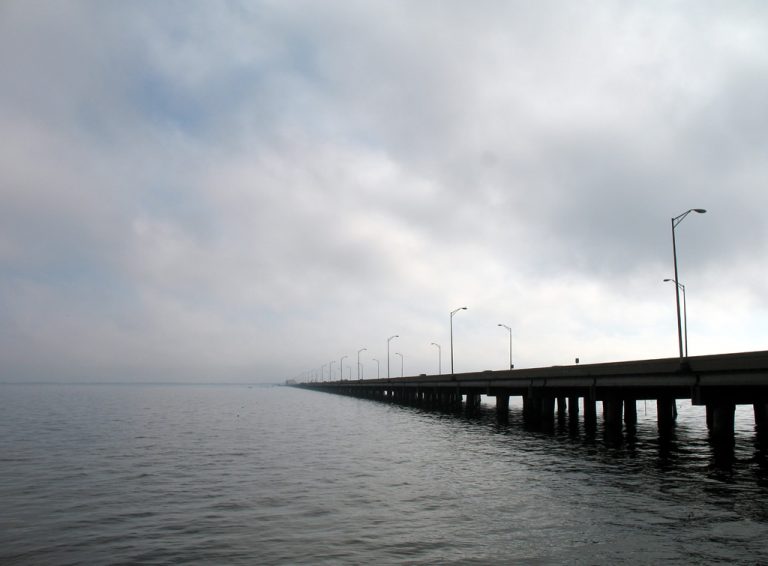 U.S. 98 travels across the width of Florida, from the Alabama state line at Perdido Bay to SR A1A at Palm Beach along the Treasure Coast. Through the Panhandle, U.S. 98 constitutes the main route along the Emerald Coast, joining coastal cities and military installations east from Pensacola to Port St. Joe. U.S. 98 turns south from the Big Bend to the Nature Coast alongside U.S. 19.
U.S. 98 crosses the Florida Peninsula from Brooksville southeast to Lakeland, Bartow, Avon Park and Okeechobee. Circling the east side of Lake Okeechobee with U.S. 441, U.S. 98 enters Palm Beach County. The eastern leg bee lines from Belle Glade to West Palm Beach.
U.S. 98 Florida Guides
Prior to 1952, U.S. 98 was an intrastate highway, traveling only between Pensacola and Apalachicola. The route was extended southward to Palm Beach in 1955 and west to Mobile, Alabama and Natchez, Mississippi.2 U.S. 98 is signed as an east-west route both from the Alabama line to Perry, and southeast from SR 76 at Port Mayaca. U.S. 98 between Okeechobee County and Taylor County is posted with north-south cardinal direction banners.
Within Northwest Florida, U.S. 98 joins Pensacola with Baldwin County, Alabama to the west and Gulf Breeze and Navarre to the east. This stretch includes the Pensacola Bay Bridge, where a $427 million project underway through mid-2021 Spring 2022 Fall 2022 constructs two new spans for U.S. 98 between Bayou Texar in Pensacola and Butcherpen Cove at Gulf Breeze. Work on the new eastbound bridge started in 2017. It opened to two-way traffic on September 8, 2019, at which time the 1960 span permanently closed. Demolition work ensued for the old span to make way for construction of the eventual westbound crossing.
The Pensacola Bay Bridge sustained heavy damage due to Hurricane Sally, which made landfall on September 16, 2020 with 105 MPH sustained winds at Gulf Shores, Alabama. 22 of the barges used for the equipment and construction of the new Pensacola Bay Bridges came loose during the storm, some of which collided with the completed span. Significant damage occurred and five of the spans needed replacement, with two others requiring partial replacing.3 The Pensacola Bay Bridge remained closed while repair work continued. Four lanes of traffic was restored on June 17, 2021.
U.S. 98 straddles the Gulf of Mexico from Fort Walton Beach to Destin and Panama City Beach. Encircling Panama City east from the Hathaway Bridge, U.S. 98 turns south into Tyndall Air Force Base en route to the Forgotten Coast.
U.S. 98 runs directly along portions of the Gulf of Mexico, Apalachicola Bay and Saint George Sound through Gulf and Franklin Counties. Mirroring the coast line, U.S. 98 heads northward from Carrabelle to Wakulla County, passing well south of Tallahassee en route to Perry.
U.S. 98 combines with U.S. 19 and U.S. 27 Alternate south from Perry along a four lane corridor though the Nature Coast. The rural highway connects with Cross City, Old Town and Chiefland, where U.S. 27 Alternate branches east toward Williston. U.S. 19/98 remain paired southward across Levy County to Inglis.
Crossing into Citrus County, U.S. 19/98 travel through developed areas of Crystal River and Homosassa Springs. The two partition at Sugarwood Mills, just north of the Hernando County line. U.S. 98 angles southeast to Brooksville while U.S. 19 stays closer to the coast to Spring Hill.
U.S. 98 combines with U.S. 41 through Downtown Brooksville, and with SR 50 east to Ridge Manor in Hernando County. Part of a stair stepped route across the Florida Peninsula, U.S. 98 turns south and merges with U.S. 301 through Dade City in eastern Pasco County, before heading eastward again into Lakeland.
U.S. 98 joins U.S. 17 south from Bartow and SR 60 to Fort Meade. An independent segment leads the highway east from U.S. 17 to West Frostproof, where U.S. 98 combines with U.S. 27 south to Avon Park and Sebring. U.S. 98 turns east again along the north side of Lake Istokpoga along a rural course to Lorida, Basinger and Okeechobee.
U.S. 98 overlaps with U.S. 441 around the east periphery of Lake Okeechobee between the city of Okeechobee and Belle Glade. U.S. 98 previously separated from U.S. 441 at Canal Point, angling southeast along SR 700. The route was realigned due to poor pavement conditions and the narrow right of way along State Road 700.
Heading east into urban areas of Palm Beach County, U.S. 98 travels to Wellington, Royal Palm Beach and along Southern Boulevard across West Palm Beach. Southern Boulevard is an expressway from the east split with U.S. 441 at SR 7 to Interstate 95 near Palm Beach International Airport (PBI). The eastern extent constitutes an urban boulevard to Lake Worth and a causeway system to SR A1A in Palm Beach. Construction from April 2017 to early 2022 replaces the Intracoastal Waterway draw bridge and widens the causeway across Lake Worth.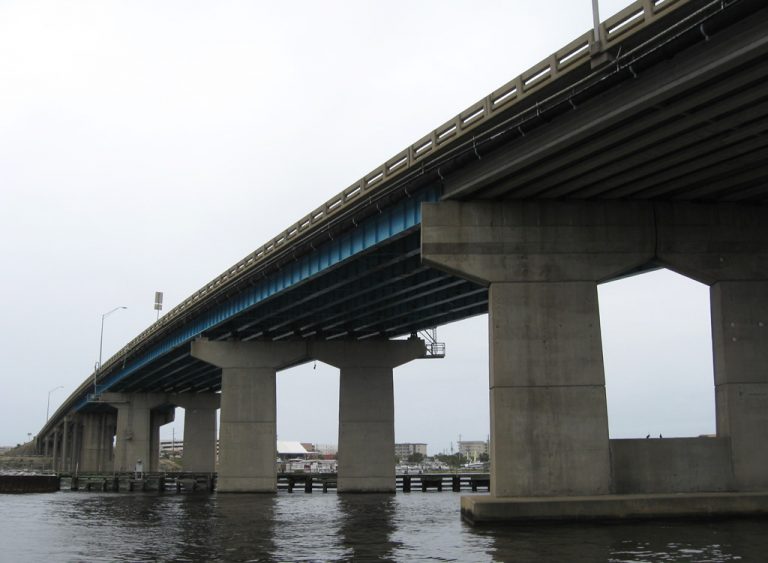 U.S. 98 Auxiliary Routes
Alternate - Panama City Beach: decommissioned in 2006, signed now as SR 30 / CR 30.
Business - Dade City: decommissioned in 2006, now locally maintained and unnumbered.
U.S. 98 State Roads
State Road 298
SR 298 from the Alabama state line to Escambia County Road 297
State Road 30
SR 30 from SR 298 / CR 297 to SR 292
State Road 292
Signed overlap with SR 292 on Pace Boulevard west of Pensacola.
State Road 10A
SR 10A carries both U.S. 90/98 along Cervantes Street in Pensacola.
State Road 289
SR 289 is the unsigned counterpart of U.S. 98 along Ninth Avenue in Pensacola.
State Road 30A
Back Beach Road through Panama City Beach, and around Panama City.
State Road 61
SR 61 joins SR 30 between Ochlockonee Bay and Medart.
State Road 55
SR 55 carries the overlap of U.S. 19/98 from Perry south to Homosassa Springs. Small segments of SR 500 exist alongside SR 55 in Fanning Springs
State Road 700
SR 700 from Homosassa Springs southeast to Canal Point
State Road 50A
SR 50A joins SR 700 and SR 45 (when overlapped with U.S. 41) through Brooksville.
State Road 50
SR 50 is the signed counterpart of U.S. 98 from Brooksville east to Ridge Manor.
State Road 35
SR 35 joins U.S. 98 from Lacoochee southeast to Fort Meade with the exceptions of the Dade City bypass (SR 533), the realignment at downtown Lakeland (SR 548), and a segment of the Bartow bypass (SR 555).
State Road 25
SR 25 joins U.S. 98 along the U.S. 27 overlap (Frostproof to DeSoto City).
State Road 70
SR 70 sees a signed overlap with U.S. 98 along NW Park Street in Okeechobee.
State Road 15
SR 15 doubles with U.S. 441 along the overlap from Okeechobee to State Road 80 at Runyon.
State Road 80
State Road 80 is the signed overlap for all of U.S. 98 east of SR 15 in Palm Beach County.
| | |
| --- | --- |
| | scenes |
3 photos

3 photos

3 photos

Views of the Perdido Bay crossing of U.S. 98 taken from Cummings Point. The 1981-built span connects Lillian, Alabama with Paradise Beach, Florida. Ending at the state line is State Road 30 from the east and Alabama 42 from the west. 12/21/03
| | |
| --- | --- |
| | Standing at the interection of Shoreline Drive east with McAbee Court, this shield was the last of the colored-era signs for U.S. 98 posted in both Escambia and Santa Rosa Counties. Shoreline Drive was originally a part of SR 30A, a loop road in conjunction with Fairpoint Drive, west of U.S. 98 in Gulf Breeze. 2005 reconstruction of the Shoreline Drive intersection with McAbee Court and an extension of Daniel Drive resulted in the removal of this sign. Shoreline Drive still connects to U.S. 98 eastbound; motorists bound for U.S. 98 west are directed onto Daniel Drive north. 06/23/01 |
| | |
| --- | --- |
| | City-installed U.S. 98 trailblazer posted on Brooks Street east at Perry Avenue north in Downtown Fort Walton Beach. Brooks Street represents the historic alignment of U.S. 98 by Fort Walton Landing Park, one block south of Miracle Strip Parkway. Perry Avenue connects the local street with U.S. 98 at SR 145 north. 04/24/09 |
| | |
| --- | --- |
| | Looking at the Brooks Bridge from the Fort Walton side of the Intracoastal Waterway. 04/19/09 |
| | |
| --- | --- |
| | Moylan Road (former County Road 30B) north at U.S. 98 (Panama City Beach Parkway) in Bay County. Traffic lights were added at this intersection by 2011. 12/18/08 |
2 photos

2 photos

Apalachee Street south connects Apalachicola Regional Airport (AAF) with U.S. 98 west of the city of Apalachicola. 06/27/09
| | |
| --- | --- |
| | Airport Road east at U.S. 98 in the city of Carrabelle. This short access road leads west to Carrabelle-Thompson Airport (X13). 06/27/09 |
2 photos

2 photos

Yontz Road west at U.S. 98 (Ponce de Leon Boulevard) at North Brooksville in Hernando County. 10/23/19
| | |
| --- | --- |
| | Crystal Lake Drive east at U.S. 98 (Bartow Road) in Lakeland. 07/02/19 |
2 photos

2 photos

Broadway Avenue in the city of Bartow heads north from Main Street and the Polk County Courthouse to become a part of U.S. 98 north of SR 60 (Van Fleet Drive). 03/26/19
| | |
| --- | --- |
| | U.S. 98 combines with SR 60 (Van Fleet Drive) east from Broadway Avenue for 0.6 mile as part of a bypass of Downtown Bartow. 03/26/19 |
2 photos

2 photos

SR 60 (Van Fleet Drive) runs west from U.S. 98 in Bartow to Mulberry and east to Winter Haven. U.S. 98 heads northwest to Highland City, SR 570 (Polk Parkway) at Eaton Park and the city of Lakeland. 03/26/19
Sources:
"Pensacola Bay Bridge rubble forms new artificial reef near Pensacola Pass." Pensacola News Journal (FL), October 10, 2019.
End of US highway 98. - US Ends.com
"Demolitions begin at Pensacola Bay Bridge as FDOT looks to wrap up inspection." Pensacola News Journal (FL), September 28, 2020.
Photo Credits:
06/23/01 by AARoads.
12/21/03 by AARoads.
12/18/08 by AARoads.
04/19/09 by AARoads.
04/24/09 by AARoads.
06/27/09 by AARoads.
03/26/19 by AARoads.
07/02/19 by AARoads and JP Nasiatka.
10/23/19 by AARoads and JP Nasiatka.
Connect with:
Interstate 4
Interstate 75
Interstate 95
Interstate 110
U.S. 19
U.S. 27
U.S. 29
U.S. 41
U.S. 90
U.S. 129
U.S. 221
U.S. 231
U.S. 301
U.S. 319
U.S. 331
U.S. 441
State Road 50
State Road 60
State Road 80
Page Updated 03-05-2022.