Savannah is one of the oldest cities in the Southeastern United States with a rich history. Boasting over 1,100 historical buildings, the seat of Chatham County lies along the Savannah River within the Gold Coast region of Georgia. With an economic base in industry, tourism, shipping and the Port of Savannah, Savannah is the economic center of southern Georgia. Profiled here are the important roads serving the metropolitan area including freeways, arterials and numbered routes.
Savannah was discovered by English General James Edward Oglethorpe in 1733. Oglethorpe landed his craft along the Savannah River in February of that year and claimed the land as England's 13th colony. He named the land Georgia after King George II of England.
Savannah was the first city established in Georgia. Oglethorpe planned it with a grid of wide streets complimented by 24 public squares and parks. The squares and other public land would act as meeting places for residents and merchants.
45 years later Savannah was seized by the British during the American Revolution. The occupancy lasted four years, between 1778 and 1782, withstanding a failed liberation attempt by American and French forces in 1779. After the war's end, Savannah prospered as an agricultural center with rice and cotton representing the staple crops. Reflecting the economic prominence of area residents as farming increased, beautiful Victorian homes rose across the city. Trade bloomed as well with the invention of the cotton gin, further anchoring Savannah's port as a commercial hub.
Misfortunes could not avoided in Savannah however. Major fires leveled portions of the city in 1796 and 1820, and Savannah again faced challenges in the years leading up to the Civil War. Trade blockades and other setbacks eventually sent the city economy into a downward spiral. When the Civil War finally broke out, nearby Fort Pulaski was captured in 1862 and by 1864 General William Sherman, and his conquering rampage of destruction, arrived in Savannah. Residents of the city evacuated before his appearance, sparing Savannah the fiery fate that had previously leveled Atlanta. Sherman instead fell in love with the city and spared it any harm. He presented it to President Abraham Lincoln as a gift on December 22, 1864, heralding the end of the Civil War for Savannah.
A slow rebuilding effort and resettling of Savannah ensued in the years following the Civil War. Cotton again emerged as the agricultural staple for the city and the port thrived with exports of rosin and lumber. African American slaves freed by the Civil War also settled in the city, establishing churches, schools and neighborhoods. Things improved through to World War I and the Great Depression with its economic hardship.
After World War II, Savannah reinvented itself as a historical city while shunning many urban renewal concepts. Thanks to the efforts of the Historic Savannah Foundation and other community groups, the modernistic architectural movement prevalent among many American cities at the time never took its full course in Savannah. The foundation aided Savannah's Historic District in obtaining National Historic Landmark status in 1966.
Nowadays Savannah continues to capitalize on its history in the form of tourism. People visit the city from around the world to see Savannah's architecture, Victorian-style houses, ornate ironworks, the shady squares, and the many fountains that dot the city.1 Additionally the St. Patricks Day Celebration held each year is one of the largest in the U.S.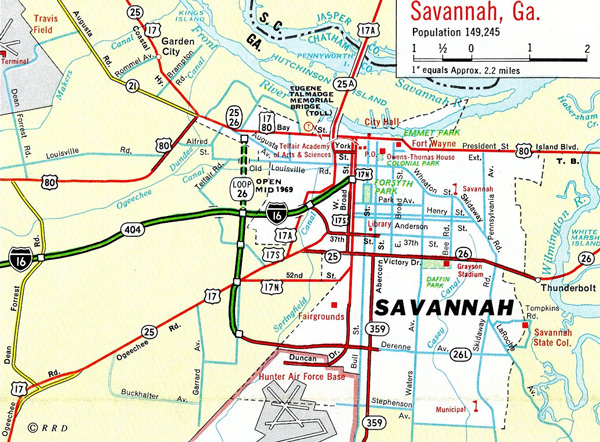 Interstate 16 – James Gillis Savannah Parkway
Interstate 16 comprises a 165.71 mile long route between Downtown Macon and Downtown Savannah. The freeway is vastly rural outside of the two urban centers, but represents an important freight corridor between Atlanta and the Port of Savannah. Within Chatham County, I-16 serves the expanding western suburbs of Bloomingdale and Pooler while also providing a feeder route into the central business district from I-95, Savannah / Hilton Head International Airport (SAV) and I-516 (W.F. Lynes Parkway).
Plans for a high speed route connecting Savannah with Macon, and subsequently Atlanta, commenced in November 1957 with dialogue between Savannah, Chatham County and state officials. The route of Interstate 16 was established in 1960, and within Savannah, the eastern terminus would tie into West Broad Street where Union State was located.2
Community and business opposition arose along West Broad Street, which lied in the path of the planned Interstate 16. Merchants advocated having I-16 enter the city at West Gwinnett Street, reducing its impact to Union Station and the surrounding area. Nonetheless, the state proceeded with plans to raze the station, and right of way acquisition was underway between 1961 and 1963. Construction broke ground at the site of the old station on September 18, 1963.2
At the urging of merchants and local citizens, Savannah city council decided to convert Montgomery Street into a one way street flowing northbound from Jones Street to Bay Street in 1967. The eastern 28 miles of Interstate 16, including all of the freeway in Chatham County, opened to traffic on November 24, 1967. A ribbon cutting ceremony took place at the Montgomery Street ramp as part of the 1967 Coastal Empire Christmas Parade ceremonies.2
Expansion of the freeway between I-95 and I-516 will add a general purpose lane in each direction of Interstate 16. The cloverleaf joining I-16 and I-95 will be rebuilt into a partial turbine interchange, with high speed ramps linking I-95 north with I-16 west and from I-95 south with I-16 east. This will eliminate weaving traffic patterns at the exchange. Work on the $150-200 million project will run for three years starting in 2019.3
A separate project under consideration is the removal of the flyover ramp (Earl T. Shinhoster Bridge) connecting the east end of Interstate 16 with Montgomery Street to the west of Downtown Savannah. The proposal would take out the ramps extending northeast from U.S. 17 and SR 404 Spur and replace them with new surface streets connecting with West Boundary Street and Gwinnett Street. See the I-16 Ramp Removal Study web site for more details.
Interstate 516 – William F. Lynes Parkway
SR 26 Loop was built as a freeway bypass for Savannah during the 1960s between Garden City and DeRenne Avenue in Midtown Savannah. The designation related to SR 26, the co-signed route with U.S. 80 from Macon east to Tybee Island.
The four lane freeway is named after William F. Lynes, Jr. a former Chatham County Commission Chairman and supporter of I-16 construction in the 1960s.2 SR 21 joined the Savannah Bypass in 1979, accompanying the entire route southeast from Garden City to DeRenne Avenue and SR 204 (Abercorn Street) in Midtown Savannah.
Interstate 516 was signed in place of SR 26 Loop on W.F. Lynes Parkway in 1985. The urban freeway spur connects Garden City, Port Wentworth, Midtown Savannah and Hunter Army Airfield.
Exit numbers along I-516 count upward from east to west, contrary to normal the standard numbering convetion. Interchanges were renumbered during the 1999 statewide change from a sequential to a mileage based system.
Proposed construction at the east end of Interstate 516 addresses perennial congestion along DeRenne Avenue (SR 21) at Montgomery Street, White Bluff Road and SR 204 (Abercorn Street). Improvements outlined include an extension of the freeway southeast to a new interchange with Montgomery and Hampstead Streets. Additional work will redesign Hampstead Street east to White Bluff Road as a new boulevard, and add a flyover for I-516 above the current roadway linking with DeRenne Avenue east to Montgomery Street. The preliminary design of Project DeRenne remained under environmental review as of 2017 (Phase III). A Draft Environmental Impact Statement was prepared in 2020.
A $2.1 million project by the Georgia Department of Transportation thinned the tree and brush overgrowth along the Interstate 516 right of way to improve sight distances and reduce potential impacts of errant vehicles leaving the roadway. The work got underway on April 24, 2017.4
Interstate 95 – Tom Gordon Highway
Staying well west of the Savannah city center, Interstate 95 serves the growing western suburbs of Richmond Hill in Bryan County and annexed areas of both Savannah and Pooler in western Chatham County. The freeway mostly serves regional traffic, interests to Savannah / Hilton Head International Airport (SAV) and freight traffic north from the Port of Savannah.
Veterans Parkway, in conjunction with SR 204 (Abercorn Street Extension), SR 21 (Augusta Road), and I-16 provide the most direct routes to Savannah from Interstate 95. Suburban development encroaches on all four quadrants at the exchange joining I-16/95.
All of Interstate 95 in Georgia was completed by December of 1977. The freeway through Chatham County was expanded to six lanes as part of a state wide effort starting in 1993.
The congested interchange joining I-95 with SR 21 at Port Wentworth was redesigned into a diverging diamond interchange (DDI). Fully opening to traffic on January 15, 2017, the $6 million exchange took seven months of construction to complete.5
Originally named the Casey Canal Parkway for the canal it parallels, Truman Parkway constitutes a limited access highway through the east side of Savannah. Beginning at President Street outside Downtown, the freeway meanders southward to U.S. 80 (Victory Drive), DeRenne Avenue, Eisenhower Boulevard, and Montgomery Cross Road within the city limits.
Truman Parkway was extended south from Montgomery Cross Road to Whitefield Avenue (former SR 204SP) on September 22, 2005. The remainder of the route west across the Vernon River into Southside Savannah was completed to SR 204 (Abercorn Street Extension) on March 14, 2014.
Early discussion for Casey Canal Parkway started in the 1950s, with possible alignments looping as far southeast as Skidaway Island. Plans in the 1980s called for an at-grade alignment through eastern portions of the Savannah. However at the urging of local residents, the project was revised as a limited access highway. Construction commenced in April 1990.
Like Truman Parkway, Veterans Parkway is also an unnumbered limited access highway maintained by Chatham Parkway. Named the Southwest Bypass until 1999, Veterans Parkway provides a high speed route between SR 204 (Abercorn Street Extension) and Interstate 516 (W.F. Lynes Parkway) to the west of Hunter Army Airfield. The 6.82 mile long route, coupled with Interstate 95, provides a fast route to Richmond Hill and points south.
Veterans Parkway opened as the Southwest Bypass on November 22, 1995 at a cost of $40 million.6 The south end at SR 204 was upgraded from an at-grade intersection to a trumpet interchange as part of a $29.5 million project started in March 13, 2000. The new ramps opened to traffic on October 23, 2002.7