Interstate 15 is a major route that travels from the Southwest into the Intermountain West, connecting San Diego and Los Angeles to Las Vegas, St. George, Provo, Salt Lake City, Pocatello, Idaho Falls, Butte, and Great Falls. Interstate 15 replaced Former U.S. 91 almost in its entirety, although a short stretch of U.S. 91 remains in eastern Idaho and northern Utah.
Tolled Express Lanes accompany Interstate 15 north from the merge with SR 163 by MCAS Miramar to SR 78 at San Marcos and Escondido. The 20 mile system is free of charge for carpools, motorcycles, public transit vehicles and permitted clean air vehicles. Single occupant vehicles can use the Express Lanes for electronically collected tolls with a FasTrak transponder. Toll rates vary depending upon traffic flow.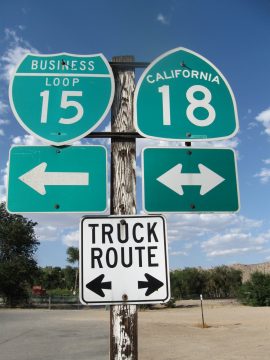 Business Loops
There are five business routes for Interstate 15 in California:
I-15 Express Lanes
Interstate 15 has experienced the most traffic growth of any freeway in San Diego County. Fast-paced growth and a North San Diego County housing boom fueled traffic count increases along this highway, causing many to reconsider purchasing a home along the Interstate 15 corridor. Explosive development planned in 1998 included 12,800 houses planned in the Interstate 15 corridor, including Black Mountain Ranch (5,400), Torrey Highlands Ranch (2,693), and Pacific Highlands Ranch (4,974). Black Mountain Ranch made the news during the Fall 1998 campaign. Two local propositions, K and M, were approved by the electorate. These propositions opened parts of the City of San Diego's future urbanizing areas for development. One of the tenets of this agreement included Black Mountain Ranch paying for highway improvements, including along I-15 and California 56. With several hundred additional homes planned in Spring 2001, the Rancho Encantada development further advanced discussion of the impact of new housing against the existing highway infrastructure.
In 1988, Interstate 15 saw only about 196,000 cars per day. Counts over the intervening years rose to 281,000 cars per day, with the busiest section located between California 163 and Miramar Way. Analyst projections in the early 2000s estimated that I-15 will carry upwards of 330,000 vehicles, a 17% increase. Much of this traffic was due to new housing developments and the lack of major surface arterials that carry north-south traffic.
The need to improve Interstate 15 through this corridor did not go unnoticed at the state level. Governor Gray Davis' traffic relief plan, released May 3, 2001, allocated $5.5 million to a high-tech managed lanes concept along Interstate 15 between California 163 and California 78. This initial money funded a study to plan out the managed lanes concept. The total project cost was estimated to be around $535 million in May 2001. The high-tech component included sensors embedded in the concrete to make adjustments to the roadway to facilitate traffic flow.
Short-term solutions to this problem included adding more "auxiliary" lanes to Interstate 15. In some cases, this included restriping shoulders and narrowing lane widths to accommodate more freeway lanes. The auxiliary lanes enhanced traffic flow between freeway entrances and exits, while restriping allowed more lanes to fit in a narrow area, such as across the Lake Hodges bridge.
Some planners pitched the idea of creating a "zipper" system for Interstate 15. Under this plan, the freeway would be widened for southbound traffic in the morning and for northbound traffic in the evening. The three to four center lanes would be adjusted to accommodate traffic flow with a special truck that can move median barriers. Movable barriers were eventually incorporated along a 16 mile section of the I-15 Express Lanes, with three lanes allocated for southbound during the morning hours Monday through Thursdays. The Express Lanes operate with two lanes in each direction otherwise, with barriers relocated between 10:30 AM and 12:30 PM four days a week.
California State Route 15
Currently, Interstate 15 ends at the systems interchange with Interstate 8 near Qualcomm (Jack Murphy) Stadium. South of that point, the freeway becomes California 15. The stretch between I-8 and I-805 previously included an at-grade city arterial along 40th Street. South of Interstate 805, California 15 is freeway but not yet Interstate standard -- Caltrans is in the process of reconfiguring the California 94 (Martin Luther King Jr. Freeway, Market Street, and Imperial Avenue) interchanges and lane alignment. The state route ends just south of an interchange with Interstate 5 at 32nd Street and Harbor Drive, in the community of Barrio Logan in San Diego.
The 40th Street Corridor Project was on the books since around 1957. Construction of the corridor to Interstate standards finally got underway between 1996 (groundbreaking) and 2000. In 1997, the excavation of the freeway between El Cajon Boulevard (Business Loop I-8) and Interstate 805 began. Support pillars for the future cut and cover, one-block tunnel were erected, and grading began to create an easier grade up the hill from Interstate 8 to El Cajon Boulevard. The objective of the project, according to Caltrans District 11 Director Gary Gallegos, was to ensure that:
the image is one of motorists driving along El Cajon Boulevard, passing business after business, and with the exception of seeing the on and off ramps, never knowing they crossed a freeway.
On January 14, 2000, the freeway's northbound lanes opened to two-way traffic. By Summer 2000, the eight-lane freeway was complete and open to traffic.
Facts about the California 15 Freeway Construction Project, which was completed by the summer of 2000:1
Freeway is 25 feet below the existing ground level.
Widened bridges over the freeway can support several two-story lightweight buildings, with cobblestone features, decorative railings, and street lamps.
Extra-wide sidewalks and sound walls.
Many formerly busy streets, including 40th Street itself, became cul-de-sacs, eliminating all but local residential traffic.
Three community parks, including one on top of the freeway, were built or improved.
Four landscape projects commenced along the freeway even before the final pieces of the construction project were completed.
Almost 1.9 million cubic yards of dirt were moved -- enough to completely fill Qualcomm Stadium three times -- and more than 10 million pounds of steel were used to reinforce 120,000 cubic yards of concrete.
Nearly 12 miles pipe for water, sewer and storm drain facilities all within the 2.2 mile construction area were replaced.
Two pedestrian bridges were constructed: one at Monroe Avenue, leading to Teralta Neighborhood Park, and the other at Landis Street giving access to the YMCA.
New bus pads were constructed at the El Cajon Boulevard and University Avenue interchanges. The pads are a separate lane exclusively for buses at the top of each off ramp providing an egress point from the freeway, allowing passenger pick up and drop offs, and a seamless return to the freeway mainline.
According to Gallegos, about 40,000 vehicles per day used California 15, previously known as 40th Street, before construction of the Escondido Freeway began. Compare that number with the 210,000 motorists per day who use the congested Interstate 805 just a few miles away, many of whom switched to the section of California 15 when it opened in January 2000. This project helped improve traffic flow around the region on I-805, I-8, California 94 as well as in the immediate neighborhood. When completed, the 40th Street corridor (SR 15) became the most expensive freeway (per mile) in San Diego County.
Officially, California 15 remains signed and referred to as a "State Route". Once upgrades at the interchange with California 94 are completed, the California 15 freeway will be evaluated for inclusion into the Interstate highway system. The state route 15 will become Interstate 15 for several reasons:
Original 1968 plans called for Interstate 15 to continue south to the 32nd Street Naval Station in San Diego/Barrio Logan.
Several San Diego Union-Tribune newspaper articles indicate that the 40th Street corridor will become an Interstate highway rather than remain a state route.
California 15 is included in the National Highway System, while some other local California freeways are not.
California 15 between Interstate 5 and Interstate 8 was added as a "non-chargeable" (139b) Interstate highway in 1984.
Gary Gallegos, the former Caltrans District 11 Director, referred to California 15 as Interstate 15.
History
Interstate 15 was preceded by several U.S. and state routes along its route through the Mojave Desert, Inland Empire, and San Diego regions. From the south, Interstate 15 originally was Wabash Boulevard, a city of San Diego-constructed expressway that linked to 40th Street through the urban City Heights neighborhood of San Diego. The story of the City Heights neighborhood had the missing link of Interstate 15 cutting through the heart of that community. Heading into Murphy Canyon, Interstate 15 followed the path of U.S. 395, which was later replaced with California 103 when U.S. 395 was relocated to the California 163 freeway corridor. North of Miramar, Interstate 15 generally follows Old U.S. 395, although U.S. 395 itself had been realigned from its original path onto the current Interstate 15 alignment.
Heading into Riverside County, Interstate 15 replaced U.S. 395 past Temecula into Lake Elsinore, then replaced California 71 from there northwest to Corona. At Corona, Interstate 15 replaced California 31 north into San Bernardino County. Interstate 215, meanwhile, replaced U.S. 395 and portions of U.S. 91 and U.S. 66. North of San Bernardino, Interstate 15 replaced U.S. 66, 91, and 395. Past Adelanto and Hesperia, Interstate 15 replaced Old U.S. 66 and 91. From Barstow northeast to the state line at Primm, Interstate 15 replaced U.S. 91 and U.S. 466.
The following list provides the opening dates to Interstate 15 in California (research provided by C.J. Moon based on records kept at the Caltrans District XI offices). The dates that predate 1964 are estimates and were determined based on older record keeping that was not as precise as the modern record keeping. Most of the pre-1964 segments were constructed as U.S. highways rather than Interstates, and some were initially constructed as expressways that were later upgraded to freeways.
Interstate 5 to Ocean View Boulevard - May 5, 1978
Ocean View Boulevard to California 94 - Circa 1951
California 94 to Interstate 805 - July 16, 1970
Interstate 805 to Camino Del Rio - January 18, 2000
Camino Del Rio to Interstate 8 - October 24, 1985
Interstate 8 to San Diego Mission Road - October 28, 1984
San Diego Mission Road to Aero Drive - May 22, 1981
Aero Drive to Tierrasanta Boulevard - May 6, 1982
Tierrasanta Boulevard to California 163 - May 7, 1985
California 163 to Miramar Road - October, 28, 1982
Miramar Road to Poway Road - April 19, 1978
Poway Road to Camino Del Norte - July 28, 1982
Camino Del Norte to Via Rancho Parkway - January 28, 1981
Via Rancho Parkway to California 78 - March 18, 1977
California 78 to Centre City Parkway - February 28, 1977
Centre City Parkway to one mile south of Deer Springs Road - May 3, 1978
One mile south of Deer Springs Road to Deer Springs Road - October 4, 1979
Deer Springs Road to Old Highway 395 - August 7, 1980
Old Highway 395 to Lilac Road - May 13, 1980
Lilac Road to Pala Mesa Drive - April 14, 1981
Pala Mesa Drive to Mission Road - February 6, 1983
Mission Road to Weigh Station - January 24, 1985
Weigh Station to California 79 - March 23, 1973
California 79 to Murrieta/Temecula City Limit - September 30, 1976
Murrieta/Temecula City Limit to Los Alamos Road - December 23, 1977
Los Alamos Road to Clinton Keith Road - September 26, 1979
Clinton Keith Road to Olive Street - September 4, 1981
Olive Street to one mile north of Main Street - July 8, 1982
One mile north of Main Street to Gavilan Wash - November 7, 1980
Gavilan Wash to Indian Trail Road - May 28, 1980
Indian Trail Road to Glen Ivy Road - September 26, 1979
Glen Ivy Road to El Cerrito Road - December 30, 1975
El Cerrito Road to Magnolia Avenue - December 1, 1975
Magnolia Avenue to California 91 - April 21, 1987
California 91 to California 60 - February 28, 1989
California 60 to Jurupa Avenue - March 23, 1979
Jurupa Avenue to Interstate 10 - February 2, 1978
Interstate 10 to Fourth Street - April 14, 1975
Fourth Street to Ontario/Rancho Cucamonga City Limit - October 1, 1974
Ontario/Rancho Cucamonga City Limit to California 66 - October 30, 1975
California 66 to Sierra Avenue - September 22, 1976
Sierra Avenue to Glen Helen Parkway - December 24, 1975
Glen Helen Parkway to California 138 - November 7, 1969
California 138 to National Forest Boundary - August 3, 1970
National Forest Boundary to Oak Hill Road - August 10, 1966
Oak Hill Road to U.S. 395 - January 12, 1965
U.S. 395 to California 18 west junction - January 3, 1966
California 18 west junction to California 18 east junction - August 4, 1971
California 18 east junction to North Victorville Union Pacific Railroad separation - Circa 1958
North Victorville Union Pacific Railroad separation to Hodge Road - December 22, 1972
Hodge Road to L Street - Circa 1958
L Street to Ghost Town Road - Circa 1961
Ghost Town Road to Field Road - June 9, 1964
Field Road to Basin Road - October 19, 1964
Basin Road to East Baker - October 7, 1965
East Baker to Cima Road - Circa 1961
Cima Road to Nevada state line - Circa 1963
Based on additional map and newspaper article research, the following list provides a brief history of Interstate 15 in the San Diego metropolitan area:

Mid-1950s. U.S. 395 is rural highway for its entire San Diego County length except for Cabrillo Freeway section in Balboa Park. Plans call for the entire route to be upgraded to freeway standards. This includes the Escondido Freeway from Miramar north to Escondido.
1957. In 1957, it is suggested that Interstate 15 be extended south from Colton (near San Bernardino) south to San Diego, with the rationale that such a highway could connect military bases in San Diego with Air Force bases in Riverside and San Bernardino Counties. It is not incorporated in the original Interstate Highway System.
1967. Escondido Freeway complete as far north as Rancho Bernardo Road. California 103 is commissioned along current Interstate 15 south of Miramar Road via Murphy Canyon Road, Ward Road, 40th Street, and Wabash Boulevard.
December 1968. Interstate 15 is extended south to San Diego as part of the Interstate Highway System per the Federal Aid Highway Act of 1968.2 This occurred after intense lobbying from San Diego and other Southern California politicians who would stand to benefit from such a freeway. This original plan has Interstate 15 culminating at the 32nd Street Naval Station (southwest of Interstate 5).
1971. Interstate 15 (Escondido Freeway) complete as far north as Lake Hodges. California 103/future Interstate 15 freeway construction through Murphy Canyon ongoing.
1975. California 15 is fully signed as a continuous route south of Interstate 8 along Ward Road, 40th Street, and Wabash Boulevard. California 15 replaced California 103 in stages between 1971 and 1975.
October 19, 1988. Original reversible express lanes are constructed and opened to traffic on Interstate 15 between California 163 and what is now Ted Williams Parkway and California 56. These lanes were considered high-tech, as the lanes were controlled by computer. These lanes would be integrated into the larger express lanes the opened along this stretch more than 20 years later, in 2011.
1994. Unit One of California 15/40th Street Freeway Project ($7,000,000) was completed.3,4
1995. Upgrade of the interchange between California 15, California 94, and Home Avenue Interchange ($12,000,000) is completed. Additional work is needed to bring this interchange to full Interstate standards, however.
1996. Unit Two of California 15/40th Street Freeway Project ($71,000,000) began. Additionally, SANDAG initiated the Interstate 15 FasTrak Program to collect tolls on the reversible express lanes. This program would continue on the new, 20 mile-long Interstate 15 Express Lanes.
1998-1999. Incremental new stretches of the Interstate 15/40th Street corridor open to traffic. Planned opening of complete freeway scheduled for Summer 2000. Work begins on interchange realignment and reconstruction along California 15 near Market Street and Ocean View; this work is necessary to bring the old Wabash Boulevard freeway to Interstate standards.
January 14, 2000. The northbound lanes of the 40th Street Freeway, signed as California 15, is completed and opened to traffic. Plans call for both northbound and southbound traffic to use the northbound lanes, with two lanes in each direction separated by jersey barrier, until the summer. However, the full freeway does not open until six months after the stated summer goal, in December 2001.
Summer 2000. Traffic on Interstate 15 north of California 163 approaches new heights in average vehicles per day. Congestion is standard on the freeway during rush hours, even in the section supported by the dedicated high occupancy vehicle lanes. More car pool lanes, along with additional regular lanes, are considered by Caltrans and SANDAG while trying to improve travel times along this corridor.
December 5, 2000. In the 40th Street Corridor, the full freeway has still not opened. The four new southbound lanes were opened in early December between Adams Avenue and Landis Street, but two lanes on the northbound side of the freeway will be closed for completing work on the median. Now Caltrans projects opening the full freeway in January 2001. Signage still refers to the freeway south of Interstate 8 as "California 15."
December 2001. The full freeway is finally opened, culminating years of planning and construction dating back to when Interstate 15 was added to the Interstate Highway System 1968. The 40th Street Freeway is still signed as "California 15," but this is attributed to ongoing construction at the California 94 interchange and Imperial Avenue area that will bring the older freeway section to current Interstate standards.
August 2003. With much anticipation, the express lanes of Interstate 15 between California 163 and California 56 are opened on weekends for a pilot program. Northbound lanes will be opened first for a set amount of time during the day, followed by southbound lanes several weeks later. After the initial testing, by September the lanes will be open in one direction for the entire weekend. The extension of the lanes to Escondido is expected to be complete by 2007. Construction is well underway between California 56 and Escondido by Spring 2004.
September 13, 2008. Opening festival and celebration for the first segment of managed lanes (later to be called I-15 Express Lanes) to open. Called a "freeway within a freeway," the managed lanes have a movable center barrier that allows various lane configurations, such as two lanes in each direction or one lane in one direction and three lanes in the other direction. The celebration for this grand opening was at Sabre Springs Park and Ride access point to the new managed lanes.5
September 22, 2008. The managed lanes (later to be called the Interstate 15 Express Lanes) between California 56 at Sabre Springs and Business Loop I-15 (Centre City Parkway) in Escondido opened to traffic at a cost of $428 million. Construction continues on the northern segment to California 78 ($251 million; open 2011) and south to California 163 ($467 million; open 2012).5
June 27, 2011. The Interstate 15 Express Lanes from California 163 to California 56 open with two lanes in each direction; direct access ramps and configuration changes are planned for completion in 2012. Construction remains underway for managed lanes between Centre City Parkway and California 78.5
January 12, 2012. A dedication ceremony is held for the final segment of the Interstate 15 Express Lanes between Centre City Parkway and California 78, marking the completion of the express lanes from California 163 north to California 78. These lanes opened to traffic on the following Monday, January 16, 2012. A news article pegs the cost at $1.3 billion.5,6
San Diego
A landscaped cut and cover tunnel carries Interstate 15 underneath a city block between Orange Avenue and Polk Avenue in City Heights. The lid is part of Teralta Neighborhood Park, a well used open space connected with the bicycle and pedestrian path paralleling SR 15 between Polk Avenue and University Avenue. Photos taken 05/13/09.
This series of photos looks at the University Avenue transit center, which is located on the expanded bridge deck over the California 15 freeway in City Heights, San Diego. Photos taken 05/13/09.
Los Peñasquitos Bridge
Interstate 15 crosses over Los Peñasquitos Canyon in northern San Diego via a tall, wide bridge that was built in 1976 and expanded in 2008 to accommodate the new managed express lanes project. It replaced a much older, two-lane arch bridge that carried traffic over the same canyon when this route was U.S. 395. These pictures show the much larger Interstate 15 bridge alongside the original U.S. 395 bridge. This style of arch bridge construction was very common in early Caltrans highway development in the 1920s through 1940s. Today, old U.S. 395 acts as a service road and bikepath, and it served as a construction staging area when the Interstate 15 bridge was retrofitted for earthquakes. This bridge is located just south of the Poway Road/Rancho Peñasquitos (San Diego County Route S-5) exit off Interstate 15. Each of these pictures were taken alongside the freeway bridge and on top of or alongside the old U.S. 395 bridge. As seen from the underside of the I-15 bridge, it has been expanded several times to accommodate the center reversible high-occupancy vehicle lanes and auxiliary lanes on the mainline since it was originally constructed. This bridge gained an unfortunate notoriety when motorist Cara Knott was murdered by a highway patrolman on December 27, 1986. As such, this bridge is named in her memory (as of 1995). Photos taken 06/22/02.
We revisited the Historic U.S. 395 bridge in 2006. The date stamp shows the bridge was built in 1949. This concrete arch bridge has an overall length of 434 feet. It is difficult to imagine that where a two-lane, narrow bridge once sufficed, a major bridge with over a dozen lanes is needed today to carry significant traffic flows over Penasquitos Creek. Photos taken 01/08/06.
Sabre Springs - Peñasquitos Transit Center
A major transit station is located near the southeast corner of the Interstate 15 and California 56 interchange in Sabre Springs. As a stopping point for several bus routes including an express route leading to Downtown San Diego, the transit center also has a park and ride lot and infrastructure that allows carpooling motorists and buses to access the I-15 Express Lanes directly. Trailblazers are posted along the entrance driveway and near the parking lot, but they do not distinguish the fact that the on-ramp to Interstate 15 is only for high occupancy vehicles or toll paying customers. Photos taken 06/05/11.
Lake Hodges Bridge
This series of photos from January 8, 2006 shows the Interstate 15 bridge over Lake Hodges, which was under construction to incorporate the Managed Express Lanes at the time this pictures were taken. The first crossing over Lake Hodges was built in 1919, which eventually became part of California 71 and then U.S. 395. With growth in suburban areas north of San Diego, the span was replaced with a more direct bridge in the late 1960s as part of U.S. 395, and again replaced with the current structure in 1981 as I-15 was finished in San Diego County. Expansion activities were completed in 2009 with the new bridge carrying the managed express lanes.
A C Block monument is located on a right of way on the east side of Interstate 15 to the north of Lake Hodges near a bicycle/pedestrian path; it was placed back when this road was U.S. 395 ... or possibly old California 71. An extant section of Old U.S. 395 was converted to a bicycle and pedestrian path. This path includes a connection to a 2009-built Lake Hodges Bridge, which is a stressed ribbon style bridge 990 feet long and 12 feet wide. The pedestrian and bicycle bridge opened on May 15, 2009.
| | |
| --- | --- |
| | scenes |
| | |
| --- | --- |
| | Signage for SR 15 found along Market Street in southeastern San Diego. 06/22/99 |
| | |
| --- | --- |
| | Freeway entrance signage along former SR 274 (Balboa Avenue) onto Interstate 15. October 2000 |
| | |
| --- | --- |
| | The majestic Lilac Road bridge serves as a gateway into San Diego County. The graceful curves of the large arch bridge frame the entrance to the county just south of the interchange with SR 76. The bridge spans I-15 just north of the ramps with Old U.S. 395. 06/22/02 |
| | |
| --- | --- |
| | Southward view of Interstate 15 from the Lilac Road over crossing near Old Highway 395 and the San Luis Rey River in northern San Diego County 06/22/02 |
| | |
| --- | --- |
| | - San Bernardino County scenes |
| | |
| --- | --- |
| | Interstate 10 and 15 trailblazers in Ontario. 2001 |
| | |
| --- | --- |
| | Guide sign along the southbound ramp to Interstate 15 from Baker. 01/21/02 |
| | |
| --- | --- |
| | This distance sign for Interstate 15 south was posted along the on-ramp leaving Baker. 01/21/02 |
| | |
| --- | --- |
| | Trailblazer for southbound Interstate 15 in Baker. 01/21/02 |
| | |
| --- | --- |
| | Halloran Summit Road north at the on-ramp to Interstate 15 southwest to Barstow. 07/14/08 |
Sources:
"Building An Invisible Freeway: Caltrans works with the community to lessen freeway impacts," San Diego Metropolitan Magazine, August 1999.
The Dwight D. Eisenhower System of Interstate and Defense Highways: Part I - History: Additions to the Interstate System Segments Added on 12/13/68 in Accordance with 1968 Highway Act by the Federal Highway Administration (FHWA) retrieved on January 13, 2012. Of the 1,500 miles of additional Interstate highway added in 1968, the state of California received 109.6 miles of proposed Inter state routes as a result of this legislation: Interstate 15 from Colton south to San Diego (102.5 miles), the Interstate 380 spur to San Francisco International Airport (1.6 miles), and an extension of Interstate 605 from Interstate 10 to Interstate 210 via proposed California 243 (5.5 miles).
'Reversible' Freeway Lanes Opened in Test by Douglas Shuit, Los Angeles Times, October 20, 1988, which states: "Gov. George Deukmejian unveiled the newest twist in freeway driving Wednesday: special "reversible express lanes" that will be tested along an 8-mile stretch of Interstate 15 in north San Diego County. The two reversible lanes, part of Deukmejian' plan to ease traffic congestion in California, will be closed to all but southbound traffic during peak morning hours and then will be limited to northbound traffic during afternoon rush hours. Traffic on the special lanes will be limited to buses, vans, cars with two or more passengers and motorcycles."
Traffic Reduction Prompts Caltrans to Call I-15 Car-Pool Lane a Success by Leslie Wolf, Los Angeles Times, May 12, 1989, which states: "Six months have passed since the opening of the express lanes on Interstate 15, and state transportation officials are ready to declare the $31-million project a success. The county' only computer-controlled reversible express lanes opened along an 8-mile stretch of I-15 last October."
I-15 Express Lanes retrieved from the San Diego Association of Governments (SANDAG) webpage on January 13, 2012. This pages states, "The first phase from SR 56 to Rancho Bernardo Road opened in September 2008. The second phase from Rancho Bernardo Road to Centre City Parkway opened in early 2009. The North Segment and the South Segment opened to traffic in 2011 and 2012, respectively."
Last leg of I-15 express lanes dedicated, opens January 16 by Robert J. Hawkins, San Diego Union-Tribune, January 12, 2012. A subsequent article ("Final portion of I-15 widening unveiled") that appeared in print in the same newspaper on January 13, 2012, stated: "The $1.3 billion project was partly funded by the half-cent TransNet sales tax."
Photo Credits:
06/22/99 by AARoads.
October 2000 by AARoads.
2001 by Jeff Royston.
01/21/02 by AARoads.
06/22/02 by AARoads.
07/14/08 by AARoads.
Connect with:
Interstate 5
Interstate 8
Interstate 10
Interstate 40
State Route 52
Page Updated 01-14-2012.