The South Florida region generally consists of Miami-Dade, Broward and Palm Beach Counties and urban areas along the I-95 and Florida's Turnpike corridor south from West Palm Beach to Miami. The linear metropolitan area is bound by the Atlantic Coast to the east and the Everglades, including Everglades National Park and Big Cypress National Preserve, to the west.
Suburban expansion has used most undeveloped land in South Florida. However, pressure to expand west has continued to grow as the population pushes outward. Retirees, immigrants, beach worshipers, and business people have all migrated to South Florida as a place of opportunity. Since new development anywhere west of the turnpike is more likely to require wetland displacement, most growth has focused on in-fill development or the reuse of existing properties. Interstate 75 and U.S. 41 are two of the few routes that approach South Florida from the west.
South Florida has some of the most spectacular beaches in the United States, and Miami Beach is one the most well-known beaches in the world. The wide beach there is known for its colorful buildings, walkable storefronts, and culturally diverse restaurants. It is not uncommon to see people dressed lavishly in Miami Beach, and the 1996 movie The Birdcage shows off some of the outstanding architecture of the city's Art Deco District.
Downtown Miami is its own cultural mecca, with a multitude of shops and restaurants along Calle Ocho southwest of Downtown. Several condominium high rises line Biscayne Bay in the vicinity of the financial district. American Airlines Arena, home of the Miami Heat, also resides along Biscayne Boulevard at the intersection of U.S. 1 (Biscayne Boulevard) and SR 886 (Port Boulevard). The venue is located next to the walkable Bayside Marketplace mall and Museum Park, all accessible by car via U.S. Biscayne Boulevard and Interstate 395 as well as the Metrorail, which extends north roughly along SR 933 (NW 12th Avenue).
The cheapest way to fly into Miami may not be through Miami International Airport (MIA), although that airport serves as the primary gateway from the United States to Latin America and the islands of the Caribbean Sea. For those arriving from other U.S. destinations, it is worthwhile to compare fares with Fort Lauderdale International Airport (FLL). The lower fares are largely due to the fact that most low-cost carriers fly into Fort Lauderdale instead of MIA. In addition to air travel, Miami is internationally known as a major seaport. Many cruise ships depart the Port of Miami daily, leaving for destinations such as the Bahamas, the Virgin Islands, the Panama Canal, and South America. Cruise ships also dock at Port Everglades, located northeast of FLL Airport and east of I-595.
Several toll roads in the Miami-Dade metropolitan area are managed by the Miami-Dade Expressway Authority. These include the Airport Expressway (SR 112), the Dolphin Expressway (SR 836) and Gratigny Parkway (SR 924) among others. The agency formed in 1994 to improve traffic flow on these expressways, each of which is a significant aspect of the regional freeway network.
Nick Stearn provided the site with a general overview of the street numbering system for the Miami-Dade Metropolitan area. South of Flagler Street, the road dividing north and south addresses, and Miami Avenue, the road dividing east and west addresses, every half-mile is a through road. The east-west roads are divided into groups of eight, with 1/16 mile between streets. This is why SW Eighth Street (U.S. 41) is a major through road. Avenues (north-south) are 1/4 mile apart and have a similar pattern, going by fives and starting with (N/S) West Second Avenue. The sequence continues through Seventh Avenue (U.S. 441), 12th Avenue, 17th Avenue, etc, with each also a half mile apart. Except in extreme western areas, streets always follow this pattern. Krome Avenue (SW/NW 177th Avenue, SR 997) generally represents the western most extent of the built up area by the Everglades, with the exception of areas around Homestead.
The only real exceptions to the street numbering system in Miami-Dade County are Coral Gables and Hialeah, which use their own numbering systems. The main streets and avenues follow the same patterns, but have different numbers than the county. NW 42nd Avenue (LeJeune Road) becomes E 8th Avenue in Hialeah and loses its number in Coral Gables, but forms the 400 block. For purposes of consistency, the county-wide designations are posted at major intersections.
Homestead also has its own numbering system. A peculiarity of this is that the avenues in the southwest quadrant almost always lose a number in regular intervals immediately to the east of the main arterials. The pattern is usually 0, 2, 3, 4, 5, 7, 8, 9. The relative uniformity of this system leads to three-digit numbers in the southern and western portions of the county. The street numbering format in Broward County is completely different, with each city utilizing its own system.
Biscayne Boulevard / Dixie Highway
U.S. 1 is Biscayne Boulevard through Miami, and it is variably known as Dixie Highway and Federal Boulevard in other parts of South Florida. Replaced by I-95 as the primary north-south route through Broward and Miami-Dade Counties, U.S. 1 remains well traveled, providing connectivity to the various municipalities throughout the region.
State Road A1A loops east in segments from U.S. 1 as the alternate to the highway mainline. SR 5 is the counterpart for U.S. 1 south to the Overseas Highway, which leads U.S. 1 southwest to Key West.
U.S. 27 enters the Miami metropolitan area from the northeast, having traveled south through the middle of the Florida peninsula southward from Clermont, Haines City and Sebring. The majority of the route through the Sunshine State is a four to six-lane divided highway. Encircling the south side of Lake Okeechobee between Clewiston and South Bay, U.S. 27 emerges along a rural route through sugarcane fields and northern reaches of the Everglades onto Okeechobee Road.
Through Miami-Dade County, U.S. 27 turns southeast along Okeechobee Road through Hialeah Gardens, Medley and Hialeah. The final stretch lines NW 36th Street, paralleling SR 112 (Airport Expressway) east into Miami. The route ends at U.S. 1 (Biscayne Boulevard) alongside Interstate 195.

U.S. 41 enters the Miami metropolitan area from the west, following the historic Tamiami Trail, which is a play on the names of Tampa and Miami. U.S. 41 connects these two cities via Sarasota, Fort Myers and Naples. Replacing the historical designation of U.S. 94 between Naples and Miami, U.S. 41 travels east-west across the Everglades and into the western suburbs.
SW 8th Street leads U.S. 41 east along an increasingly urban route to Sweetwater, West Miami and Coral Gables. U.S. 41 ended just east of I-95 at Brickell Avenue until 2013, when U.S. 1 was relocated away from Brickell Avenue. Although still unmarked as of summer 2017, U.S. 41 was extended slightly further along Brickell Avenue north across the Miami River to SE 3rd Street, where U.S. 1 resumes along its original route east from the Downtown Distributor (SR 970).
Previously, U.S. 41 overlapped with U.S. 1 north along Biscayne Boulevard to the MacArthur Causeway (SR A1A) out to Miami Beach.
U.S. 441 branches south from U.S. 98 in Palm Beach Garden, following a six-lane arterial route through to Broward County between Parkland and Coconut Creek. Southward through Margate, North Lauderdale and Plantation, U.S. 441 generally consists of a heavily developed commuter route.
Paralleling Florida's Turnpike, U.S. 441 continues south through Davie, Hollywood and Miramar into north Miami-Dade County. U.S. 441 meets the turnpike at its south end as part of the Golden Glades Interchange with SR 826 (Palmetto Expressway) and Interstate 95. NW 7th Avenue leads the remainder of U.S. 441 south in close proximity to I-95 through the city of North Miami and Miami through to its terminus at U.S. 41 (SW 7th/SW 8th Streets).
State Road A1A (Collins Avenue) is the main coastal route through Miami Beach. Made famous by its seaside route, SR A1A consists of a segmented highway that provide scenic alternatives to U.S. 1. The section in Miami-Dade County originates at U.S. 1 and I-395 north of Downtown Miami. It follows MacArthur Causeway east to Miami Beach and Collins Avenue north from there. SR A1A connects Surfside, Sunny Isles Beach and Golden Beach to the Broward County line. The ensuing drive takes the state road through Hallandale Beach and Hollywood to Dania Beach Boulevard, which leads the route inland to U.S. 1 (Federal Highway) in Dania Beach.

Throughout most of Florida, SR 9 is the hidden counterpart to Interstate 95. Southwest from the Golden Glades Interchange, the state route emerges as a stand along route to Opa-Locka and NW 27th Avenue. NW 27th Avenue extends SR 9 south into central Miami to U.S. 1 (Dixie Highway).

A 10.70-mile route, SR 94 is located entirely within Miami-Dade County. The state road follows Kendall Drive / SW 88th Street between SR 997 (Krome Avenue) and U.S. 1 (Dixie Highway) at Pinecrest.
| | |
| --- | --- |
| | East |
| | |
| --- | --- |
| | Passing south of Dadeland Mall, SR 94 (SW 88th Street) intersects U.S. 1 beyond a Metrorail viaduct. 12/28/03 |
| | |
| --- | --- |
| | West |
| | |
| --- | --- |
| | Ramps from Dadeland Mall and SR 94 (SW 88th Street) converge ahead of the Palmetto Expressway (SR 826) north. 12/28/03 |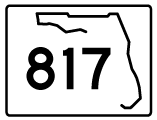 SR 817 is University Drive from SR 9 (Unity Boulevard) in Miami-Dade County just south of Miami Gardens, north to SR 869 (Sawgrass Expressway) in Coral Springs. The entire state road consists of a multi lane arterial.
| | |
| --- | --- |
| | North |
| | |
| --- | --- |
| | A flyover ramp links SR 817 (University Drive) north with I-595 (Port Everglades Expressway) west. 12/28/03 |
| | |
| --- | --- |
| | The connection to I-595 east toward Fort Lauderdale from SR 817 (University Drive) north uses the nearby on-ramp from SR 84. SR 84 comprises the frontage road system for the Port Everglades Expressway across Broward County. 12/28/03 |
| | |
| --- | --- |
| | South |
| | |
| --- | --- |
| | SR 817 (University Drive) south at the flyover for I-595 east to Fort Lauderdale and Fort Lauderdale-Hollywood International Airport (FLL). 12/28/03 |
| | |
| --- | --- |
| | SR 817 crosses a canal and intersects SR 84 west. There is no direct access to Interstate 595 west from University Drive. Instead drivers are directed west along SR 84 to the on-ramp past Pine Island Road. 12/28/03 |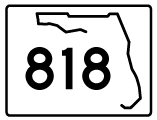 State Road 818 is Griffin Road from SR 823 (Flamingo Drive) at Cooper City east to U.S. 1 in Dania Beach.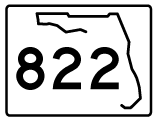 SR 822 follows Sheridan Street through Hollywood. The 5.79 mile long state road begins at U.S. 441 and ends at SR A1A.
| | |
| --- | --- |
| | East |
| | |
| --- | --- |
| | SR 822 (Sheridan Street) crosses the Stranahan River and ends at SR A1A across from Hollywood North Beach Park. 01/06/01 |
| | |
| --- | --- |
| | West |
| | |
| --- | --- |
| | Sheridan Street west at the diamond interchange with Interstate 95 in Hollywood. 01/06/01 |
| | |
| --- | --- |
| | Interstate 95 heads south from SR 822 (Sheridan Street) and the city of Hollywood to Pembroke Park and Hallandale Beach. 01/06/01 |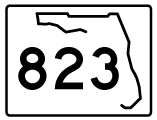 W 4th Avenue, NW 57th Avenue / Flamingo Road
SR 823 begins at U.S. 27 (Okeechobee Road) in Hialeah, then travels 9.70 miles north to Miami Lakes and Miami Gardens along NW 57th Street to the Broward County line. The state road shifts westward through Miramar and overtakes Flamingo Road north through Pembroke Pines, Davie and Cooper City before ending at I-595 and SR 84 at Plantation.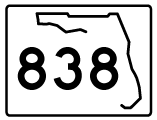 SR 838 is Sunrise Boulevard, which formerly began at SR 869 (Sawgrass Expressway) near Sawgrass Mills mall in Sunrise. SR 838 travels 8.16 miles east along Sunrise Boulevard from SR 817 through Sunrise Heights in Plantation, Lauderhill and Washington Park to U.S. 1 in Fort Lauderdale.
Beyond an overlap with U.S. 1 by Holiday Park, SR 838 (Sunrise Boulevard) extends another 1.19 miles to SR A1A (Fort Lauderdale Beach Boulevard) on the coast.
| | |
| --- | --- |
| | East |
| | |
| --- | --- |
| | SR 838 (Sunrise Boulevard) passes above U.S. 441 at a diamond interchange between the two arterials. 12/28/03 |
| | |
| --- | --- |
| | Entering the city of Fort Lauderdale, SR 838 (Sunrise Road) east elevates across a frontage road and an AMTRAK line to meet Interstate 95. 12/28/03 |
| | |
| --- | --- |
| | West |
| | |
| --- | --- |
| | SR 845 (NW 9th Avenue) stems north from SR 842 in Fort Lauderdale to intersect SR 838 (Sunrise Boulevard) en route to the city of Oakland Park. 12/28/03 |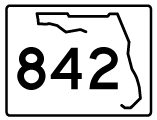 SR 842 travels 7.17 miles along Broward Boulevard from SR 817 (University Drive) in Plantation east to U.S. 1 in Downtown Fort Lauderdale. Another 1.41 mile segment of SR 842 lines Las Olas Boulevard in Fort Lauderdale, from SE 16th Avenue to Nurmi Isles and SR A1A (Fort Lauderdale Beach / Seabreeze Boulevards).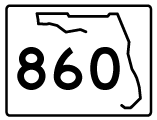 An east-west arterial route, SR 860 follows NW 186th Street from I-75 to NW 67th Avenue / Ludlam Road, and NW 183rd Street from there into the city of Miami Gardens. The 12.98-mile route meanders east to North Miami Beach along a combination of NW 185th and NW 186th Streets between I-95 and its end at U.S. 1 (Biscayne Boulevard) in Aventura.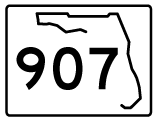 SR 907 serves the western half of the barrier island city of Miami Beach along Alton Road. A 0.41 mile segment loops east of the interchange with I-195, intersecting SR 112 (Arthur Godfrey Street) at-grade while the SR 907 mainline connects with ramps to Julia Tuttle Causeway west to Miami. The state road otherwise totals 5.66 miles between SR A1A (MacArthur Causeway) by South Beach and SR A1A (Collins Avenue) east of the La Gorce neighborhood.
Rickenbacker Causeway, a toll bridge connecting Miami with Virgina Key and Key Biscayne, was a part of SR 913. Only a 0.373 mile segment of SW 26th Road, from SW 1st Avenue and I-95 & U.S. 1, to the bridge approach remains in the state system.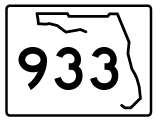 SR 933 follows SW 12th Avenue north from SR 972 (SW 2nd Street / Coral Way) to SR 112 (Airport Expressway) for 4.25 miles in Miami. The remainder of the route along NW 12th Avenue to SR 934 (NW 79th / 81st Street) near El Portal was decommissioned.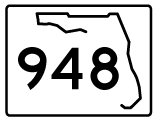 SR 948 is a divided arterial connecting SR 826 (Palmetto Expressway) at Doral to the west with SR 112 (Airport Expressway) and U.S. 27 (Okeechobee Road) to the east. The 4.00-mile long urban route runs along the north side of Miami International Airport (MIA) through Virginia Gardens and Miami Springs.
LeJeune Road leads SR 953 11.74 miles north from U.S. 1 (Dixie Highway) in Coral Gables to SR 916 (NW 135th Street) in Opa-Locka. The urban arterial connects with Miami International Airport (MIA) from west Miami and Hialeah while also linking SR 836 (Dolphin Expressway) with SR 112 (Airport Expressway).
SR 972 runs 4.16 miles along an urban route east from SW 37th Avenue / Douglas Road, 0.51 miles east of SR 953 (LeJeune Road), to Brickell Avenue (former U.S. 1) in the city of Miami. The route previously extended west along SW 24th Street / Coral Way to the Palmetto Expressway (SR 826) near West Miami.
| | |
| --- | --- |
| | Replaced shield assembly on NE 2nd Avenue south at NE 12th Street. The westbound on-ramp to I-395 and the Dolphin Expressway (SR 836) departs in one block. 12/28/03 |
| | |
| --- | --- |
| | Paralleling the MetroMover south from I-395, NE 2nd Avenue intersects NE 10th Street east to adjacent U.S. 1 (Biscayne Boulevard). 12/28/03 |
| | |
| --- | --- |
| | NE 8th Street east at U.S. 1 (Biscayne Boulevard) and American Airlines Arena. 12/28/03 |
| | |
| --- | --- |
| | NE 12th Avenue partitions into separate ramps for I-395 leading to the nearby Midtown Interchange with SR 836 (Dolphin Expressway) west and Interstate 95. 12/28/03 |
| | |
| --- | --- |
| | South Miami Avenue crosses the South Miami River on a four lane draw bridge. 12/28/03 |
Page updated October 15, 2020.